For this customer story, we spoke with Jillian Whittle, Marketing Executive at Kelvin Power Tools.
Read about: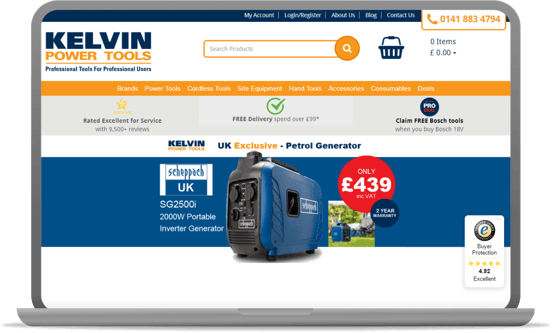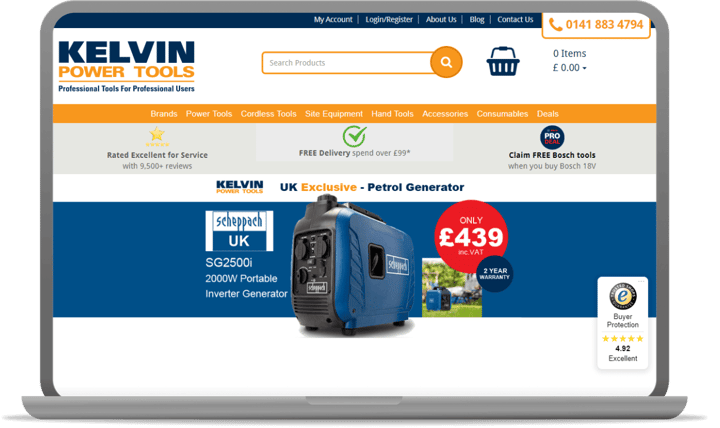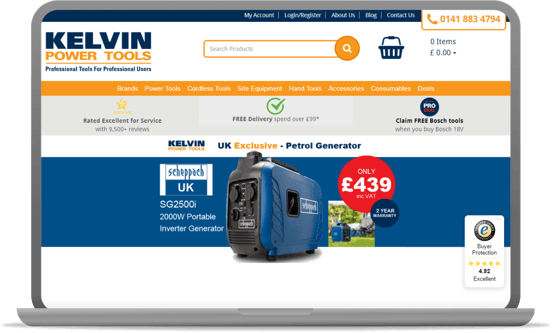 Laying the groundwork without cutting corners
Kelvin Power Tools has been in the power tools industry for nearly 50 years. Originating as a small power tool repair shop in Glasgow in 1977, they moved to a larger location in 1992. In 2009, they launched their website, supplying tools throughout the entire UK. In 2022, they adapted an even more modern sales approach with a streamlined click-and-collect store, blending the online experience with their local shop.
Throughout the years, great customer service has always been a key to their success, whether it's providing advice before a purchase or offering top-notch after-sales support, which really separates them from their competitors. This is reflected in their 4.92 customer rating from nearly 10,000 customer reviews!
Highlighting the quality of their service
Kelvin Power Tools has prided themselves on their customer service for the past 45+ years. It's one of their key differentiators and has helped them grow into a successful brand. It was clear to them that in order to highlight their great service to customers across the UK, they would need to focus on their online reputation and communicating their trustworthiness.
By building more trust with their potential customers, Kelvin Power Tools, wanted to see improvements in many of the typical e-commerce KPIs:
Improvements in the cart abandonment rate
Increases in the average order value
Boosts in the conversion rate
With so many factors going into building trust online, Kelvin Power Tools decided to partner with Trusted Shops for their trust-solutions.
Building trust throughout the customer journey
Kelvin Power Tools put a lot of effort into building trust throughout the customer journey. Let's take a look at what solutions the company implemented in order to reach their goals.
The website is, of course, the most important element of the customer journey...
Website
Upon arriving on Kelvin Power Tool's homepage, users are greeted with multiple elements that showcase the company's trustworthiness. In the navigation, users can find the brand's phone number as well as a link to their blog, About Us page, and their Contact Us page, all good ways to show transparency.
Just below their logo, the company showcases a link to their customer reviews, highlighting the total number and their overall rating. This appears at the top of every page of the website to remind users that their past customers are overwhelmingly satisfied with their experiences.
To top it off, the Trusted Shops Trustbadge hovers in the corner of the page, reminding users of the company's immaculate rating as well as showcasing the Trustmark and Buyer Protection. With a mouse-click, users can read more about the company's reputation and the certification entitling them to a 30-day Buyer Protection, covering them for purchases of up to £2,500. This Trustbadge also stays with users as they browse the site's product pages, reminding them that they are shopping with a legit brand.
Since implementing Trusted Shops' solutions, Kelvin Power Tools has seen their conversion rates increase by 33%.
The company prides itself on their expertise as part of their service and they try to achieve this with their informational product pages, which are absolutely packed with product details.
You can find information ranging from technical specs to guarantee options to current product promotions offered by the manufacturers. Not to mention highlighted product features, detailed delivery options, and even product videos. Customer reviews are also never more than a click away.
Jillian Whittle, Marketing Executive at Kelvin Power Tools, tells us why she thinks their Trusted Shops rating has been so helpful:
"Our Trusted Shops rating is an important part of our business. It provides potential customers with peace of mind when deciding to shop with us as it lets them know that we're a legitimate company and they can see our previous customers' positive experiences."
It's clear the brand values their customers and wants to be as transparent and informative as possible. Afterall, an informed customer is a happy customer. When shoppers have a better overview before the purchase (and that includes learning from past customers' experiences), it also makes them less likely to make returns.
Making every element of the customer purchase decision easily accessible is a huge part to building trust. And more trust leads to less hesitation, especially from shoppers who've never purchased with a particular brand before. After adding the Trustmark with Buyer Protection and access to customer reviews throughout the website, Kelvin Power Tools has also seen their cart abandonment rates go down by 7% and their bounce rate decrease by 3%.
While they were seeing less incomplete orders, they also saw their average order value go up by 32%, a significant number for any company.
Online marketing
The shopping journey doesn't always start on the website. Google plays a huge role in the success of an online shop. Customers begin their research on site's like Google and that's also where the companies make their very first impressions on potential customers.
With Trusted Shops' Google Integration, shops can transfer their Google-certified reviews over to the search engine. This can be extremely beneficial during the first steps of a user's product search because places like Google Shopping display customer ratings there.
For Kelvin Power Tools, selling products that other retails were also advertising on Google Shopping means figuring out how to stand out. Competitive pricing is one important element on Google Shopping ads, but so is a shop's rating.
In the following ad, you can see that between their competitive pricing and their unbeatable shop rating, the choice for any consumer is easy. They will definitely visit Kelvin Power Tool's site first. And with the Trustbadge on the website to reinforce their trustworthiness, conversions increased as well.
Organic boosts and better click-through rates on their ads (thanks to a good online reputation on Google) helped the company achieve a traffic improvement of 295%.
Along with better conversion rates, decreased abandoned carts, and higher order values, a huge traffic boost was another benefit that Trusted Shops helped improve for their partner, Kelvin Power Tools.
"Our online reputation is particularly important for Google Shopping as our Trusted Shops rating appears next to our product listings."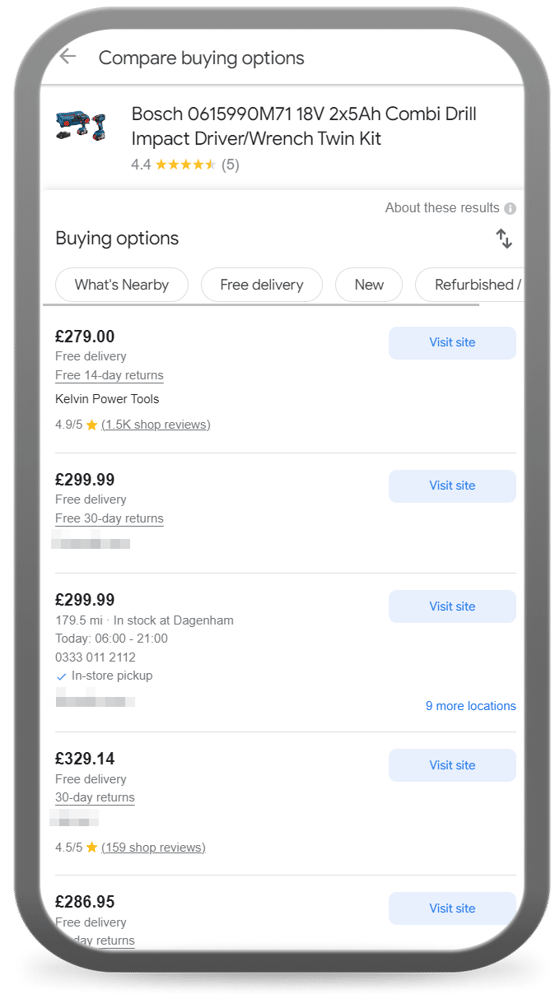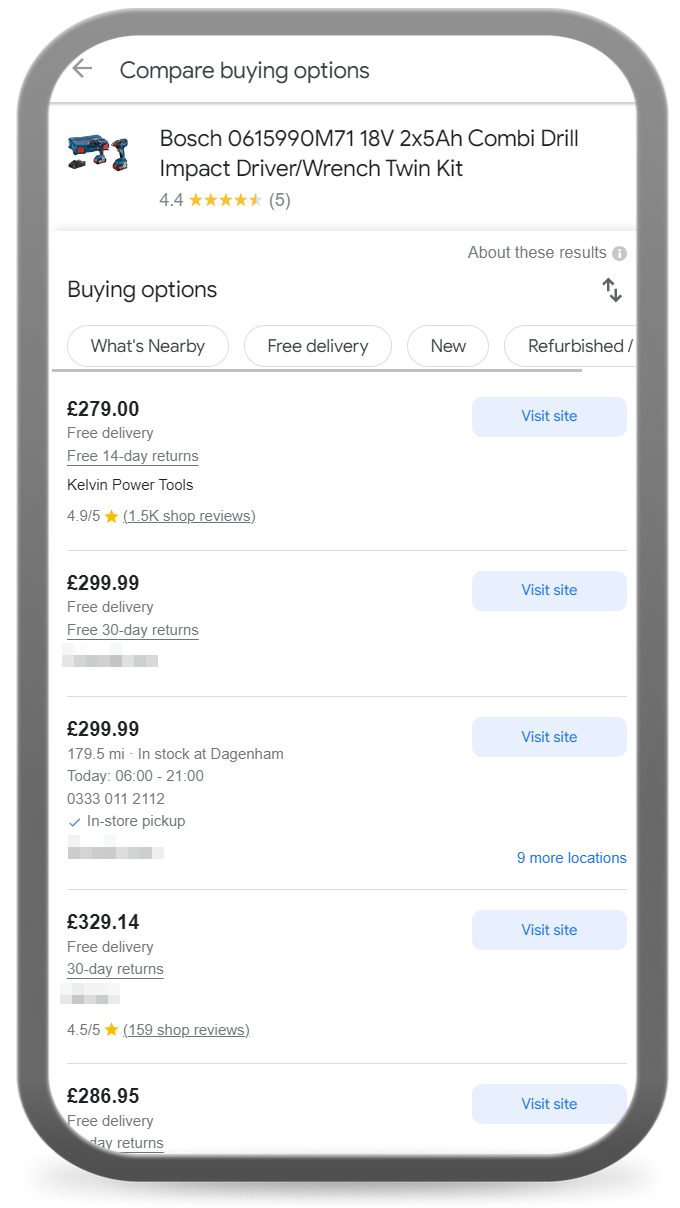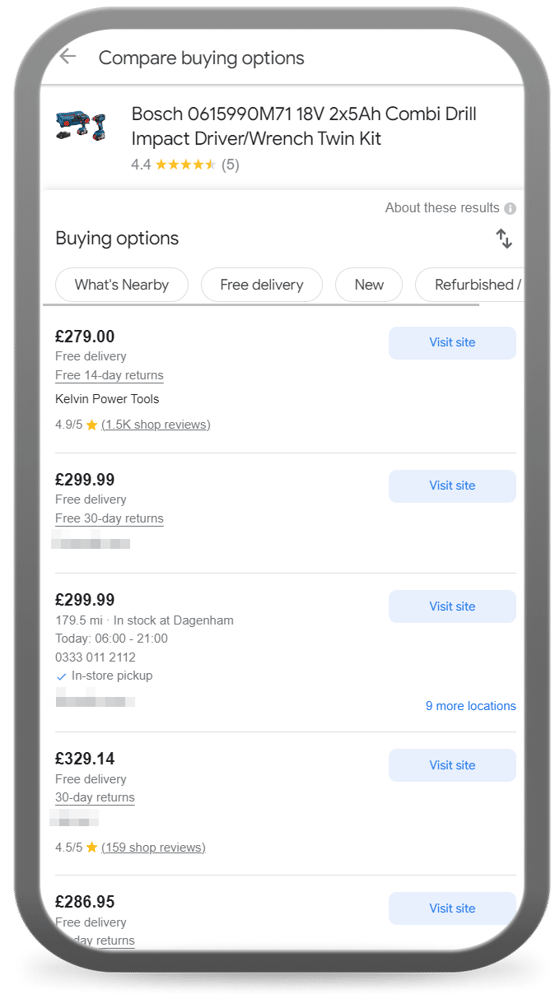 With their humble beginnings as a small shop in Glasgow, building trust with their community has always been an essential element to Kelvin Power Tools' success. As their community grew with the help of online shopping, communicating their expertise, customer service, and reputation was essential to their development.
"Online shopping has grown massively over the last few years and our business has achieved excellent growth due to this. We're certain that our Trusted Shops rating has played a large part in this growth."