Do you have a good overview of all your review profiles online? When a new customer gets ready to make a purchase, they will often first check online to find customer reviews for your shop. The question is if those reviews and ratings accurately reflect your products and services. As many of these services are hosted by third party providers, it can be particularly difficult to manage your online reputation. How do you ensure that your reputation is consistent everywhere? Trusted Shops has the solution with our newest product: the Reputation Manager!
In this article, you will learn:
| | |
| --- | --- |
| 💬 | Why your online reputation is important |
| ⚖️ | Why reviews differ per platform |
| ✨ | How the Reputation Manager helps with this |
| ⚙️ | How the Reputation Manager works |
💬 Why is your online reputation important?
If you have an online shop, you will receive many reviews; even on websites where you haven't created a profile yourself. Think, for example, of Trustpilot and Google My Business; some reviews platforms will create profiles for your shop on their own.
All these reviews are read by (potential) customers. What they read will have a big impact on their decision to place an order with you (or with your competitor). As you can imagine, they'll often go for the one with the best reviews, even compromising on price (to a certain degree) if it brings them peace of mind regarding the shop.
⚖️ Why do reviews differ per review platform?
Imagine you are an online shopper. You have placed an order and have just received it in good condition and on time.
Will this inspire you to actively look up the company online in order to share your opinion on the purchase? Probably not. Why? As shoppers, we expect orders to arrive in good condition and on time.
Generally speaking, satisfaction doesn't motivate people to leave feedback. In essence, it's because consumers expect not to have anything to complain about.
And what if the order has not arrived properly?
This is the kind of situation where consumers want to "share a piece of their mind". They want to warn their fellow consumers and/or possibly inspire the business to take action (out of fear of this negative review affecting their sales).
In these situations, consumers will actively search for a way to share this feedback. This might mean a social media post or they'll find a reviews platform to vent on.
---
Want to read up about reputation management and how you can take steps towards improving yours? Check out our free whitepaper!
---
Some of these third-party reviews providers are open-platforms. This means that anyone can leave a review on the providers page (Anyone? Yes, anyone). A closed-reviews platform, on the other hand, only allows verified customers to leave a review.
Therefore, as a shop owner, you've got to actively ask your customers for a review in order to inspire them to share their opinions. In fact, as a reviews provider itself, Trusted Shops has seen time and again that actively asking for reviews leads to more positive reviews and consequently, a better overall rating (think of those star-ratings that make a big first impression in Google)!
Being able to actively ask for reviews is why we came up with our newest product, the Reputation Manager.
✨ How does the Reputation Manager help you improve your online reputation?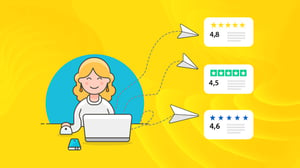 If you have a Trusted Shops review profile, our system will automatically send a review request to your customers. This way, you can be sure that it is a real customer that leaves a review and it also encourages people to leave a review.
Normally, these reviews only go to your Trusted Shops review profile, but with the Reputation Manager we've taken it a step further.
With the Reputation Manager you can send requests not only for your Trusted Shops review profile, but also for other providers, such as Trustpilot and Google My Business. You only have to be affiliated with Trusted Shops, so you don't have to spend money on the other review profiles! And in addition: the process is automated, so just need to set everything up once and then let it do its thing.
⚙️ How exactly does the Reputation Manager work?
In short, the Reputation Manager works in three simple steps.
Step 1. Add profiles from the other providers
Here, you indicate which profiles you want to collect reviews for. Currently, you can add your profiles from Trustpilot and Google My Business in addition to Trusted Shops.
Step 2. Set the distribution of review requests
Here you indicate what percentage of your reviews are intended for each platform. You are in control!
Step 3. Automatically send invitations
You don't have to do anything else. Our system automatically sends the review requests according to your distribution setup.
Result: a good reputation everywhere!
You will get the reputation you deserve on all of the platforms you've entered.
🔄 In short
If you want to boost your online reputation on all review platforms, the Reputation Manager is the solution for you!
For a deeper explanation, visit our product page (link below). From there, you can also contact our experts for a no-obligation conversation about how the Reputation Manager and our other products can help your webshop.
Click the button below to view the product page!