If you're an active online shopper, you've surely had a problem or two arise with past deliveries. It's basically inevitable. This can lead online shoppers to hesitate when buying from a small or unknown brand. Is there a solution for these small businesses? The Trusted Shops Trustmark & Buyer Protection!
According to several studies, many shoppers have had problems when shopping online at some point or another. A study from ONTSI showed that as of 2018, 41.9% of online shoppers have received a defective product at one point or another, 39.9% have received a late package, and 31.1% have not even received a product they ordered!
In 2018, 2,000 UK shoppers were surveyed about their online shopping habits. When asked about what delivery concerns prevented them from shopping online, we see that risk of failed delivery was their number one answer (54%)!
Source: Maru/Matchbox; Interactive Media in Retail Group
Despite these negative experiences, e-commerce has continued to grow around the world. However, some of the bigger, more well-known players like Amazon and other marketplaces are really benefiting the most. Smaller shops need to work harder to earn their visitors' trust.
Let's explore the Trusted Shops Trustmark as a possible solution for increased conversion rates and decreased abandoned carts.
If you are unaware of the Trusted Shops Trustmark, it is a certification that you see on many online shops across Europe. It allows shoppers to opt into the Buyer Protection, which entitles them to a 30-day protection for their purchases. We'll get into more detail down below.
The Trusted Shops Trustmark has become so popular in the last few years, they've recently recently reached a milestone: 25 million registered users!
So, you're probably asking yourself how this all works. In today's article, we'll cover the following topics:
So, let's begin with the most obvious question:
What is the Trusted Shops Trustmark?
The Trusted Shops Trustmark is a certificate for online shops who have successfully passed the Trusted Shops audit process (based on EU regulations), which proves reliability as an online seller.
It has been around since 1999 and began in the German market. Since then, it has become the most recognisable online trustmark in Europe and has become more and more popular across the continent in recent years.
Shops that qualify for the Trusted Shops Trustmark can offer its customers the Trusted Shops Buyer Protection.
What is the Trusted Shops Buyer Protection?
The Trusted Shops Buyer Protection works hand-in-hand with the Trusted Shops Trustmark.
Shops that display the Trustmark are able to offer their customers a 30-day Buyer Protection in order to boost trust. This "guarantee" is free for orders up to €2,500 (in most markets).
In order to qualify for the Trusted Shops Trustmark, shops must go through a website audit that is based on EU regulations and best practices. The dedicated Audit Team at Trusted Shops works together with shop owners to make sure they are(or become) compliant.
Once the shop completes the audit, they become certified and can display the Trusted Shops Trustmark on their site.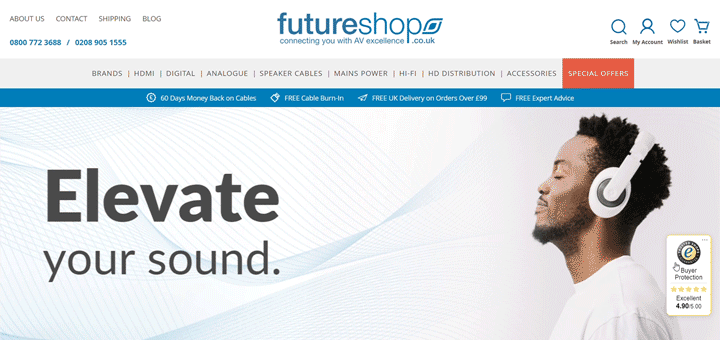 Users enter a site and see the Trusted Shops Trustmark inside the Trustbadge. Clicking on the Trustbadge informs users about this shop (e.g. reviews) and about the Buyer Protection.
The Buyer Protection is essentially what powers the Trustmark. This is how Trusted Shops "puts its money where its mouth is" regarding its certification. When a shopper completes their purchase, they can opt into the free Buyer Protection for products under €2,500. For a small fee, they can be covered for purchases above this threshold as well.
After securing their purchase, the customer will receive the guarantee confirmation number by email. This guarantee covers a number of scenarios, which will be covered a bit further down in this article.
Trusted Shops conducted a survey in 2019 with 1,000 UK online shoppers taking part. They were asked a lot of interesting questions regarding Trust and online discovery.
One particularly interesting question was about money-back guarantees and what kind of influence it has on a purchase decision. An overwhelming 86% of participants acknowledged that knowing they are entitled to a money-back guarantee would have a positive influence on their decision to buy from a shop they've never heard of before.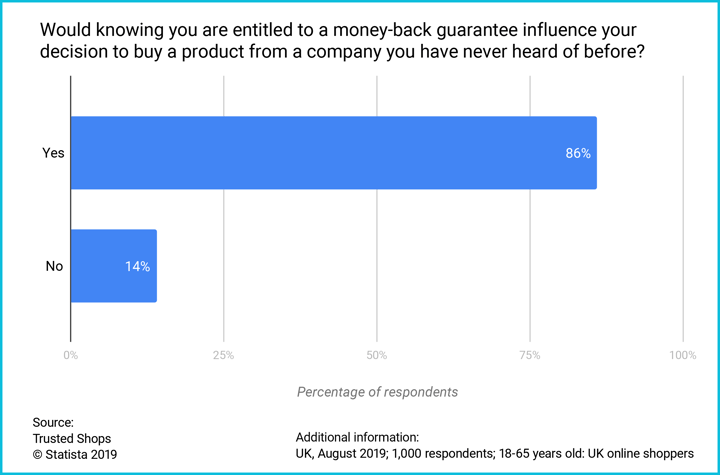 Buyer Protection and COVID-19
Obviously, the world has become a different place since the coronavirus pandemic started. People are more likely to shop online than ever before.
Unfortunately, when there is a crisis, there are usually shady people who will try to take advantage of this situation. We've already heard the price-gouging stories from when pandemic started. However, another situation to look out for are fake shops.
Given this context, the need to come across as trustworthy as possible is more important than ever before.
This is where offering your customers the Buyer Protection option can really make a difference. Have a look at some recent numbers regarding consumers opting into the Trusted Shops Buyer Protection:
Users opted into the Buyer Protection even more than usual around the beginning of the pandemic. Christmastime also sees a bump in opt-ins.
What cases does the Trusted Shops Buyer Protection cover?
The Trusted Shops Buyer Protection covers the following situations:
Refund of money in case of non-delivery or service.
Refund of money if the store does not return the amount to the buyer after the purchase has been canceled, if the product is returned, or if it is lost in transit.
The Trusted Shops Buyer Protection covers the scenarios mentioned above if they occur within the valid protection period for the guarantee in question and up to a maximum of the agreed insured amount.
As we've already mentioned, the buyer will receive an email after securing their purchase. In addition to the guarantee confirmation number, this email also indicates the amount and duration of the guarantee.
More details regarding the guarantee can be found here.
As an online merchant, you can be sure that your customers will always be informed about the details of the guarantee they have taken out to insure their purchases.
Processing a claim with the Trusted Shops Buyer Protection
Let's have a look at what the process of making a claim is like with the Trusted Shops Buyer Protection.
If the buyer has a problem with their order and the issue fits one of the situations mentioned in the previous section, then the process to file a claim would go as follows:
The customer logs into their My Trusted Shops account .
They submit a refund request to Trusted Shops before the Buyer Protection expires.
Trusted Shops contacts the store to inform them about their customer's complaint and clarifies details.
The buyer provides Trusted Shops with all the necessary receipts within 7 calendar days after submitting their request for a refund.
Trusted Shops decides if the case is covered by the Buyer Protection based on the receipts, contractual stipulations, and legal requirements.
If Trusted Shops determines that there is a refund obligation, Trusted Shops will ask the online store to make the refund. If the online store does not refund the payment to the buyer within a period of 7 calendar days, Trusted Shops will refund the money directly and then present the invoice to the online store.
Your customers will always have a contact person at their disposal in case of any complaints or problems with the order. This will give them the peace of mind and confidence to complete their order. And once they see how smoothly everything works with your shop, they won't hesitate to shop with you again and again.
Online shoppers who visit your store will feel that they are in good hands knowing Trusted Shops is there for support.
What benefits does the Trusted Shops Buyer Protection bring to your online shop?
Naturally, displaying the Trusted Shops Trustmark with the Buyer Protection will boost trust on your site. Shoppers will feel more secure, so conversion rates will increase while cart abandonment rates decrease. It's also fairly common to see that average basket values will go up since the guarantee covers up to €2,500, thus encouraging shoppers to purchase more.
Here is one last last chart for you to look at. From the same survey mentioned above (regarding Trust & Discovery), 1,000 UK online shoppers were asked about the most important features a shop can have when it comes to making a purchase decision.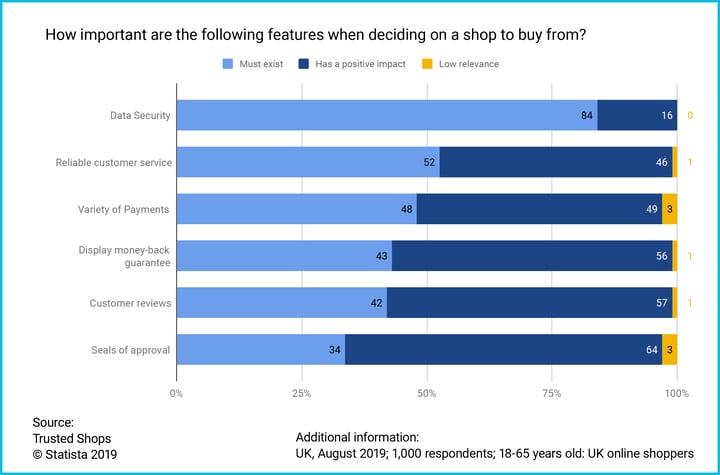 As you can see, a seal of approval (i.e. trustmark) and a money-back guarantee being displayed are in the top answers. These are seen as either must-haves or has a positive impact by an overwhelming majority of respondents.
It's worth noting that Trusted Shops can help with online customer reviews as well, another great trust-builder.
Conclusion
Give your potential customers more security by displaying the Trusted Shops Trustmark with Buyer Protection. This way your customers will not hesitate to repeatedly make purchases from your store, and you will build a lasting relationship with them. Don't forget that your customers' loyalty is the key to your business' success!
If you have questions about our products and how they can help you increase the success of your online shop, don't hesitate to contact us.
This article was originally published on and adapted from our Spanish blog: ¡Genera más ventas y confianza en tu tienda con la garantía de Trusted Shops!