In email marketing, we work with databases containing thousands of contacts every day. You have most likely gathered and confirmed these users' contact information using single or double opt-in methods. Is one better than the other?
Another question you might ask yourself is if all these contacts are really valuable. As an online merchant, you should pay attention to the contacts you generate in order to keep your database clean and organised.
In this article, you will learn about the advantages of double opt-in subscriptions in order to only keep valuable contacts and thus create more successful email marketing campaigns... and avoid any possible setback with the General Data Protection Regulation (GDPR).
What is single opt-in?
Before explaining how double opt-in works, it is important that you first know the term single opt-in as well as its advantages and disadvantages.
Both single and double opt-in are contact acquisition techniques that require users' confirmation in order to receive newsletters or promotions from a website.
With single opt-in, the user has the possibility to subscribe to the newsletter of an online store by filling out a form without the need for subsequent validation of their data or email (i.e. no need for a follow-up email with a confirmation link). In other words, the process of obtaining the user's email address is simply done through their registration.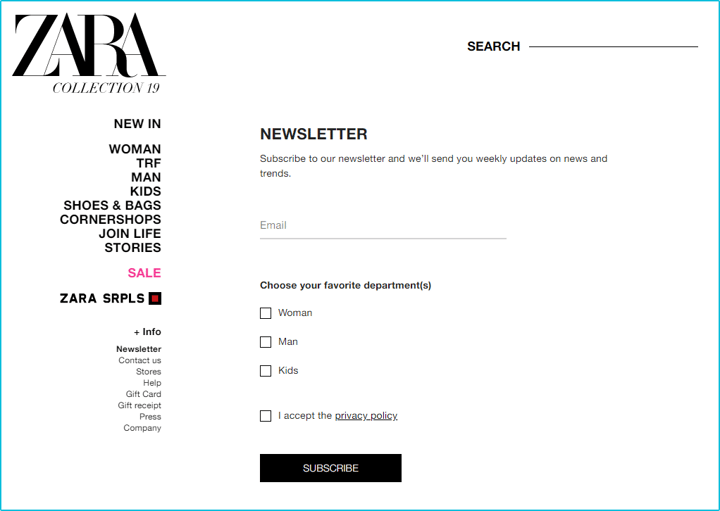 The American site seems to use a single opt-in subscription form.
Advantages of single opt-in
Increase your contact list: It is a very simple and fast way to get many subscribers and increase your email list.

There are no barriers: The user simply has to fill in the subscription form without the need to validate their email address.

Automatic and immediate process: The single opt-in process makes the user's life easier as they know that they don't have to put in any extra efforts (i.e. logging in their mailbox, checking their spam folder).
Disadvantages of single opt-in
Fake email addresses: When websites require users to enter their data for special access (e.g. content), users will often use fake email addresses to avoid getting spammed. Your database may quickly fill up with junk email addresses and will serve you no purpose.
Registration of non-interested users: If users can enter any email address they want, you risk them giving up other people's email addresses, who will then mark your emails as spam, thus staining your brand image.

Typing errors: Perhaps the least cynical of the disadvantages, users may misspell their email address and never get the emails you send them.
FREE DOWNLOAD: Check out our GDPR FAQs whitepaper!
What is double opt-in?
Unlike the single opt-in, double opt-in subscriptions require two steps:
Step 1:
The user completes the form (some forms only require users to enter their email address) and clicks on the confirmation button to subscribe or confirm that you want to receive notifications from the online shop.
Step 2:
The user must confirm the email address. They will receive an email where they will be instructed to click a button or a link in order to confirm that they want to be added to this list.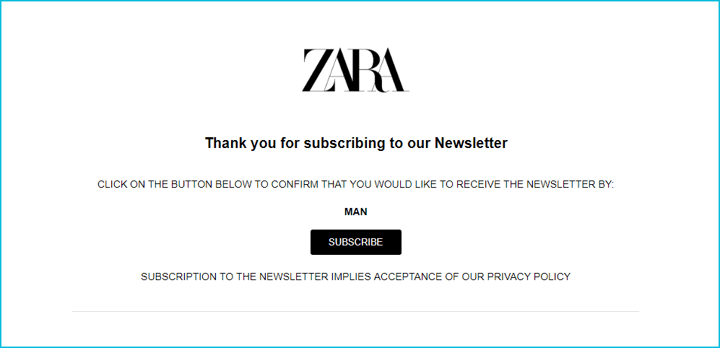 The UK site will send you an email to confirm that you want to subscribe to the newsletter.
Advantages of double opt-in
Greater commitment and participation by the user: The level of user engagement is much higher since they've had to carry out a longer subscription process. You can be sure that these users are really interested in your content. With more committed readers, your open rates and click rates will increase.



Database quality: The double opt-in process ensures that the email addresses provided by users are valid and real as they have to open their emails to confirm the address. This makes it easy for you to work with your database efficiently and thus be able to build a list with only valuable contacts that really interest your online business. Any statistical analysis of your email campaigns will be more accurate.



Protection against spam: The user verifies their registration in your database. This means that your messages will not be qualified as spam since you are sure that your user wants to receive your newsletters. Your contact will therefore not be able to accuse you of having sent an email without their consent since it has been subscribed through double opt-in.



Fewer bounces, greater deliverability: The double opt-in helps you improve the delivery rate of your messages since you have verified the addresses of your contacts before. Your email bounce rate will decrease and prevent your messages from ending up in spam and affecting your deliverability to good contacts in the future.



Building a stronger relationship: Depending on the data you received in the first part of the double opt-in, you can send more customised emails to your new subscribers. For example, if you know they are a man, you can send more relevant content, thus strengthening your relationship by providing value right away.
Disadvantages of double opt-in:
Losing potential subscribers in the process: Being the longest subscription process, you run the risk that users will not confirm their email address and abandon the registration process despite having a genuine interest in your content.
Problems with the validation email: The user may not find the validation email if the sender's address and/or the subject line are not recognisable. Another issue that could arise is that your confirmation email ends up in their spam folder. The user won't find your message and will, therefore, lose interest.
Avoid GDPR sanctions with double opt-in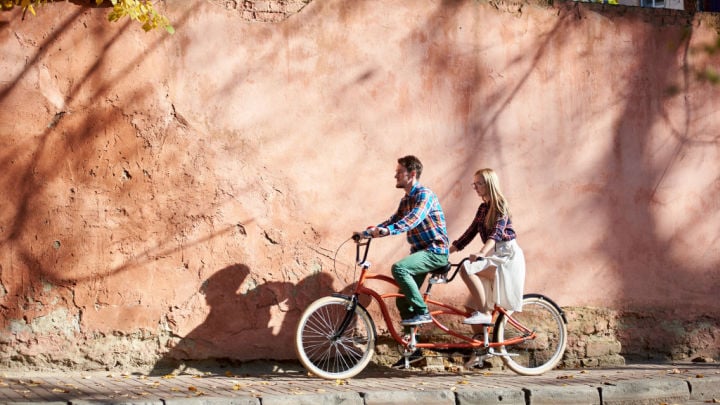 shutterstock.com/anatoliy_gleb
On May 25, 2018, the new General Data Protection Regulation that repeals Directive 95/46 / EC on the Protection of Personal Data by which companies are currently governed entered into force.
Article 7. Conditions for consent
"Where processing is based on consent, the controller shall be able to demonstrate that the data subject has consented to processing of his or her personal data."
The new regulation of the GDPR may affect companies that use email marketing campaigns if they are not able to verify that their contacts consented to the processing of their personal data.
Therefore, as an online merchant, you should ask yourself the following question: What is the best way to demonstrate the consent of the leads that I generate in my business in order to create email marketing campaigns that comply with the GDPR?
Before a formal complaint arises, you'll have to be prepared to demonstrate that your contacts have given you explicit consent to send your messages and to make use of the processing of their personal data.
Well, what better way to do it than with the double opt-in system!
As I mentioned in the previous section, thanks to the double opt-in, you can show that the user was interested in subscribing to your contact list and that, in addition, they had to validate their email address through the confirmation email you sent them.
This double validation system is therefore good business practice and a fundamental tool in guaranteeing the user's consent. Given the potential legal effects, this system would be a good option to comply with the GDPR and thus protect your business from hefty fines.
Note: Tools like Mailpro or Hubspot can help you create a double opt-in process and improve the quality of your campaigns.
Conclusion
If you want to be protected more against the GDPR and improve the quality of your contacts instead of simply increasing your subscriber list, the double opt-in system is the best option for your business. With this system, you will create a cleaner and optimal database, validate the existence of real email addresses and decrease your bounce rates. Make sure you use a system that protects both you and consumers. The double opt-in subscription is, without a doubt, a part of any quality email marketing strategy.
RELEVANT READING: The GDPR whitepaper (+checklist)
This article was originally published on our Spanish blog: ¿Por qué deberías usar el doble opt-in en tus campañas de email marketing?