Branding is an important part of a company's development. With a few marketing decisions, small- and medium-sized companies can give themselves a voice and an identity; something that connects with their target audience. If you already have a brand strategy, it might be time to revisit it as well. In today's article, we'll look at how your company can evolve into a brand with 6 important steps.
1. Develop a brand strategy
A good brand has a strategy behind it. Laying the foundation of your brand strategy will help you and your employees reach certain decisions about products, marketing, prices and more.
To begin, think about your brand's purpose, vision, and mission and how they relate to your audience.
In other words, what is special about your brand that will really speak to your audience.
If your company creates products from recycled goods, for example, this should be something you focus on in your branding. Writing down a mission statement can be very helpful. For example, "We want to provide high quality products made from recycled goods to consumers who are very environmentally conscious."
Of course, knowing your brand's vision in relation to your audience also means knowing your audience very well and doing research to back it up. Consider doing a survey (or a focus group) with past customers to get a feeling of what their needs and preferences are.
It's important to remain open-minded. You might not get the answers you expect. Even your audience might not be who you thought it was. Dive deep into your customer data and see which demographics are visiting your site and who is spending money on your site.
Recommended reading:
Creating a Buyer Persona to Better Understand Your Customers
Getting to know who your audience really is and what your company stands for is an important step towards improving your branding. It will be incredibly helpful for many of the following steps.
2. Define your brand identity
Once you know a bit more about your brand's vision, it's time to make some actual branding decisions. With this task, you need to focus on a lot of design elements. It's important to make decisions and stick with them. A good brand is consistent with their design and helps the brand stand out in the minds of their audience.
Some things you'll want to consider defining:
Company logo
Typography
Colour palette
Imagery
There's a lot more to these decisions than simply picking a random font/colour that you enjoy. All these elements are part of the storytelling process. Certain fonts might strike a chord with one audience, while seeming completely unfitting to another audience.

Recommended reading: Psychology in Design: How to Understand What Your Customers Want Before They Do
3. Create a strong brand message
This ties back to our first tip. When you have a mission statement, you can use this basis to create a strong brand message. Think of the brand message as a statement that is communicated publicly.
Create a clear, compelling message that communicates your brand's unique value proposition. This very well could end up being your brand's slogan too, but doesn't necessarily have to be.
Either way, this should sum up why your brand should be considered first by your main audience. The message should also take into consideration all the things you decided in your brand strategy. Is the voice/tone consistent with your brand image?
4. Use content marketing
Content marketing is an important element to a good brand, especially in the B2C realm. Content marketing can take place in many forms and it might be worth exploring each of them.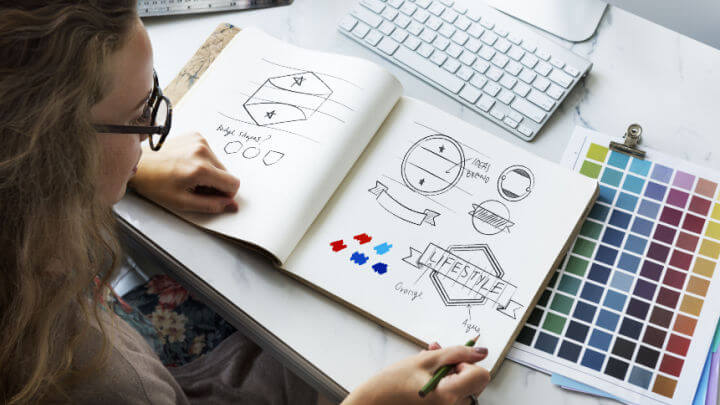 shutterstock/Rawpixel.com
Website
It all begins on your website. Your homepage, your About Us page, your product pages and product descriptions can all be optimised to speak to your audience.
However, not all your content should be a direct selling tool. In the long run, they are, but in the short- term, you can think of some of this content as a way of building trust within your niche. If you can create blog posts, infographics, or videos that educate and inspire, this is a way to build your brand without necessarily making a sale.
Of course, there are SEO benefits to creating this content, but you'll only benefit from that if users enjoy the content. That is why you should always look to create value for your audience, even if it doesn't lead to a sale. If a site visitor learns something useful, they will consider you reliable and an expert in your field. Over time, this site visitor very well could become a customer.
Social media
No content strategy is complete without talking about social media. Love it or hate it, it is a part of society and an integral part to succeeding online. Hashtags are important for getting seen, but let's focus a bit more on what you can do to boost your brand image.
Again, not every organic post needs to bring in customers directly. Even paid ads don't need to drive sales – many platforms offer "branding" campaigns that focus on more on exposure than anything else.
Many of your (hopefully, daily) posts should expand on growing your perception within your audience as a trustworthy brand. Other than trustworthiness, try to associate yourself with the brand characteristics you've defined for your company in the first step. If you want to be a playful brand, make sure your social posts are fun and energetic. If your brand is more serious, your social media posts should reflect that.
Social media also affords brands the opportunity to engage with their audience. It's a good chance to reply to their comments and show that you care about their feedback and want to communicate with them directly (more on that below).
Of course, no social media strategy would be complete without mentioning influencer marketing. You may hate the term, but some influencer campaigns can be really helpful for some brands. If you can find a micro-influencer who is influential in your niche, the costs might be fair and the impact can be measurable as well. Learn more in our guide, linked below:
Recommended reading:
Media Impact Value: How to Measure the ROI of Influencer Campaigns
5. Stay engaged with your customers
Speaking of social media, it's important to remain engaged with your audience. That means through social media of course, but it could also mean showing up in community events, in trade fairs, and other live events.
If we stick to the digital sphere, it's definitely advisable to collect customer reviews. Not only do they help build trust on your website directly (and in search engines if you collect Google-certified reviews), but they also afford brands the opportunity to showcase their customer service by replying to customer reviews, particularly the negative reviews.
This can be a daunting (and never-ending task), but it's important to remember that many consumers proactively search out negative reviews. Not only will this give them information about the quality of your products, but it gives them insight into what your customer service is like. When you reply publicly to your customers, this informs future customers that you are a trustworthy brand. Remember, 5-star ratings can also be earned from customers who return their purchases.
6. Monitor your brand reputation and measure your success
Once you put yourself (or rather, your brand) out there, it's important to pay attention to the results.
If you post on social media, keep track which kinds of posts are getting the right kind of attention (i.e. likes, shares, engagement, etc.). If you responses (or shares), make sure to comment on them.
In terms of monitoring, check out your campaigns for paid ads and your traffic results for organic efforts (e.g. blog posts).
You can use tools like Google Alerts to get notified when your brand is mentioned. If you use a social media monitoring software, this can also send you notifications about certain activities happening online.
Of course, if you collect customer reviews, you can keep track of your online reputation quite easily. With Trusted Shops, you not only get Google-certified reviews (so they can show up in search results), but you can display your shop rating directly on your website. This way, you don't give your site's visitors to leave your website in order to research your company's reputation.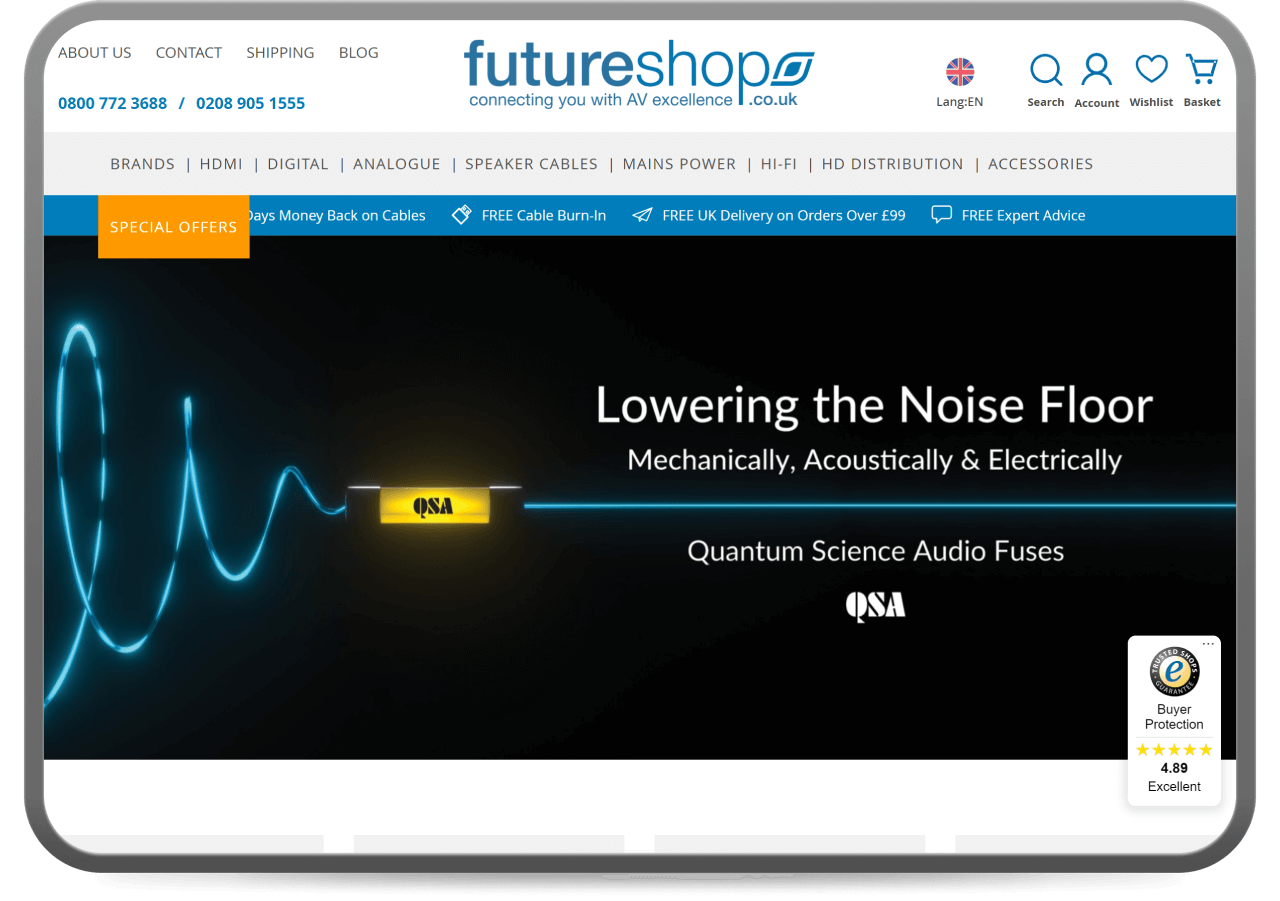 The Trustbadge floats in the corner of the screen reminding visitors of their stellar reputation (Source: Futureshop.co.uk)
Depending on what actions you take, you should always keep KPIs and other goals in mind in order to track their success. Is it sales you are going for with your social media ad? Or traffic? Newsletter subscriptions? What about your ranking in search results for specific keywords (and long tail keywords)?
No matter what your short-term or long-term goals are, make sure you can track them as best as possible.
Conclusion
Transforming your company into a brand can require a lot of strategizing and changes to how things have been done at your company. However, it is necessary to bring your business to the next step. It begins by having a deep look at what your company stands for and who your audience is. With a strong base in your brand strategy and clear goals in mind, every decision that comes afterwards will be easier.