Easter is right around the corner. As a small business owner, you'll want to promote your business around the holiday. Although you might not sell chocolate or other typical "Easter products", you can still have an Easter sale! After all, Easter is the unofficial start of the Spring. So, remind your target group that spring is in the air, the birds are singing, and that summer is just over the horizon.
Contents:
If you're reading this article, there's a good chance you don't have millions to spend on wacky marketing ideas. Huge, over-the-top campaigns like Cadbury's "Easter Egg Hunt" (which took place across multiple television shows and social media) don't quite fit your marketing budget.
So, what can you, as a small business owner, do that will have an impact? Here are five Easter marketing ideas for your online shop:
Before we get started, it's good to remember that there are many important holidays in the e-commerce world. However, those big shopping days can vary from market to market. Download our holidays calendar for the most important marketing days across Europe. Just click on the banner below to head to the download page:
Easter shopping in the UK (statistics)
Before we get into the marketing tips, let's have a quick look at some data related to Easter shopping.
In this first chart, we can see the total retail spending on Easter in the UK (2022). In 2020, spending broke the £1 billion mark. Last year (2022), spending reached £1.3 billion.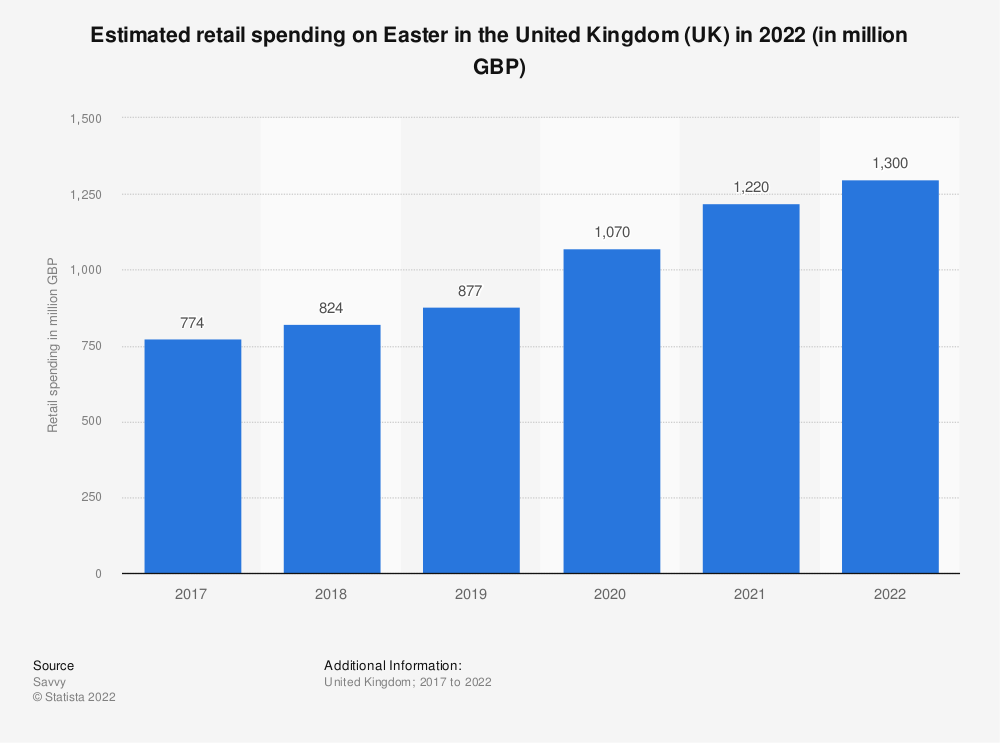 Source: Statista
The next numbers are more related to local businesses. However, they are still interesting to consider in the big picture of how money is spent in relation to Easter.
If we look at how people spend their money on the actual holiday weekend, the average planned spend is highest with younger generations. This could be indicative of who is spending money in the weeks leading up to the holiday.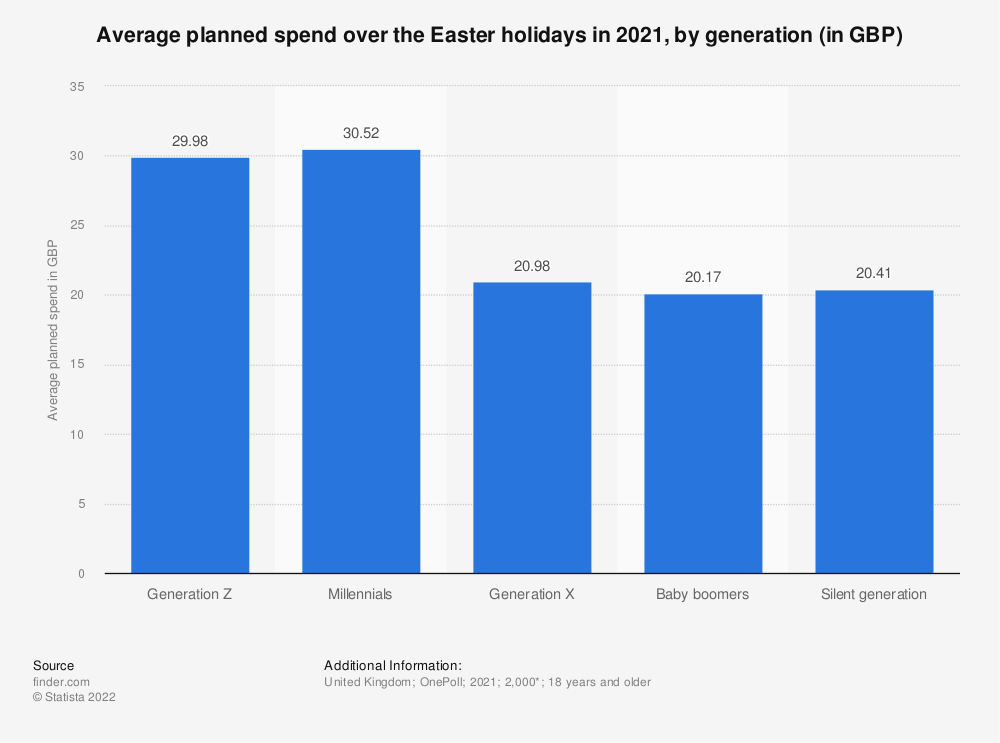 Source: Statista
Taking an even closer look at foot traffic (aka footfall), Good Friday is the busiest shopping day compared to Saturday, Sunday, or Monday: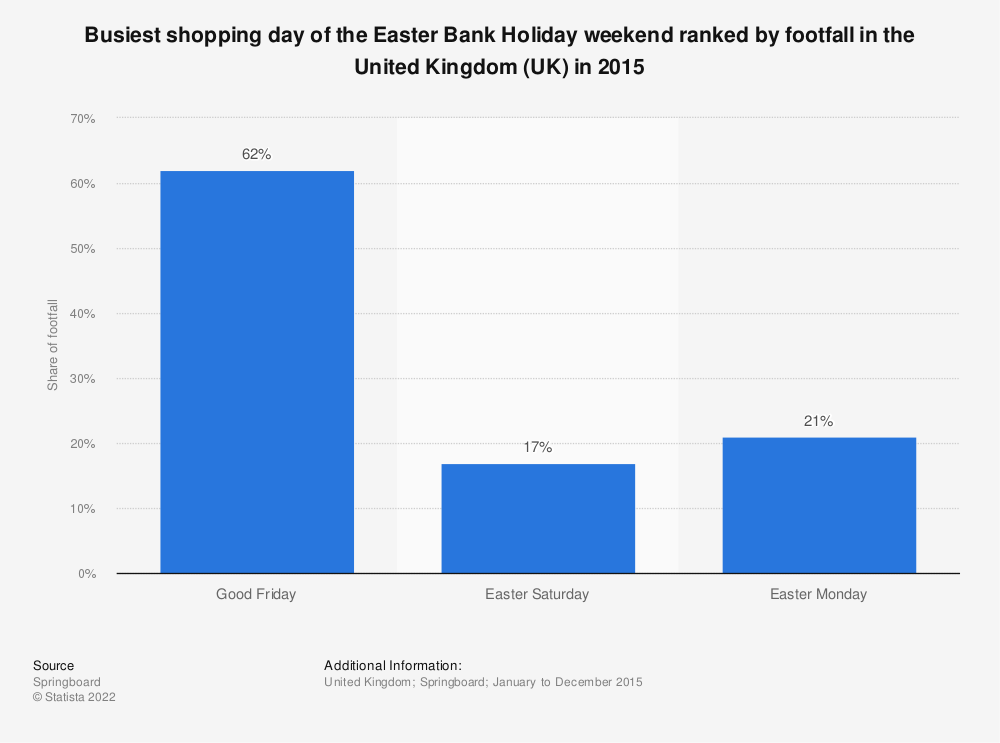 Source: Statista
5 Easter marketing ideas
Let's now look at some ways you can prepare your Easter marketing campaigns...
1. Give your newsletter a touch of Easter flair
Of course, this tip only applies if you send out emails/newsletters somewhat regularly. If you don't already do this, you should definitely consider doing so in the future.
You already know that your most valuable customers are the loyal ones. If you send out a newsletter, this is a great opportunity to promote your products. Make sure your email design is an instant reminder of the upcoming holidays. This alone could be the inspiration they need to start shopping (with you!).
In the example below from American clothing retailer, Old Navy, the chocolate bunnies are an instant reminder that Easter is coming up. The font style and sizes also highlight the biggest element of the sale: the discounts.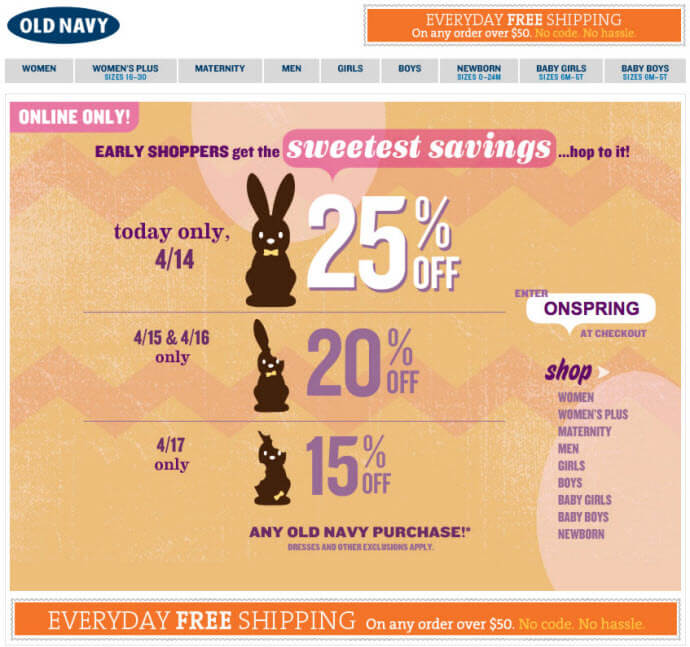 The American clothing brand, Old Navy, gives their customers plenty of chances to save money with their sales, but they also add some urgency. (Source: Old Navy)
Depending on the software you use to manage your email campaigns, you can find plug-ins at the provider's website or go to third-party developers. With Magento, for example, many third-party developers provide creative and fairly-priced options, so check out what is available to you!
2. Tweak your website
The same concept can work for your website as well. During any big holiday, your service provider will most likely offer some plug-ins for your website. Adding a little extra flair can really put your customers in a shopping mood.
Something as simple as adding some Easter-themed photos or a header image can really make a difference and inspire your customers to shop, especially with the extra incentive of a limited-time discount.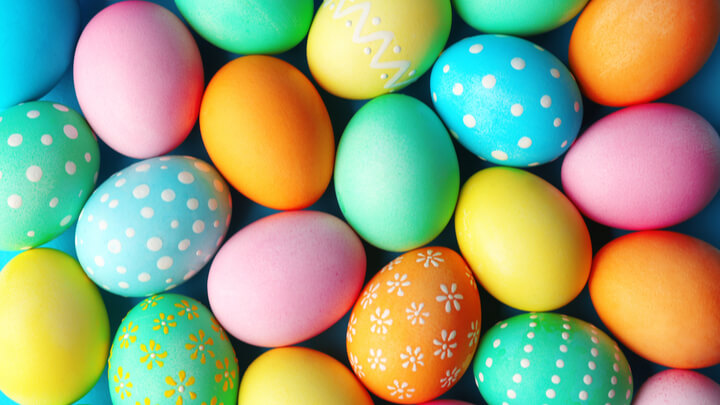 Source: shutterstock/Africa Studio
Create an online Easter egg hunt
Taking it a step further, you could even create an Easter egg hunt on your website.
Finding all the eggs leads to a discount as a reward! But, discounts are easy, right? Why bother creating a whole Easter Egg hunt just to give out a discount?
The genius lies in the fact that that customers will have to scan through your website to find them. This inspires them to check out certain pages that they might not have visited otherwise.
Once they find the eggs, they'll be redirected to a page providing a discount code.
Combined with your Easter-themed newsletter, your traffic (and conversions) are sure to increase. Simple plug-ins on e-commerce platforms are generally inexpensive and usually fairly easy to integrate. For example, "Gift Hunt" on WordPress or "Discount Hunt" on Shopify.
Easter falls on the same day in every country, but not every holiday works like this! Mother's Day, for example, falls on at least 6 different days in Europe! Download our marketing calendar for an overview of the biggest holidays in the biggest European markets!
3. Get your social media accounts in the mix
Well, now it's starting to look a proper campaign! And what's a good campaign without social media?
Simply put, try to synchronise your social media pages and posts to fit the look and feel of your website and newsletter.
However, you can do much more than just synchronising your social media accounts to have an Easter motif.
For example, if the Easter egg hunt isn't easy to integrate onto your website, an easier option would be to place them in your social media posts.
Don't forget to regularly remind your followers of the contest and encourage them to follow your account. This will get them to regularly check your posts. Alternatively, you can provide daily hints in your social media posts about where they can find the eggs on the website. This will boost engagement on your platforms and traffic on your website.
You could also post some nice photos (with people, if possible) of the products that you want to promote. Use your hashtags, mention any sales, coupon codes, or anything else that you think is relevant. A great social media campaign has some personality to it, so don't be afraid to be creative and have a bit of fun!
There are lots of ideas out there that can get your audience engaged with your brand. You can even try to encourage your audience to take part by getting them to do something as simple as wearing bunny ears and holding your product to qualify for a discount.
Although it's much easier said than done, you could try to create something that goes viral(ish).
In the video by Co-operative Group below, they made a heart-warming video campaign looking for "good eggs". The budget was most likely very low, but it was a great idea for getting into the spirit of the holiday.
4. Run a contest
Social media is special because it really is the only way that your customers (and potential customers) can interact with the company directly and publicly. That is why running a contest could be a great way to inspire action from your target group.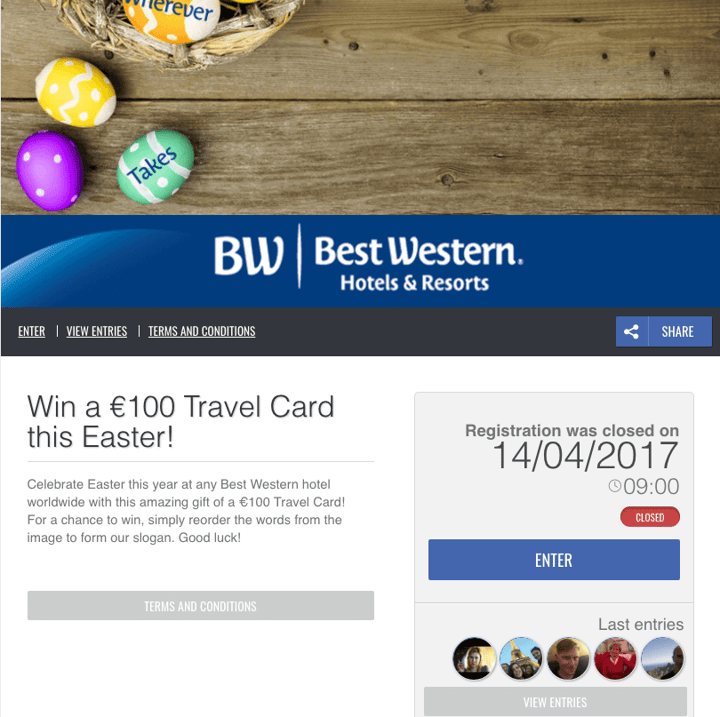 Best Western Hotels and Resorts was giving away travel cards for the Easter holiday.
Whether it's an Easter egg hunt, a selfie contest, or a "write a caption to this photo" competition, this can really build a connection between the company and the public. Just don't forget to promote this contest in all of the above-mentioned mediums. This might even get you some new followers.
5. Run paid ads
To go along with social media, you might want to consider running some paid ads, which could work really well. You can target the consumers precisely while also focusing on a campaign themes (like Easter!).
Create the ad, set your budget, and check out how they perform regularly. You should even consider running multiple ads at the same time to test which ones are getting the most clicks (known as "A/B tests"). Do certain images or texts work better than others? This information will be valuable for other holidays, but also for next year's Easter.
Make sure to do some good keyword research beforehand as well and find the right audiences to target.
Conclusion
There are a lot of ways that you, as a small business owner, can promote your online shop during the busy shopping seasons. It's important to plan ahead and start promotions and "holiday awareness" campaigns a few weeks in advance. A couple small tweaks to your site, combined with a good social media campaign, and a bit of fun can get your shop the extra attention that you want without too much money or effort.
With all the holidays across different markets, make sure to download our European marketing calendar to get an overview of the best e-commerce opportunities in the biggest European markets.