Want to reach your customers and inspire them to shop, all without spending a lot of money? Then Instagram could be just the thing for you! Read this article and find out how you can start marketing with Instagram to increase your sales.
We'll be covering a lot of topics, so here is a table of contents in case you want to jump ahead to a topic that interests you:
Note: If you want to download this blog as a whitepaper to read later, click here:
Table of Contents
Getting started with Instagram
If your shop is not already represented on Instagram, you need to get on it! Instagram and e-commerce belong together like teenagers and smartphones (who also belong on Instagram!).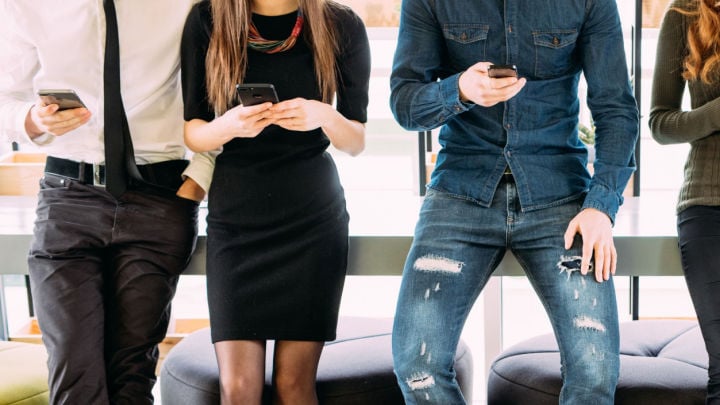 Source: shutterstock/F8 studio
Instagram is used by more than 1 billion people every month (with about 24 million in the UK alone), and thus has huge potential to attract new customers.
It's worth noting that Facebook bought Instagram in April 2012 for approximately $1 billion and shortly thereafter made advertising on the platform possible. It has since become one of the most successful social media advertising platforms.
But how do you get users to find your new Instagram profile, become your followers, and eventually become customers?
Getting started is simple: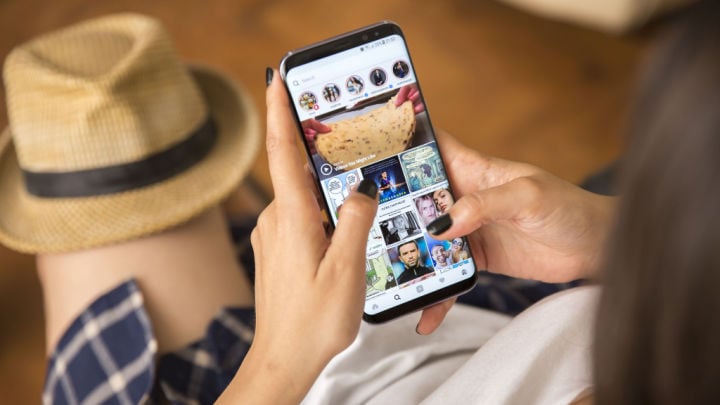 Source: shutterstock/Nadir Keklik
Right after your Instagram account has been brought into this world, it is not yet very impressive. 0 followers and 0 pictures.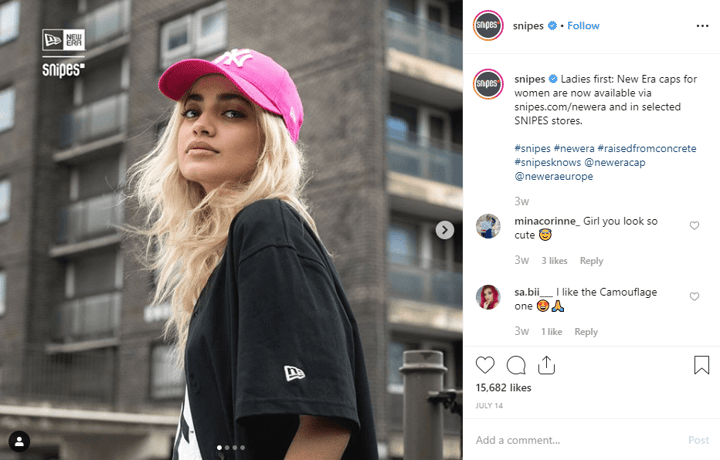 Source: Snipes
Because no one follows an account that hasn't uploaded any pictures or videos, the first step should be to fill up your account with images.
Posting the right pictures
Of course, the pictures and videos you publish should fit your store/brand and be of high quality.
Instagram is a style, aesthetic medium. Therefore, you won't win over any fans with basic product images.
Rather, you should focus on images that excite, inspire, and entertain potential customers. You can do this by posting images that include:

customers using your product

a saying or quote that fits your shop

your products in real-life situations

your product displayed artistically

a behind-the-scenes look at your shop

winners of a contest or challenge you've run

your product being used in an unusual way

you making fun of yourself

you showing how much your customers mean to you
When you look at all the most popular Instagram accounts, you'll notice that there is always a common thread. Is it always the same filter, recording style or posts in a certain order?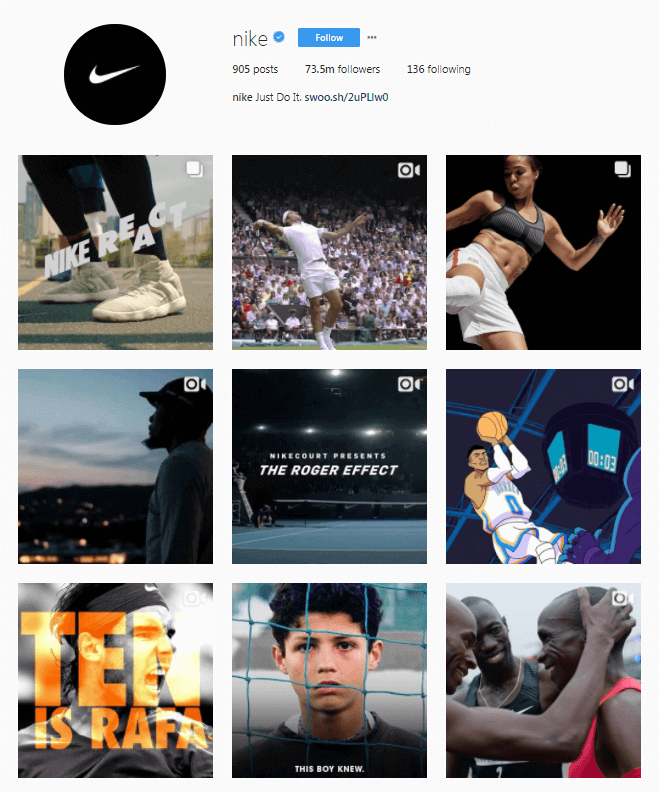 Source: Nike
Finding your own style ensures that fans can recognise your pictures without having to look at the username.
Especially at the beginning, you should experiment a lot. What suits your shop? What do your fans like? Once you've found a suitable recipe, you should remain faithful to it.
Tip: You should post between one and three pictures/videos per day to keep your followers engaged. It is best to take your time and plan ahead. A provider like Hootsuite can help with planning.
Get the right followers (without paying for them)
Would you like 100,000 followers on Instagram? That's not too difficult, because you can just buy them for about £500.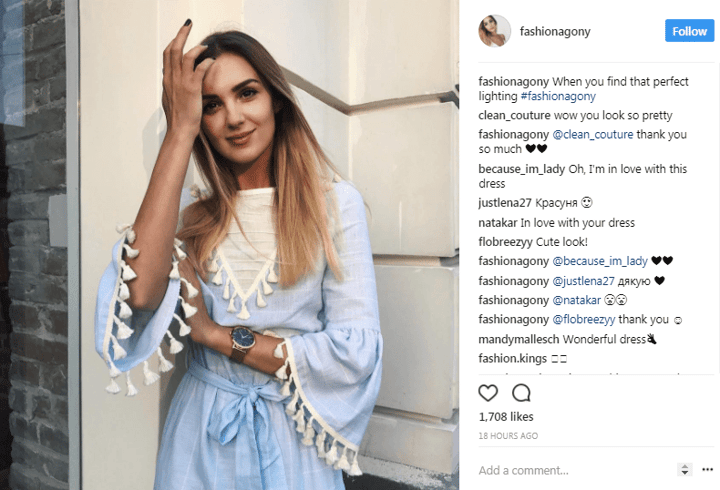 Source: Fashionagony
However, this is not really the best path to take. First of all, you'd be violating the rules of Instagram. Secondly, 100,000 followers who are not fans (and 99.999% aren't even real people) will not increase your sales. On the contrary.
Paid followers can show your shop in a bad light and destroy your credibility, a basic pillar in e-commerce. So wouldn't you rather have 1,000 real followers who are true fans and potential customers of your shop?
Getting your first fans
You can quickly collect your first fans by letting your existing customers know you've created an Instagram business account. Simply reach out to them with an announcement through the channels that contain their contact info (e.g. e-mail, Facebook, package flyers) and give them an incentive to become a follower of your online shop (e.g. Get 5% off your next purchase by posting an image using our hashtag #example).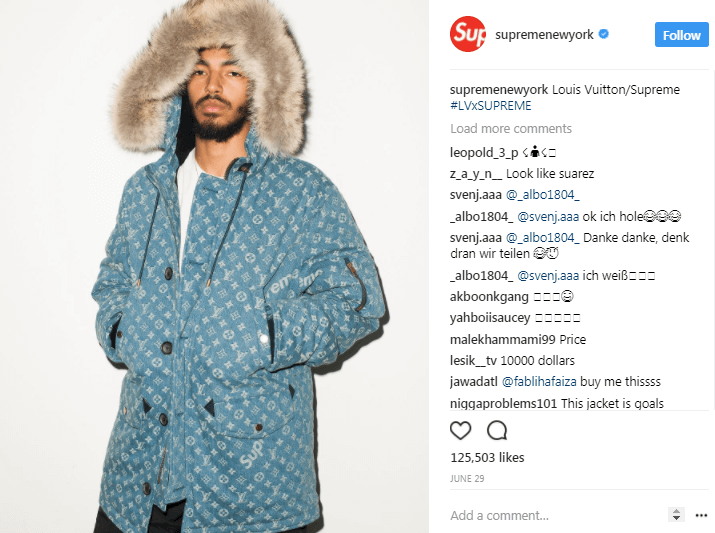 Source: SupremeNewYork
If they don't find you, find them!
Wouldn't it be great if Instagram users just followed you without you doing much more than posting a cool photo every day? Though this does happen for the big brands and major influencers, it's not exactly a realistic strategy for the up-and-comers. So what can you do to get more followers? Be proactive!
For starters, you can visit your competitors' accounts and find their followers. Start following them and hopefully they'll do the same in return. If this seems a bit tedious, you can simply do what Neil Patel does: just like their photos. In his experience, for every 100 random photo-likes he gave out (to people he doesn't already follow), he gets 6.1 more followers.
You might also want to do the unthinkable: engage with your competitors' content (with your private account). If you can add some humour, or great insights you might actually get some users to follow your page, too.
Help them find you with #hashtags
When you post a photo, you can add some text to go along with it. You can begin with a creative and inspiring caption.
After that, you can add some keywords to help you get your content discovered. Using keywords along with the "#" (hashtag) in your posts allows people to discover your images with the search function.
Another way to think of hashtags is that they are a sort of indexing tool. By adding keywords that are associated with your brand and/or images to your posts, people can discover your brand easier when they search for new images using keywords.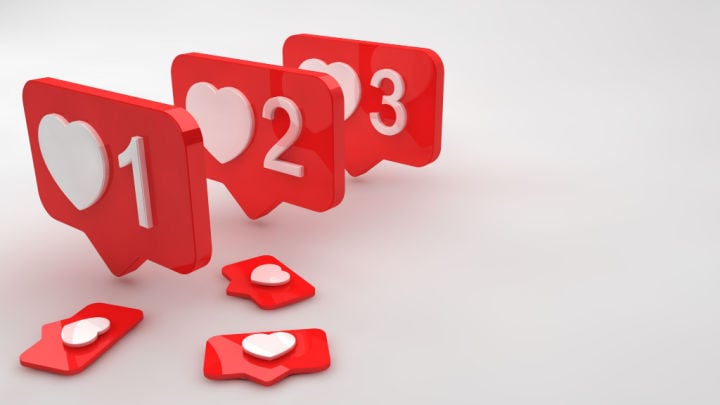 Source: shutterstock/Diego Maravilla
Instagram lets you use up to 30 hashtags per post, so this gives you a lot of opportunities to get discovered.
Think of hashtags with Instagram in the same way you would with think of keywords with Google. Just like with search engines, there are two basic strategies to take in terms of keywords/hashtags.
The first one would be to use really popular hashtags (e.g. #love #instagood #photooftheday). Using popular tags is likely to reach a lot of people and win you more followers. However, this tactic is really only good if you want to collect followers no matter the target group. Besides that, the competition is very high with the most popular words, so being discovered is no sure thing.
The second strategy for using hashtags is to find very specific keywords or phrases that aren't as popular as other ones, but are still active among a niche community.
Although a lot fewer people might stumble upon your photos, the users who do find them will more likely be part of the target group you're aiming for. In a sense, this tactic is a matter of quality over quantity. This would be comparable to the longtail keywords tactic for SEO strategies.
Remember, it's generally better to have 10,000 relevant followers than a million irrelevant ones. Just know what your goals are and strategise appropriately.
Every Hashtag has a top-9 list. The top 9 posts of the last 24 hours are displayed when searching for a hashtag. These top 9 pictures usually come from extremely popular accounts that can get thousands of likes and comments within the first few minutes of posting.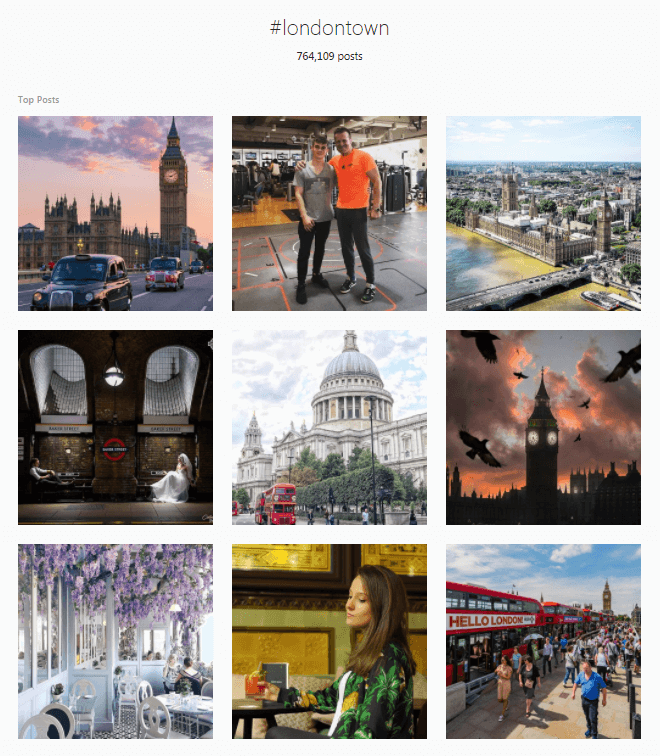 One thing to keep in mind is that you want to be careful with over-hashtagging your captions. It might come off a bit spammy if you pack 30 hashtags into one caption. One way to avoid this is to put those hashtags in the comments section instead of in the caption.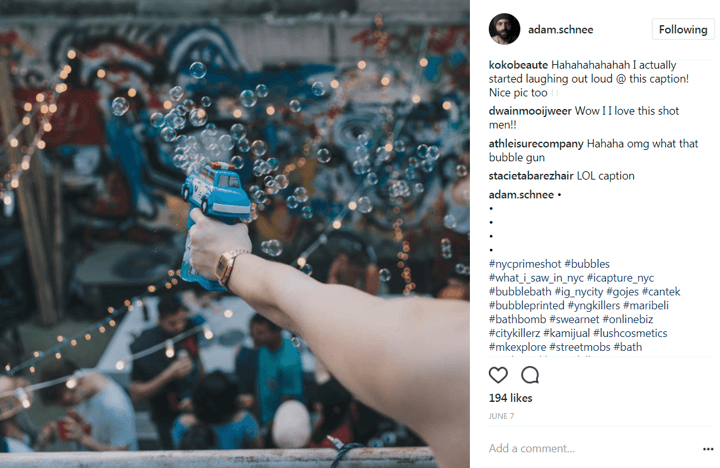 Source: Adam Brett Schneberg @adamschneberg
The hashtags in this post are placed in the comments section to seem less spammy. Also, notice the hashtags are a mix of general keywords and niche keywords. For a photographer, this is a great way to get the attention of the masses as well as magazines, agencies, and potential customers looking for something specific.
Engage with your audience
Posting consistently is one thing, but if you really want to build a relationship with your audience, you have to engage with them as well.
If you're fishing for new followers on other accounts, it's a good idea to like other photos.
However, an even better idea is to leave genuine comments and feedback on photos. You can also directly address another comment by tagging someone in your comment and starting a conversation.
If you're on your own posts, it's not very different. If people are taking the time to leave comments, do your best to respond to them all. Surely, you can't reply to every single comment (and this might seem desperate), but find those comments that are most likely to lead to a conversation.
Another thing you can do on your own posts is inspiring action. Instagram isn't much different than any other form of online marketing. You want to inspire your followers to do something. Provide a call-to-action. It doesn't need to be anything too markety like "Buy now!", but simply tell them to "leave a comment".
Even better than asking for comments is to inspire them to leave comments on their own. For starters, use an inspirational caption. This will test your creativity. Are you good as good with your words as you are with your camera? If you're not exactly a poet, another strategy would be to ask a question to your followers. People love giving their opinions, so ask a question and they'll be sure to reply.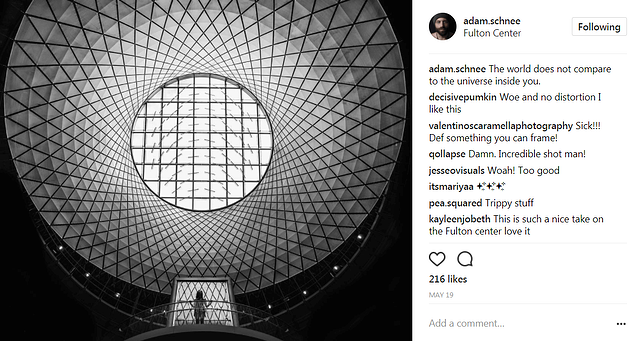 Source: Adam Brett Schneberg @adamschneberg
"The world does not compare to the universe inside you." Inspirational words will inspire comments.
If you're a business, it's not a bad idea to share your followers' photos. Sharing user-generated content is an amazing way to engage with your customers. Not only are you flattering your customer, but there's a great chance the image will be shared even more.
Speaking of engagement, consider running a contest. The prize is up to you, but generally speaking, this is a great strategy for businesses trying to build brand awareness.
As mentioned above, sharing user-generated content is an amazing way to engage with your customers. Real people are any brand's best advocates and letting them share their love of your brand is as good as it gets.
Not only will you get lots of people submitting photos to your company, you'll get tags, and shares as well. On top of that, you can take this opportunity to create your own hashtag that fits your brand's lifestyle. Again, this will test your creative skills. Try to make the hashtag memorable, easy to spell, and appropriate.
Dove's #Likeagirl campaign was inspirational and led to a lot of image submissions
Time your posts
Timing is everything. Neil Patel set out to find some stats about Instagram marketing recently.
According to his research, Monday at 5pm is the best time to post images. Perhaps people are most engaged after that first day of the workweek.
The second most popular time to post a photo is either Wednesday or Thursday at 3pm.
Remember, Instagram marketing is not an exact science, so we always recommend testing things for yourself. Every demographic and target group behaves differently, so your results may vary.
Another noteworthy statistic is that a photo is most active (i.e. gets the most engagement) for the first three hours after it's posted.
How active? Well, 46.15% of all comments happen in the first hour of an image being posted and 69.23% of image comments come in the first three hours. If engagement is what you're looking for, test what times get the most activity.
Play with colours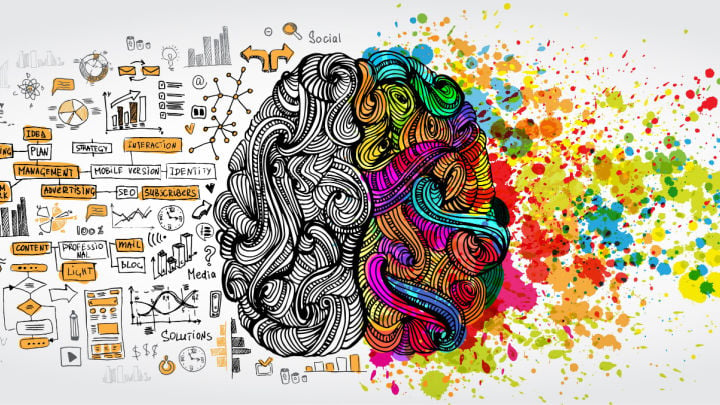 Source: shutterstock.com/Kirasolly
Some images generally perform better than others. According to Curalate, images with a dominant color of blue perform 24% better than images dominated by reds and oranges. Similarly, bright images perform 24% better than dark images. So, think about sunny, blue skies!
Recommended reading: Psychology in Design
Tag people in your images
According to some research, images with faces receive 35% more likes than images without faces. That means you should show the human side of your brand whenever possible!
If it's appropriate, tag people in your images. You will increase the chances of your images getting shared much more if you do this - we all have egos, don't we?
Just be careful not to do this if it doesn't make sense in the context of the image. It feels very spammy if you tag 50 people in an image that they have nothing to do with.
Instagram Stories
Instagram Stories is a feature that lets users (and businesses) post photos and/or videos that completely disappear after 24 hours (you can save them as a Highlight so users can access them when they visit your profile after the initial 24 hours).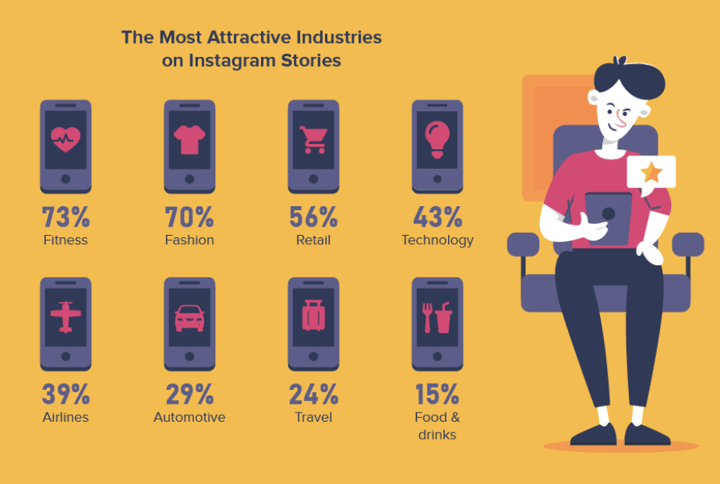 Source: 99firms
With Stories, you can create a sequence of images to tell a story to your followers. Each image is shown for approximately five seconds before switching to the next one.
These stories appear at the top of the Instagram feed, so Instagram wants users to see and click on these stories. As a brand, you should use this feature to get more engagement.
With the Stories feature, you can add stickers, hashtags, location info, and perhaps best of all, polls. By adding polls to your stories, you can really get users to engage with your posts, thereby strengthening the relationship with them.
It's worth noting that users can also discover Stories from brands they don't follow yet by browsing by their location or their hashtag.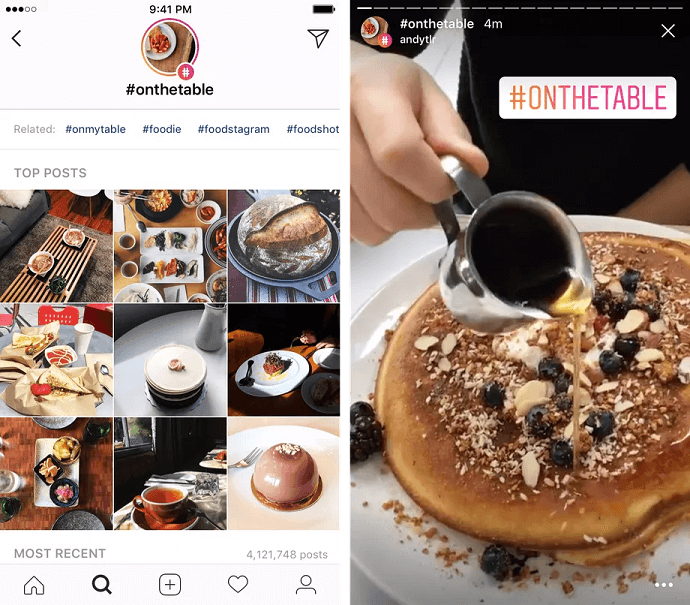 Source: Andytlr
Although the normal feed might feel like it's filled with only the most polished images, Stories gives companies the chance to display their more authentic side by giving a behind-the-scenes look at their business.
On top of that, businesses can create ads that show in users' Stories feed (more on that later).
Instagram Ads
Having an organic presence is definitely the first step to succeeding on Instagram. However, advertising on the platform can really pay off if done correctly.
Of course, most users don't open the app with an intent to purchase anything. However, this is slowly changing as many users are starting to use the app for product discovery. As a visual medium, it makes total sense that Instagram is wildly popular with shoppers and marketers alike.
Getting started with Instagram Ads
Once you've got switched your profile into a business profile and added all the pertinent information, you can start experimenting with ads. There are three basic ways to advertise on Instagram:
Within the app: You can take an existing organic post and begin promoting it by clicking on the Promote button.

Ads Manager: Use the Facebook Ads Manager to set up, make changes, and analyse your ad campaigns.

Instagram Partners: Instagram offers businesses a choice of partners who can help you with many of the tasks involved with running a successful ad campaign.
Targeting with Instagram Ads
As with Facebook ads, you will have plenty of targeting options so you can reach your ideal customer.
Targeting options include location (great for local businesses), demographics (age, gender, language, etc.), interests (apps they use, accounts they follow), behaviour (on Instagram and Facebook), custom audiences (if you have email addresses and phone numbers of users you already know), lookalike audiences (find users similar to your existing customers), and automated targeting (let Instagram create an audience based on a variety of signals).
Related reading:
How to Market to Your Customers Better by Creating a Buyer Persona
Checking performance with Instagram Insights
Once you've created a business account, you can naturally check on how your content performs through Instagram Insights, which is accessible through your profile.
Here, you can get some data on:
Activity: Get information on your profile, including interactions (e.g. visitors and website clicks), as well as Discovery (seeing how people find your content and how many people see it).

Content: gives insights on your posts, stories, and promotions.

Audience: learn more about your followers and audience.
Instagram Ad formats
Before we have a look at the different advertising options available on Instagram, keep in mind that each format comes with multiple options for a call-to-action (CTA) button. Depending on the objective of your ad, you have a few options as to what you will ask users to do. Different CTAs will also affect the price of your ad.
Now, let's see what kind of ad formats are available to you:
Photo ads
Photo ads are the classic format for Instagram advertising. Just as it sounds, photo ads include a single image along with some text and a call-to-action (CTA).

Source: @jaspersmarket
Photo ads specifications
Images: The images can be either square, landscape, or vertical.
Image ratio: 1:1 (square), 1.9:1 (landscape), 4:5 (vertical)
Minimum resolution:
600 x 315 px (1.9:1 landscape)

600 x 600 px (1:1 square)

600 x 750 px (4:5 vertical)
Maximum resolution: 1936 x 1936 px
Maximum file size: 30 MB
Captions: Text only, 2,200 characters
Call-to-action options: Book Now, Contact Us, Download, Learn More, Show Now, Sign Up, Watch More, Apply Now
Video ads
As you might imagine, these types of ads include a video instead of a single image. This gives you the opportunity to tell a story, grab your audience's attention, or simply show your products in action.

Source: @Volvocarusa
Video ads specifications
Video: can be either square, landscape or vertical.
Image ratio: 1:1 (square), 1.9:1 (landscape), 4:5 (vertical)
File type: .mp4. (full list of supported video formats here)
Supported video codecs: H.264, VP8
Supported audio codecs: AAC, Vorbis
Minimum resolution:
600 x 315 px (1.9:1 landscape)

600 x 600 px (1:1 square)

600 x 750 px (4:5 vertical)
Maximum dimensions: 1936 x 1936 px
Minimum length: no minimum
Maximum length: 60 seconds
Maximum file size: 4GB
Frames: 30 fps maximum
Bitrate: No limit to bitrate file if you're using two pass encoding, as long as your file doesn't exceed 1 GB. Otherwise, 8 megabits per second for 1080p and 4 megabits per second for 720p.
Thumbnails: Same specs as images (Video ads must be uploaded with a thumbnail)
Captions: Text only, maximum of 2,200 characters
Call-to-action options: Apply Now, Book Now, Contact Us, Download, Install Now, Learn More, Open Link, Play Game, Use App, Shop Now, Sign Up, Watch More, Watch Video
Carousel ads
Carousel ads are similar to photo and video ads, except that you can add multiple images/videos. Users who see this ad can swipe left to see the additional images/videos. This enables advertisers to show more products and/or tell a story as well.

Source: @fizzygoblet
Carousel ads specifications
Images: Square photos/videos with 1:1 aspect ratio.
File Type: .jpg or .png
Minimum dimensions: 600 x 600 px
Maximum dimensions: 1080 x 1080 px
Minimum file size: none
Maximum file size: 4 GB
Captions:
Maximum characters: 2,200

Each card can drive to a unique URL with a custom caption per card
Carousel Unit:
Minimum: 2 photos or videos, 2 links, 2 captions

Maximum: 10 photos or videos, 10 links, 10 captions
Call-to-action options: Apply Now, Book Now, Contact Us, Download, Install Now, Learn More, Play Game, Use App, Shop Now, Sign Up, Watch More, Watch Video
Collection ads
Collection ads allow business owners to share their catalogue with Instagram (and Facebook) users. The ad will appear with a hero image and as well as some images of your products below it, which can be expanded. This is the fastest way to get potential customers to start browsing your product catalogue.

Source: Ashley Furniture
Collection ads specifications
Image or video: You can select the hero image or video. You can manually choose the images which appear below the header. You can also let Instagram choose these images dynamically.
Feed hero image/video: Instagram supports square (1:1), full landscape/horizontal (16:9) and slideshow. IG will not support ratios higher than 1:1.
Minimum image width: 500 px
Minimum image height: 500 px
Text: 90 characters.
Objectives supported: Traffic, Conversions, Catalogue Sales and Store Visits
For more information, head here.
Stories ads
Instagram Stories ads offer businesses an opportunity to create a full-screen (vertical) video format with either videos or photos. Advertisers can use filters, text overlay, and drawing tools to give their ads some flair. The ads will appear between other users' stories.

Source: @lacoste
Stories ads specifications
Aspect Ratio: 9:16 Full-Screen Vertical Ad
Resolution:
Video length:
No minimum

Maximum: 15 seconds
Photo content:
File type:
Video: .mp4 or .mov

Photo: .jpg or .png
Max file size:
Supported codecs:
Video: H.264, VP8

Audio: AAC, Vorbisx
Available objectives: Reach, Video Views, Traffic, Conversions, and App Installs
Tagging products in posts
Another great option for online shops who advertise on Instagram is that they can tag product in their images. This allows users who view that image to be able to buy the product directly and easily.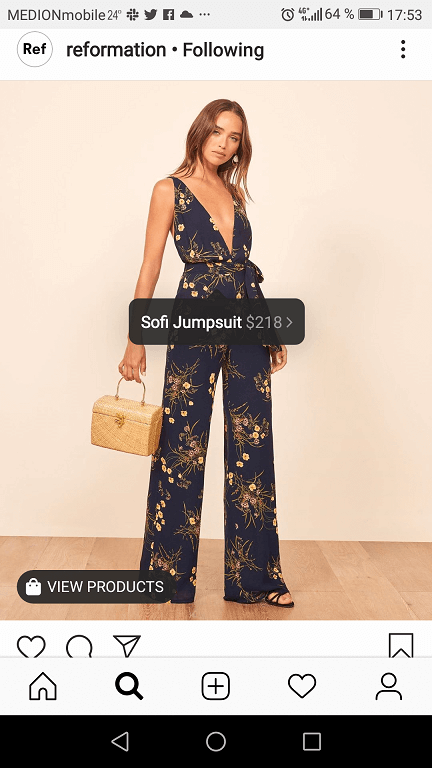 Source: Reformation
Reformation tags their organic posts with links to their products
In order to be able to tag your products in your posts, you need to have a Facebook business page, have that page linked to your Instagram account, and create a Facebook store. When you have these three points checked, then you can begin adding product tags to your posts (yes, your organic posts as well!).
For a nice explanation to walk you through the process, check out this video:
Influencer Marketing
No article about Instagram for businesses would be complete without mentioning the topic of influencer marketing. If you want a deeper look, check out our article focused on influencer marketing, but in the meantime, here's a brief overview of the topic:
In case the concept is new to you, a social media influencer is someone who has gathered a large number of followers on social media, usually due to the quality of their online content (i.e. YouTube, Instagram, Facebook).
They usually specialise in a certain niche (e.g. Premier League podcaster, Vegan recipes YouTube channel). Therefore, they are very influential to their followers. Thus, advertisers will sometimes reach out to influencers to see if they will promote their product to their audience.
Because these influencers specialise in a certain niche, their followers are not only the perfect audience for brands in that industry, but they are loyal to their influencers.
Generally speaking, we can break influencers down into two types:
Celebrities/macro influencers: have hundreds of thousands of followers (or more)

Micro influencers: have more than a thousand followers
The exact definitions might change a bit depending on who you ask, but the basic concept remains the same: influencers have a huge number of followers or a small (but respectable) number of followers.
Although you might think that the more followers someone has, the better, this may not necessarily be the case. Sometimes, these macro influencers cover a wide range of topics in their content, so the audience can be quite scattered from a targeting perspective. Also, some macro influencers actually buy followers to inflate their numbers.
Therefore, if you are a small business, looking into an advertising partnership with a micro influencer could be a worthwhile investment. They may have less followers, but these fans tend to be more loyal, more engaged, and a better audience to target for specific/niche industries. Last but not least, working with micro influencers tends to be significantly cheaper than working with a major celebrity!
Again, check out our blog on influencer marketing to get a great overview on how to find influencers, how much you can expect to pay for them, as well as what kind of return-on-investment you should aim for when beginning a campaign.
Conclusion
Although Instagram arrived a bit late to the social media game, it has become incredibly popular. As an image-based app, it is ideal for businesses to share their products and gain new followers as well as new customers.
With the power of Facebook behind it, paid ads offer great targeting options for businesses to reach their audience. Organic posts can bring your business plenty of attention, too, all while building your brand image. And what better way to work on your brand image than with an image-based social network?
Download this blog entry as a whitepaper (PDF):