Influencer marketing can be a great tool to raise brand awareness and boost sales for your business or products. As advertising makes its way into the deepest parts of our daily lives, consumers have grown to acquire a certain "skill": banner blindness, the ability to ignore ads even if they are right in front of your face. Influencer marketing is the perfect antidote for this.
shutterstock.com/VectorMine
Let's face it: the ads are indeed endless. And new ad types are invented every month (like outstream video ads). There are endless variations that YouTube offers their advertisers: banners, pop-ups, mid-rolls. Then there's Google Ads. Let's not forget Facebook ads.
Well, I could keep going, but I think you get the point: When you take a step back and look at the digital advertising landscape, it's no wonder people have developed such a strong ability to ignore advertisements.
That's why I want to talk about a more "discreet" form of advertising today. So, before we get into the best approaches for beginning a social media influencer campaign, let's define what a social media influencer is and what advantages (and disadvantages) they have.
Here are the topics of this article in case you want to skip ahead:
What is a social media influencer?
A social media influencer is an online personality that has gathered a substantial amount of followers. Because of their popularity within their niche, they are said to have a great influence over their followers.
An influencer campaign involves getting such influencers to promote your products on their social networks. Many advertisers see this as a great value because someone (highly) relevant to their target audience is actually giving their recommendation to a product within a platform that feels very personal and not as "markety" as a standard advertisement.
shutterstock.com/NicoElNino
Who is influencer marketing for?
Influencer marketing is interesting for many kinds of industries, companies, and products. The beauty industry is flourishing with the use of numerous YouTube vloggers who are recommending and using their products in front of millions of viewers.
You can look at tech videos as a good example, too. These influencers often test the latest gadgets and sharing their experiences online with their community.
Basically, any type of company can profit from influencer marketing as long as there is an influencer out there with an audience that is similar to yours. And if you are not up for the search, there are dedicated platforms that specialise in connecting you with a suitable influencer (more on that later in this article).
What are the different kinds of influencers?
When it comes to social media influencers, there is a certain "hierarchy" that directly relates to the number of followers the influencer has. It depends on who you ask, but generally speaking we define the different influencers as:
Micro influencers are users with over 1,000 followers.
Macro influencers are users with over 100,000 followers.
Anyone with over 1,000,000 followers can simply be called a celebrity.
Again, some people define these differently, so these definitions aren't written in stone.
Below is an example of a macro-influencer. With a focus on (retro) gaming, this YouTube channel has nearly a million subscribers:
ETA Prime creates lots of videos for gaming enthusiasts. With roughly 700k YouTube subscribers, his videos often get hundreds of thousands of views.
At first, it might seem like the more followers an influencer has, the better reach they'll have. However, that's not exactly true.
While celebrities can be influential and have huge followings, micro and macro influencers tend to be very well known within specific niches. This gives them a certain authenticity, reputation, and authority as experts and are therefore seen as highly trustworthy.
Naturally, these "lower tier" influencers will cost less than hiring a celebrity influencer. Therefore, depending on your product and industry, micro and macro influencers are generally preferred and recommended for small- and medium-sized businesses.
How micro influencers can boost your online sales
Micro influencers are more like "regular people", just like you and me. They often started out with a passion for a certain type of product or industry. Think: make-up, technical devices, sports equipment, food & recipes. These individuals have managed to create an image for themselves and gathered a loyal audience that they've inspired.
Take the example of blogger Courtney Whitmore (@pizzazzeria), she loves party planning because of the cooking and the preparations of certain holiday themes. She was spotted by Lindt when she was creating an Easter Special with Lindt Golden Bunny products. She presented the brand to her audience even before she became an official influencer.
Perfect match, right? She has now been their ambassador for over 3 years and regularly recommends and uses Lindt products in her vlogs, posts and messages.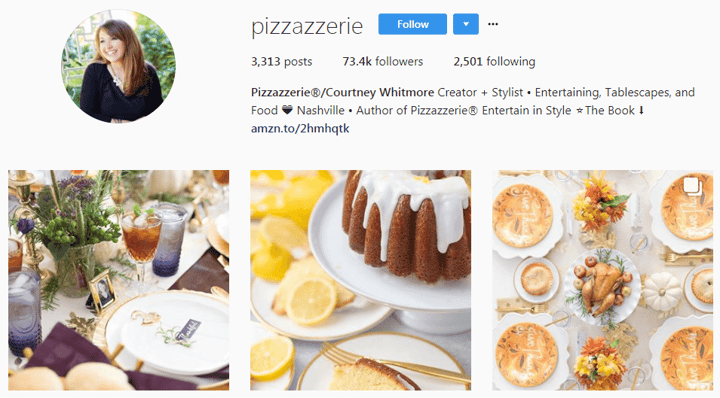 Advantages of influencer marketing
There are quite a few advantages to influencer marketing campaigns. As I mentioned above, one of them is that you can target an audience that is perfectly aligned with your business.
To top if off, you're getting someone that your audience voluntarily follows to promote your product. You really can't ask for a better ad campaign if you think about it. It's like a combination of celebrity endorsements and product placements.
shutterstock.com/Graphics Master
There are different options out there for influencer campaigns as well. For a wide reach of a product that will be interesting to the masses, you can use a highly influential person to promote your product (think the Kardashians).
What would probably make a lot more sense for your business is to use a micro influencer, as explained above. Because their followers (a.k.a. your target audience) tend to be much more specific in terms of audience targeting, this is perfect for a niche market. After all, who makes more sense to promote your line of drill bits: the D.I.Y. master YouTuber with 200,000 followers or Justin Bieber with 102 million followers?
Not only that, but a good influencer campaign can improve the SEO of your website. By getting more organic visits to your website, Google & Co. will see the value of your website and rank you higher.
FREE WHITEPAPER: If you're interested in advertising on Instagram, check out our free whitepaper below:
Disadvantages of influencer marketing
Although these ads seem more natural, one thing to be aware of is that these kinds of promotions need to be labelled as such. The Advertising Standards Authority (ASA) has published guidelines for affiliate marketing on social media in the UK.
It basically states that if an entire post is related to the promotion of a product or service, the commercial nature should be disclosed at the beginning of the post. Obviously, users who notice this might be less easily convinced to buy your product. Naturally, different countries and region have different standards for such promotional activities, so make sure you are up to date with your country's regulations.
Besides this, the success of these influencer marketing campaigns can also be difficult to predict. You never quite know how the audience will react to the promotion. Will engagement numbers be high? If no one likes, shares, or comments on your campaign because it comes off as inauthentic, then you may have spent a decent amount of money on no returns. It's good to keep such things in mind during your negotiations with the influencer.
5 influential statistics about influencer marketing
By now, you've probably been convinced about the merits of influencer marketing campaigns. It's considered by many as a great way to get in touch with millennials and Generation Z without being too "markety". In case, you're not fully convinced yet, I'd like to share some statistics on influencer marketing.
Too big to fail?
Influencers with over 10 million followers have very low engagement rates (0.04%) compared to the average influencer (3%). This statistic perfectly sums up why micro influencers are the way to go. Micro influencers are popular users that have a "modest" following between 10k-100k followers.
The reason these micro influencers are so great for marketing campaigns is that they are very popular within a certain niche. That means that they are strongly connected to a community of people with a certain hobby or interest. Because of this, followers are considered very loyal and their engagement with these kinds of influencer is very high.
Naturally, micro influencers are also much more affordable when it comes to marketing as well. All in all, this leads to a higher return on investment (ROI).
Return on Investment
shutterstock.com/eamesBot
Speaking of ROI, influencer marketing in general has a much higher ROI than traditional forms of digital marketing. In fact, according to these statistics, up to 11x higher ROI.
A huge problem of marketing in the 21st Century is the fact that ads are literally everywhere. They are in places we couldn't even have conceived of 10-15 years ago.
This has contributed to the phenomenon called "banner blindness" where people will subconsciously ignore ads because our eyes are trained to recognise them before they are even properly read (or noticed for that matter).
That means marketers have the challenge of grabbing our attention in a world flooded with ads. One of their strategies is to make an ad that doesn't quite look like an ad.
That might mean writing native ads for certain publications. It also means that a micro-influencer has an easier time grabbing their followers attention because their posts don't look like traditional ads and they are seen as a trusted person who wouldn't recommend a product that they didn't believe in.
YouTube influencers
shutterstock.com/Iconic Bestiary
18% of consumers are influenced by YouTube videos created by influencers. Is this really a surprise? YouTube, the unanimous home of online videos, has literally billions of hours of video for users to watch. With users being able to make money from creating engaging content, many people have made a career out of creating YouTube content.
Therefore, it should come as no surprise that YouTube is the perfect home for influencer marketing campaigns as well. Video is the future and many people head to YouTube for advice on new products and general advice.
The platform really does offer many ways for you to sell products, whether that means creating how-to videos (on a budget), unboxing videos, creating ads that appear before other popular videos, or using influencers to promote your products.
For an in-depth look at your options on YouTube, check out our free YouTube guide for online shops!
Moms are cool?
According to Influencer Central, mom bloggers rank at #3 when it comes to influencing purchase decisions. I absolutely love this statistic. Why? Because moms rule! All kidding aside, this might seem surprising, but it makes sense if you think about it.
Before social media, who did you call when you needed to get an ink stain out of the carpet? Who did you call for that great chocolate chip cookie recipe? Who did you call when you needed relationship advice? Or fashion advice? Mom, of course!
Moms were the original Google. So, it makes sense that they have become popular online influencers. Whether it's a crafts project on Pinterest, a fun fact on Facebook, an inspiring quote on Instagram, or a special recipe on YouTube, mom's carry a certain wisdom that people respect.
The times they are a changin'
shutterstock.com/DisobeyArt
I hope the headline for this section doesn't make me sound too old (I know some of the moms and dads out there know what I'm talking about!).
On a serious note, this statistic is pretty shocking: Teens are 7x more emotionally attached to YouTube stars than their traditional celebrities. Is there another statistic more telling of the times than this one?
This just highlights the point of this entire blog post and the infographic that this section was based on. We live in a world where young people consume media differently than we ever did in the past. The brands that see this are the ones that will sell more or at least get the most out of their marketing budgets.
To get a full look at the (free) infographic where I got most these statistics, head over to Milkwhale.
How do you find social media influencers?
The first step to finding the right influencer for your campaign is figuring who your audience is. If you haven't yet created a buyer persona, this could be a really helpful exercise in getting to know who your customer is and how they think.
By creating this persona, you'll have a guide into the mind of your customer, which can be incredibly helpful for a lot of your marketing efforts. Remember that these personas are meant to represent actual people. With that in mind, make notes on their hobbies, family status, etc.
After you've figured out who your customer is, the next step is figuring out who their influencers are. There are some tools out there that can find different influencers in different industries, and some of them are even for free.
Followerwonk is a free tool for finding influencers on Twitter. Going to the site gives you access to the free version. With this tool, you can search Twitter profiles and bios by keywords. Some of the advanced search features let you filter by location, name, or URL.
Click on the image to enlarge it (Source: Followerwonk.com)
Another useful (and free!) tool is offered at influence.co. The free version lets you contact up to 30 influencers a month.
Searches begin with an industry keyword, but the tool offers lots of filters in the advanced search options. I'd recommend filtering by engagement numbers. Aim for at least 4% engagement. This is a good way to filter out those users who have gathered lots of followers that don't really interact with their content (i.e. some people will buy followers).
Click on the image to enlarge it (Source: influence.co)
Otherwise, simply start exploring the individual social networks and see if you can discover interesting (#)hashtags for your industry. Those should eventually lead you to the influencers of that niche. Likewise, you can simply do a Google search. Try to find them there. Perhaps you'll find someone on reddit or an industry forum.
Reaching out to influencers
Once you've found the person(s) you think could really help your business, it's time to reach out to them. As you can imagine, even social media influencers don't want to receive copy-paste emails. Naturally, try to come off as genuine and write a personalised email to them.
Try to be mindful of the influencer's time, so try to keep your message relatively short and sweet. Greet them, introduce yourself, compliment their work and show you've done your research, get to your pitch, and let them know how and why this partnership could be mutually beneficial.
If they respond to your inquiry, then it's time get into the details of what you want. This can be an open discussion. See what input they have. What strategies have worked best for their audiences? Of course, make sure that they know what goals you've got in mind as well.
Remember, these influencers get lots of (spammy) emails every day. Try to stand out. And be ready for rejection. All in all, stay persistent. Sometimes you'll need to reach out two or three times to get their attention.
Nadya Khoja recommends reaching out on Twitter to get their attention or even the contact form on their personal website. She's even gotten Neil Patel to respond to her request for advice for an infographic she was creating.
Pricing for influencer campaigns
Influencers exist in different countries, on different platforms, and specialise in different industries. Therefore, it's hard to give exact numbers on what the prices are to have an influencer partner up with your business.
In fact, there's a chance that you can get them to "shout out" to your brand without paying them. If they do in fact really love your product, it might be enough to give them a few free samples of what you're offering (or give them free range to really explore your products).
Alternatively, maybe you could offer them (and their followers) a unique discount code. This is a good way to track the success of the campaign as well. All in all, this is a time to get creative. Otherwise, money talks.
However, how much should you pay these influencers? Pricing tends to come down to a few factors:
Platform - which social network are they using?

Followers - how many followers do they have?

Engagement - how much do their followers actually interact with their posts?

Campaign specifics - what are the details of the campaign? Number of posts? Who has creative responsibilities? Does the post stay on their feed permanently?
According to Digiday, here are some of the typical price ranges you can expect from influencers using Instagram, YouTube, and Snapchat:
What to keep in mind before beginning an influencer marketing campaign
You may have noticed that I haven't talked much about the king of social networks, Facebook. Many marketing experts recommend avoiding Facebook. Well, sort of.
Facebook can be a good complementary place for influencers to post. However, Facebook's organic reach is notoriously bad. After all, Facebook wants bigger companies (or at least people with lots of followers) to pay for ads. They know influencers can get paid for advertising on the platform and they don't want to miss out on their piece of the pie.
Another thing to keep in mind generally is doing your research on any particular influencer. See what their other posts look like - Will your promoted post blend in with them or stick out like a sore thumb?
On that note, you should also see if they've already created a lot of sponsored posts. In this case, you should consider that whatever their current engagement numbers look like, they most likely won't be able to sustain that number. If all their posts are ads, their followers will pick up on that quite quickly and desert them.
All in all, remember that your posts should come across as authentic. The last thing you want is for your ad to look like an ad (even if you may have to label it as such).
Also, before starting any campaign, it's important to define your goals. Whether that means building more customer loyalty, boosting brand awareness, or increasing sales, knowing exactly what you want from the campaign is vital to planning every stage of it and measuring its success afterwards.
Conclusion
In a society where we are all being advertised to constantly, banner blindness is a marketer's worst nightmare. Influencer marketing can really be a great way to reach your audience through a trusted voice, all while not looking like a typical ad.
FREE WHITEPAPER: If you'd like to know the ins and outs of YouTube and how your online shop can use it to increase sales, check out the free download:

Parts of this article were written by guest author Lotte Van Meijel.