It's Father's Day season! As you might know, dads' big day is not the same in every country, but most of the world tends to celebrate it on the third Sunday in June. In 2021, Father's Day falls on June 20th.
With that in mind, it's time for business owners to start thinking about promotions and sales for Father's Day. In today's blog, I wanted to have a look at what small businesses can do to boost their sales for the upcoming holiday.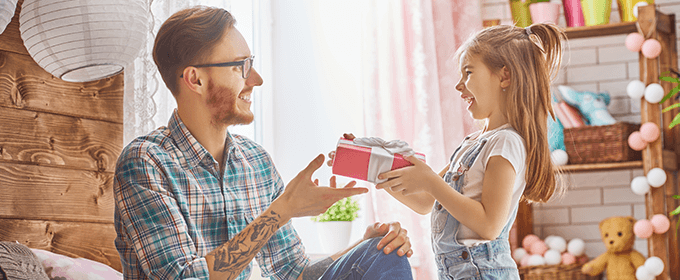 Father's Day in Europe
As was mentioned in the intro, Father's Day is not the same across Europe. If you're a Father's Day consumer, you probably only care about when Father's Day is in the country where that special dad lives.
However, as a shop owner, you should consider when the holiday takes place in your main markets. Much of Europe (Italy and Spain, for example) celebrates the holiday in March. If you market for Father's Day, make note of that for the future. Here is a link to the Wikipedia page for Father's Day for reference.
Father's Day in the UK
Before we get to the advice, I wanted to share an interesting statistic that I came across about Father's Day in the UK. According to Statista, Britons spend a lot of money on Father's Day! As the chart below shows, that number has been flirting with the £700 million mark for the last few years!
You will notice the estimate for 2019 looked a bit lower than years past. Perhaps, due to the Brexit uncertainty at the time, estimations took a dip. Considering the coronavirus pandemic, we can expect that number to be a bit lower for 2020 and 2021 as well. Despite these circumstances, the numbers are still difficult to ignore:

Source: Statista
So, what's the obvious conclusion? Britons clearly love their dads! If nearly £700 million retail spend annually is not reason enough for you to realise that investing some time (and money) into promoting Father's Day is a good idea, I don't know what is.
To drive this point home, I'd like to show you one more chart. This one will give you some insights into the Father's Day shoppers' mentality regarding the holiday. The survey compares the opinions of UK shoppers in 2017 and 2018:

Click on the image to enlarge (Source: Statista)
Look closely. Every single answer here showed a higher level of agreement in 2018 compared to 2017. To me, this shows that UK consumers have stronger opinions on Father's Day with each passing year. Moreover, it shows that they have stronger intentions to make purchases with for their dads as the holiday takes on more significance.
With the coronavirus boosting online purchases compared to in-store purchases, you can bet that even more people will be planning to buy online in 2021 as well.
Father's Day in Italy
Father's Day is not just popular in the US and the UK. Fathers are celebrated across Europe! Here is a look at what Italians who intended to buy a present for Father's Day were planning to spend: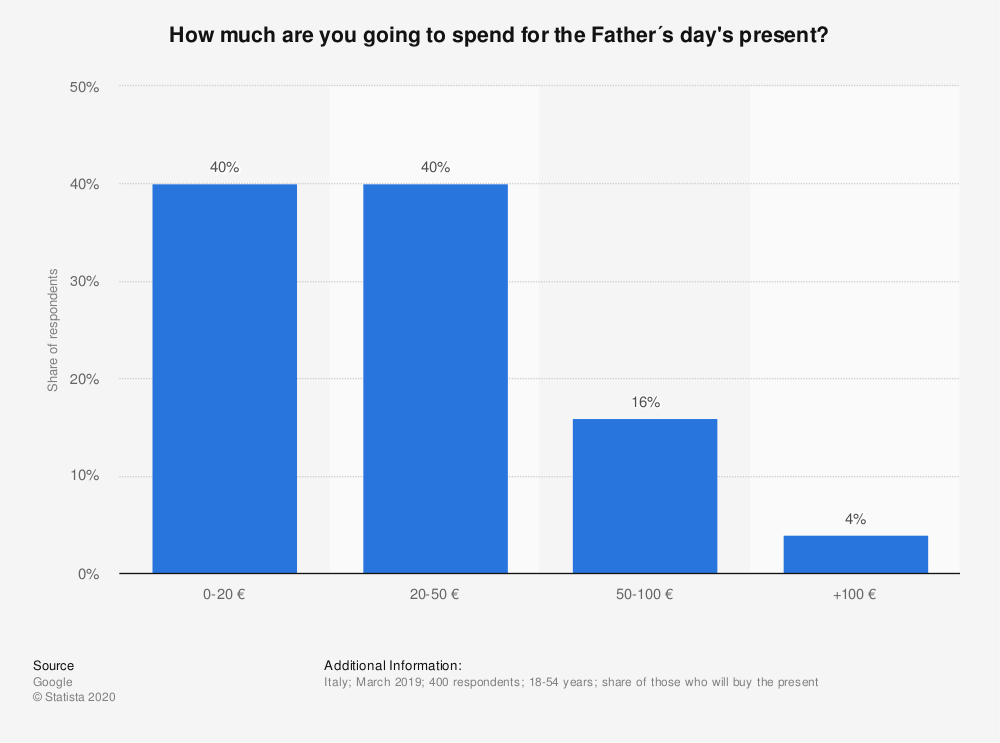 Source: Statista
Now, that you know the "why", let's look at the "how". Without further ado, here are our Father's Day marketing tips:
#1 Get ready for Father's Day ahead of time
If you're new to running an online shop, I've got some good general advice for you: you'll want to plan all your website's annual sales way ahead of time.
Not only does this help you avoid all that last-minute planning and adjustments, but it gives you a chance to promote your sale early enough to catch those non-procrastinating shoppers (don't look at me) and get them in your shop.
Besides, some people rely on marketing to remind them that the holiday is coming up: you're essentially doing a public service for many of us (thanks!).
Remember, shop owners have got the famous "summer slump" to deal with, so if your site is up and your marketing is ready before the big day, you'll be able to make the most of this sale, which occurs during a relatively slow shopping period.
Besides the summer slump, remember that Father's Day is not always celebrated on the same day in every country.
So, what can you do to prepare? Plan out your strategy ahead of time. Do you want to create a special banner at the top of your page? Who will design it? Will you advertise the sale through Facebook and/or Google? If so, will you have a special landing page where ad-clickers will be sent?
Many of these things take time to create and to implement, so it's best to get started a few months ahead of time.
#2 Run a Father's Day social media contest
Offering a simple discount for Father's Day might be enough to catch a few people's attention. Going one step further, you might want to consider having a giveaway of the "top dad products".
Taking it one more step further, you should definitely consider having a social media contest. Why? Customer Engagement – that's why. Sure, you can just give a product away. You'll get a few sign-ups that you can target with email marketing later on, which is great. However, in this day and age, it's worth the effort to build a relationship with your customers (and potential ones).
This can be accomplished by having customers interact with your brand in some way and social media is the perfect tool to do that.
You could, for example, encourage them to share their "favourite dad moment", "dad image", or even "dad joke" in a social media contest. Remember to think of a clever #hashtag and associate it with the campaign and get them to use it in their posts (e.g. #mydadiscoolerthanyourdad). Also, encourage them to share the post with their own followers.
Oh here's another good one: How do you make an octopus laugh? With ten-tickles.
With a social media contest, you'll not only be getting them to engage with your brand more and share the contest with their friends, but you'll also be creating an emotional connection to your brand.
#3 Have a "gift guide" on your website
From my personal experiences, my dad has always been harder to shop for than my mom. Usually, moms are happy enough just getting some flowers and/or chocolate. Dad's can be a bit more of a challenge though.
If you have a dad-equivalent to flowers and chocolate, please let me know.
By creating a "gift guide" on your website, you can help your customers find the perfect gift for the dad(s) in their lives. By segmenting all the different kinds of dads out there (i.e. "sports fan dad", "handy dad", "dad-joke dad", etc.), you're actually doing a great service for your shoppers (thanks again!).
Besides hobbies, don't forget that some people celebrate this big day for multiple people. Think of father-in-laws, grand-dads, step-fathers, son-in-laws. You might even want to make categories for those kinds of dads in our lives (more on this in the next section).
These kinds of guides can inspire people quickly, so put your best (i.e. most popular products) at the top of the list. Before you know it, they'll be right on your product pages.
If you're confused by what you should stock up on, Statista released some survey results about what UK dads like to receive for Father's Day:
Source: Statista
Would you look at that? It seems that dads aren't so complicated to shop for after all! Apparently, dads like getting cards, drinking beer, and eating food! Go figure!
#4 Create "dad bundles"
Speaking of gift guides, you can also promote "dad bundles" for your Father's Day promotion. Bundle a few products together and sell them as such.
Sure, it's not a ground-breaking idea (it's not too far off from a cross-selling strategy), but if you highlight the shoppers' savings (i.e. Save £10 when you buy these two products together), it's a great way to promote the products while also getting rid of some surplus inventory at the same time.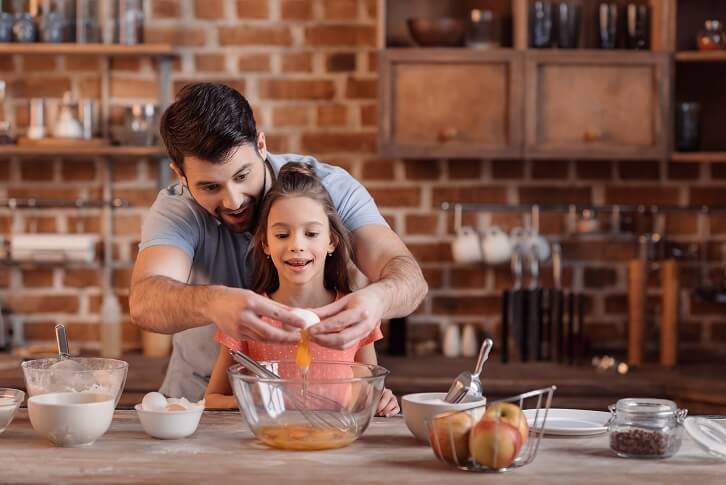 Some dads love to cook! Inspire your shoppers to buy him some new kitchen appliances and spend some quality time together.
#5 Marketing!
This is a general piece of advice, but it works together with all the suggestions mentioned above. Since Father's Day shoppers are not only children, you might want to try segmenting your ads for all your audiences. For example, you can target teenagers for some ads, moms/wives for others, and even adults who are buying gifts for their (older) dads.
By knowing who you're marketing to, you can customise your ads to fit these different target audiences with different images and texts. This is called micro-targeting.
It's also worth knowing which apps these target groups use. Though Instagram and Snapchat are used more by younger audiences, Pinterest is used more by the "mom" demographic, so you're targeting and messages should match the audience that will be seeing them.
Recommended reading:
Do you know who your customer is? Build a buyer persona!
Bonus Tips
Okay, you've got the promotions planned and the ads running. Traffic has increased, but you've noticed that despite getting a lot of new visitors, your conversions are lacking.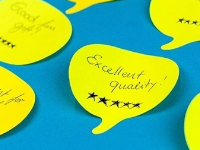 This could very well be a sign that your website lacks "trust" elements. You might want to consider getting a product reviews platform for your site, so that your best customers can be advocates for your shop.
Similarly, getting 3rd party accreditation (like the Trusted Shops Trustmark, which offers shoppers a 30-day money-back guarantee) can build up trust for your shop and give your shop's visitors some peace of mind when they contemplate buying from an unknown shop.
Another simple, yet effective tool for increasing conversions is an "exit-intent pop-up". These are pop-ups that show up only when the user moves their mouse icon towards the "X" of the browser.
Once it is recognised that a user is about to leave the website, the pop-up will show up offering an extra discount. By offering an extra 5% discount (or whatever you choose) and reminding them that Father's Day is coming up(!), you might be surprised by how many people will decide to give your shop a chance after all.
Conclusion
Planning website changes and your marketing efforts is definitely a bit of effort, but getting ready for Father's Day well in advance can pay off if you do it right. Not only is it a great way to sell products, but it's an opportunity for you to engage with your customers (and vice versa) and start building up a relationship with them.