At Trusted Shops, we work hard to constantly optimise our products and create new features to help business owners build more trust with their audience. When we have something really big, we'll announce it here. Check out all our latest updates below:
March 2023: Answer reviews with AI? The Smart Review Assistant makes it possible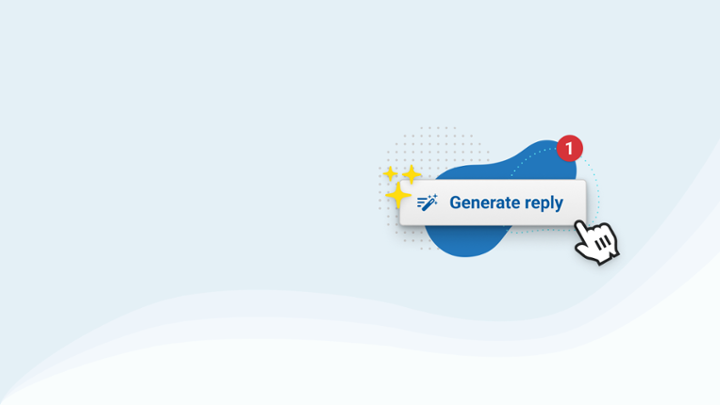 Artificial intelligence has been on everyone's lips lately; even before all the recent hype surrounding ChatGPT. Self-learning software can bring great benefits to online retailers. The Smart Review Assistant generates accurate and high-quality responses to customer reviews with the click of a mouse. In this article, you'll learn what the tool can do and why it's worthwhile for retailers.
Review profiles are an important building block for the online reputation of a business, which is why companies should do what they can to shine in this area. In addition to acquiring positive customer reviews, a company's reputation also depends the shop's own public responses to the reviews they receive (both positive and negative). This shows potential customers the tone in which a company communicates.
Answering reviews effortlessly
As important as customer reviews are for an online shop, it can be a lot of work to answer all the reviews individually. The Smart Review Assistant relieves retailers of this task. The tool formulates suitable shop replies thanks to self-learning artificial intelligence. This results in the following advantages:
Increased quality:

Varied and unique shop replies with the help of artificial intelligence help your shop appear in an even better light


Save on personnel costs:

Reduce the time spent on review processing and thus save on personnel costs


Improve online reputation:

High-quality review responses show potential customers that your service is top-notch.
Suitable for shops of every size
The Smart Review Assistant is a worthwhile tool for every size online shop, whether it is a start-up or an established brand.
For small shops that have not yet collected a lot of reviews, the quality of their replies is particularly important. Online reputations are a decisive purchasing factor for many shoppers, especially when they visit an unknown shop.
The tool helps medium- and large-sized companies sift through and respond to the sheer volume of incoming reviews they receive effortlessly.
Since the auto-generated responses are relevant and unique, it makes no difference whether you want to answer positive, neutral or negative reviews with the tool - the Smart Review Assistant finds a convincing and service-oriented answer to every concern.
How the Smart Review Assistant works
Using the Smart Review Assistant within eTrusted's Control Centre is absolutely intuitive and therefore easy to handle for anyone. After booking the tool, you can start using it immediately without any integration effort!
Pull up the review that you want to respond to in the Control Centre.


Generate a text for the review reply with a simple mouse click. If you are satisfied, you're basically done. However, if it seems necessary to edit the text manually, you can of course do so.


If everything is satisfactory, publish the response with another click.


The reply comment appears publicly in the online shop's rating profile.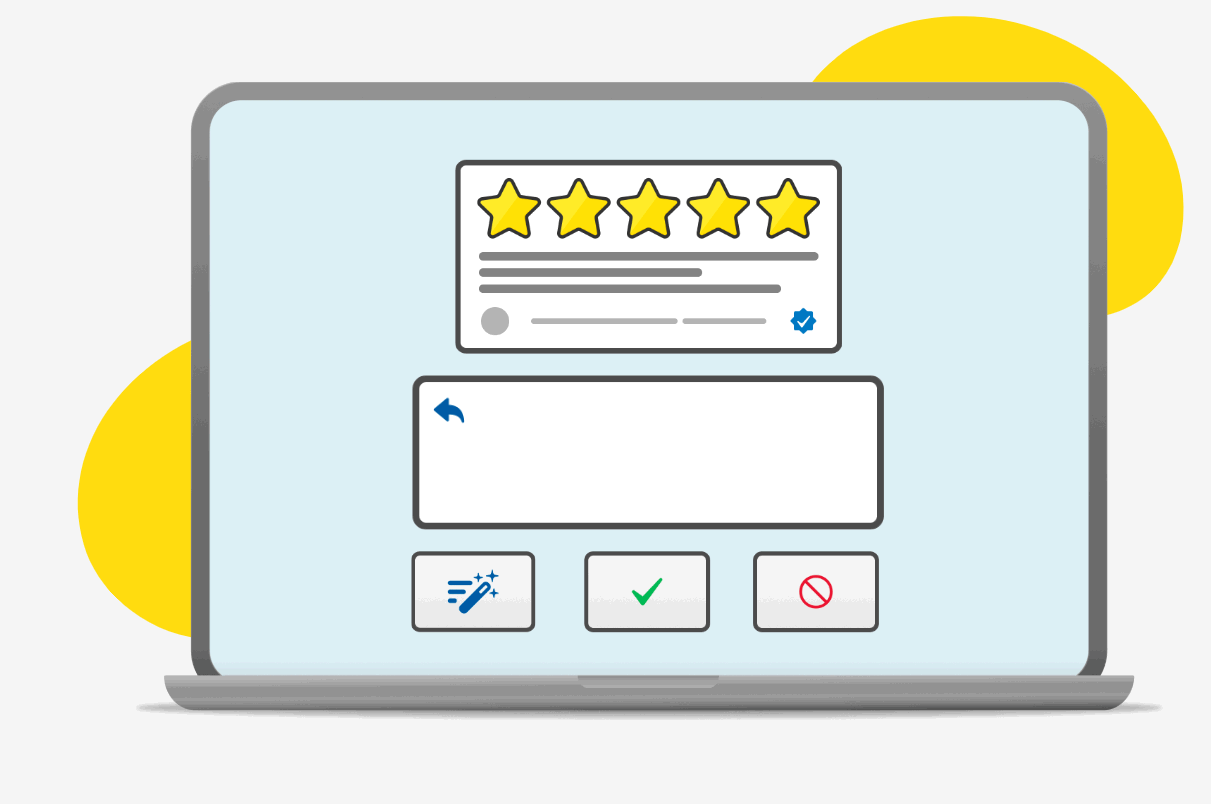 A.I. has arrived – Are you onboard?
Are you ready to respond to your customer feedback with high-quality replies and little effort? Then the Smart Review Assistant is the right tool for you! Learn more about this new product here. Fill in the form to get an offer for your online shop.
Dec. 2022: Trusted Shops GmbH becomes Trusted Shops AG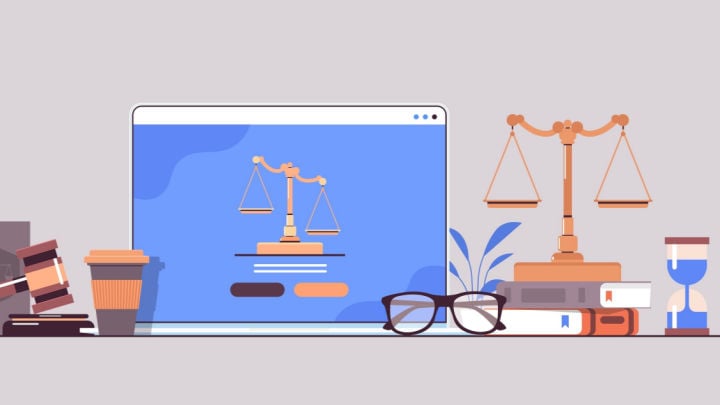 Source: Shutterstock/ProStockStudio
As of 20 December 2022, Trusted Shops GmbH has changed its legal form to Trusted Shops AG. Although this does not affect you as a Trusted Shops member, we would like to inform you about this and answer any questions you may have:
What data will change?
The change entails an adjustment in the legal form (previously: GmbH, in future: AG), the legal bodies of the company (previously: management, in future: executive board and supervisory board), the commercial register number (previously: HRB 32735, in future: HRB 113040). Our VAT identification number remains unchanged.
What happens to the contracts concluded with the GmbH before the change of legal form?
All contracts and membership terms concluded with the GmbH therefore remain in force. Due to the change of legal form, only the legal form of your contractual partner changes, the legal entity remains the same, thus the AG automatically enters into all contracts within the scope of universal succession.
Is an invoice correction required?
An invoice correction is not required in any case. Due to the universal succession of the AG, in principle neither your input tax deduction nor your operating expenditure deduction is at risk. All future invoices will be issued accordingly by Trusted Shops AG.
This general information is no substitute for individual advice from a tax advisor or lawyer. In order to assess your individual case correctly, you should consult your tax advisor or lawyer.
Nov. 2022: Marketing Material: Boost your marketing with trust
By Hana Shamaa
Visibility, brand awareness, reliability, authenticity. The list of achievements that every marketer strives for with their work is long. Such accomplishments are of even greater importance in the e-commerce sphere – a sphere in which trust drives consumer decision-making.
To support our members in attaining their marketing goals, Trusted Shops has just released Marketing Material, a feature that comes with every Trusted Shops membership. Marketing Material is a space in which retailers can find and customise various trust elements for their promotional activities. From newsletters and banners to social media posts and videos, Marketing Material is made to boost your advertising with trust.
There is no faster way to build trust
To find Marketing Material, Trusted Shops members have to open up their eTrusted Control Centre and head to the "Marketing" section. The "Marketing Material" tab can then be found alongside the Widget Library and the relatively new Social Media Creator. From there, there are two available options for members.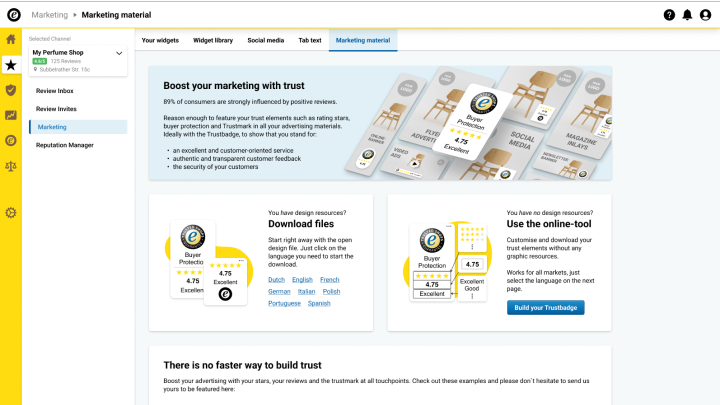 For those with graphic design expertise, a full download package is available in the Control Centre. For those with little to no graphic design knowledge, we created a separate Marketing Material page in which members can easily create and edit the Marketing Material directly on the page. A link to this page can be found under the "Marketing Material" tab in Control Centre.
To gain access to the templates and graphics on this page, members must be logged in. Creating an extra account will not be necessary. The login is enabled by single sign-on (SSO) from the eTrusted Control Centre, meaning that once a member is logged in to the Control Centre they will be able to automatically log in to the Marketing Material page as well.
In both scenarios, members will have numerous customisable graphics in the palm of their hands. To name a few examples, graphics will include the Trustmark, Trustbadge, graphics for certified and non-certified shops, etc...
Take advantage of the trust effect
With this new feature, members can maximise the impact of their advertising by using well-known elements from Europe's leading trust brand. One of these recognisable elements is the Trusted Shops Trustmark. The Trustmark is only awarded to online shops who have gone through an extensive certification process and are deemed reliable retailers.
In displaying the Trustmark, retailers also demonstrate that they offer their customers a 30-day Buyer Protection. Designed to increase online trust, the Buyer Protection offers consumers security against financial loss after making a purchase.
Trust in your marketing
The possibilities are endless with our new Marketing Material. Several ways to use the templates and graphics on offer include:
Social media posts

Instagram, Facebook, LinkedIn, you name it! Members can incorporate trust elements into their social networking efforts and reach a wider digital audience.

Banners

Meant to drive traffic to the advertiser's website, banners with symbols of trust create more security in the digital ad and can help boost traffic even further.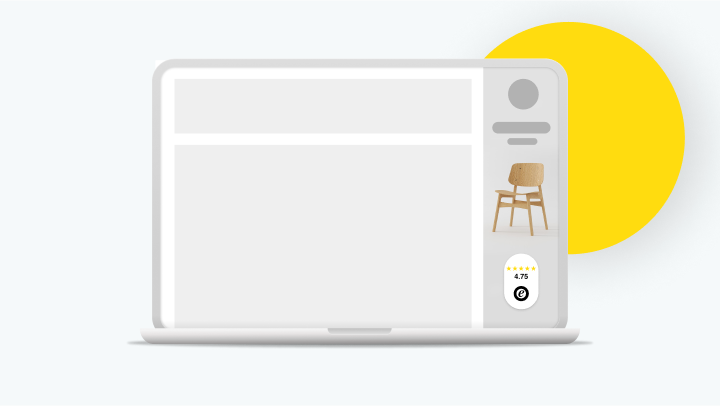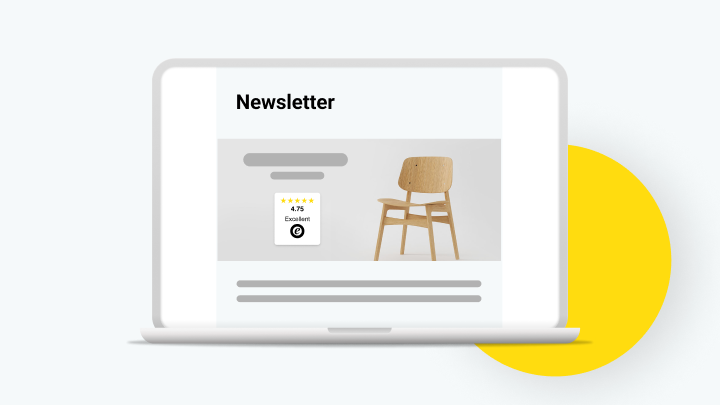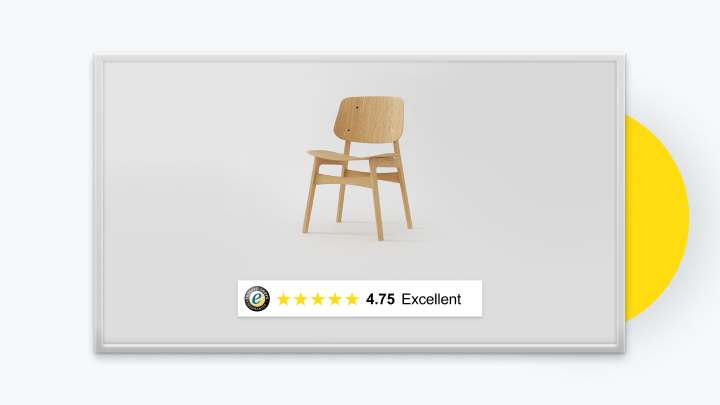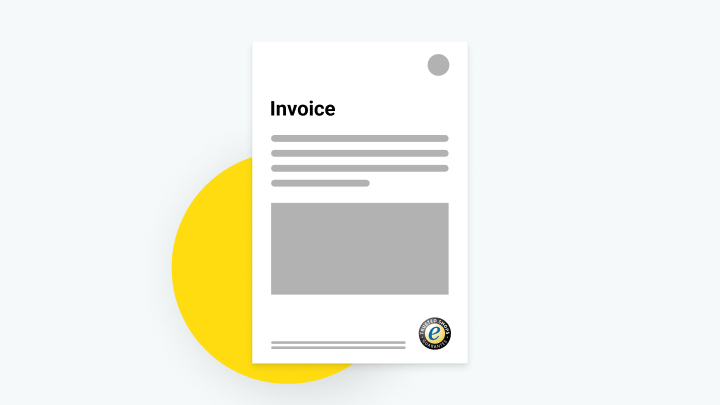 June 2022: The Social Media Creator: Turn great reviews into eye-catching content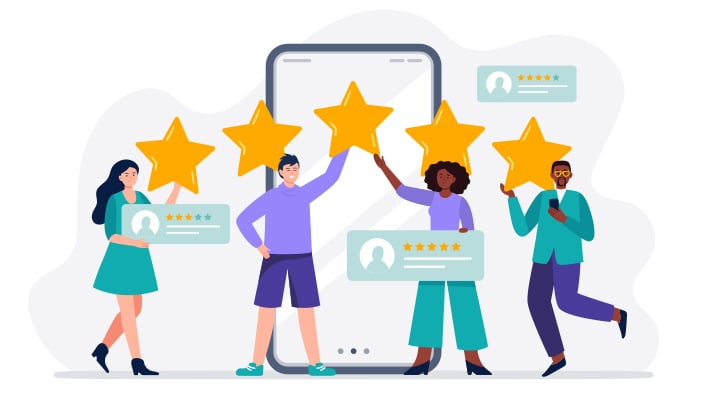 Shutterstock/jenny on the moon
Why share reviews on social media?
Let's use Instagram as an example. 90% of the platform users follow at least one brand, 50% show greater interest in a product or brand if it appears in an Instagram ad, and 81% of surveyed users use the app to discover new products or services (Source: Instagram).
Besides the persuasive pull of social media, reviews function as social proof and a determining factor in consumer purchasing decisions.
We previously announced that, thanks to the eTrusted mobile app, you could already share your favourite reviews on social media from your smartphone. Now, with the new Social Media Creator, found in the eTrusted Control Centre, you can create interesting, persuasive, and aesthetically appealing posts from your desktop as well!
The advantage of sharing reviews visually
76% of consumers say they trust authentic customer reviews more than simple product descriptions. Images strengthen user trust, as they make the reviewed brands and products more tangible.
Here's how you can take advantage of the Social Media Creator.
How to share reviews
After checking your eTrusted inbox, have you come across any particularly striking, positive customer reviews?
By logging in to eTrusted and heading to the Marketing section in the eTrusted Control Centre, you will find the new Social Media Creator. By default, eTrusted selects the last 5-star review (with enough characters) to use in the templates. However, you are free to choose whichever review you prefer. There are a few graphic templates at your disposal:
Trusted Branding
Your own branding, including your logo and brand colours
An

individually-selected background image. You can take a photo, upload it to eTrusted and select it as the background against which the review text and star rating will be displayed.
Play around with the templates on eTrusted, and let your imagination run wild! After creating your post, you can download the image to your desktop and upload it onto your favourite social media channels.
Which social media platforms can you share the reviews on?
That is completely up to you! Our feature allows you to create images that are suitable for:
Facebook

(1200 x 1200)
Instagram Post

(1200 x 1200)
Instagram Story

(1080 x 1920)
LinkedIn

(1920 x 1080)
Twitter

(1200 x 675)
You can also choose to share the images on Google Ads and Pinterest, but it will be up to you to sort out the dimensions.
What can you do with the available formats?
Depending on your preferences, you can choose between:
Posting a simple photo or static image
Posting a photo album/carousel. On Instagram, for example, you can create a carousel post by selecting multiple images. With this post option, you could have users swipe through different reviews, or you could have the first image feature one sentence from a longer review and the next image displaying the rest of the review.
📱Want to manage your reviews on both your desktop and mobile device? Don't have the eTrusted app yet? Not to worry, you can use your smartphone to scan the QR codes below and download the app.
iOS:

Android:

June 2022: New reviews straight to your inbox
By Hana Shamaa
Shutterstock/Diane Geraschenko
The good, the bad and the ugly. Customer reviews can vary greatly from one another. This makes staying up to date with new reviews essential. Whether these are reviews showcasing great customer satisfaction or surprisingly negative ones, this form of user-generated content is incredibly valuable in demonstrating a brand's quality.
Visitors to an online shop use reviews to determine said shop's trustworthiness and to help them make informed buying decisions. However, if a consumer visits a shop's review section and discovers that both negative and positive reviews are left unanswered, they might assume that the brand is uninterested in its customers' feedback.
Why is it important to reply to reviews?
Nobody wants to feel ignored… By leaving reviews unanswered, customers might be less inclined to submit reviews themselves. A lower number of reviews would result in poor brand credibility. Poor brand credibility would lead to low conversion rates. Ultimately, retailers that do not reply to reviews risk facing low conversion rates.
To help our members keep track of their incoming reviews and to facilitate their interaction with those reviews, Trusted Shops developed a new feature on eTrusted: email notifications for new reviews. Notifications for incoming reviews are an asset to retailers who want to monitor, and promptly reply to, their customers' feedback.
Email notifications for new reviews
How it works
This new feature is available on eTrusted to all Trusted Shops members. Found in the user settings of the eTrusted Control Centre, retailers have to actively subscribe to email notifications. Notifications can also be configured based on the reviews' star ratings. For example, members can activate notifications for 1- and 2-star reviews, 3-star reviews, and/or 4- and 5-star reviews.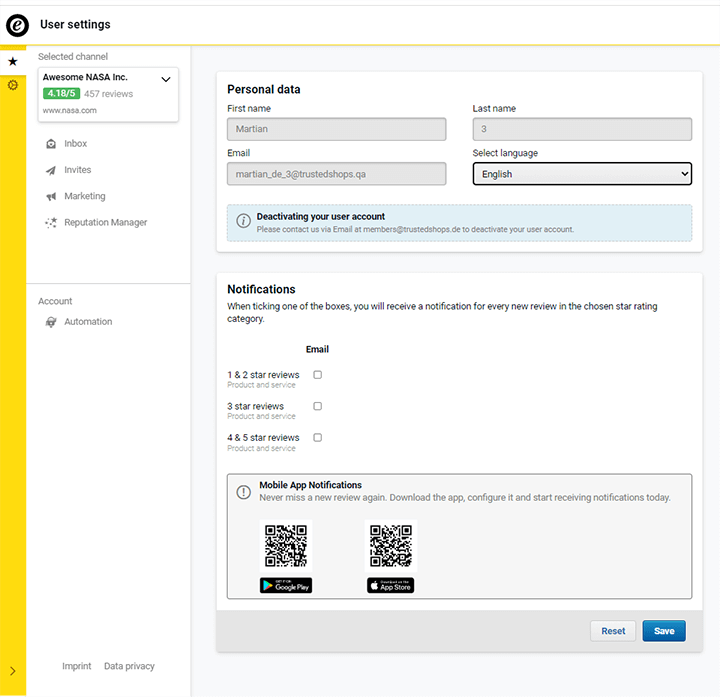 What is included in the notification email?
Every time a customer submits a service or product review, a notification email – based on the previously set configuration on eTrusted- will be sent to the email address used to log in to eTrusted. Within the notification, members can see the full review and its title, whether it is a service or product review, the star rating, a direct link to the review on eTrusted, among others.
How is this feature beneficial?
After activating this feature, members will be notified of new reviews in real time and stay up to date with the latest customer reviews. In this way, they will be able to immediately react to feedback. This is especially valuable when it comes to negative reviews. By being prompt in their replies to bad reviews, retailers can quickly clear up any issues faced by customers and demonstrate attentiveness.
Another advantage to this feature is that members can choose which reviews to be notified of. If a retailer is more interested in swiftly replying to negative reviews, they can activate the 1- and 2-star review notifications. Should retailers want notifications for all reviews, they can simply activate all star categories. Therefore, the feature can be personalized to one's needs.
Related Trusted Shops features
The Trusted Shops mobile app is another tool through which online shops can keep track of and reply to reviews. With the app, Trusted Shops members can receive push notifications about negative reviews, reply to customer feedback and share reviews to social media. Alongside the email notifications feature, the eTrusted mobile app can be used to view and manage reviews on the go.
For more information on using the eTrusted app, you can browse through this article.
If you would like additional information on email notifications, or would like to learn more about Trusted Shops products, please feel free to contact us here.
May 2022: Product Review Invites with the Review Collector

By Hana Shamaa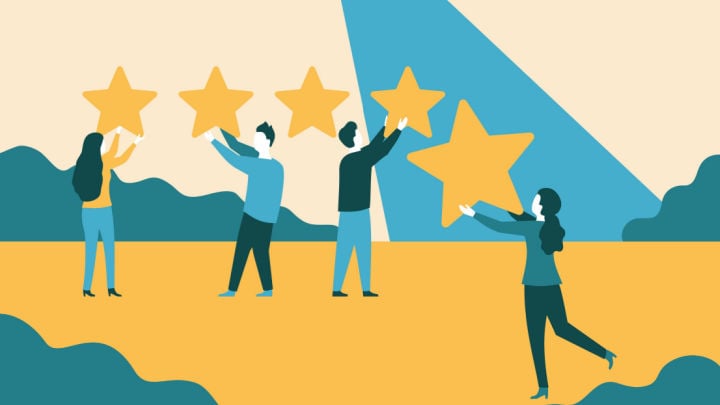 Shutterstock/Dmitry Kovalchuk
Reviews tell a story. A story about a shop's services, products and reputation as a whole. Not only are reviews significant to consumers looking to inform themselves more about an online shop and the goods on offer, but they also contribute to a retailer's overall development.
Product reviews, in particular, are key to higher conversion, lower return rates, and overall customer satisfaction. Having access to the insights left behind by previous customers is valuable in guiding gratifying purchasing decisions.
As a means of enabling shops to collect more reviews from the outset of their membership, Trusted Shops introduced the Review Collector. In its first phase, the Review Collector was a tool through which retailers could manually send out service review invites to their customers.
In this product update, we are happy to present to you our updated Review Collector. With the updated Review Collector, shops can now manually send out both service and product review invites to their customers.
What is the Review Collector?
The Review Collector allows shops to manually send their customers review invites. This tool can be leveraged by shops from the very start of their Trusted Shops membership. Whilst going through the necessary technical integrations, retailers can already begin collecting reviews for their online shops.
With the Review Collector, retailers can ask their regular customers to review past orders and quickly collect their shop's first few reviews. To do so, shops upload a CSV file containing customer data - including email addresses, order reference numbers, and first and last names - to the eTrusted platform.
It is important to note that retailers should obtain their customers' consent prior to collecting and using their data.
The Review Collector for Product Reviews
Along with service reviews, shops now also have the option to manually send out product review invites to their customers with the updated Review Collector. To use the Review Collector for Product Reviews, retailers must have Trusted Shops' Product Reviews booked.
The updated Review Collector functions in much of the same way as it had previously. The only change is that retailers can include product data – such as transaction dates, product names, product SKUs, and product URLs - alongside their customer data in the uploaded CSV file. Product data only needs to be included if the shop is looking to collect product reviews.
Additionally, the Review Collector has been enriched with a new user interface. In this interface, the previously available CSV template for retailers to download and fill now includes the categories necessary for collecting product reviews.
Additional Information
For further information on manually inviting customers for reviews with the Review Collector, you can visit this article.
Want to learn more about Trusted Shops, our products or our services? Please feel free to contact us here.
Sept. 2021: More reviews with personalised invites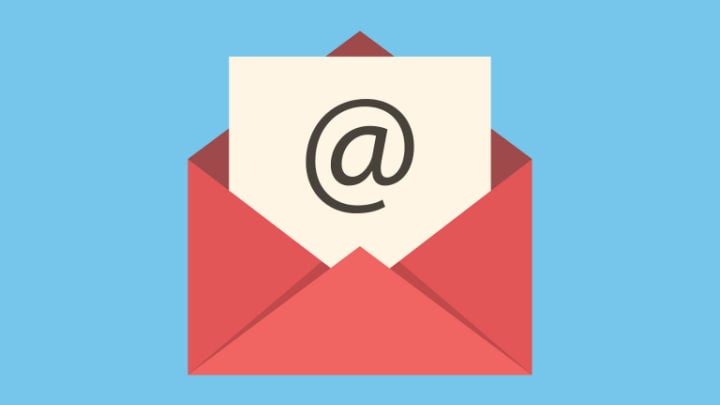 shutterstock/Alexander Ancy
The new eTrusted feature "personalisation" enables retailers to adapt their review invites and questionnaires to their corporate identity. In this way, you get more reviews, ensure a consistent customer journey and improve the brand experience. In this article, we will reveal how this works.
On eTrusted, you collect customer reviews for your online shop or your products. Apart from good timing, the design of the invite that is sent via e-mail is the key to success. An appealing layout with a target group-oriented approach significantly increases the willingness of your customers to leave a review.
Personalisation offers you these advantages
Better brand experience: Showcase your unique corporate identity throughout the customer journey by adding your logo, corporate colours, and preferred salutation to your review templates.
Stronger performance: We have already tested and optimised the templates for you so that you achieve the best conversion rates. Increase your recognition value even more and add your personal touch.
Optimised design: The questionnaire template has undergone a general design update and is now even better suited for mobile use. The logo is displayed in the best possible way regardless of the uploaded format. In addition, the selected colours are checked with regard to accessibility and the ability to be displayed in dark mode.
Easy implementation: The new user interface is easy to use. No prior knowledge or even technical know-how is required and the settings can be adjusted with just a few clicks.
How it works
The feature is located in the Control Centre under "Channel Settings". There you can personalise your review invites, questionnaires, and review responses. It does not matter whether they are service or product reviews.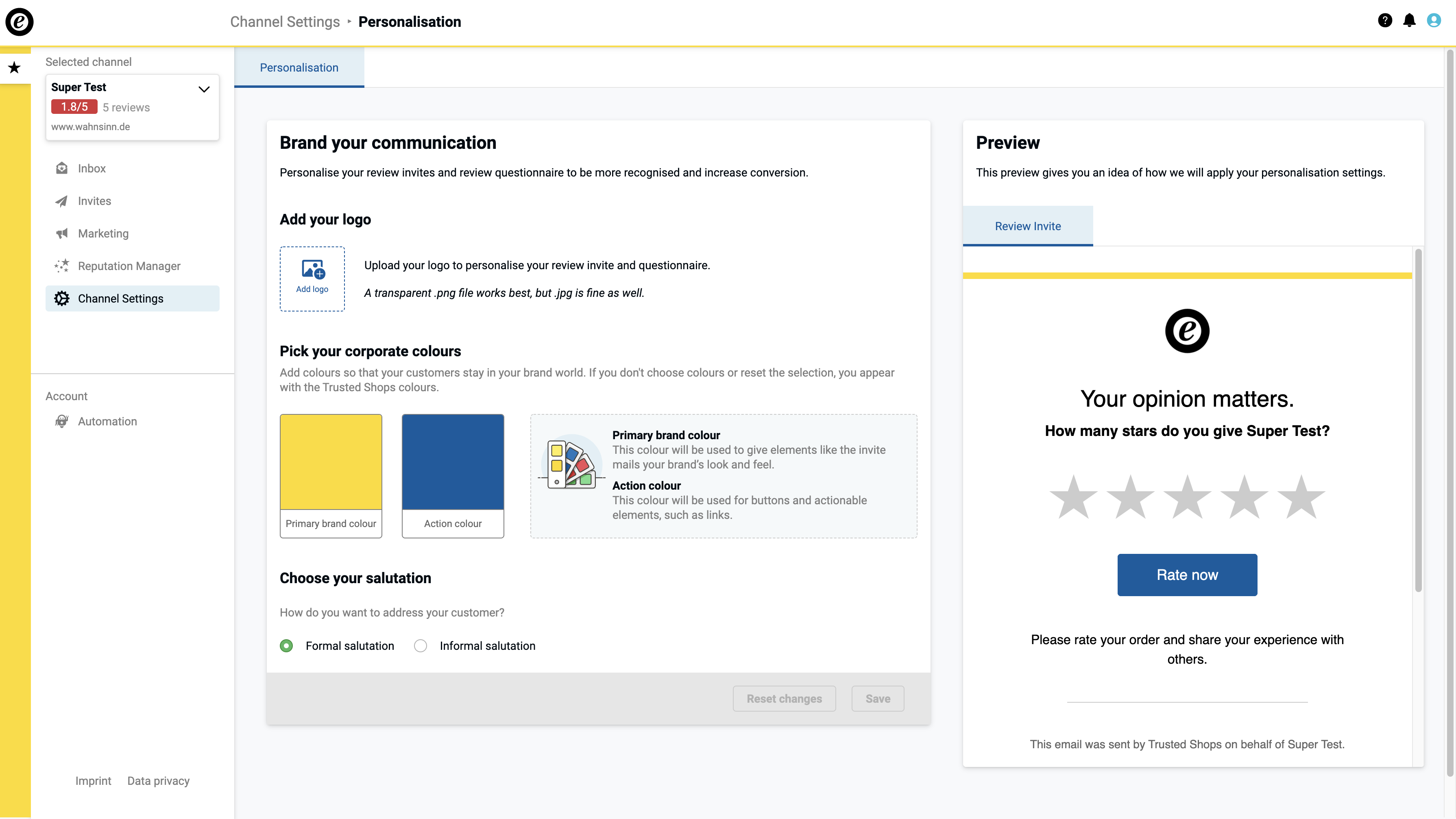 The following settings are possible:
Upload logo: You can upload logos in all common image formats (jpg, png and svg). The logo is automatically formatted so that it is neither cut off nor blurred. Nevertheless, we recommend using a high resolution image.
Select colours: You can set the corporate colours individually. Thereby, a distinction is made between the primary brand colour and the action colour. The primary brand colour is intended for the general appearance of your brand. The action colour applies to buttons and other action elements such as links. The text colour is either black or white and automatically changes depending on which variant is more legible due to a higher contrast.
Define the form of address: You can choose whether to contact your clientele with a formal or informal salutation. For German, the formal form of address is preset to "Sie".
View preview: In the preview, you will see the result of the chosen settings in the questionnaire.
Save: By clicking on "Save", the settings are applied and the review invites and questionnaires are personalised.
Start designing and move on to new reviews!
Log in to eTrusted and check your channel settings. Design and optimise the invites and questionnaire and get lots of fresh reviews with just a few clicks.
Do you have any questions or recommendations? Feel free to contact us.
May 2021: Manage reviews with ease: the new in-app notification centre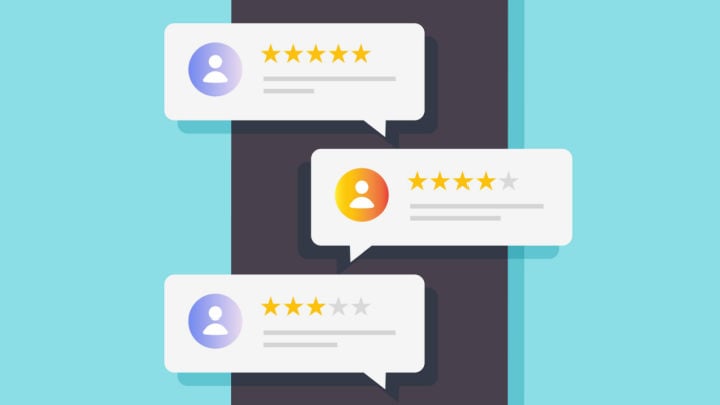 shutterstock/Saxarinka
Conveniently manage your customer reviews with the eTrusted App. Whether it's from your desk or on the go, the notification centre will give you, as a retailer, a better overview of what there is "to do".
Discover all the new functionalities available for you in this article.
Here are the main advantages of the Notification Centre:
Easily identify reviews that deserve your attention
Get tips on how to proceed for each case
Keep track of the tasks already completed
All these components are now waiting for you:
The Notification Menu
Score and notification types
Review list
Success message
The Notification Menu
When you open the eTrusted app and select your channel (i.e. your company or your online shop), you will see a menu at the bottom of your screen. If there is a red dot with a number on the middle icon, it means that there are to-dos (aka Tasks) waiting for you in the Notification Centre. One click will take you there so you can view them.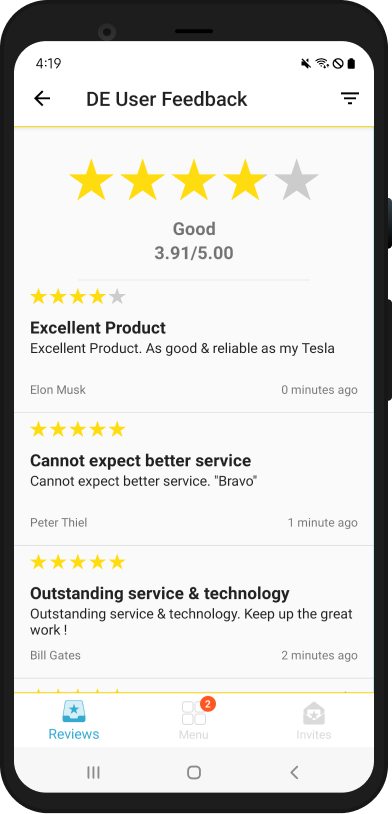 Score and notification types
Once in the Notification Centre, you will see your score in the top half of the screen. This score gives you an overview of the percentage of already completed tasks. To achieve a score of 100 percent, you will simply have to complete all the tasks. Tasks that need to be completed urgently are highlighted in red and placed at the top of the list. Those that can be handled in a non-urgent way are highlighted in blue.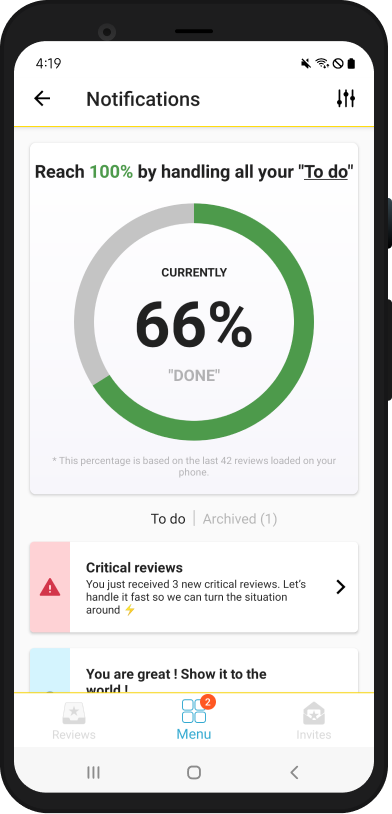 There are currently three types of notifications in the task list:
1. Critical reviews
Negative reviews with one or two stars. They should be answered publicly & immediately. Once you have done this, the task is considered completed.
2. Positive reviews
Good reviews with more than three stars are also worth commenting on. After all, a customer has made the effort to interact with your company, so answering is the best way to make a good impression!
Once you have commented on the reviews, the card becomes green and just waits to be archived via a simple click on it.
3. Review marketing
In addition to the previously stated notifications, we will present you with customer reviews that are suitable for social media sharing. These are reviews with five stars and more than 20 words. All you need to do to complete this task is to acknowledge the notification by reading the review. Nevertheless, we recommend that you actively use the sharing function and let your customer speak for your company on social media.
Review list
By clicking on a notification about negative or positive reviews, you will receive a list with the respective reviews. At the top of this list, you will find how many reviews still need to be processed. For each completed (meaning answered) review, you will see a green tick on the right. This way you can keep track of what still needs to be done if you cannot or do not want to handle them all immediately.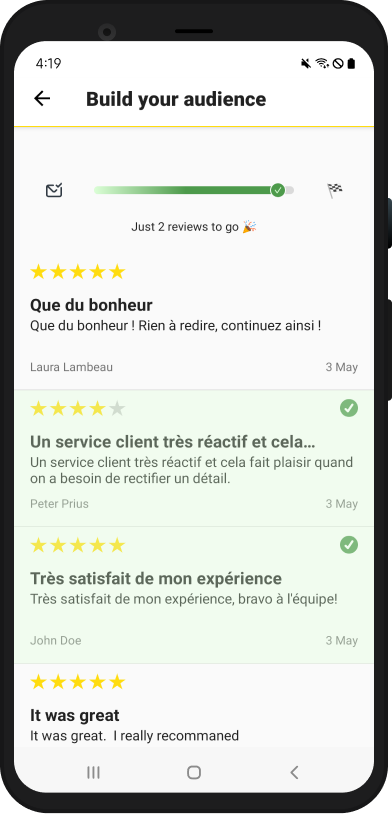 Success message
Once you have completed all the tasks, your score will show 100 percent. Congratulations, you have provided perfect service to your customers and taken your business to the next level! You can now sit back and enjoy your achievement.
By the way, if you want to check again which items have already been completed, you can always find them in the "archived" section of the notification centre.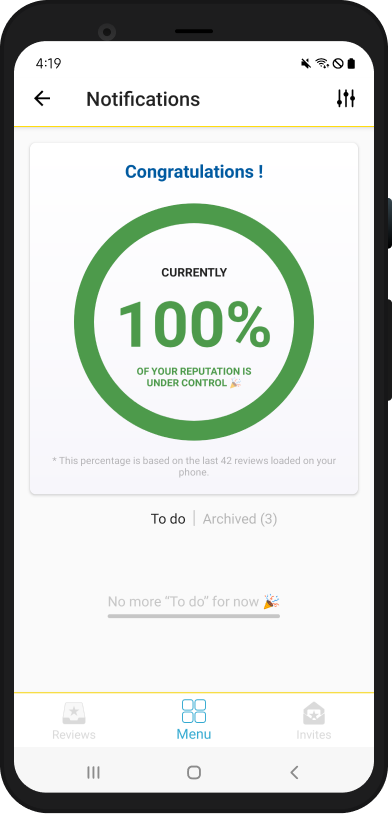 As a reminder, the score only offers you guidance on which tasks you have already completed. This score is not public and does not positively or negatively affect your Trusted Shops membership in any way. As a consequence, there is no disadvantage for you if you do not end up with 100%. Nonetheless, reaching or getting close to this level will surely improve your brand and your reputation over time.
What's coming next:
Since we are constantly working on improving the eTrusted app to specifically address the needs of online retailers, here is a look at the next points we are currently working on:
A notification setting menu: to be able to define which notifications should be displayed to you
Push messages: to be notified even when you can't check the app. For example, push notifications for new negative reviews
Templates for answering reviews: to make it easier to answer reviews
A review sharing tool: to nicely format your best reviews and make them stand out once shared on social media
Download and get started!
Are you not yet using the eTrusted app for managing your reviews? Then you can easily download the app free of charge from the app stores for Android and iOS.
Do you have any suggestions or questions about the app? Feel free to write to us at mobileapp@trustedshops.com.
April 2021: eTrusted Reviews: The mobile app to further improve your reputation
shutterstock/Julia Tim
In order to collect and manage your customer reviews using your mobile phone, Trusted Shops provides you with a mobile application that is as simple as it is practical.
Following a major update, the eTrusted app has been equipped with a number of new features, which we would like to introduce to you in this article.
As a reminder, there are two ways to manage your customer reviews. On the one hand, you can access them from your computer, and on the other hand, you can use the mobile application. This article focuses on the latter.
With this overview, feel free to access the sections that are meaningful to you:
Set up a new password
In the app, you can log in with the same credentials as the ones you use on the desktop version of eTrusted. If you no longer have this at hand, you will find the option to "Forget your password" on the login page, which will let you reset your password.
Select your company channel
If you operate several online companies, you will find a separate channel for each one after logging in. With one simple click, you can choose the channel you would like to monitor.
Scroll through review list
Once you have selected a channel, you will find the overall rating of the respective channel at the top of the screen. Below this rating, the list of reviews appears and on the top right, various filtering options are available. You can, for example, filter by star-ratings. Finally, if you would like to take a closer look at a review, simply click on it.
Answer, share, and report reviews
On the review details page, you will find all the information about the review in question, such as the comment left by your customer, the status, the date and the sender. You also have the possibility to reply to the review publicly, share it on your social networks, or report it to your Trusted Shops moderation team. The latter is possible, for example, in the case of insulting or untrue statements.
Send a review invite manually
Imagine a customer contacting you because their review request has not arrived. You are in direct contact with the customer and want to ask for their opinion? No problem! From the eTrusted app, you can manually send a review request. All you need is your customer's first and last name and their email address! Just type it in and hit the send button!
Use support function and rate app freely
If you need help managing your reviews, you will find a feature to contact your account manager directly. In addition, you also have the possibility to express your opinion by leaving a rating for the application, so that we can further optimise it.
Improvements to the application continue and you can expect new and innovative features in the coming weeks and months. We will of course keep you informed about this. In the meantime, we warmly invite you to...
Download and try it out
Not yet using the eTrusted review app? Download it easily and free of charge for Android and iOS.
Do you have any suggestions or questions about the app? Feel free to write to us at mobileapp@trustedshops.com.
Feb 2021: Manage your online reputation with the Reputation Manager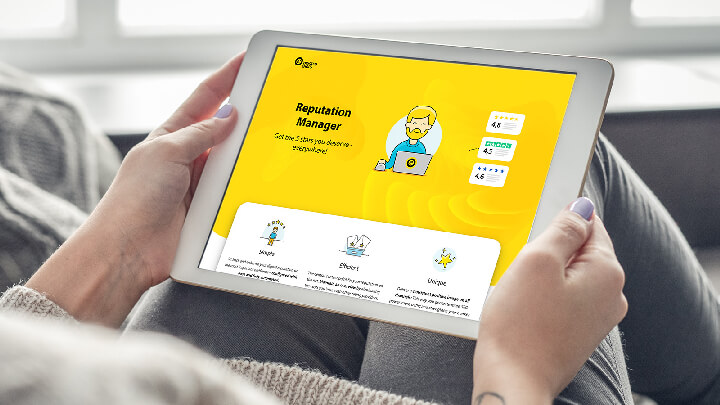 Do you have a good overview of all your review profiles online? When a new customer gets ready to make a purchase, they will often first check online to find customer reviews for your shop. The question is if those reviews and ratings accurately reflect your products and services. As many of these services are hosted by third party providers, it can be particularly difficult to manage your online reputation. How do you ensure that your reputation is consistent everywhere? Trusted Shops has the solution with our newest product: the Reputation Manager!
In this article, you will learn:
Why your online reputation is important
Why reviews differ per platform
How the Reputation Manager helps with this
How the Reputation Manager works
💬 Why is your online reputation important?
If you have an online shop, you will receive many reviews; even on websites where you haven't created a profile yourself. Think, for example, of Trustpilot and Google My Business; some reviews platforms will create profiles for your shop on their own.
All these reviews are read by (potential) customers. What they read will have a big impact on their decision to place an order with you (or with your competitor). As you can imagine, they'll often go for the one with the best reviews, even compromising on price (to a certain degree) if it brings them peace of mind regarding the shop.
⚖️ Why do reviews differ per review platform?
Imagine you are an online shopper. You have placed an order and have just received it in good condition and on time.
Will this inspire you to actively look up the company online in order to share your opinion on the purchase? Probably not. Why? As shoppers, we expect orders to arrive in good condition and on time.
Generally speaking, satisfaction doesn't motivate people to leave feedback. In essence, it's because consumers expect not to have anything to complain about.
And what if the order has not arrived properly?
This is the kind of situation where consumers want to "share a piece of their mind". They want to warn their fellow consumers and/or possibly inspire the business to take action (out of fear of this negative review affecting their sales).
In these situations, consumers will actively search for a way to share this feedback. This might mean creating a social media post or they'll find a reviews platform to vent on.
Therefore, as a shop owner, you've got to actively ask your customers for a review in order to inspire them to share their (positive) opinions. In fact, as a reviews provider itself, Trusted Shops has seen time and again that actively asking for reviews leads to more positive reviews and consequently, a better overall rating (think of those star-ratings that make a big first impression in Google)!
Being able to actively ask for reviews is why we came up with our newest product, the Reputation Manager.
✨ How does the Reputation Manager help you improve your online reputation?
If you have a Trusted Shops review profile, our system will automatically send a review request to your customers.
Normally, these reviews only go to your Trusted Shops review profile, but with the Reputation Manager we've taken it a step further.
With the Reputation Manager you can send requests not only for your Trusted Shops review profile, but also for other providers, such as Trustpilot and Google My Business. You only have to be affiliated with Trusted Shops, so you don't have to spend money on the other review profiles! And in addition: the process is automated, so just need to set everything up once and then let it do its thing.
⚙️ How exactly does the Reputation Manager work?
In short, the Reputation Manager works in three simple steps...
Step 1. Add profiles from the other providers
Here, you indicate which profiles you want to collect reviews for. Currently, you can add your profiles from Trustpilot and Google My Business in addition to Trusted Shops.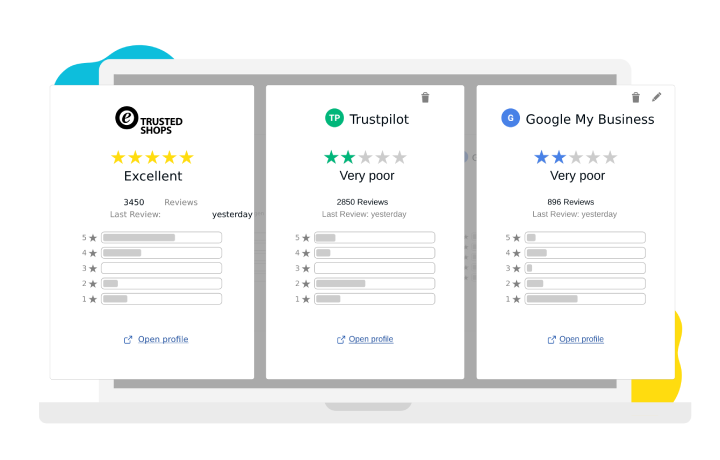 Step 2. Set the distribution of review requests
Here you indicate what percentage of your reviews are intended for each platform. You are in control!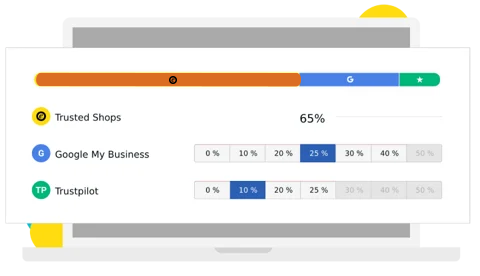 Step 3. Automatically send invitations
You don't have to do anything else. Our system automatically sends the review requests according to your distribution setup.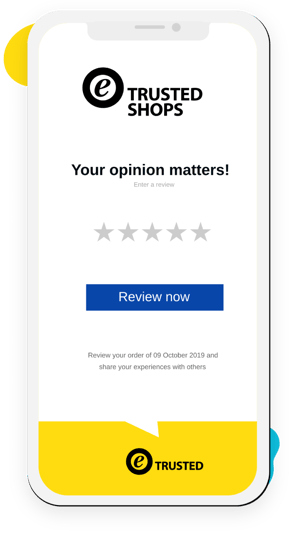 Result: a good reputation everywhere!
You will get the reputation you deserve on all of the platforms you've entered.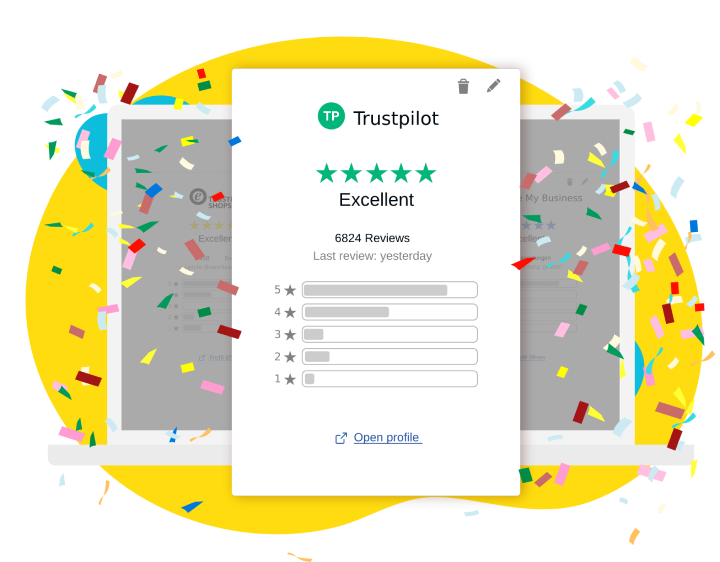 🔄 In short
If you want to boost your online reputation on all review platforms, the Reputation Manager is the solution for you!
For a deeper explanation, visit our product page (link below). From there, you can also contact our experts for a no-obligation conversation about how the Reputation Manager and our other products can help your online shop.
Jan 2021: Trusted Shops Localising for Sweden & Denmark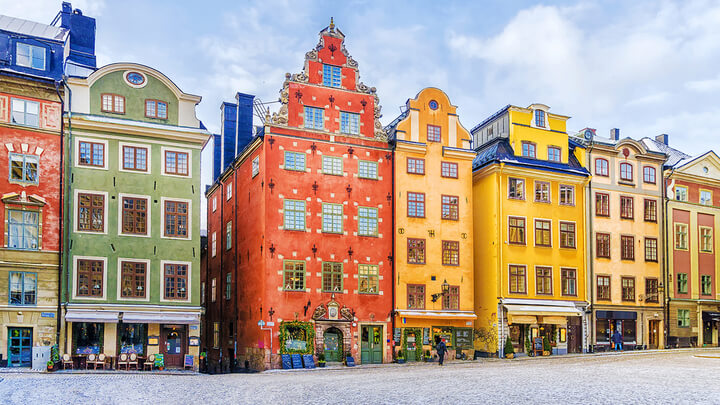 shutterstock/dimbar76
The Swedish and Danish e-commerce markets are some of the most mature markets in Europe (and the world). Whether you are based in one of those markets or just target them, there's no mistaking the fact that the potential there is really high. That is why Trusted Shops has announced the expanded localization of products for the Swedish and Danish markets.
Which Trusted Shops products are available in Swedish & Danish?
For now, we're updating some of our most popular products, including both shop and product reviews as well as our Google Integration tool and our newest product, the Reputation Manager. For all of these products, anything meant for consumers to see will be displayed in their local language (Swedish or Danish), while the backend will be in English.
Customer reviews
As we mentioned, customer reviews refer to both service and product reviews, which are essential to your online reputation. Service reviews, of course, refer to reviews that give feedback on your shop's service, while product reviews focus on the quality of the products you sell. Both sets of reviews are used throughout Google, including Google Shopping.
Google Integration
As a Google partner, our Google Integration product communicates your star-ratings and your reviews to Google so they can be displayed in your Google Ads campaigns. Remember, star-ratings visible in ads can help boost click-through rates by up 20% (which also lowers your CPCs- a real win-win).
The Reputation Manager
We really love our newest product, the Reputation Manager. It allows users to organise their review requests for multiple review providers (like Google My Business and Trustpilot) all in one platform, making it easier to manage your online reputation across the web.
Why Sweden and Denmark?
Trusted Shops is no stranger to the Scandinavian markets. We've worked together with quite a few brands in these markets for a few years. For example, Desenio, Scandinavia Design Online, and Tailor Store just to name a few.
As Trusted Shops continues to grow, we're always looking into which markets we need to focus on more. The deeper we've gone into the Swedish and Danish markets, the clearer the potential has become to us.
What exactly makes Sweden and Denmark so appealing? According to PostNord, the Swedish market is actually the most "e-commerce ready" market in Europe, with 96% of the population (between 15-79 years old) shopping online. Although not quite as high as Sweden, Denmark comes in at an impressive 88%.
Not only that, but Swedish online shoppers spend more than almost anyone in Europe. Swedes spend approximately €1,012 online annually, which is only outpaced by the UK (€1,020). Danish online shoppers also spend quite a high amount annually compared to the rest of Europe (€850).
Contact us
If you're interested in learning more about Trusted Shops and our products, reach out to us on our contact page.
June 2020: Sort reviews according to relevance
shutterstock/Francesco Bisignani
There are various options for sorting the existing customer reviews in the review profile. At the beginning of June, one more will be added for online shops that use eTrusted: Reviews can be sorted by relevance.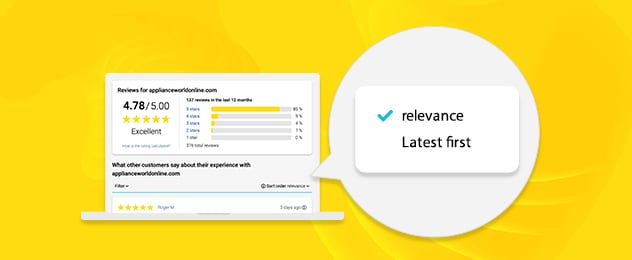 All reviews of your online shop from the last 12 months can be found in your public review profile. Until now, the most recent reviews automatically appear at the top. Consumers could only filter the comments according to the score/rating they are associated with.
The default listing of reviews by most recent will be replaced by most relevant. In the future, the most relevant reviews will be displayed at the top of the profile instead of the most recent ones.
What sorting by relevance means
Sorting by relevance is based on objective criteria:
Review date:

Current reviews are more meaningful than older ones and therefore more relevant.
Length of the commentary:

Longer comments are usually more helpful than shorter ones. Therefore they have a higher relevance.
Deviations from the average mark:

Reviews that deviate far from the average score are outliers. They do not adequately represent your online shop. Therefore the relevance of these reviews is lower.
Likes:

Comments that many people find helpful have a higher relevance (this feature will be introduced in the coming weeks).
In short: If a current review is particularly long and its number of stars does not deviate greatly from the average, it is displayed further up.
As long as you have a good overall rating as an online shop, the new automatic sorting reduces the probability that negative reviews will appear at the top of your profile.
The advantages at a glance
More sales:

Meaningful reviews that perfectly represent your online shop are at the top of the review profile. This way, customers can see at first glance that they can shop with you with peace of mind.
Higher retention time:

Users stay longer on your profile because they can find many interesting customer comments without having to search too much.
Better ranking:

Many, and above all relevant content, improves the ranking of the profile in search engines. Meaningful content has a greater proximity to frequently used keywords used by users.
A new menu item in the review profile
This is what the new menu item in the review profile looks like. With one click, visitors can change the default setting and sort by review date ("newest first"). Filtering by rating (left in the picture) is still possible.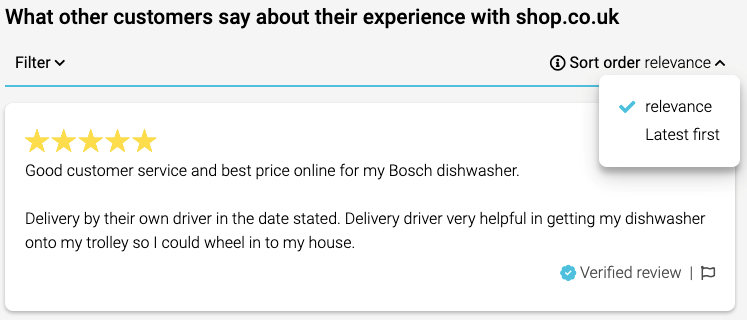 At the beginning of June, the update will be carried out automatically
As an eTrusted user, you do not need to do anything for the change. It will be made automatically at the beginning of June. In addition, we will continuously optimise the sorting process in the near future.
For users of My Trusted Shops, nothing changes in the review profile; the only choice remains sorting by most recent.
If you have any questions or feedback, please contact us at members@trustedshops.com.