Global e-commerce is on the rise. In 2018, worldwide e-commerce sales topped out at $3.5 trillion, which was an increase of 18% from the year before. Those numbers are expected to nearly double by 2023—perhaps even more than double, given the recent uptick in online shopping due to the coronavirus pandemic.
Of course, where there is growth, there is competition. With more companies moving their businesses online and more new online stores popping up, your e-commerce site is only going to experience more and more competition. So how can you stand out? One thing you can do is to launch a chatbot.
When done right, a bot can help you put your business's growth into overdrive, one conversation at a time. That's the power of conversational marketing via chatbot!
What is a chatbot?
First things first: A chatbot is a computer program that can chat back and forth with users in a humanlike, conversational style. You can equip your bot with pre-set questions and answers to guide the user through the chat. You can even add artificial intelligence (AI) to your chatbot so that it can learn to choose appropriate responses on its own.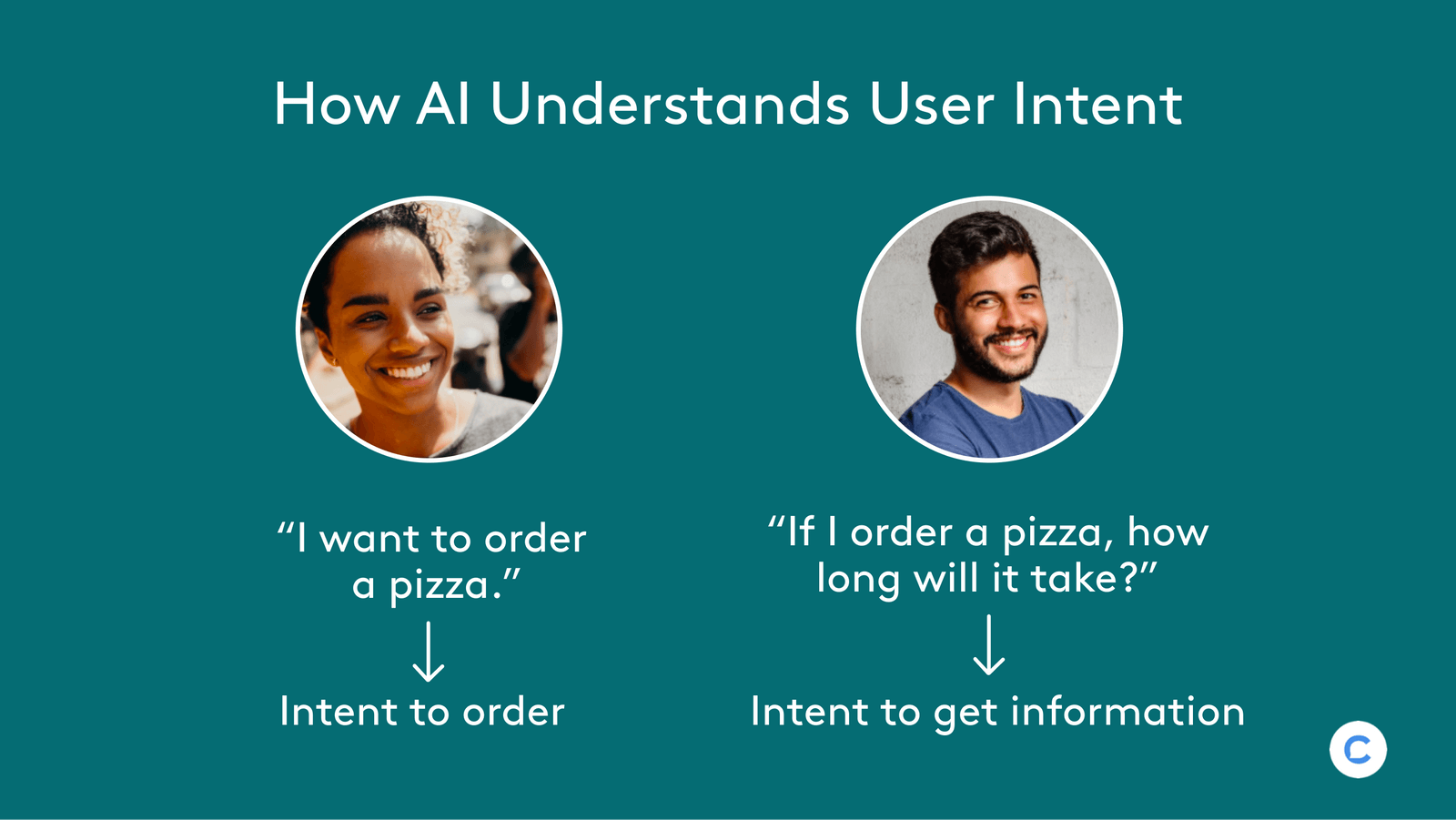 Chatbots can "live" anywhere on the web, but they've become especially popular on Facebook Messenger. Businesses can build a chatbot and link it to their Facebook page, allowing the bot to handle incoming messages via Messenger.
Messenger bots aren't intended to take the place of human agents. However, they can automate all kinds of processes to free up human time for more complex tasks. They make life easier for your prospects and customers, too.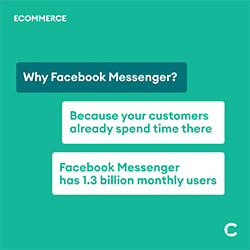 First, Facebook chatbots are available to assist them 24/7/365, unlike most human teams.
Plus, there's almost no learning curve required to interact with a Messenger bot. Facebook Messenger has over 1.3 billion monthly users, which means most of your audience is probably already used to and comfortable with chatting in the Messenger app. A conversation with a bot there won't feel any different.
How to use a chatbot to provide excellent customer service
Let's start with a simple yet powerful use case of an e-commerce Messenger chatbot: providing fantastic customer support. We live in a world where people prefer to order their pizza through an app rather than over the phone. So it should come as no surprise that 65% of shoppers would rather message a business than call or email them when they have a question.
However, we also live in a world where consumers expect results instantly. These same shoppers want to contact a business virtually, but expect their question to be answered in five minutes or less! Providing helpful service with lightning-fast response times 24/7 is challenging for any human team. But a Facebook chatbot doesn't need rest or breaks. They're available to help customers at any hour.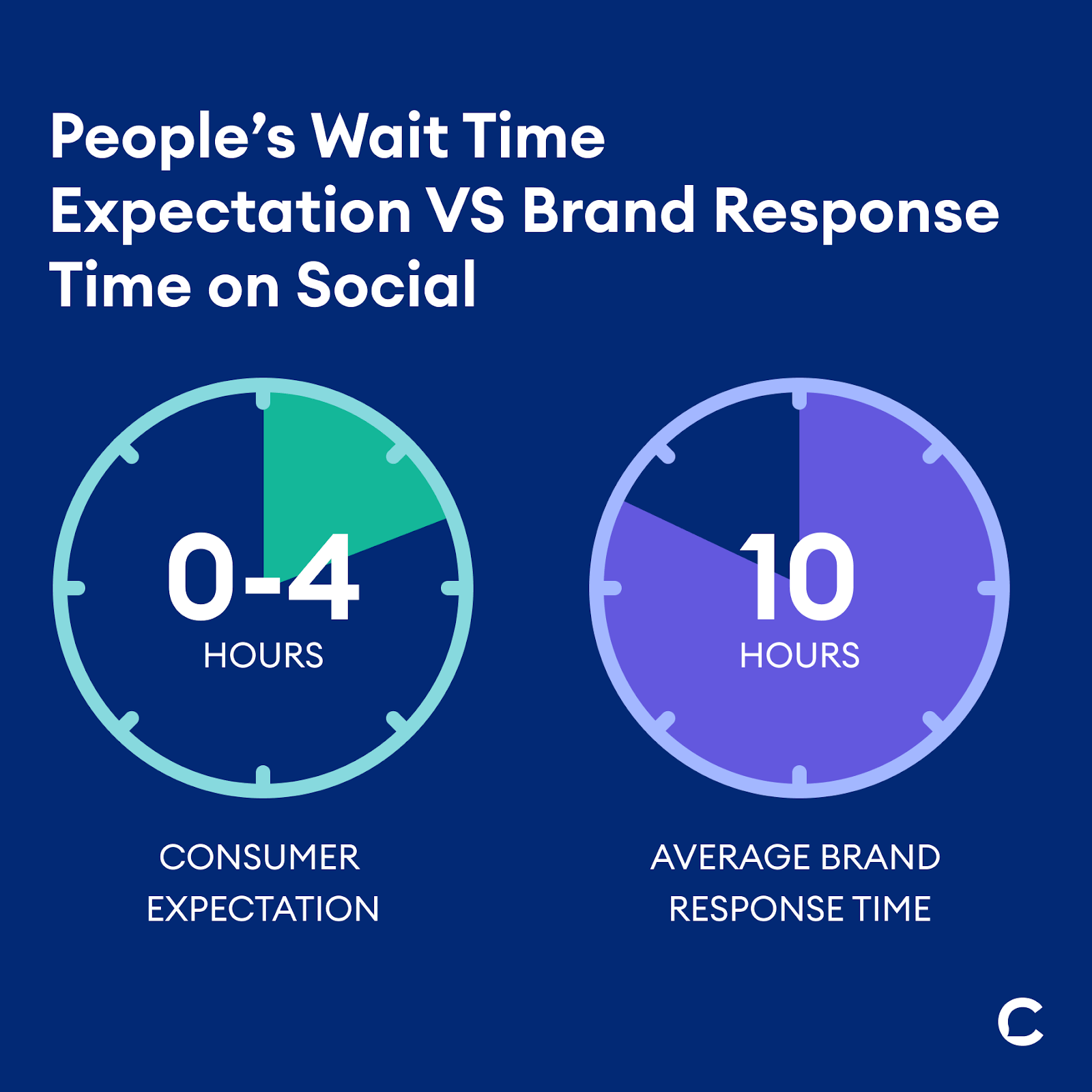 An e-commerce chatbot can give instant answers to customers about anything you tell it to, from your products to your shipping policies to their order status. Plus, a bot can personalise each interaction.
Since Messenger bots have access to each user's Facebook profile information, they can customize the chat with things like the person's name and time zone. Facebook bots save chat history too, so they can offer tailored support to a user based on what they've asked about or purchased in the past.
Anyone can quickly and easily set up a basic customer service bot for their e-commerce store with the no-code platforms available today. That small investment can bring major returns, from happier customers to less-stressed support employees to increased sales.
Using a chatbot to convert more website visitors into customers
A chatbot can also act as a brand ambassador and guide for potential customers who visit your website. (Embedding a bot there takes just a few clicks.) It's one way chatbots can help you get more customers and help increase your sales.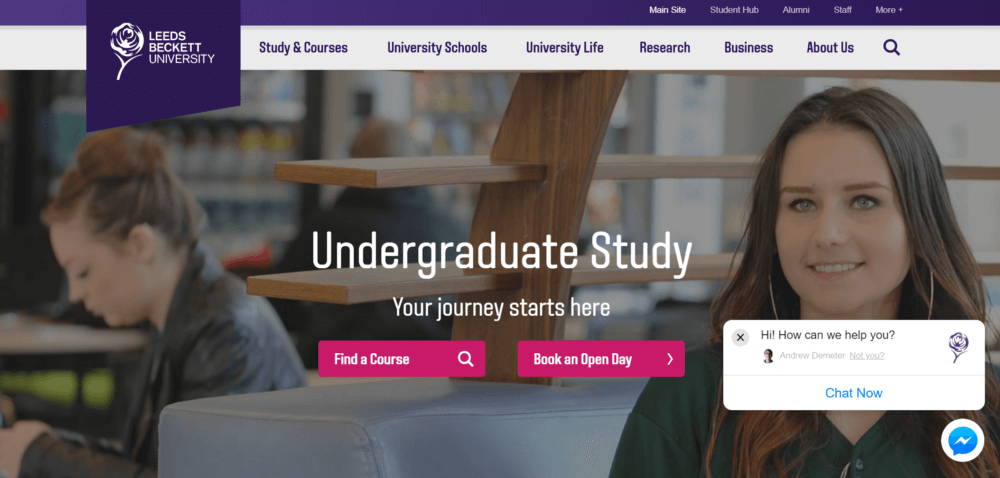 Imagine a shopper lands in your online shop. They're not familiar with your brand or products, and they don't know where to start. Without a Messenger chatbot, they may browse a bit and get confused, lose interest, or get distracted and leave.
But with a Messenger chatbot, they can receive a warm greeting and personalised guidance as soon as they arrive on the page. Your chatbot can ask them questions about what they're looking for and direct them to the right place. It'll help them find the right product, making a sale more likely.
How a Messenger chatbot can recommend products
Whether a consumer comes across your bot on your website, your Facebook page, or through an ad, they can receive personalised product recommendations from it.
Why is this important? Because a recent study showed that 49% of consumers said they've purchased a product they weren't planning to after receiving a personalized recommendation from the brand. An easy way to increase your sales by almost half isn't something most e-commerce merchants can ignore!
The way Facebook bots do this is simple. They use an engaging quiz format to ask the user about their needs or preferences in relation to the product(s) you sell. From there, they can answer questions about them as needed, and direct the shopper to your website where they can buy.
By the way; want some tips on creating the perfect product page? Check out our free whitepaper below:
LEGO is a strong example of a brand with a Messenger chatbot that does this well. Their bot was designed to recommend gifts during the holiday season. It asks the user for their price range, and about the gift recipient's age and interests. It then returns a handful of tailored suggestions and shares the links to the product pages.
Recommended reading: What Does a Perfect Product Page Look Like?
Recovering more abandoned-cart revenue with a chatbot
Abandoned carts: the two words that keep every e-commerce store owner awake at night. The average abandoned-cart rate currently stands at a whopping 70%. But—you guessed it—a Messenger chatbot can help with that.
Email campaigns are usually considered to be standard practice for sending abandoned-cart reminders to get users to come back and complete their purchase. However, a chatbot can send abandoned-cart reminders automatically via Messenger, where users are more likely to open and engage with them.
Content via Messenger has 80% open rates compared to email's 20%, and 35% click-through rates compared to email's 2%. That translates to more recovered carts, and more money in your pocket.
Conclusion
Messenger chatbots are quick and inexpensive to build, and they can have a major impact on your store's bottom line. They can provide the instant, always-available service consumers nowadays demand, helping you get more sales in the process. Whether you're struggling with a burned-out support team, low conversions on your website, sluggish sales, or high abandoned-cart rates, a Messenger chatbot can help! In fact, think of a chatbot as your online store's secret weapon!
For even more tips on product pages, check out our product page SEO guide with our free checklist below: