Chatbots aren't particularly new to the e-commerce world, but there are more reasons than ever to add one to your online shop. Technology has continued to improve and users are more comfortable using chatbots to aid their shopping experience. Today, let's have a look at some of the latest stats concerning chatbots and see why they could really benefit your e-commerce business.
Here's what you can expect to find here:
What is a chatbot?
A chatbot is an automated program that can have conversations with users. They appear throughout the website as an additional aid to users in case they have questions. Companies can set up chatbots to ask pre-set questions and answers to help guide users.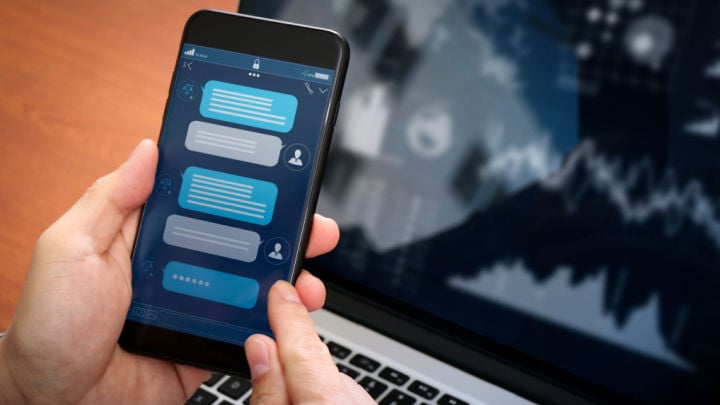 Source: shutterstock.com/everything possible
Chatbots can save time for employees because chatbots can answer a range of questions that might normally end up in someone's inbox. On top of that, chatbots can work 24/7, so those questions can be answered instantaneously rather than having to wait for a reply from a human.
Why your online shop needs a chatbot
Chatbots can do many things to support your site's visitors. Of course, they can answer rather simple questions quickly. Things like store hours, delivery options, payment methods, etc.
Chatbots can offer your site's visitors orientation on the site. This can be particularly helpful for users who are new to your business or even to the industry, particularly for a niche market.
Chatbots can also recommend products. This is a perfect tool for shoppers who are buying gifts. Chatbots can begin by asking if you are buying something for yourself or as a gift. Next, they could ask what age group the gift is for. Next, could be a question about the price range the shopper wants to spend on the gift. Then, the chatbot could provide a list of themes to see which sounds most interesting for the gift-receiver (e.g. sports, westerns, sci-fi, etc.).
Chatbots can even help with your shopping cart abandonment rate. In many cases, a repeat visitor can be reminded of the last product they looked at when they were previously on the website.
Let's have a jumpstart on some of the statistics to consider when contemplating the addition of a chatbot to your site.
According to a Tidio study that analysed 50,000 websites with active chatbots, here is how user interactions were categorised: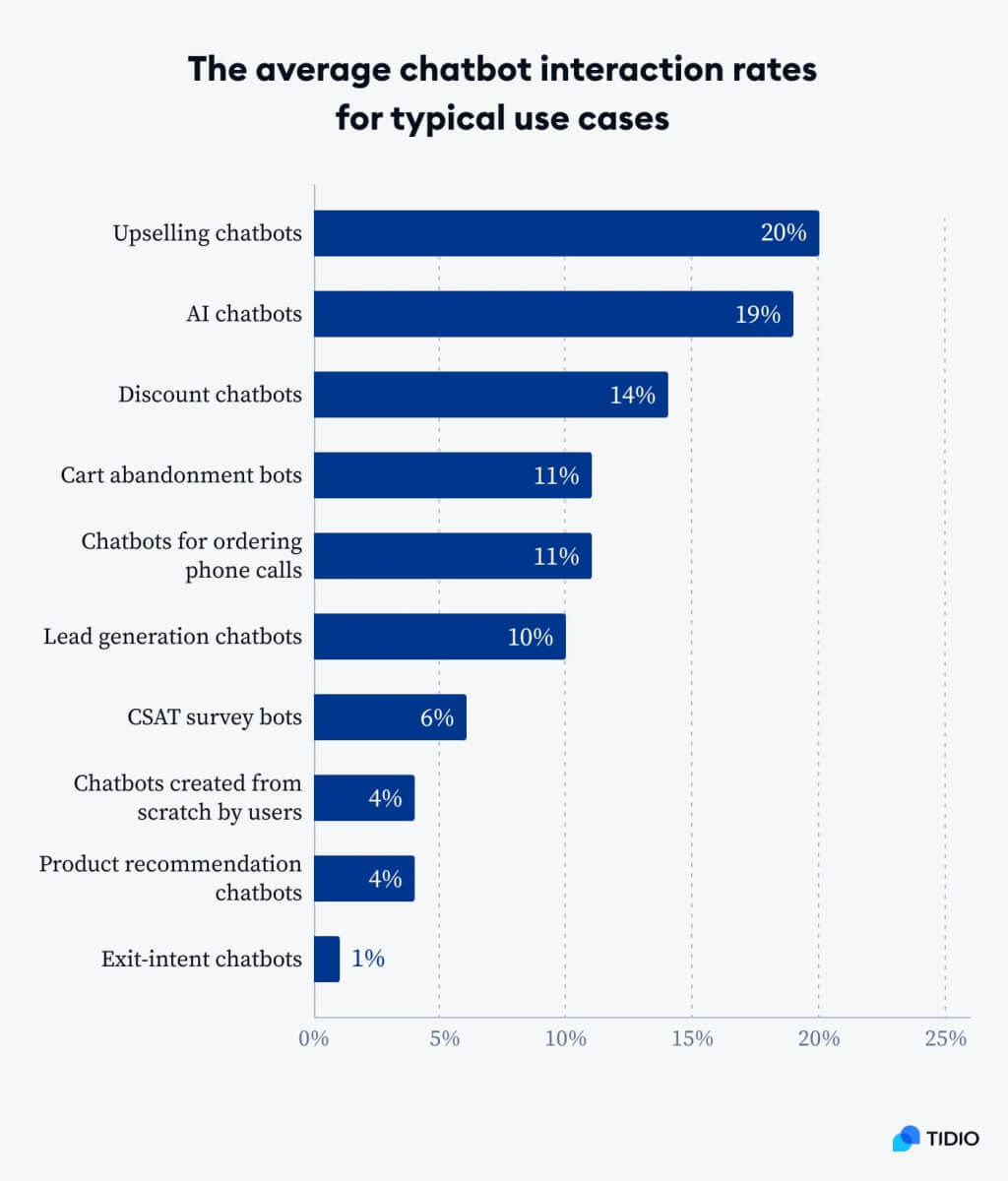 As you can see, chatbots are great for upselling products as well, with the highest interaction rate (20%). AI chatbots to help answer questions came in at a close second (19%). Discount chatbots (14%), cart abandonment chatbots (11%), and chatbots for ordering phone calls (11%) round out the top 5.
All in all, it is clear to see that chatbots can offer a lot of options and services for your users.
Reactions to chatbots
Besides the convenience it brings to both you and your customers, let's have a look at some statistics that support this case. Tidio, a chatbot provider, recently conducted a survey regarding chatbot trends. They surveyed 774 business owners as well as 767 consumers. Let's first have a look at some consumer reactions:
Consumer reactions to chatbots
Here are some stats related to consumer reactions to chatbots:
Consumer expectations
As you can see in the chart below, most users expect availability from chatbots. Being available 24/7 is invaluable. Late night inquiries can be answered right away.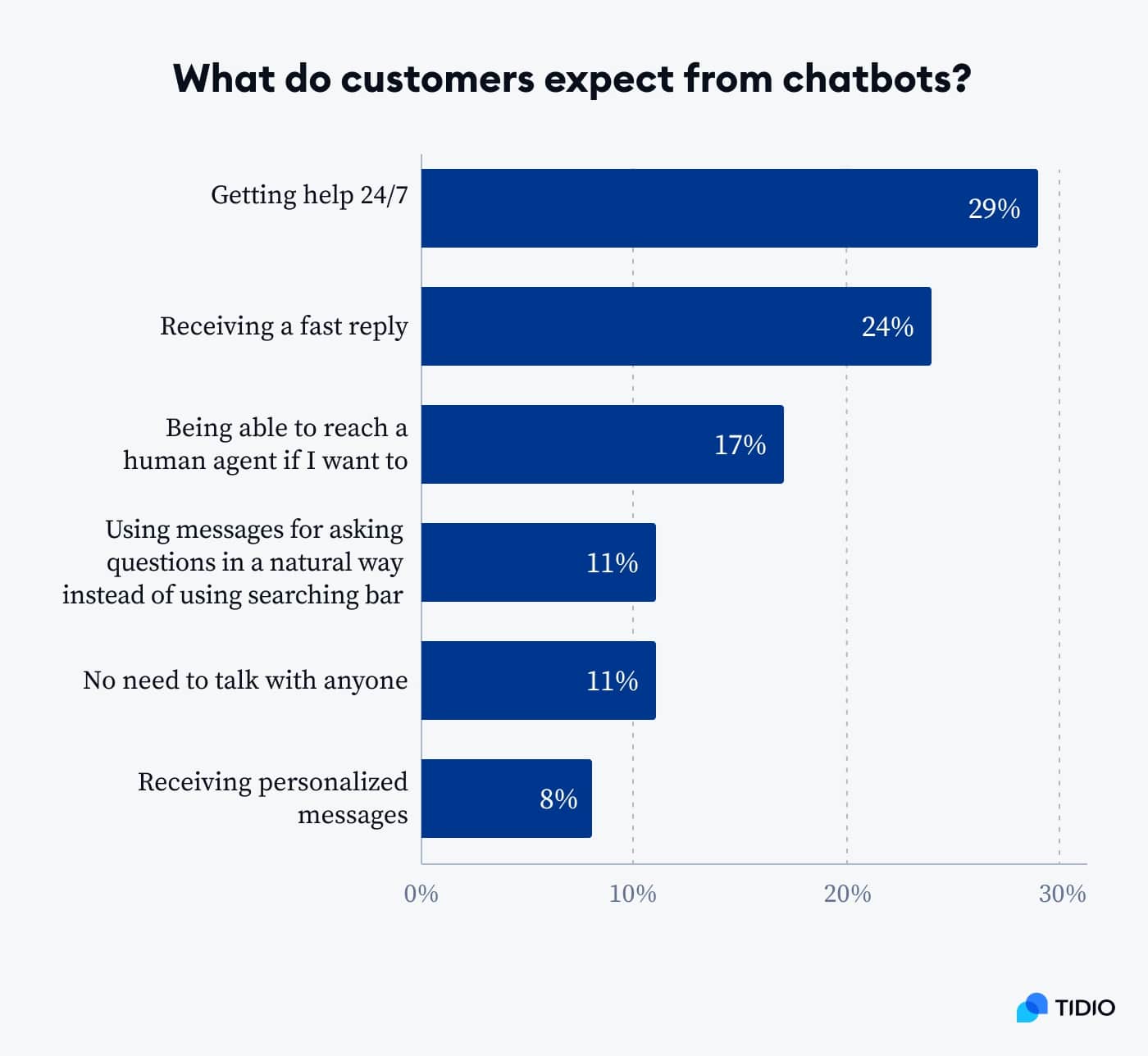 After 24/7 accessability, quick responses are the second most expected service from a chatbot. Third place is interesting as well. Users still want access to humans if they need them. After all, chatbots aren't perfect and there are still situations where it's easiest to talk to a human.
Having said that, there are many situations where a chatbot is preferred:
Chatbots are often preferred to humans
In this consumer survey, users were asked about their preferences (chatbot or human assistant) for certain situations.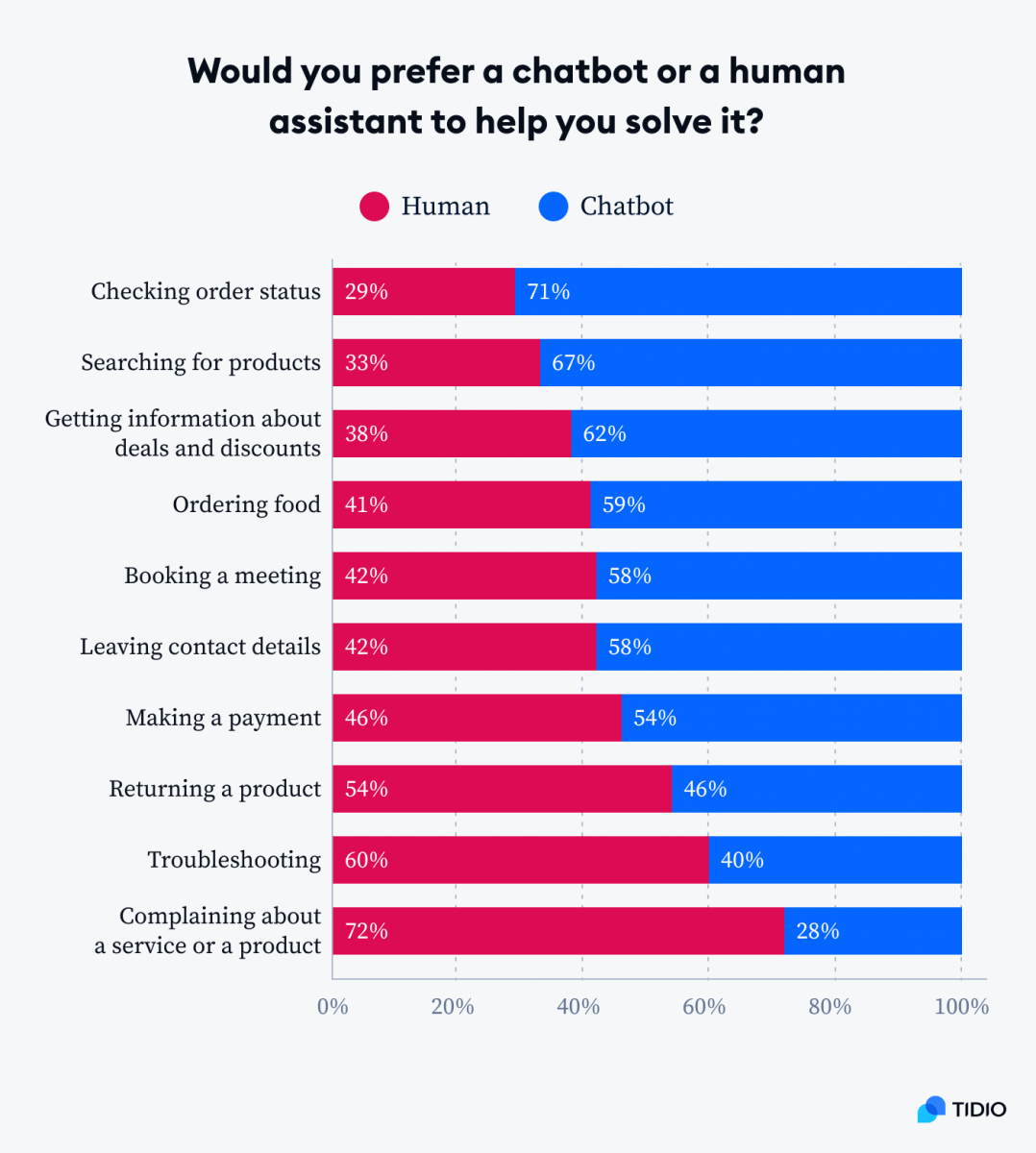 As you can see, shoppers actually prefer dealing with a chatbot in many situations. Rather basic tasks like checking their order status or leaving contact details are when chatbots are preferred. It seems that with the more "serious" tasks, humans are preferred.
Humans will always be necessary in the customer service world. However, it's clear that many users are comfortable with and actually prefer chatbots for rather simple requests. This can clear your real-life employees to focus on more pressing matters, such as returns, troubleshooting and complaints.
Speaking of complaints, it's normal for any business to receive the occasional negative review. There's no need to panic. What's important is to react in the right way. Check out our whitepaper for more tips on dealing with negative reviews.
Shop owner reactions to chatbots
Here are some stats related to business owner reactions to chatbots:
Business owners' expectations of a chatbot
Earlier, we saw what consumers expect from chatbots. Now, we can have a look at what business owners expect from this tool.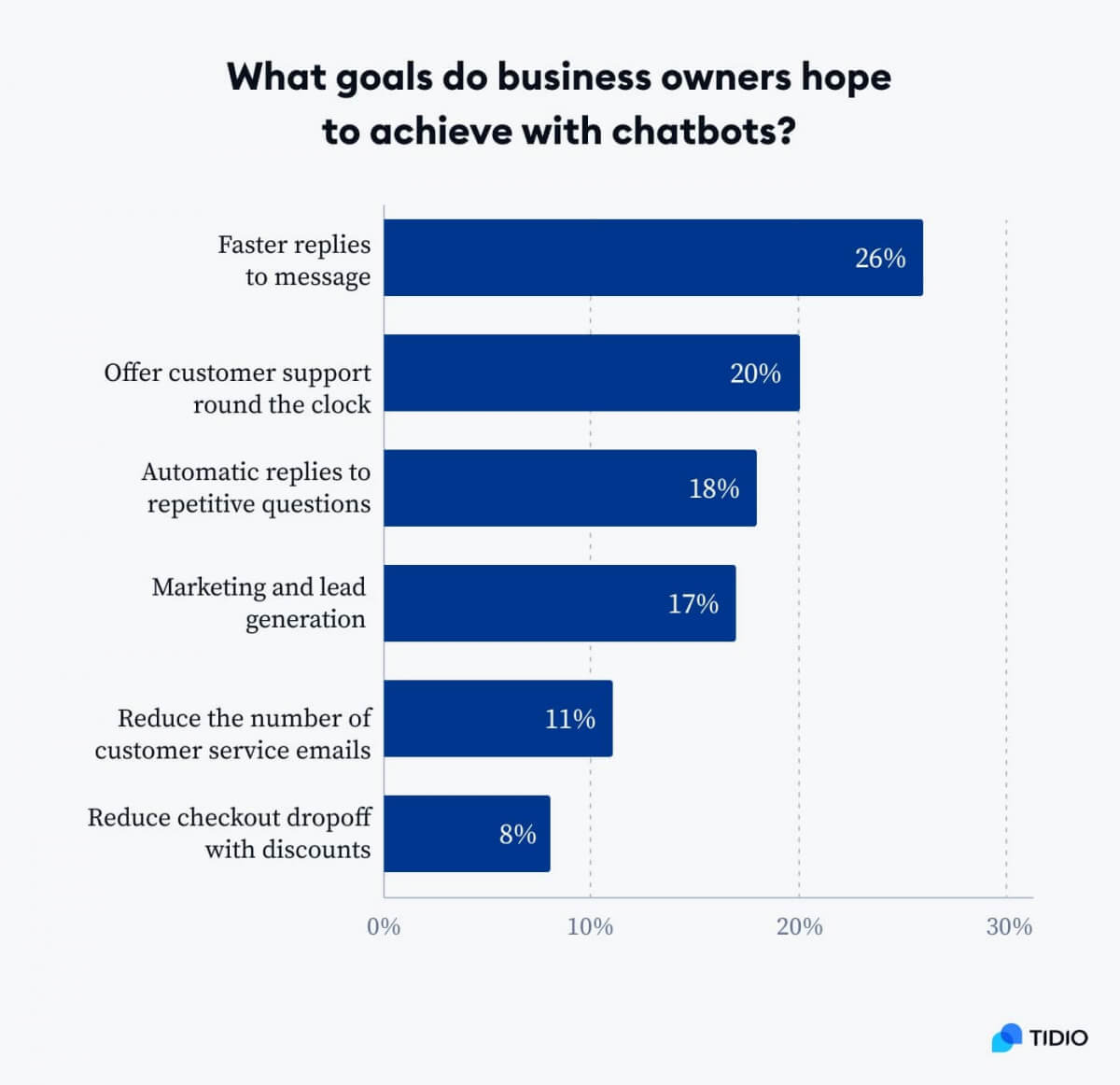 The top two answers are actually the same as what consumers responded, albeit in a different order. The answers that follow those two relate more to the specific needs of business owners, namely being able to answer repetitive questions, support for the customer service team, boost checkouts, as well as lead generation.
Chatbot usage among business owners
In the chart below, business owners were surveyed. The replies were broken down according to the size of the business.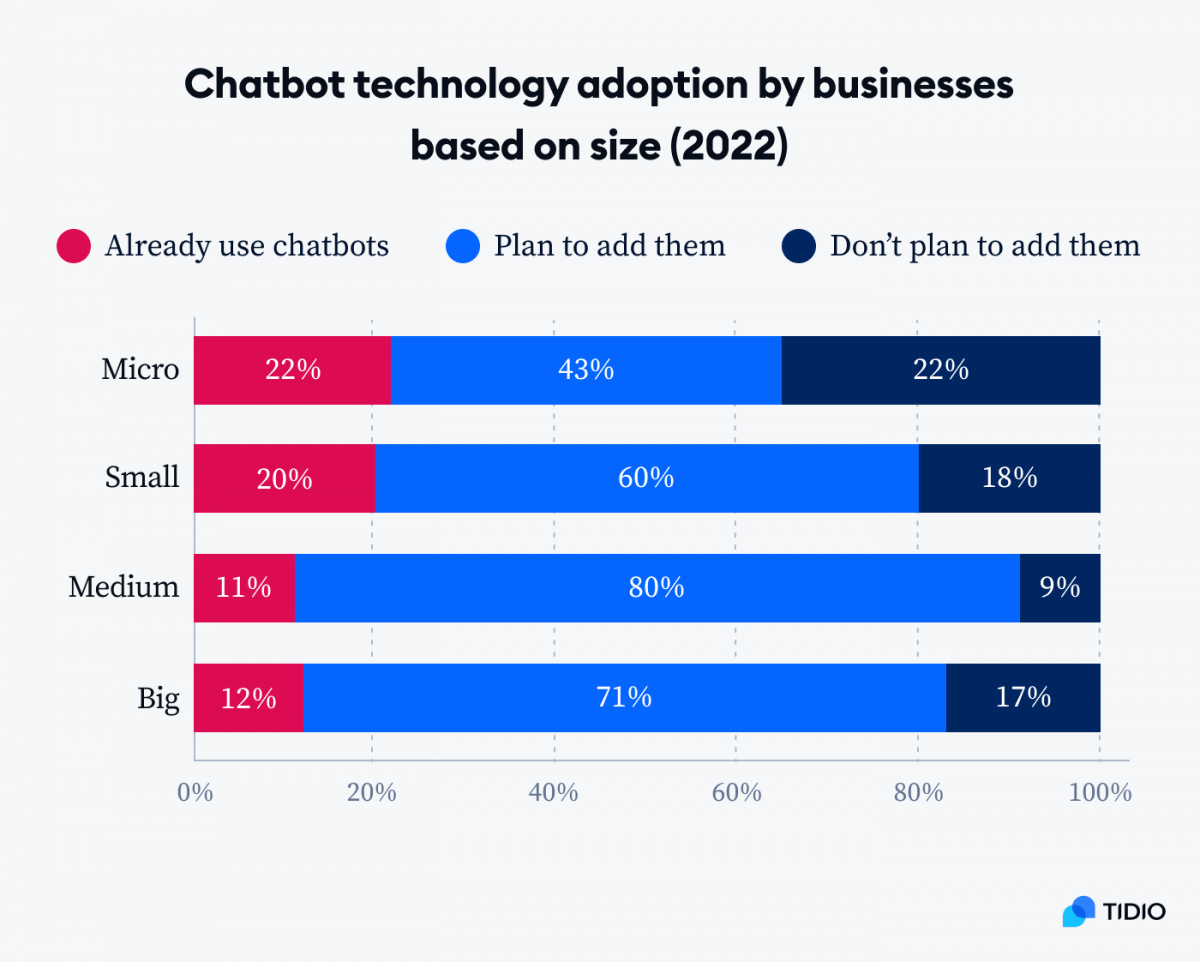 It's interesting to see that smaller-sized companies are the ones implementing chatbot technology into their online shops. As was mentioned before, chatbots can save businesses manpower. Therefore, it makes sense that smaller businesses with a smaller workforce are more willing to implement chatbots into their website.
How satisfied are business owners with their chatbot solutions?
As a business owner, adding a chatbot might just be another action to put on your endless backlog of tasks. It's worth taking a look at how other business owners felt with their chatbot solutions: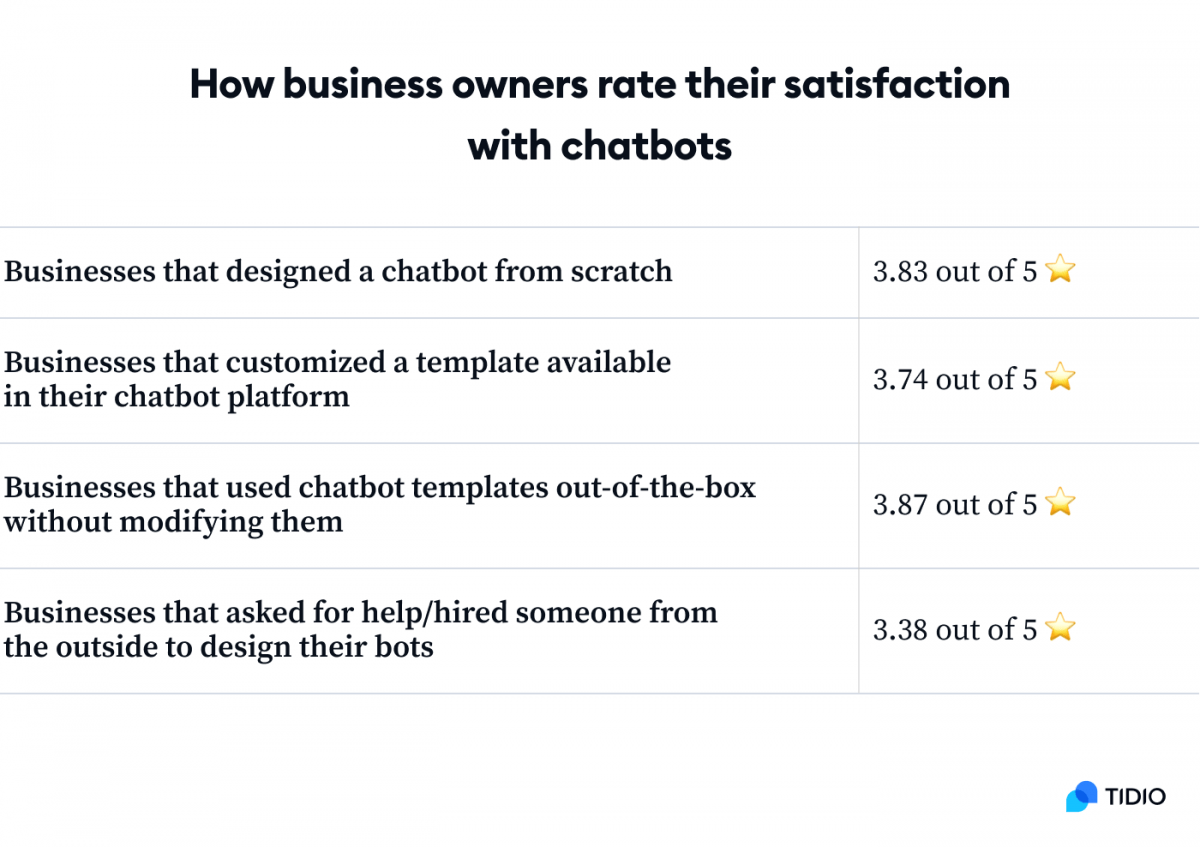 It seems that implementing a chatbot solution has been an overall positive experience no matter which method they used to get it online. Of course, it's worth noting that hiring an outside person to design a bot was the least popular method.
This may have to do with the fact that this feature was created by an outside hire. That generally means there may be a lack of support involved if changes need to be made after the initial implementation.
Conclusion
Chatbots can be a very worthwhile addition to your online shop. Consumers like them for their quick response rate, especially for relatively simple questions, while shop owners like them for their ability to engage with customers at all times of day while also lightening the workload of their customer support teams.