A simplified customer experience and an optimised user experience, especially on mobile phones! That is what Facebook promises us with its "Collection Ads" feature. Discover this promising feature for your marketing strategy, which Facebook offers at a very attractive price!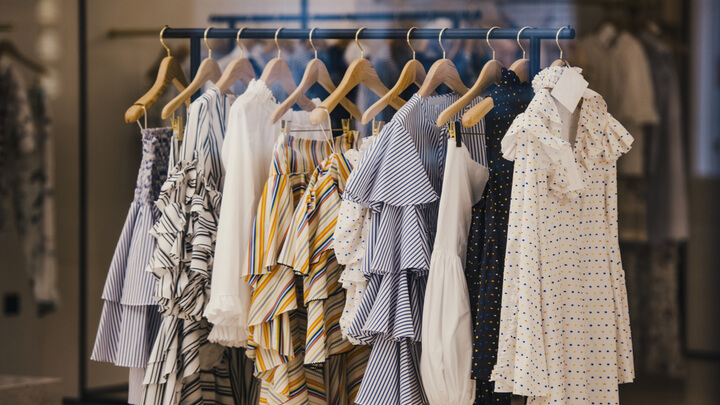 It is no longer a secret, especially for marketers, that the daily amount of time spent looking at screens and specifically smartphones is constantly increasing. A significant percentage of that time is concentrated on Facebook and Instagram, where competition is fierce.
Therefore, it is crucial for marketers in a competitive and digitalised marketing environment to always find unique and attractive ways to promote their offers.
This is what Facebook now offers with its "Collection Ads" format.
What are Facebook Collection Ads?
Facebook's idea behind this new advertising feature is to allow you to promote a portion of your product catalogue in a new, optimised, and, above all, mobile-friendly way.
The essential goal of this format is clear: It is there to simplify the buying process of your potential customers, improve the customer journey, and showcase more of your product line without forcing the user off of Facebook. In the end, this should all lead to an increase your sales!
The famous jeweler and luxury watchmaker, Cartier, used this format for Valentine's Day this year and guess what?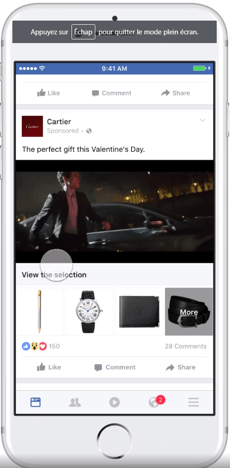 According to Facebook, compared to its previous campaigns, Cartier doubled its ROI with the Collection Ads format.
Facebook offers an easy process that allows the potential customer to view a wide range of the product catalogue without having to leave the social network.
What does the Facebook Collection's Advertising format look like?
There are in fact 4 different templates that you can choose from:
Depending on your goals and the type of images you have, you can choose a different template.
The Instant Storefront
This template is very similar to that of a lifestyle magazine.
It consists of one main image and several smaller images of the product or other products which could also be of interest to your customer (similar to up-selling and cross-selling strategies). If you want to increase your sales, the Instant Storefront is the right template for you.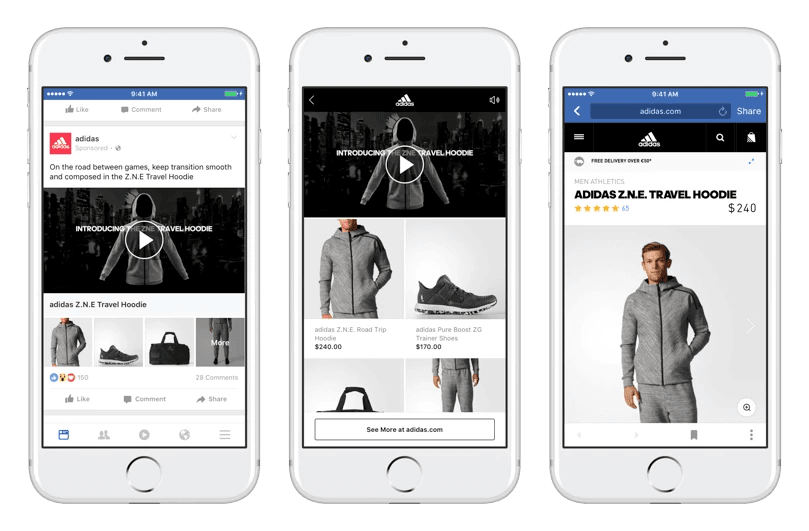 By clicking on one of the images, you can access the full screen mode and all the products that are part of that campaign. This can be between 8 and 50 products.
The Instant Storefront customer journey
Step 1: The customer sees your campaign on Facebook or Instagram
Step 2: They decide to click on the campaign. It appears in full-screen (thanks to the Instant Experiences format, formerly known as Canvas) and they can simply scroll down to see the entire catalogue where the product images as well as the prices are displayed.
Step 3: The customer clicks on one of your products. This is the moment that they are redirected to your website. However if they do not purchase the product they can return and continue browsing through the products in your selection.
The Instant Lookbook
This template is particularly suitable if you have a printed version of your products which you would like to digitize.
It allows you to put your products in action while working on your brand image and increasing your sales.
Unlike the Instant Storefront, this template is more interesting if you want to set your focus on different features presented in the main image. Therefore it is necessary to have several main images.
Comparing this advertising model to a traditional catalogue is the ideal way to understand it.
The Instant Lookbook's customer journey
Step 1: Just like in the other templates presented, the ad appears in the Facebook or Instagram feed of your targeted audience.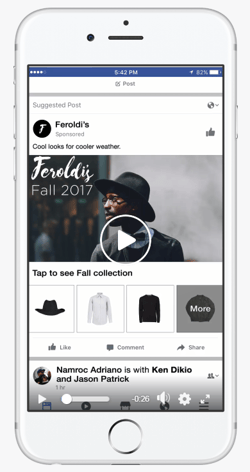 Step 2: After clicking on the ad, it is displayed in full screen mode. The main image or video always appears at the top with the related products below.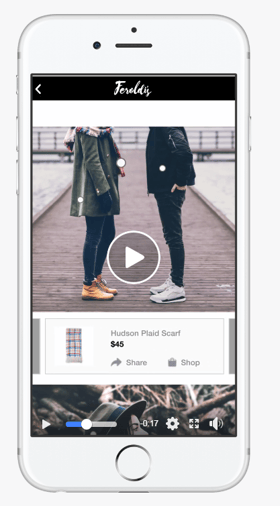 Step 3: Scrolling down, other main images or videos appear. The customer can see the price of the product and purchase something by simply clicking on the photo of the product.
It is interesting to note that Facebook encourages engagement by offering the possibility to share the products on social networks.
Instant Customer Acquisition
This template is ideal to further simplify your customers' purchasing experience. It is therefore the best way to increase your mobile conversion rate.
In this template, it is very important to have high quality content.
The Instant Customer Acquisition's customer journey
Step 1: Like in the two templates before, a main image or video appears with four additional pictures below.
Step 2: After clicking on the ad, the image or the video of the product appears in full screen mode. Advertisers have the possibility to add several pictures or videos as a slideshow.
Step 3: The customer scrolls down and opens the product page. This process makes it extremely easy to purchase a product.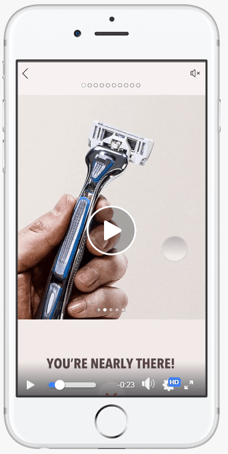 This template is particularly suitable if you want to present several pictures of one product. You may for example want to show the different steps on how to use your product.
Instant Storytelling
This template is suitable if you want to present your company or concept in an interesting and appealing way.
To do this, you can display several main images or videos as slides.
To present your company and your concept, you can insert content between the images or videos the customer is scrolling through.
The Instant Storytelling's customer journey
Step 1: The same process takes place as in the other templates.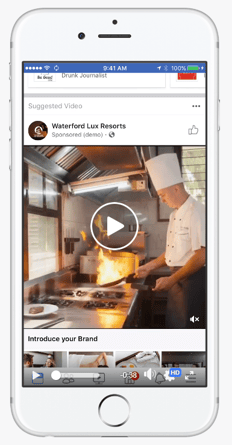 Step 2: You can insert a call-to-action (CTA) to invite the customer to interact with you. The calls-to-action depend on your goals.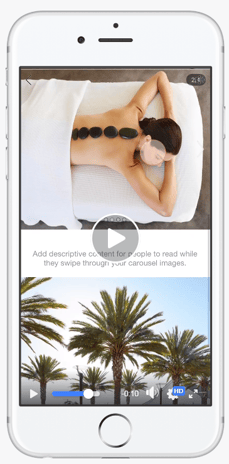 What are the goals supported by Facebook Collection Ads?
Traffic

Conversions

Catalogue sales

In-store traffic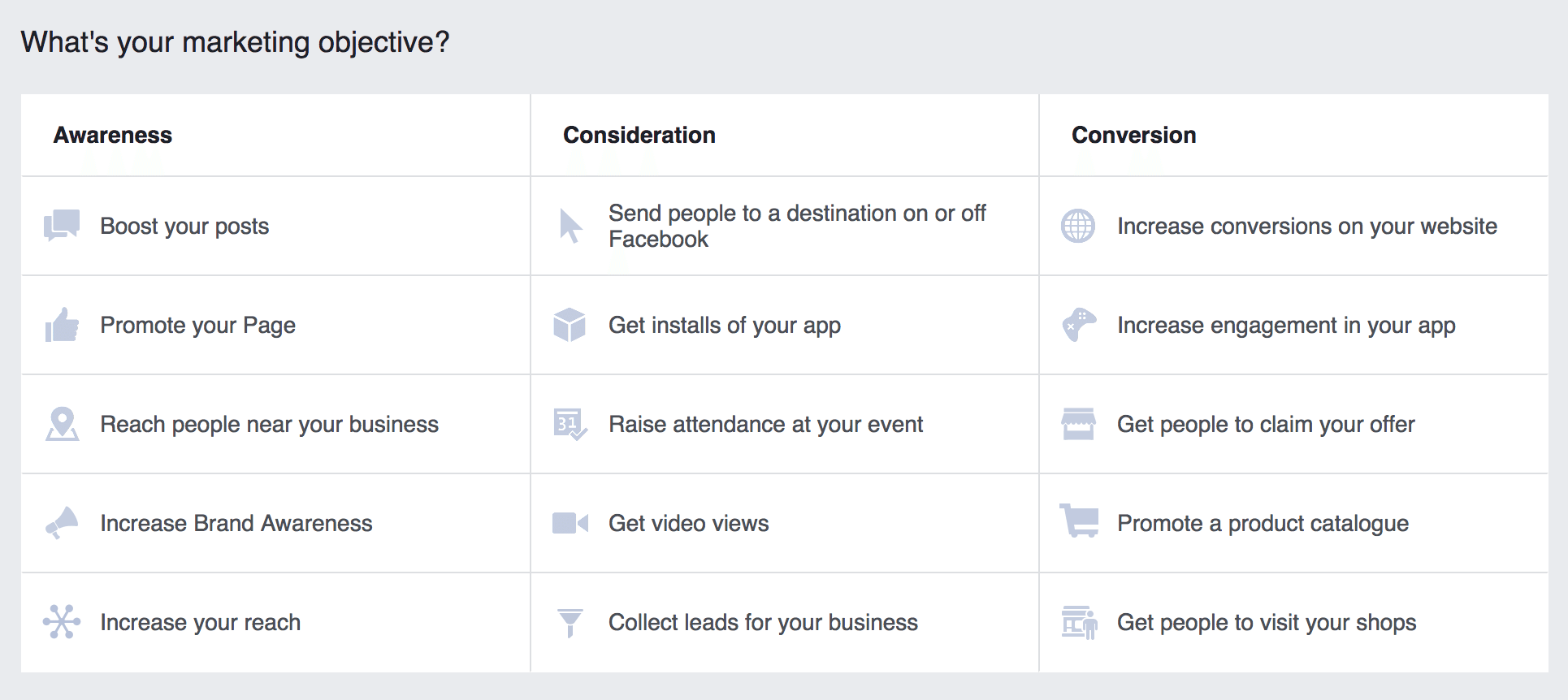 View campaign goals from the Facebook Ad Manager.
It can be difficult to know how to use Facebook Ads!
Find out more about the marketing objectives of Facebook campaigns, the different strategies and possible templates with our free whitepaper on Facebook advertising!
How do you create a Facebook Collection Ad?
Let's have a look at some of the technical elements required for creating a Facebook Collection Ad.
What are the different criteria for creating a Collection Ad?
Have a Facebook business page

Set up an account in the Facebook Advertising Manager

Have a Facebook product catalogue

Choose a campaign goal that is compatible with the Collection Advertising format
Design recommendations for Facebook Collection Ads
Text
Title: 25 characters (above the produced images)

Text: 90 characters (above the main image)
Video
Aspect Ratio: 16:9 or 1:1

Video: H.264 video compression, square pixels, fixed frame rate, progressive scan

Audio: Stereo AAC audio compression, 128 kbps
Picture
Slideshow
Aspect Ratio: 16:9, 1:1 or 2:3 (automatically resized to 1:1 if all images have a different format)

Audio: Stereo AAC audio compression, 128 kbps

Music: WAV, MP3, M4A, FLAC, OGG (Note: you need to have the rights to the music you use)
Tips to optimize your Facebook Collection campaign
What else can be done to get the most out of your Facebook Collection campaigns?
The choice of products and product images
Carefully choose your images or videos as these must look good together.
Facebook mentions that videos generate 20% more conversion rate than images in the Facebook Collection Ads format. Therefore it is very important to invest in good product videos.
As we previously have seen, you have the possibility to upload a main image and four additional images below. What's important to know is that you yourself can decide on the order that the images below will appear.
However, you also have the option to let Facebook decide. In this case, the most popular images or those with the highest conversion potential will be selected. However, these may not have a direct link to your main image.
Therefore, this is an element to take into consideration when setting up your campaign.
Retargeting
Although your Facebook campaign seems to be very successful, there are still some people who have not made it to the last step: your website.
In this case, you have the option to retarget them. This is an opportunity you should not overlook.
Conclusion
You now know everything there is to know about the new advertising format offered by Facebook. All you have to do now is to get started and upload your product images or videos.
BONUS DOWNLOAD: Read about Facebook Dynamic ads and find out how to use them for your business in our free whitepaper.
This article was translated from our French blog: Facebook Ads - Collection : Un parcours client simplifié sur mobile !