Running a successful online shop means paying attention to details. There are so many elements to your online shop that can either increase or diminish your conversion rates. Your product images are no exception to this. Today, we'll look at 10 important tips to make sure you have great images that will convert visitors into shoppers!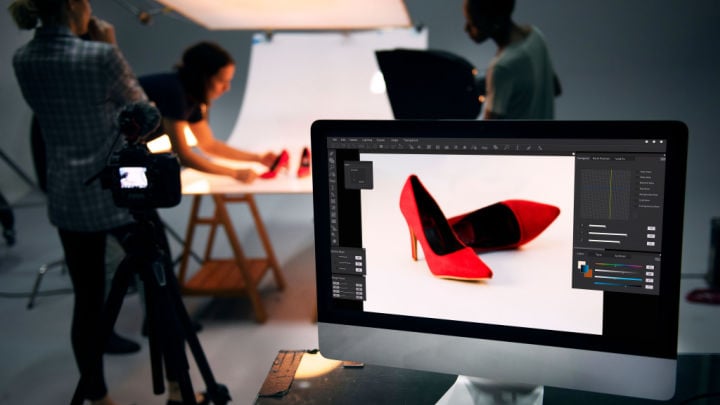 shutterstock.com/Rawpixel.com
Note: If you'd like to download the concise version, click on the CTA at the bottom of the page to download the free PDF.
#1 The right camera
You've probably heard that a camera is not as important as what you do with it. However, generally speaking, you have a great opportunity to showcase your products in a professional way. With that in mind, it might be a good idea to invest in a professional camera (or a professional photographer).
If you only sell a single product, investing in a photographer to take professional photos is kind of a no-brainer.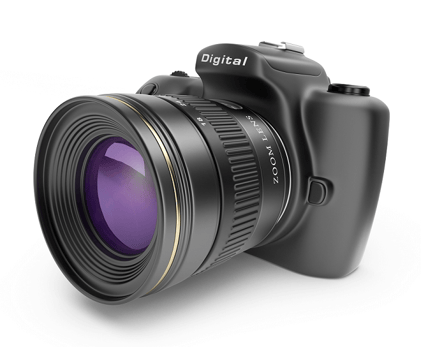 shutterstock.com/Bedrin
However, if you run a shop that has a large array of products or you are constantly updating your product line, it might make sense to invest in a good camera. This way, you can create the images in-house and get them done quickly and easily.
It's hard to ignore the fact that smartphones have ever-improving cameras. Therefore, it's not unfathomable that you can take great images on a very limited budget. In this case, you'll need to focus on lighting, shadows, backdrops, sharpness, and more, so you'll still require some equipment. Again, this should only be done with some of the top-of-the-line smartphones.
#2 Provide enough images
Online shopping has brought many advantages to both retailers and consumers. However, probably the biggest drawback of online shopping is the fact that shoppers can't touch the products. This simple fact highlights the importance of having high quality images.
Quality is always important, but when it comes to product images, quantity shouldn't be ignored!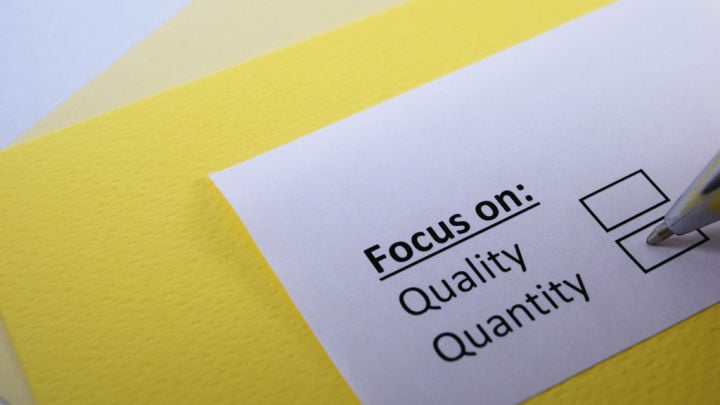 shutterstock.com/Yeexin Richelle
Both quality and quantity are important when it comes to product images.
It's almost never the case that one image is enough to convince shoppers. Actually, there's a good chance that even two or three images won't be enough. Make sure that shoppers can see your product from every angle. In the eyes of shoppers, the more images you have, the more transparent you are, so use this opportunity to build trust with your customers.
#3 Make sure images are large enough and the details are visible
With this point, let's get back to the quality factor. From a consumer's perspective, one of the great things about shopping on Amazon is that you can almost always zoom in on a product image. It's a nice feeling knowing that you can really get a close look at the product you're interested in buying.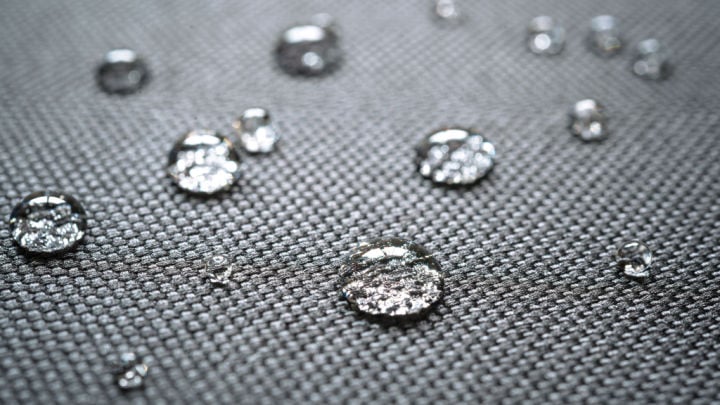 shutterstock.com/Bohbeh
With clothing, for example, you can get a close look at the materials and fabrics used, as well as the stitching quality.
With electronics, you can see the bevels and finishing touches.
In the end, shoppers want to feel like they are holding the product in their hand so that they can inspect the item before they buy it. Therefore, you should make sure the image quality is high and doesn't appear to be hiding anything.
Depending on your e-commerce platform, they will have certain recommendations or limitations to product image sizes. Generally speaking, 1000 x 1000 pixels should be the minimum size for being able to zoom in and 2048 x 2048 is usually the maximum size needed to satisfy your shoppers.
#4 Make the product stand out
As a rule of thumb, your product images should be focussed on the product. Although this might seem obvious, it's definitely something important to keep in mind when taking your photos.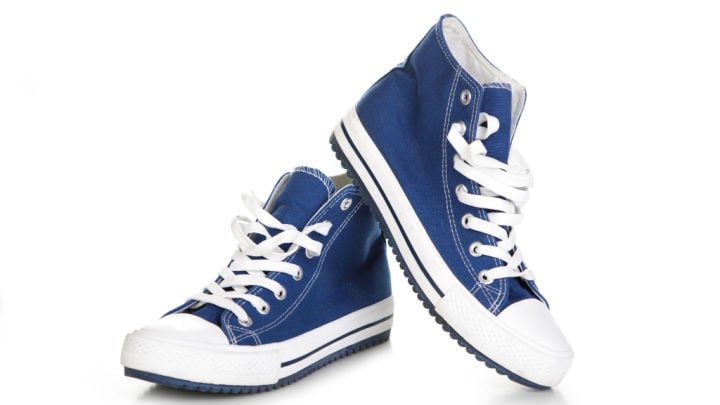 shutterstock.com/tale
A product in front of a white background is pretty standard these days.
In order to keep the focus on the product, you'll want plenty of contrast from the background. The best way to do this is to have a white background. Again, be mindful of shadows and lighting here.
#5 Show the product in action
This is an "amendment" to rule #4. Although, you'll want to have plenty of photos focussed on the product (with a white background), it's also nice to include a few images of the product in action.
Clothes are meant to be worn, so show a model wearing it.
Home décor is supposed to make your place more homey, so take an image of your products in a home environment.
Give your shoppers an idea of what it's like to own that product by showing it in everyday situations.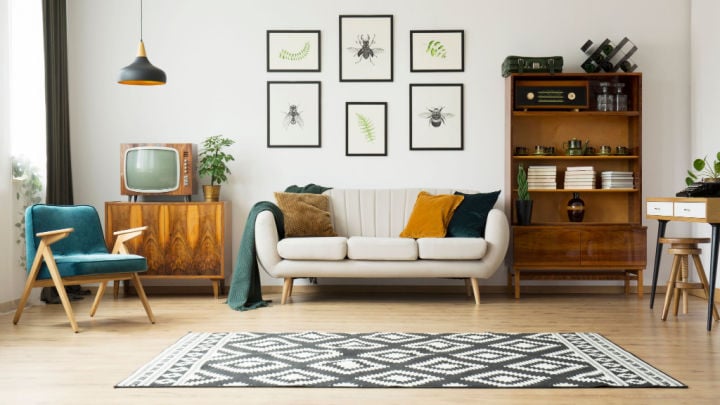 shutterstock.com/Photographee.eu
#6 Everything should be seen
Some products are small and don't require 12 different images to give shoppers an idea of what they're buying.
Other products are intricate in detail and require more images to give consumers a full view of what they're buying.
Does the skirt you're selling have a long slit? Make sure that your images make that apparent.
Does the vintage crate you're selling have handles with fine details? Show off that craftsmanship with a good closeup.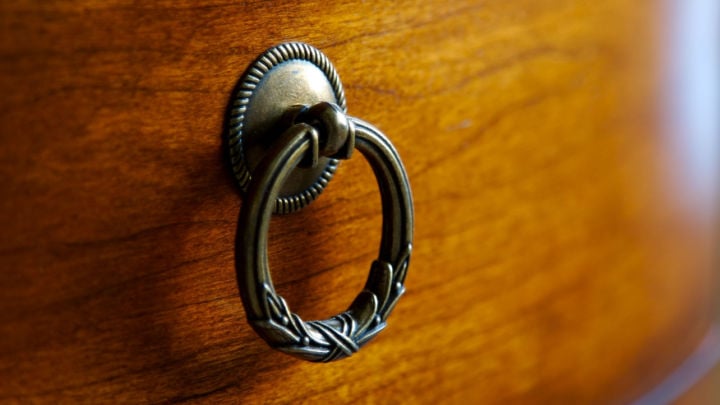 shutterstock.com/Ross Aaron Everhard
Show off that fine craftsmanship with a closeup!
Whatever qualities make your product unique - give it a glamour shot!
#7 The size of the product is clear
If you shop online relatively often, this has probably happened to you once or twice - you open the package to your new product and are a bit surprised by the actual size of the item.
"It looked bigger in the image!" you think to yourself. Then as, you head back to the product page to look at the images again, the photo looks like an optical illusion of sorts - the product looks both big and small at the same time.
In order to avoid customer disappointment (and negative reviews), you should try to make the size of your product apparent in the image. If you show your product in action (as I recommended in tip #5), make sure other objects in the image give your shoppers some idea of the relative size of the product.
For example, you can put the product in someone's hand. For furniture, it's a good idea to add graphical lines to label the exact dimensions of length, width, and height. With clothes, sometimes a short text describing the model's dimensions can be helpful for figuring out which size the person should buy.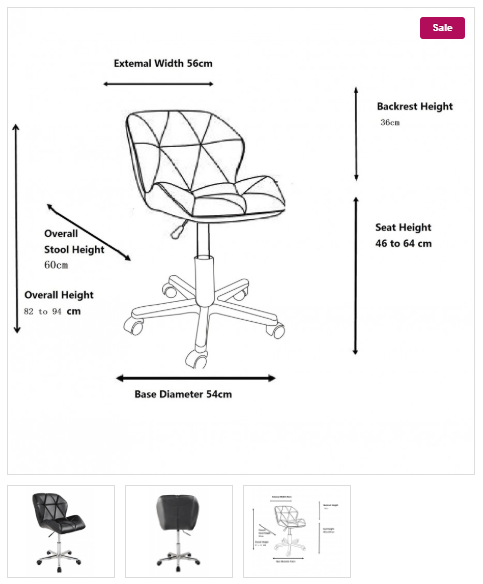 #8 The file size of the image should be as small as possible
On the one hand, you want your images to be detailed enough for shoppers to get a complete view of your products (rule #3). On the other hand, you don't want the file sizes of those images to be too big either.
The problem with large file sizes is that they will slow down your page. Not only might this affect your shoppers' website experience, but this can directly affect your website's ranking in search engines as page load speeds matter in Google's algorithms!
This is where compromise is needed between quality and file size. Some compression tools can really help with this by diminishing the file size of your images without giving up too much in terms of quality. Try a site like tinypng.com or other image compression services.
#9 Use customer reviews
Our main focus in this article has been on product images for your product pages. However, it's important to remember that we can use these product images in advertisements as well.
If you collect product reviews, you might want to consider taking a snippet of positive review you've received and add that to your image for your digital ads. Similarly, you can also put your star-ratings in the image as well.
BONUS DOWNLOAD: Learn how to display your star-rating in your Google Ads
Check out the ad below. Snowbird ingeniously used a negative review in their ad to highlight the high skill-level required to enjoy their ski trails.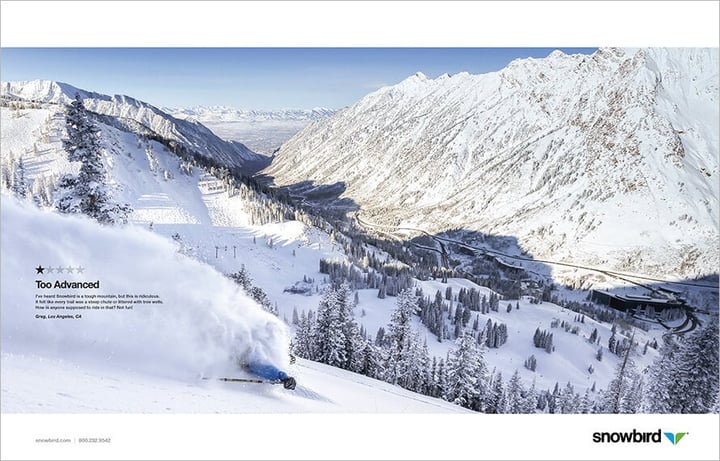 Snowbird's one-star review ad - pure genius!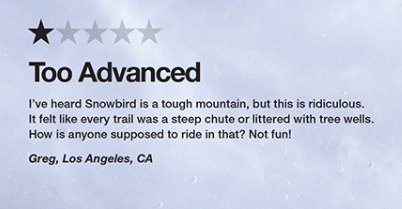 A closeup of the text in the Snowbird ad.
It might be not be so easy to come up with a clever ad based on a negative review, but you can go the easy route and use your impressive star-rating to get the attention of your target audience.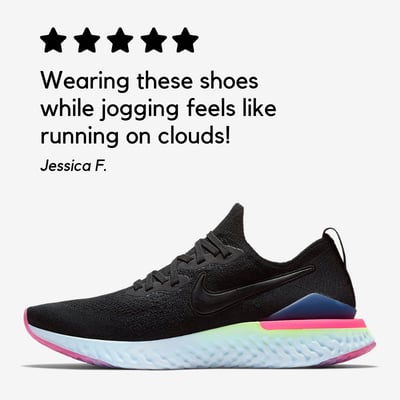 #10 Don't forget the alt-text
This is another underrated point. Every image on your website should include as good alt-text. This goes double for product images.
Alt-tags are basically an HTML description of your images. By having text describing what is happening in your images, it can help search engines make more sense of your website. Not only will this boost your site's ranking strength, but your images might get discovered in a Google image search. If you manage to rank highly here, this might be a great way to drive traffic to your product pages as well.
When writing your alt-texts, be descriptive while also not being too long. Like many of the tips today, you'll have to strike the right balance. Limit your alt-tags to a maximum of 125 characters.
Conclusion
As you can see, there are plenty of reasons why you need to invest time (and maybe a bit of money ) into high-quality product images. With a little of effort, you can make sure that your images are helping convert your shop's visitors into customers.
If you'd like to get these tips summarised, download our free checklist: