Kermit the Frog said it best when he sang his famous song, "It's Not Easy Bein' Green". If you're a business owner trying to "go green", then you'd have to wholeheartedly agree. In today's article, we'll be looking at what your small business can do to become greener and what you can do in the future as well.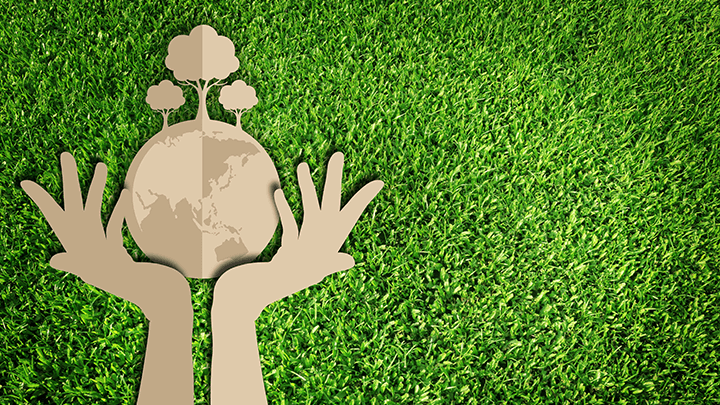 Source: shutterstock.com/Vanatchanan
These days, the world needs businesses to step up and do their parts. If governments can't do enough, then the people must. Now more than ever, it seems people care about the ethical business practices of small businesses and corporations with labels like Fairtrade, Utz, and Rainforest Alliance becoming commonplace.
What does it mean to be a green business?
You want your business to be green, but what exactly does that mean? Generally speaking, it means that you think about the ecological and social impact your business has. That means what your office's day-to-day impact is in terms of the environment, what your suppliers do in terms of environmentally-friendly production, and having fair labour standards as well. Some of the most popular certifications have different standards, of course, but we'll talk about some of the certifications a bit later in the article.
Being green also means involving others. Naturally, you want your employees to be involved in helping the company do its part. However, it might also mean reaching out to members in the community (including other businesses), and encouraging them to get involved as well. Now that you know what it means to be "green", let's look at what your company can do to get started.
Why go green?
Okay, so you're a businessperson and, naturally, money is always a factor. Going green isn't completely about social responsibility anymore. It actually makes good business sense. With the UK government pledging to generating 30% of electricity from renewable sources by 2020, they are investing in energy research and innovations in order to drive down the prices of renewable energy.
Other initiatives have been made to encourage businesses to do their part. For example, the contracts for difference scheme encourages businesses to go green. With this scheme, not only do businesses sell the extra power that they generate to the national grid, but they are also paid the difference between the price for producing electricity through low-carbon technology and the average market price for energy.
Even small changes to your business can save you money. LED lights are much more energy efficient than fluorescent or incandescent bulbs and can last up to six times longer. Don't worry- we'll talk about some of those changes a little later in the article.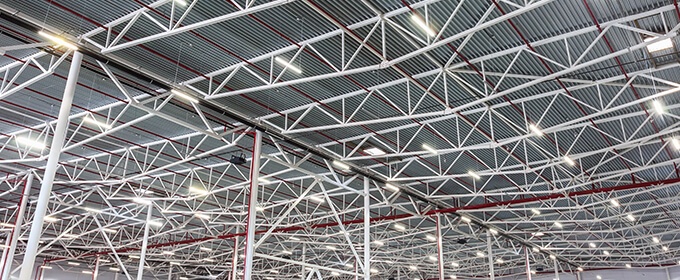 Source: shutterstock.com/Petinov Sergey Mihilovich
Installing LED lights is just one money-saving effort you can make that is also good for the environment (Source: Shutterstock.com/Petinov Sergey Mihilovich)
Perhaps, more importantly (depending on who you ask inside your company), making substantial efforts to become greener can provide a great boost to your company's public image. In fact, research from Nielsen revealed that millennials and members of generation Z, who are most knowledgeable about the global environmental problems, are the most willing to pay extra for sustainable products.
According to Grace Farraj, SVP, Public Development & Sustainability at Nielsen, "Brands that establish a reputation for environmental stewardship among today's youngest consumers have an opportunity to not only grow market share but build loyalty among the power-spending millennials of tomorrow, too." The trick is to make these customers aware of your efforts. Being the youngest generation of shoppers, make sure your social media accounts mention these efforts so they can see what you're up to.
Making a plan to be greener
How green are you?
First thing's first. You need to know how green you already are so that you know how much greener you can get. That means you'll have to calculate your business's current carbon footprint. There are a lot of free carbon footprint calculators out there, like the one from the National Energy Foundation or from Carbon Footprint, so check out where you currently stand. You might even discover that your business is greener than you thought!
Get green certified
If you already comply with some green standards, show off your company's efforts by getting a certification. Although there are many certifications out there, some UK specific ones exist, including Carbon Trust Standard, The London Greenmark, and Carbon Smart. Of course, international bodies exist such as the ISO 14001 certification or the GBB.
Taking it one step further, you can also take part in carbon offsetting. Some of these companies offer a kind of certification as well. Carbon offsetting companies include CarbonNeutral, and Carbon Clear.
Depending on your business, there might be some industry specific certifications available as well. And chances are that the companies mentioned above will have some suggestions for your business as to how you can improve your company's carbon footprint.
Assess what changes your business can make
Once you've figured out how green your business already is, you'll probably have an idea of what small things you can do to improve it. You'll really have to take a long, hard look at your business and see what other changes you can make.
Naturally, you'll want to engage your employees with your plans to get greener. Most employees would be glad to know that their company cares enough to take action. Fellow colleagues can also provide great insights into more ways to become energy efficient in their respective departments. You might even want to consider creating a "Green Team" within the company for those employees dedicated to helping the company become more energy efficient.
After doing a thorough assessment of your company's current situation, it's time to start planning for the future. It's important to set goals for the company, and trying to outdo those goals every year. Make sure that your company creates 1-year, 2-year, and even 5-year goals. Measuring your progress can be very encouraging.
What actions to take now to become greener
So, you've made it this far. You're clearly interested in being more environmentally-friendly. That makes you and your company pretty cool in my book (don't blush!). Therefore, I'd like to share some basic tips for you to get started today!
Around the office
There are some basic things you can do to get started. Let's have a look!
LED Bulbs: this is one of the most basic things you can do to get started. They last much longer and can be up to 80% cheaper to run than incandescent lights

Reducing paper use: only print things when necessary. Also, you can print double-sided pages. Try to use recycled paper if you do need to print something

Reduce water waste: Fix leaky faucets. One leaky faucet can waste more than 11,000 litres of water per year

Install hand driers: Get rid of those paper towels and get hand driers in there!

Stop supplying disposable utensils: The same goes for paper plates, plastic cups, etc.

Use whiteboards: Stop using poster boards or paper sheets during meetings and presentations
Production and Logistics
Naturally, it's hard for me to give advice on your personal business. If you're a restaurant owner, you'll look at water usage and organic ingredients. However, as a retailer, you'll look at other things, like production, packaging, and logistics. Generally speaking, you'll want to take a deep look at your suppliers and make sure that they are following the standards that you'd like to see. Depending on what products you sell, you should perhaps consider using recycled or unused materials in your products (or at least in the packaging).
The clothing brand Reformation has built their entire brand image around the fact that they are doing their best to minimise the negative effects that the fashion industry has on the environment. Their website is filled with interesting tips for consumers as well as mind-boggling statistics on what resources the fashion industry uses to create clothes (The water needed to create one single pair of jeans is 900 gallons as an industry standard).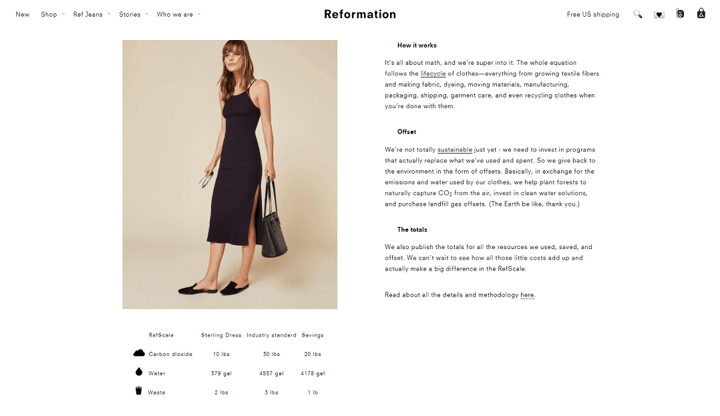 Reformation does their best to be as transparent as possible with their shoppers, showing them how much water is used, carbon dioxide is emitted, and waste is produced to make their clothes.
If you go the extra mile to do your part, then there's nothing wrong with marketing the fact that you do this. Consumers love knowing that they're spending their money on a responsible brand, so implement your greenishness(?) into your marketing mix. You might be surprised how the public would react.
Your supply chain is another area to consider when going green. Your logistics provider might have some options for you to explore. DHL offers carbon reports, have a carbon calculator and more with GOGREEN, a climate neutral service.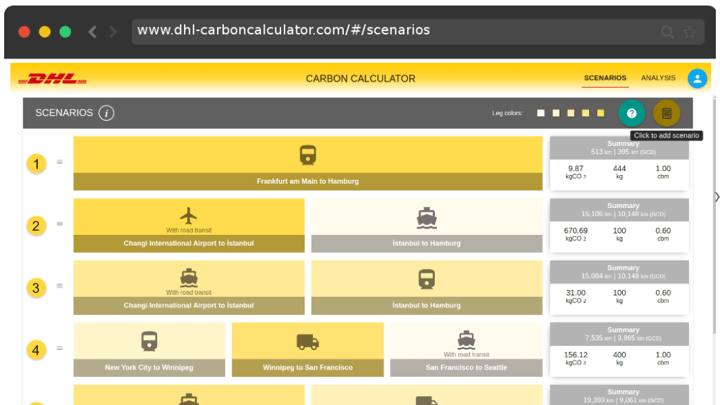 DHL offers their customers the use of a carbon calculator to see what impact their different shipping options have

Conclusion
With the controversy surrounding the US leaving the Paris Climate Accord, it seems to have galvanised nations and businesses to do their part even more. 2018 will see an increase in companies doing more for the environment. Naturally, they will promote this fact on their websites and social media. Hopefully, consumers will respond positively and shop responsibly. If you want your business to be on the right path to becoming more environmentally-friendly, start today!