We are a generation that carries many names: Millennials, 90's kids, Generation Y. A generation that grew up with the internet and the opportunities it provides. A generation that doesn't respond to classic advertising. We are the generation that will determine the revenues of tomorrow, but we buy differently. And that presents many shop owners with an enormous challenge - if they've even identified the problem yet.
People who want to be successful with their online shops in the future have to know how they can reach this extremely potent consumer base.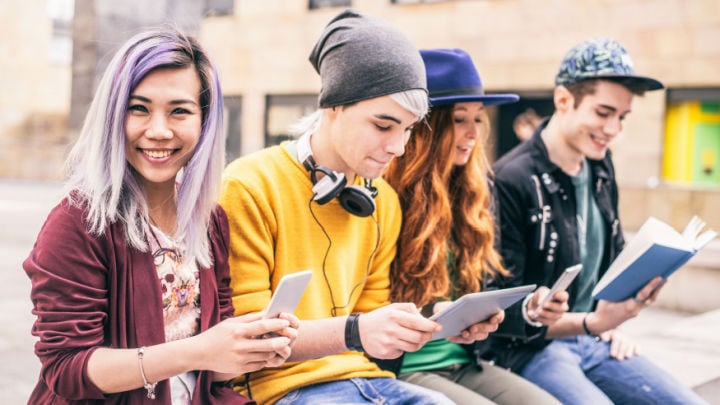 shutterstock.com/oneinchpunch
The world of communication has expanded in the last years – the internet, particularly social media, isn't used by any other demographic as much as by millennials and the following generation. Apps like WhatsApp, Facebook, YouTube, Instagram, Telegram or Snapchat are found on almost every smartphone and are used several times a day. And it's not only for entertainment, but also for inspiration and to inform themselves about products.
A study from Qualtrics found out that millennials check their phones 150 times a day. In comparison, classic media is barely even noticed.
New generation, new behaviour
Each generation is different from the one before it. However, the difference between millennials and the generations before that grew up without the internet is strikingly large.
Almost no one in Generation Y reads newspapers or watches the 8 o'clock news to learn about current events. Instead many people under 25 consume their news through blogs, short videos and over different social media platforms. And an ad blocker in installed either way. Even when the TV is on, smartphones are in their hands (at least by the time the ads come on).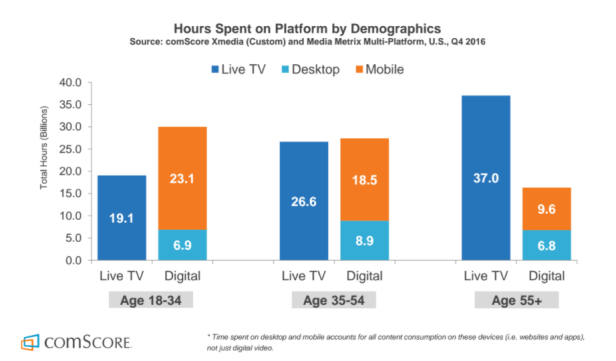 Young people are consuming much more digital than TV, and you can be sure this trend will continue
That means that millennials are barely reachable with classic and banner ads. A generation that has been bombarded with ads since the very beginning just ignores them. Keywords: Advertising blindness.
With adverts that are so aggressive that they can't be ignore or cheat the ad blocker, they just exit the ad or the site. Ask yourself: When have you last clicked on an advert and what was being advertised?
What can you do?
How can this young generation that doesn't even acknowledge your advertisements be reached? That's a question that many shop owners should be asking themselves. To create an effective marketing strategy, you should know exactly who you want to reach with said marketing.
Defining the target group as "customers under 25" is only the first step. Think about what gender you want to focus on, what hobbies your potential customers partake in, what they do during the day, and what they like and what they do not. Try to find out as much as possible about your ideal customer.
That's the only way a fitting marketing campaign can be created that will appeal to Generation Y and generate a new revenue stream for you. But you're still missing a piece of vital information before you can actually carry the fruits of your labour and increase your profit: What platform do millennials-customers even use?
It sounds harsh, but it's the truth: He who advertises on the wrong platform, is essentially burning their money. To avoid this, you should find out which people and which platforms your target group tends to gravitate to.
Before profits comes research
It's worth a lot if you can get someone from your young target audience, and ask them what social media platforms are used and what people are influencers.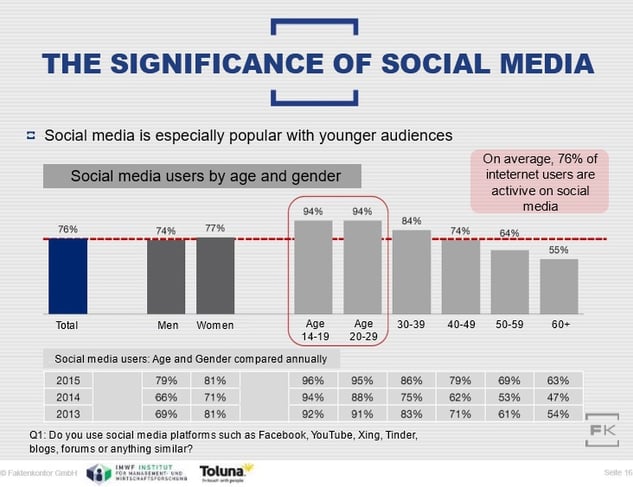 EVERYONE is on social media, especially millennials
What is your focus group focusing on? If the success of your shop is important to you, you can't get past intense research and trying to answer the previously stated question.
Instagram is currently the king of the fashion, fitness and beauty industry because the platform is focused on the communication of photos. Instagram users follow people because they are friends with them – but usually because they relate with the person, they see them as a role model or to inspire themselves.
In businesses where a lot of discussion occurs (such as baby-products, pet toys or technology), enthusiasts usually talk in Facebook groups or in blogs related to the topic.
Find out where your target audience resides on the internet and who the influencers of your business are. To do this, you can enter terms related to your target audience in Google, Facebook and Co. That way you can quickly single out interesting websites, Facebook groups and people that would influence your audience in daily purchases.
As soon as you know where your potential customers spend their time, it's a good idea to observe at first. Generate a feel for how the members of your target group interact with each other, what they enjoy and what's important to them (not just relating to your product). That's the only way a successful marketing strategy can be created that won't be labelled as boring, but rather entices the focus group with the correct messages and increases your long term revenue.
The fact is that millennials buy differently and almost react allergically to "Buy-now"-adverts. It's not enough to purely use product advertisements to reach and win over the younger generation for your online shop. Many shop owners sell products that are also available in other stores. The competition is strong and only few shops have unique products, something that many millennial shoppers are certainly aware of.
Offer them the opportunity to discover your products and the people behind the product or shop so they can feel a sense of pride in the purchase – because that's how more and more people are shopping.
Individual instead of anonymous
You don't have to be the cheapest online shop to keep being successful or to win over new customers. Instead of entering a price war with other vendors, it's worth investing into the story of your shop or your products.
Why are the products you offer worth buying? How will they improve the life of your customers? Show success stories on your social media platforms and show who the people are that work in your shop.
The internet has made everything very anonymous and with many shops there's a missing feeling of humanity, which is very important for shoppers in our time of artificial intelligence and automisation. This makes it all the more valuable when you are able to connect your customers to the people working in your shop.
It's easy to achieve by introducing your products with a short video which highlight its unique properties and compare it to other similar products.
Product videos and success stories are a powerful marketing tool that can lead to a large boost in profits. Instead of scaring away customers with direct advertisements you can create interest without sounding like you want to sell something.
This strategy shouldn't stop after the purchase either. Have you, for example, considered putting a handwritten postcard with your packages thanking your customers for their purchase and asking them for a review? It's the small things that excite customers and ensure that they will purchase products from you in the future and not from a different online shop.
The best marketing strategy: your own customers
Nothing is better for sales than happy customers. On Instagram and Facebook, you are able to show recommendations from delighted customers and are able to show what your products look like in everyday life, and not just on your sales page. The best case scenario would be to show authentic photos of your customers, so the people buying are able to relate.
The sock manufacturer "Happy Socks" is a good example of a successful Instagram campaign. The account has hundreds of photos of satisfied and enthusiastic customers that snapped photos of themselves in their socks for the world to see.
A big chunk of HappySocks' Instagram photos come from their own customers- it doesn't get any better than that.
These are all essentially product photos which boost sales immensely. However, it also doesn't seem like "Happy Socks" is hammering in the idea of sales. The company simply posts great photos of their product that are shot from people like you and me. It seems authentic and human.
As a vendor, you probably sell multiple products that are sourced from several different businesses however. How can you apply a strategy like that to these products?
Surprisingly it's even easier than for original content. Because instead of just posting pictures of one product you are able to post a whole palette of things. If you discover a picture on Instagram of a product that you offer, you can use it for your own gain. Of course only after you have gotten consent from the poster.
The next generation isn't going to wait…
Whether it be m-commerce (mobile-commerce), a chat-bot, the new Snapchat or something completely different, there's gigantic potential for a sales increase – it's vital to always stay up to date, so your online shop can also react to important trends in the future.
Think about this: 20 years ago barely anyone believed in e-commerce. Now it's impossible to escape it. Luckily it's not difficult or particularly time-consuming to stay up to date. Make it a habit to regularly check online publications such as the Trusted Shops Business Blog and you can be sure you'll never miss a trend.
Change is progress
In the end, marketing remains what it is: Make your shop known to your focus group. It's only the parameters that have changed for successful marketing: new generations use new channels and different language with each other. Even if you don't personally use Snapchat, as a shop owner it is important to accept that the current generation uses this sort of communication. And it is essential to utilise these new opportunities and communication habits for the marketing of your shop.
Or are you still reachable with a fax machine?