WhatsApp Business was created with the aim of using instant messaging to improve the quality of customer-centred services for SMEs. The Facebook-owned company wanted to offer companies an efficient communication channel to get in touch with customers. So, how does WhatsApp Business work, and what should you be using it for? How do you set up a Business profile and why is it even more important during the Coronavirus? Keep reading to find out!
We all know WhatsApp, the popular messaging app that allows us to stay in touch with friends and family, especially in times like these when our movements are limited due to current circumstances.
The Facebook-owned messaging app currently counts approximately two billion users worldwide.
Since 2018, WhatsApp can also be used to get in touch with customers. The company released a special version of its service, specifically designed for small and medium-sized businesses, called WhatsApp Business. Through this app, customers can see your product catalogue, contact you, and purchase your products.
In December 2020, WhatsApp also launched a new function to simplify purchase processes in the app: the shopping cart.
The feature allows customers to place orders directly in the chat.
As many as 61% of people prefer to write to a company rather than call them, and 59% prefer to send messages via chat rather than email. Especially during the global pandemic caused by COVID-19, WhatsApp Business is a great tool and helps you to stay close to your customers.
Adding the new feature has made it obvious: WhatsApp aims to transform itself from a simple communication channel to a real online shopping platform.
Table of Contents:
What is WhatsApp Business?
WhatsApp Business is a free application, available on both Android and Apple devices that focuses on facilitating interactions with customers for business owners.
The app provides tools that allow you to automate, organize, and respond quickly to messages sent by (potential) customers.
Sellers can use WhatsApp Business to do whatever they usually do (whether it's texting or sending photos), because the app is designed to work just like WhatsApp Messenger and offer a very similar user experience.
What is WhatsApp Business used for?
Customers like to chat with their favourite brands on WhatsApp. However, as it can be very tedious to have to exchange several messages and photos to get information on products, a new shopping catalogue feature has been rolled out.
WhatsApp Business was particularly created for merchants that want to be able to share information about their products and services in a more efficient and interactive way.
The product catalogues on WhatsApp are kind of like virtual and mobile showrooms. Companies can use this format to virtually showcase their products. Interested customers can simply browse through these catalogues and easily figure out what they want to buy.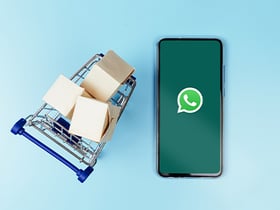 In the past, companies had to send detailed product images and the same information to different customers over and over again.
Now, it's possible for customers to take a look at the brand's full catalogue directly within WhatsApp. The benefits for you and your e-commerce: Less work for salespeople and, at the same time, a more professional appearance for your brand.
The WhatsApp Business application can therefore now be used as a communication channel to get in touch with customers or offer customer support. At the same time, online merchants can use the app as an addition to or instead of an actual online shop. In fact, sellers have the ability to engage their customers in the WhatsApp chats without having to direct them to the e-commerce website.
Recommended Reading:
In-App Sales & Social Commerce: Generating Sales for Your Online Shop
The shopping cart function
Through an update, WhatsApp made it possible for users to directly place orders in the chat.
This relatively new feature is particularly handy for businesses whose catalogue contains more than one product. When browsing through a product catalogue, users can add products to their shopping cart by simply clicking on "Add to cart".
Users then have an overview of their order, the selected products and the amount to be paid. When wanting to finalize the order, customers only need to click on the Send-button and the respective business receives the order as a text message in the chat.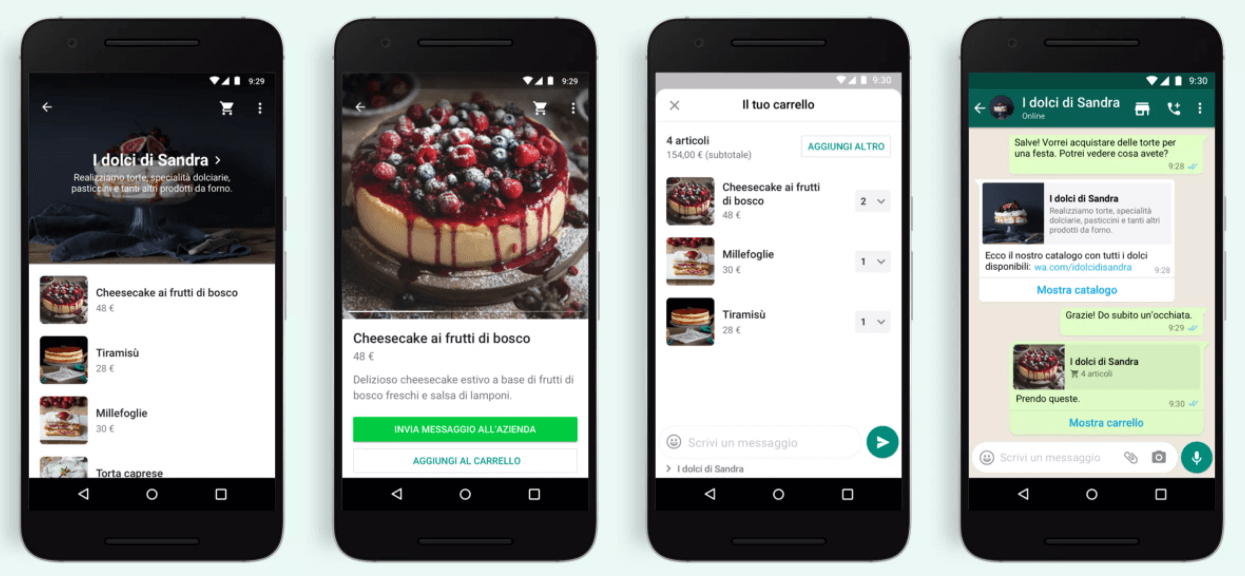 Source: WhatsApp blog
The shopping cart function was introduced in December 2020.
How does WhatsApp Business work?
WhatsApp Business offers several features to facilitate the work of online businesses. Let's take a closer look at them:
1. As a business owner, you can create a profile that presents your company. In it, you can include information such as the name of your shop, opening hours of your local shop, the address (physical shop or website), and a short introductory message.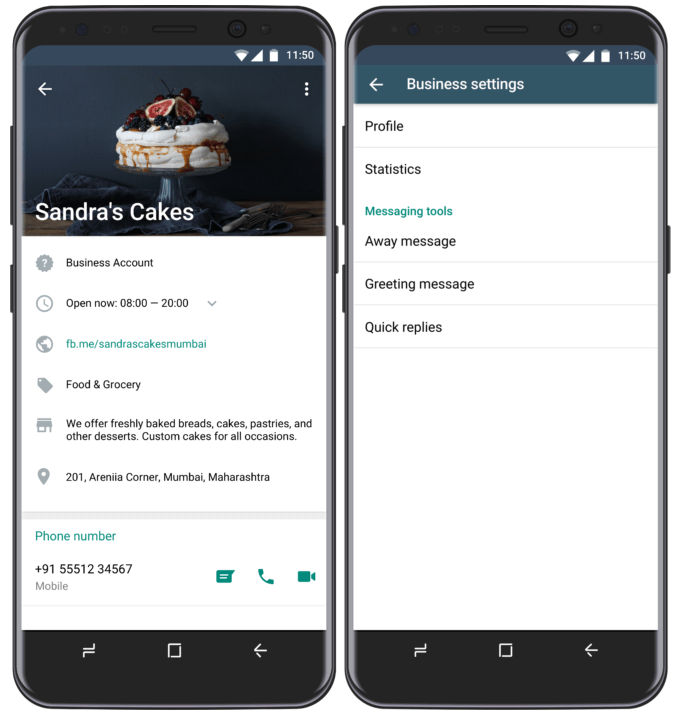 2. To make things easier and speed up the communication, you can set up a couple of pre-formulated, quick messages. You could, for example, create a welcome message, an absence message, and quick answers for frequently asked questions.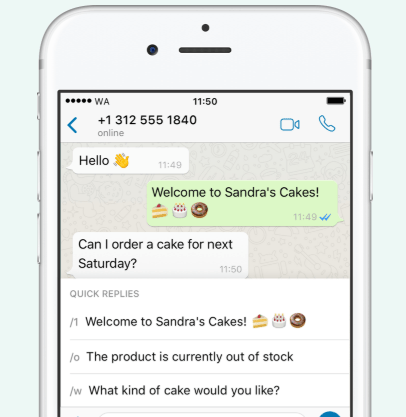 3. You can also sort chats with different customers by labeling them in different colours, for example according to subject matter. This way it's easier to recognize the topic you already chatted about with a customer, thus speeding up and facilitating your work. It is possible to create several labels, depending on how many you need.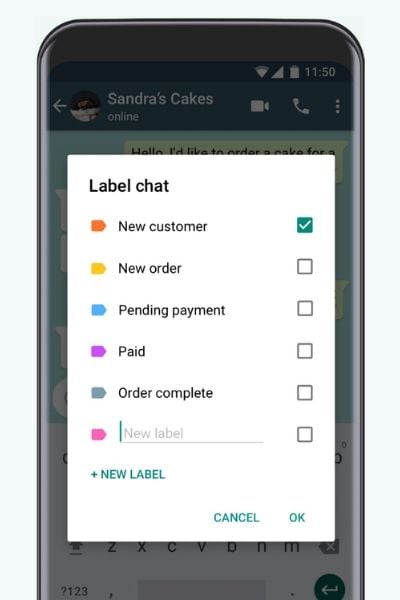 4. You can keep track of the number of messages received and sent in the statistics.
How to create and manage a product catalogue
Here is how creating a product catalogue in WhatsApp Business works:
Go to Settings > Activity Settings > Catalogue.


Click on 'Add product or service' to create a new catalogue.


Click on the '+' icon and add images of your products that you want to showcase.


Choose existing photos from your gallery or take new ones using the camera. You can choose up to 10 images.


Add the name of the respective products or services, and, if you wish, you can also enter additional information, such as a detailed

product description

, the price, and a link to your website.
Once you have completed all the steps, click on 'Save'.
Note: Every image you upload to the catalogue will be examined by WhatsApp. If an image is not suitable and the product is rejected, you will see a red exclamation mark next to it.
At this point, it's up to you to either not include the image or request a new review if you think that there must have been an error. To request a new evaluation, you will need to:
Select the product or service in question and view the 'Details'.


Click on 'Request another review'.


Enter the reason for the request in the text box, then click on 'Continue'.
If you have additional questions, you can refer to the WhatsApp Business FAQ page.
Recommended reading: How to Use Telegram for Your Online Shop

How to get access to WhatsApp Business
The application is free and available for Android and iOS. The app can also be downloaded from the official WhatsApp Business page.
The WhatsApp Business logo differs a bit from the classic Messenger handset logo, displaying a "B".
If you're already using the regular WhatsApp Messenger, you can easily transfer your files and chats to the Business app.
If you are new to WhatsApp, on the other hand, you will first need to create an account by entering your phone number and the 6-digit code that will be sent to you to confirm your subscription. Remember to enter your phone number in an international format.
Continue by entering the name of your business. Take your time before selecting the name, as once you have chosen it, it cannot be changed. Finally, add a profile picture for your business.
Click on the three dots in the top right-hand corner, then select 'Settings'. Then click on the name of your business and finally on the 'Edit' symbol to create your business profile.
Here, you can enter information about your business. You can also enter a short description of your company and the products or services you offer.
For the best experience, allow WhatsApp to access your photos, videos, and other files on your phone, so that you can show and send multimedia files to your customers if necessary.
As we already mentioned earlier, you have the option of including a welcome message, which will be sent first to your new contacts, as well as an absence message, which will be sent to those who contact you outside opening hours. Finally, you can select quick answers for frequently asked questions.
The app is also compatible with the desktop version: WhatsApp Web.
💡 Note: You can use both the standard WhatsApp Messenger and the Business application on the same device, but you cannot use the same phone number.
Advantages and disadvantages of
WhatsApp Business
There are both up and downsides of using WhatsApp Business for your e-commerce company.
Let's take a look at the advantages first:
The use of the app is free.
The setup and the general usage of the app is easy.
You can easily establish and maintain a personal relationship with your customers, thus increasing

customer loyalty

.
The app draws upon quick and easy communication with (potential) customers (e.g. allowing you to set up quick answers for frequently asked questions).
Within the app, your products and your entire company can be showcased in an interactive and nice format.
You can provide assistance to buyers before or after they have purchased products of yours thus improving the perception of your customer service.
You don't necessarily need to have an online shop.
Recommended Reading: How to Start an Online Shop: A Beginner's Guide
Now, let's talk about the disadvantages of using WhatsApp Business:
Customers expect a quick response. You cannot afford to ignore a message or to let a long time pass before replying.
It's not possible to fully customize the pre-set messages (e.g. with the name of a respective customer).
Sending out messages cannot be scheduled in advance.
The account is personal, which means that the chat cannot easily be managed by several co-workers at the same time.
You cannot send promotional messages, otherwise you risk having your account blocked.
As it is an informal context, there is a risk of losing the tone of your brand. Therefore, try to stay consistent with your normal tone and language when getting in touch with customers.
Despite these drawbacks, many business owners seem pretty content with the app. The reviews from those who have downloaded and used the app so far, are quite positive, with an average of 4.2 out of 5 stars for Android and even 4.8 out of 5 in the Apple App Store.
How to allow customers to contact you via WhatsApp Business
There are two ways for your customers to get in touch with you using the app:
Phone number: In the past, the only possibility to be contacted was for the customer to enter the business' phone number manually.
To celebrate the threshold of 50 million users, WhatsApp Business has introduced a second method:
QR code: Your customers can start chatting with you simply by scanning a QR code.
In both cases, the following rule applies: to be found on WhatsApp Business, you will need to advertise your account.
Show both your number and QR code on your website and Facebook account. If you have a local shop, place them in your shop's windows, on bills, and/or product packaging.
In the past, there have been a couple of concerns and fears towards the functionality of the Business app: many consumers feared that this app would allow companies to "cold call" and permanently message WhatsApp users.
However, WhatsApp has reassured users by announcing that companies will only be able to contact people who have provided their phone number and agreed to be contacted by the company via WhatsApp.
Conclusion
WhatsApp Business is not new, but its potential is growing as social commerce is getting more popular than ever. Considering the two billion active users, the fact that more and more businesses, and the new e-commerce possibilities, it's definitely worth a shot setting up your account.
WhatsApp Business seems like a particularly nice channel for small businesses that want to combine both customer support with the promotion of their products on a single platform.
Bonus material: As we already mentioned, mobile shopping is becoming more and more popular. Make sure you offer a shopping experience optimized for mobile devices! Check out our free guide:
This article was originally published on our Italian blog: WhatsApp Business: la guida aggiornata