Customer loyalty is a major factor in the long-term success of your online shop. Acquiring customers is important and difficult in its own right, but the art of winning customer loyalty is more than deserving of your attention. After all, it is much cheaper to persuade existing customers to purchase from you again than to win over completely new customers.
The more you turn customers into loyal fans, the less likely you are to be dependent on external factors to make sales.
Has Facebook massively reduced the reach of your organic posts? No problem - your customers will still visit your shop.
Have the prices of your ad campaigns gone up? No worries - your customers will try again later.
Are your competitors are spending double your marketing budget to grab your target audience before you do? Well, your customers are so satisfied with your business that they'll ignore those ads and come back to you anyway.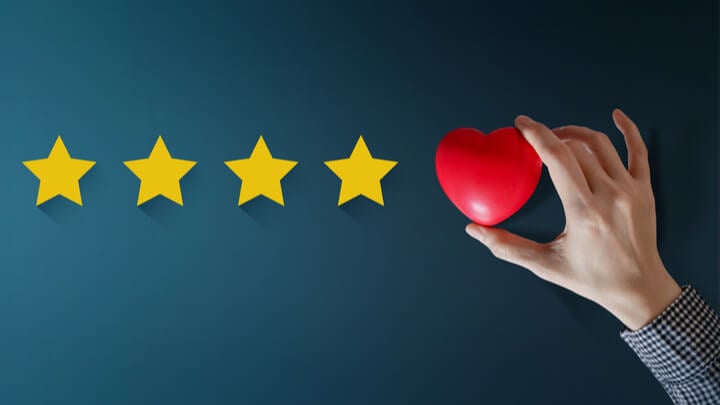 Source: Shutterstock.com/Black Salmon
If you've been an entrepreneur for more than five minutes, you're well aware that you are going to experience good times as well as difficult times (the latter of which is all but guaranteed). Having a loyal customer base can help you survive those difficult times.
Before we get into the customer loyalty tips, let's have a look at some customer loyalty statistics, so you can see just how important it is for your business.
Customer loyalty statistics
When it comes to customer loyalty, the landscape is constantly changing. As the world becomes more digital, more and more young (and digitally savvy) people now have disposable incomes. Businesses need to pay attention to what fits their needs. Let's look at some statistics pertaining to customer loyalty.
80% of Gen Z shoppers are more willing to try new brands online since the pandemic (2021)
According to Statista, an astounding 80% of Gen Z shoppers are willing to try out new brands online. Between the pandemic and more and more social media companies opting to include in-app purchasing options, it's no wonder that Gen Z is willing to test out new brands.
This is a generation that has grown up with the internet. They are on top of all the new updates and features that apps get. They talk to each other and share their experiences all across social media.
With all that in mind, it's not very surprising that this generation is willing to shop and explore new brands.
Although this may benefit smaller shops trying to break into a market, it makes building customer loyalty even more challenging!
57% of Gen Z shoppers are less loyal to brands since the pandemic (2021)
The same survey from Statista revealed that this age group is even less loyal to brands now than before the pandemic started. This stat more or less confirms what we learned in the previous stat: Gen Z shoppers are willing to test new brands for a multitude of reasons.
Whether it's price, sustainability, style, or simply the desire to try something new, getting this younger generation to stay loyal can be challenging.
Although this stat might seem discouraging, you should consider the glass half full. Why? Once again, this gives smaller and lesser-known businesses the opportunity to penetrate the market.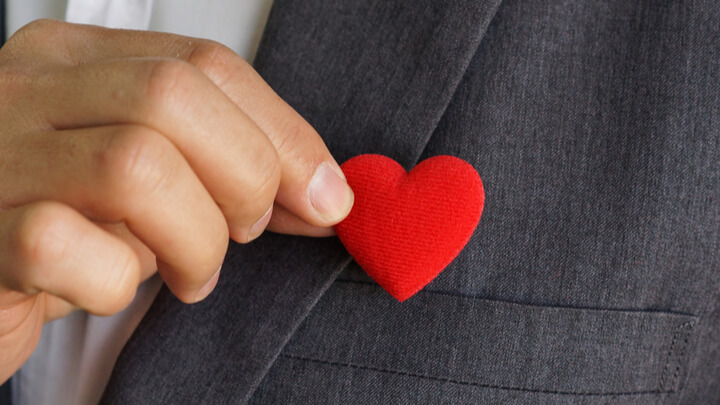 Source: Shutterstock.com/wk1003mike
Just remember; younger people tend to be more adventurous with their shopping behaviour. Of course, it depends on the industry, but older generations tend to have more experience. With that experience, a certain level of loyalty begins to form.
The best thing you, as a shop owner can do is offer a great customer experience. From the website's product pages to your customer service. Naturally, your product range and product quality matter a lot here, too. That means that if you get feedback from your customers, make sure you pay attention to what they're saying!
Recommended reading: Why Your Online Shop Needs Product Reviews
75% of businesses believe they are customer-centric; 30% of consumers agree
According to Capgemini, shoppers and businesses are on completely different wavelengths when it comes to their perceptions of customer-centricity.
If this isn't a reality check for business owners and C-level employees, then what is, right? Although the old adage says that "the customer is always right", let's assume the truth lies somewhere in the middle with this statistic.
Either way, this is a fascinating look at how businesses see themselves compared to how customers see the very same businesses.
What's the solution for these businesses? Perhaps, some focus groups and surveys could provide these businesses with some valuable insights. Maybe they need to look deeply into their customer service processes.
You can begin by getting on your social media accounts and your review systems. Read what people are saying about your business and see if there is a common denominator that needs to be changed.
89% of customers begin business with a competitor following a poor customer experience
Now, that is a scary thought! It just goes to show you: you don't get a second chance to make a first impression.
Although many customers are willing to give your shop a second chance after some (small) problems, this only happens if you handle the problem professionally and leave your customer satisfied. Still, it's important to keep in mind that 89% of customers have begun shopping with a competitor following a poor customer experience, so keep an eye on the customer experience from the Google Ad, to the landing page, to the checkout.
57% of consumers listed "having a negative review unaddressed while continuing to receive offers for similar products" as the top reason they would break up with a brand
This stat comes to use from Talend. For a brand, this is the equivalent of having no self-awareness.
Understandably so, it is really annoying to customers when their complaints go unanswered, yet they're still marketed to, especially for a similar item that they've complained about.
When companies do this, it's like a double slap in the face to customers. It comes off like "We really want your money, but we don't care about your complaints".
Although it might be very difficult to align your negative reviews to your marketing campaigns, there is a simple way to avoid these situations: Respond to negative reviews right away!
Besides annoying the customer who actually wrote the review, it's important to remember that potential shoppers often seek out negative reviews in order to see how the business responds to them. This is an insight to your customer service, which can be a huge factor in the purchase decision, so take it seriously!
Customer loyalty tips
So, now that you've seen some statistics that highlight the importance of customer loyalty and how difficult it is to achieve, you're probably asking yourself how you can create such strong customer loyalty that it inspires your customers to become returning shoppers? Let's look at some tips!
Be more than "just" an online shop by offering users value
These days, online shops are about as rare as sand on a beach. And the competition gets stronger every day. That is why it's so imperative to stand out from your competitors.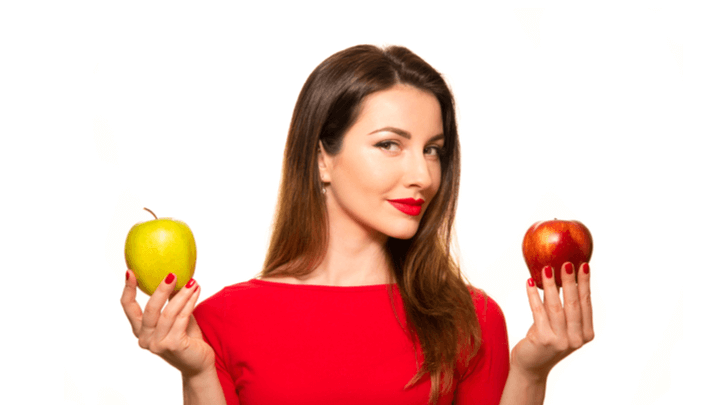 Source: Shutterstock.com/RawFilms
Shops that sell the same products with the same product descriptions and the same product images as their competitors will find it increasingly difficult to win over customers. If you don't stand out with those elements, then the price is the only way to get those customers to buy from you, which is often difficult to maintain and remain profitable.
You need to ask yourself how you can inspire customers in a way that price is not at the forefront. This is only possible if you are more than just an online shop. Become an expert, share your knowledge on a blog, offer in-depth product videos. One way or another, you need to add value to your shoppers. This can really help turn your online business into a brand.
In the end, it's the little things that can make the biggest difference.
A funny product description that fits your brand's image can ensure that the "buy now" button gets clicked. Of course, humor isn't a prerequisite. This depends on your niche or your target audience. It's important to speak to them in the way they want to be spoken to.
Putting in more effort than your competitors definitely pays off. It not only increases the chances that new customers will discover your online shop, but it will also build customer loyalty with your existing clientele.
An online shop that consistently shares and publishes posts that fit the theme of their shop (e.g. "7 myths about protein bars") and adds value to their audience's lives will become the first place customers head to for information and eventually products as well.
If you can provide important, interesting, relevant information as well as the right products, shoppers will be more likely to buy directly from you. In essence, by building trust, you are building up your reputation as a credible and reliable shop.
Show your face
Most online shops are quite impersonal and look very similar at first glance. To the customer, they don't necessarily associate any big difference between you and a competitor since they don't really know who they are buying from in either case.
This provides you with another opportunity to stand out from your competition. Instead of hiding behind your shop, come out from behind the curtain and show shoppers who you are.
Recommended reading:
5 Things to Keep in Mind When Creating an "About Us" Page
Who prepares the packages? Who works in support? Who founded the company? Showing the different people who work in your shop can add an element of trust and empathy.
You can also address some of the why's. For example, why did you open your shop? If you started your fishing gear shop because you've been fishing your whole life, have experienced thousands of beautiful moments on a boat and want others to share your hobby, then you should let your customers know about your passion!
One of the most important and effective marketing strategies is storytelling. Does your online shop or your products have a unique story? People love a heart-warming story and this can motivate your shoppers enormously.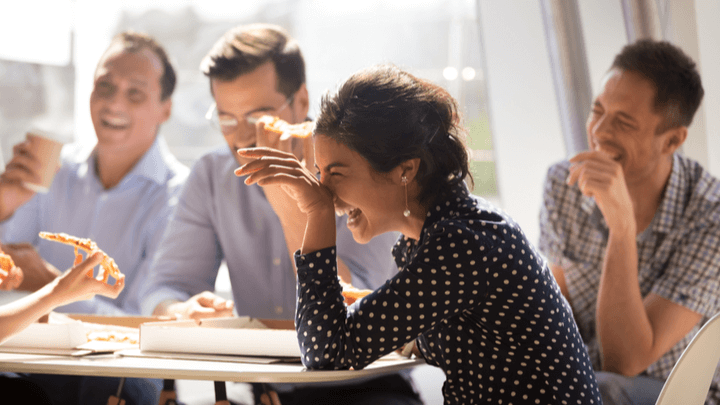 Source: Shutterstock.com/fizkes
This strategy works well because we, as a society, love stories. We love stories about holidays, office Christmas parties, first dates, crazy weekends, and even stories about how and why you came up with the greatest product ever made.
Connecting your brand to a story can give customers a completely different perception of your shop. Instead of being a standard run-of-the-mill shop, having a story gives your shop character.
Which shop would you rather shop in?
Online shop A: Hello! We are an online shop that sells camping gear!
Online shop B: Hi! We love camping! Ever since we were kids, we went camping almost every weekend! During our trips, we learned a lot about nature and how to camp the right way! We opened this shop to share our experiences and knowledge with you!
It doesn't have to stop there either. Show photos of your employees ("If you have any questions about our products, Anthony can help you") so that shoppers know there are real human beings on the other side of the screen to help you.
The popular eco-friendly brand "Reformation" does a great job of doing this. The "About" section in their header is filled with information about their sustainable practices, but also information (videos!) about their employees!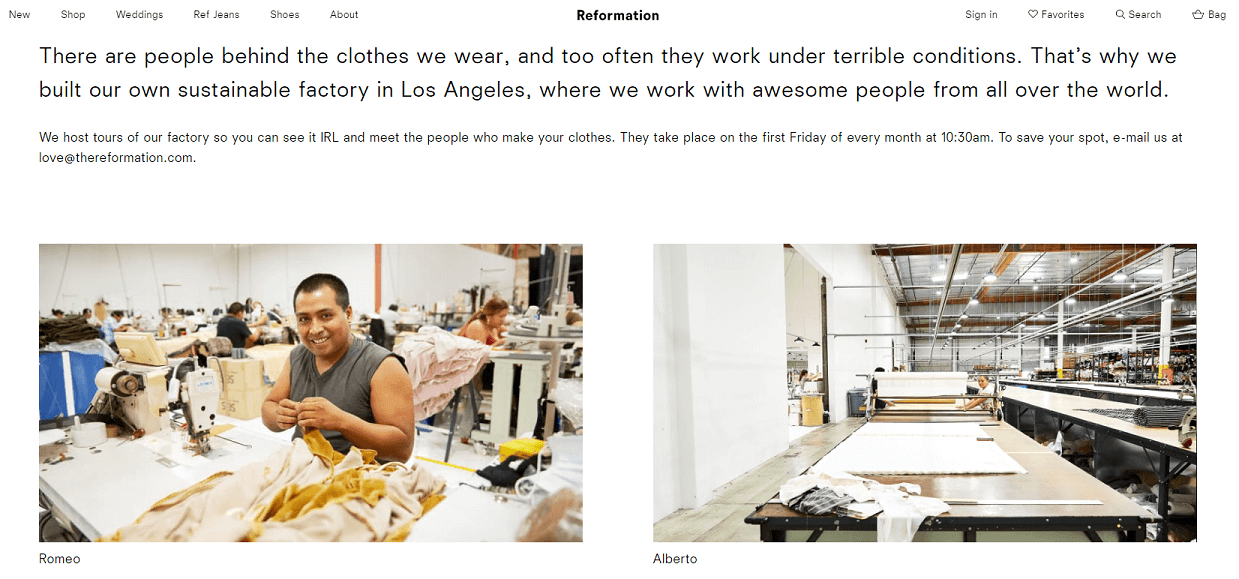 Click on the image to enlarge (Source: Reformation)
Reward customers for their loyalty
Even if you implement all the tips we've provided you until now, you should create additional motivation to strengthen the connections between your shop and your customers.
One option is to create a loyalty programme where customers earn points for every purchase and can convert those points in discounts for future orders.
Alternatively, you can reward your loyal customers with other privileges:
Exclusive offers or product bundles

Vouchers or cashback

Rewards for referrals (ambassador programme)

Discounted prices for subscriptions
Conclusion
Stand out from your competitors by showing them who you are, adding value to your customers, and offering attractive discounts for loyalty. In the end, your customers might even advertise your online shop for you and get you some new customers!