Although e-commerce growth has increased consistently over the years, it really exploded with the arrival of the coronavirus pandemic.
Brick-and-mortar shops that could no longer welcome customers in person due to lockdowns had to quickly find a way to continue to make money to ensure the survival of their business. Furthermore, many individuals who worked for companies that were temporarily or permanently shut down opted to open up their own online shops to deal with the sudden loss of income.
E-commerce growth has calmed down a bit with the lifting of restrictions on physical shops, but it certainly won't be disappearing anytime soon!
With business booming in the world of online sales, there has unfortunately also been an increase in the number of challenges for the environment, specifically because of companies' shipping practices.
For instance, the World Economic Forum estimates that shoppers' growing demand for convenience, e.g. next-day shipping, may lead to 36% more e-commerce delivery vehicles in inner cities by 2030 compared to 2019. This in turn would produce a significant increase in global emissions, pollution, and traffic congestion.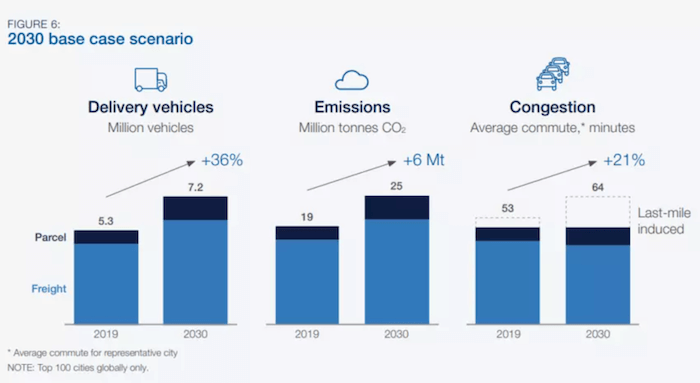 Source: World Economic Forum
In addition, in the US alone, approximately 165 billion packages are shipped every year, according to Forbes. The cardboard used for these packages is equal to the staggering figure of around 1 billion trees.
If you're an e-commerce entrepreneur who's dedicated to improving the health of the planet, it's important to not only understand the harmful effects that shipping can have on the environment, but also actively work to combat them.
In our WiziShop e-commerce solution, we see more and more e-merchants working on transforming the environmental impact of their online shop through their delivery, packaging, values, etc.
To help inspire you to make our world a greener, healthier place to be, here are 9 strategies that your business can begin implementing today!
1. Prioritise eco-friendly packaging materials
Your e-commerce packaging functions as a way to deliver your customers' orders to them safely as well as a way to promote your brand. Unfortunately, packaging waste can be a significant problem in e-commerce.
In fact, based on a Statista study, product packaging accounts for the greatest portion of greenhouse gas emissions in the e-commerce industry, at around 45% in 2020.
However, owners of online shops today have a plethora of options at their disposal when it comes to the packaging materials they use to ship their products, including plenty of eco-friendly alternatives!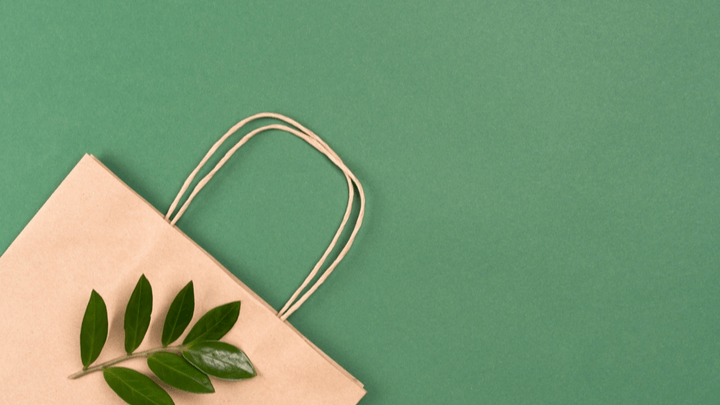 Source: Shutterstock.com/Iryna Mylinska
To ensure a better future for the planet, opt for sustainable choices for your e-commerce packaging whenever possible. For instance, depending on the type of products you sell, you may be able to use compostable mailer bags to ship your orders.
Are boxes a must for your shipments? Just make sure that the boxes are made from materials that can easily be recycled by your customers after they've received their orders.
In addition, if your products need some extra protection during the shipping process, add biodegradable packing peanuts to help minimise harmful effects on the environment. Try to avoid non-recyclable soft plastic when packing up orders, and be mindful of using too much packaging for your orders, as this is a common issue for many online shops.
2. Pack orders efficiently
Many e-commerce businesses, especially when first starting out, make the mistake of packing orders in boxes that are much too big for the products inside. Not only does this look unprofessional, it's also pretty wasteful for the business.
By packing your orders as efficiently as possible, you'll be able to reduce costs for packaging materials and allow for a more efficient and sustainable shipping process. Smaller packages will require less space on whatever form of transport you're using for shipping, meaning that you'll be able to ship more orders at the same time.
Just be careful not to package your orders too tightly, as this could damage the items inside, which could lead to an uptick in returns from customers – negating any environmental advantages you may have hoped to gain!
3. Allow customers to offset carbon at checkout
For various reasons, your customers may sometimes prefer to use quicker shipping methods, such as next-day shipping, when purchasing from your online shop. Give environmentally conscious shoppers the opportunity to counteract their individual carbon footprint by participating in programs that help to decrease greenhouse gas emissions.
One of the easiest ways to do this is by simply making it possible for customers to purchase carbon offsets when checking out on your site. This action not only raises awareness about the issue of increasing greenhouse gas emissions, but also allows you as the owner of an e-commerce business to take steps to lessen their harmful effects.
To facilitate this process, be sure to partner with a carbon offsetting solution that integrates seamlessly into your online shop's checkout. Note that it's important to do your research when selecting an offsetting plan for your business, as they don't all take the same measures or involve the same environmental projects.
4. Encourage ground-based shipping
Depending on your location as well as that of your customers, you might be able to take advantage of ground-based shipping to limit air freight and reduce your carbon footprint. While this obviously won't be a possibility when shipping to customers overseas, encourage this option whenever possible.
Keep in mind that because this option is slower than air-based methods, some of your customers may be less apt to select it at checkout. Besides informing shoppers about the environmental benefits of ground-based shipping, you can further incentivise this delivery method by offering it for free or at a reduced cost.
5. Use the ships-in-own-container (SIOC) technique
The SIOC technique is a great way to avoid adding unnecessary packaging to ship your customers' orders. Its feasibility will of course be contingent on the types of products your e-commerce website features.
With this strategy, you would ship the item in its actual packaging rather than placing it in an additional container, such as a plain cardboard box or a mailer. For example, say that you sell smoothie blenders. You could simply ship the blender in its original container, lowering your packaging costs and helping Mother Nature at the same time!
6. Consolidate orders
These days, online shoppers have become accustomed to fast shipping options that allow them to receive their orders in just a few days or even less than 24 hours.
This can be a great thing for your business, as quick shipping offers consumers more convenience and encourages them to place orders more frequently. However, it also makes the delivery process much less efficient, which in turn has negative consequences for the environment.
By consolidating customer orders when possible, you can help lower emissions due to the reduction of delivery vehicles required to ship orders. Furthermore, this can aid in saving your business money in the long run.
Encourage shoppers on your site to purchase several items simultaneously rather than creating several smaller orders by setting a minimum order amount to qualify for free shipping. Another strategy to help consolidate orders is to ship multiple orders from the same customer if they're placed within, for example, 24 hours of each other.
Recommended reading: What Steps Can Your Business Take to Go Green?
7. Promote the reusing and recycling of your packaging
Even if you use the most eco-friendly packaging possible, it's highly likely that it'll still end up in a landfill if your customers don't know that they have other options. Properly informing customers about the various ways they can reuse and/or recycle your packaging after they've received their orders can help empower them to do their part in improving e-commerce sustainability.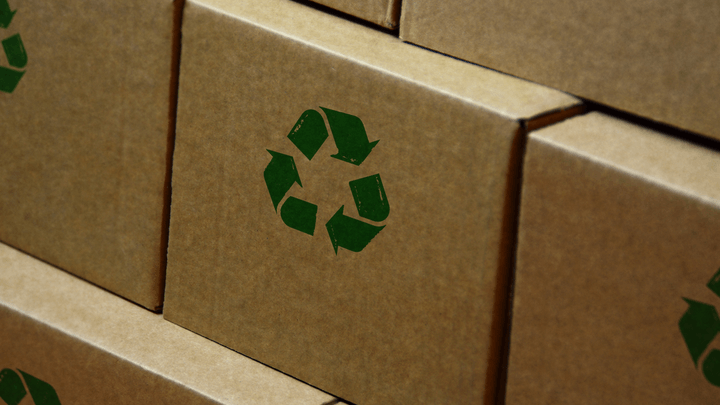 Source: Shutterstock.com/Skorzewiak
For instance, clearly communicate to shoppers instructions for reusing your packaging for their personal shipping needs, storage, etc. or breaking down the packaging for efficient recycling. This information might be provided perhaps via an insert in the package itself or in a post-purchase email if you'd like to go the greener route.
8. Opt for eco-friendly shipping and fulfilment partners
Another easy way to make your e-commerce business more sustainable is to ensure that you partner with shipping and fulfilment partners that are equally dedicated to helping the environment.
Of course, the options available to you will depend on your location, but it's helpful to know that several major global carriers provide environmentally-conscious solutions for their customers.
For example, FedEx, UPS, DPD, and USPS are all involved in programs designed to reduce harmful environmental effects and offer recyclable shipping supplies, paperless invoices, tracking options, and more.
From using greener modes of transportation, such as electric vehicles or even e-bikes and delivery bots, for deliveries to implementing facility practices to maximise efficiency, such as solar electricity generation, carriers are starting to take more responsibility in e-commerce sustainability.
If you've yet to launch your online shop, take this idea into account when you're researching e-commerce platforms. You'll want to be sure that your chosen solution offers a varied selection of companies to partner with to match your needs and your values when it comes to shipping!
Note that whichever shipping and fulfilment partners you choose to work with, a simple action you can take to increase your eco-friendliness is to schedule your order pickups instead of dropping them off yourself when possible. As shipping carriers are likely to be on a route anyway, this is a small yet impactful way to lessen your individual carbon footprint.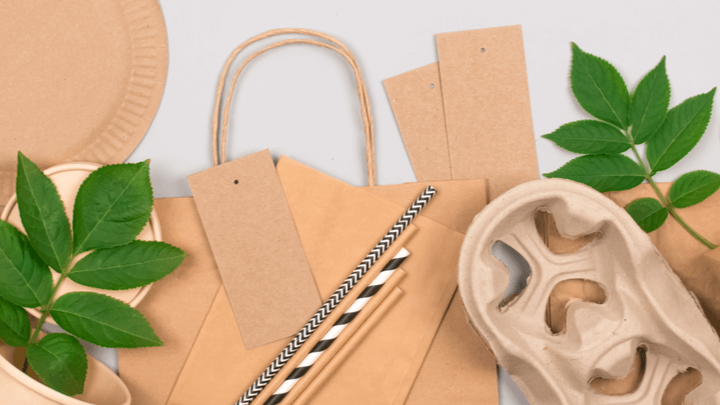 Source: Shutterstock.com/Iryna Mylinska
9. Reduce returns
With the rise in online shops being launched around the world, the rate of e-commerce returns has also grown. According to Invesp, while brick-and-mortar shops see an average product return rate of 8.89%, the average return rate rises to 30% for online shops!
In an effort to improve the user experience, many businesses aim to make it as easy as possible for their customers to return orders.
Although this is great in terms of shopper convenience, it unfortunately has a negative effect on the environment due to the increase in transportation and packaging resources required. Furthermore, if the products are returned in an unusable condition and can't be resold, this leads to more waste in landfills.
Recommended reading:
How to Deal with Serial Returners and Reduce Your Shop's Return Rate
To help minimise these negative impacts, take a look at your business to see how you can reduce returns. So, where do you start?
Well, consider that a 2019 Statista study of shoppers around the world discovered that the top-ranking cause for e-commerce returns was faulty or damaged products. This is where excellent quality control and secure packaging come into play to increase the chances of your customers being satisfied with their orders.
You can also diminish returns for your online shop by assisting your customers with making better informed purchasing decisions. Ensure that your product pages feature detailed and accurate information to help shoppers determine if an item is right for them. Customer reviews can also be a big help here, especially if they include individual shopper details relevant to the specific product.
For instance, say that you sell pet supplies. You could give customers the option to provide certain information such as the type of pet they bought the product for as well as the pet's age, breed, etc. These details could all prove to be highly beneficial to other people visiting your site to gauge if the product suits their needs.
Another step you might consider taking is eliminating free returns. While some shoppers probably won't be thrilled with this change, emphasise the environmental advantages when communicating this policy to reduce customer unhappiness.
Conclusion
As e-commerce continues to grow around the world, the need to be proactive in reducing its negative impact on the environment will become increasingly important. To be part of the solution, consider implementing the strategies mentioned in this article, adapting them to best suit the unique needs of your shop.
Regardless of the size of your business, any steps you take to counteract the harmful impact of the boom in online sales will be helpful!
Remember that whichever actions you opt to use to make your business more environmentally responsible, it's essential that your words align with your actions as a brand. Your request that customers participate in your carbon offsetting program with the aim of being kinder to the environment will carry less weight if you ship their orders in much-too-big containers with loads of unnecessary plastic.
For every strategy that you incorporate into your eco-friendly approach to managing your business, explain your reasoning to shoppers. Focus on the positive environmental impact the action will have as well as potential cost savings for the customer.
Finally, keep in mind that this list of sustainable strategies is by no means exhaustive. However, it can serve as an excellent starting point as you work towards doing your part to improve the health of the planet.