Offering free delivery is particularly popular among online shoppers. After all, that means that they only have to pay the price of the products they ordered in your online shop and nothing else.
We all know the customers' perspective, but what about the shop owners' point of view? Is it worth offering free shipping to your customers? What kind of advantages are there for your business? In this article, we'll answer all these questions and also give you a couple of concrete tips on how to set free delivery up and put into practice in your online shop!
Why do online shops offer free shipping?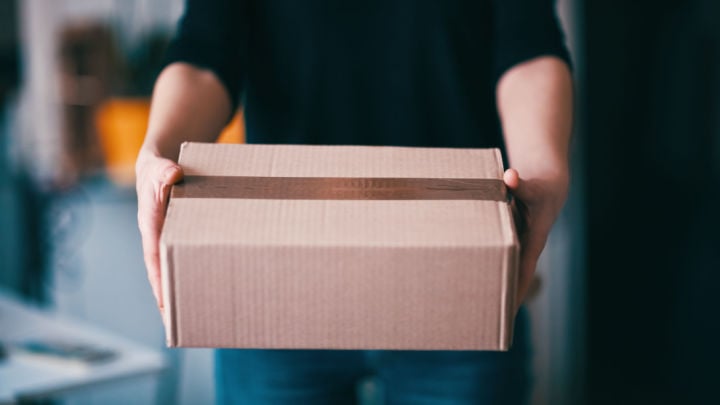 shutterstock.com/Michael Nivelet
High shipping costs are one of the main reasons why customers abandon shopping carts in online shops and decide not to continue with their order.
According to the latest UPS study "Pulse of the Global Online Shopper", where over 18,000 online shoppers from all over the world were surveyed, 51% said they would be willing to wait longer for their order to be delivered if they could pay lower (or no) shipping fees for it.
In addition, customers claimed they would also accept having to go through additional requirements or conditions in exchange for a delivery that is completely free of charge.
The most frequently examples of additional requirements in order for customers to receive free shipping in online shops are:
Adding additional products to the shopping cart (minimum order value)
A longer delivery time
Searching for promotion codes or discounts
Delivery flat rates
For example, online shops like those by Asos or Apple only offer free shipping when requirements (e.g. a minimum order value) are met.
According to data calculated by Stitch Labs, shop owners who offer free shipping can usually expect an average increase in sales of about 10%.
Nowadays, free shipping is more than just an attractive bonus or "nice-to-have" in e-commerce.
For this reason, and precisely because more people and potential customers are searching for products online, it can turn out to be worthwhile to offer this delivery option in your own online shop.
This particularly applies since the outbreak of the coronavirus has caused an immense increase in online shopping orders and competition is growing.
Recommended reading: 9 Ways to Differentiate Yourself From Your Competition
Convenient for customers;
For sellers, not so much
For customers, free delivery is pretty convenient as they don't have to pay for it. Sellers, on the other hand, have to pay the price for it.
That is why, for your (potential) customers, free shipping is the most tempting delivery option; regardless of the value of the order or the type or duration of delivery.
Allegedly, this option can only be offered by the large and already successful players in e-commerce.
But is that even true?
When it comes to free shipping in online retail, the top rule is:
It needs to be worthwhile for you and your business.
If you sell products that are priced less than the shipping cost, you may find it less profitable to introduce a free delivery. In this case, you and your company would then most probably have to pay extra.
However, if your shop's average order value is a hundred or more euros, it could turn out to be quite lucrative to offer free delivery.
For this reason, free shipping is often provided by fashion or shoe online shops, in most cases they even offer a free return as well.
Recommended Reading:
How to Deal with Serial Returners and Reduce Your Shop's Return Rate
Unfortunately, we cannot give you a simple answer to the question of whether free delivery - regardless of the shopping cart value - will pay off for your online shop. This is really a number's game and depends on the finances of your business.
How to provide free shipping in your shop
It's definitely feasible for smaller online shops to afford and set up free shipping.
However, there are a couple of things that you should absolutely avoid:
You should probably avoid replacing the shipping costs with an increase of product prices.
Remember that most customers do extensive research before deciding to buy from a particular online shop. Therefore, potential customers will most probably notice higher prices and may prefer to order from the competition instead. This might work in some cases, but generally this isn't the way to go.
So what should you do to ensure that free shipping still pays off for you?
Free shipping on orders with a certain order value
One of the most common strategies is to only offer free delivery when the value of the order exceeds a certain amount.
In most European online shops, the minimum order value in order to access free shipping is usually between 25 and 50 euros.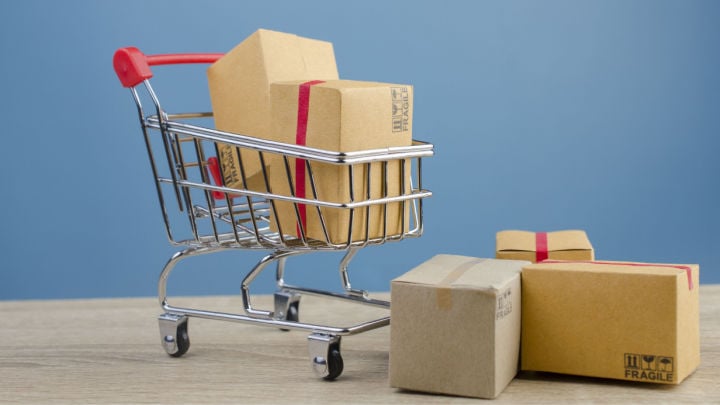 shutterstock.com/chaythawin
Make sure that it's not set higher than the average order value of your shop.
Also, inform your customers precisely about the required minimum order value that must be exceeded in order to receive free shipping.
If customers are made aware that only two or three euros are missing to meet the minimum order value for free delivery, they are more likely to add another item to their cart rather than cancel the order.
Notifications or pop-ups displayed in the product catalog or shopping cart could potentially be very important here.
Free shipping on orders with a certain number of products
You can also offer a free delivery for customers that have placed a certain number of items in their shopping cart.
However, make sure that it's possible to reach an average order value with the limit you propose.
Therefore, as in the previous example, inform your customers about the offer, preferably on your home page or in the product catalogue.
In order for this strategy to actually work, it's worth applying the methods of up- and cross-selling by offering products similar (or related) to those that have already been added to the cart.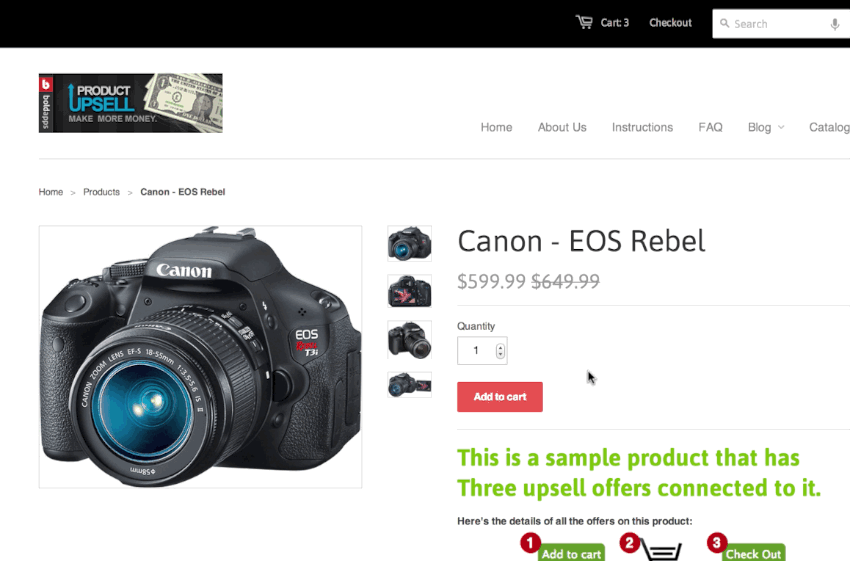 When a customer adds a camera to their shopping basket, you can offer them a matching battery.
Free shipping only during a certain period of time
The option of free delivery can of course only be offered for a certain period of time.
It can prove particularly rewarding to provide free shipping for customers during major shopping events such as Black Friday, the increasingly popular Singles' Day, or during the Christmas season.
Of course, you don't have to just limit the free shipping offer to the end of the year. Analyse when your online shop is rendering the best profit and try to offer free shipping during this time as well. This will make sure that this investment really pays off.
Analytics!
For a limited promotion or discount of free delivery to really pay off, make sure to advertise it properly through various channels.
Start your campaign early enough and announce the promotion on social media or in your newsletter, for example.
You should be taking care of technical aspects - such as creating pop-ups for your home page or your perfect product pages.
Also, remember that a campaign's success is based on extensive data analysis. This does not only include the analysis of your competition, but also the evaluation of your own shop.
Check different strategies as well as different minimum order values and observe their effects to avoid mistakes in the future. Google Analytics, for example, is a nice tool to analyse your data thoroughly.
This article was originally published on our Polish blog: Darmowa dostawa – czy (i jak) ją oferować?