Singles' Day might not be known by everyone in the UK, but the fact is that it's getting more and more popular every year. In the last few years, we've talked a lot about Black Friday and Cyber Monday. With good reason: they have been two of the biggest shopping days in the world, especially in the US and across Europe. However, Singles' Day has been on the rise. Should your business take part?
Contents:
What is Singles' Day?
Singles' Day is a holiday that started in China in the 90s. As you might have guessed, it began as a kind of anti-Valentine's Day. Cleverly, Singles' Day takes place on November 11th (11.11) because the date, when written numerically, is only comprised of the number "one".
This relatively new tradition sees single people treat themselves to gifts. Over the years, it has become so popular that social gatherings and events take place on this day (often to meet people). It has also become a popular day for weddings!
The biggest sign of its popularity is the fact that… wait for it… it is the biggest shopping day in the world.
Yes, you've read that correctly. Singles' Day is the biggest shopping day in the world. Let's have a look at some statistics that support this:
Singles' Day statistics
In this section, let's have a look at some of the most telling statistics regarding Singles' Day.
First, let's look at how well the famous marketplace, Alibaba, has done on Singles' Day: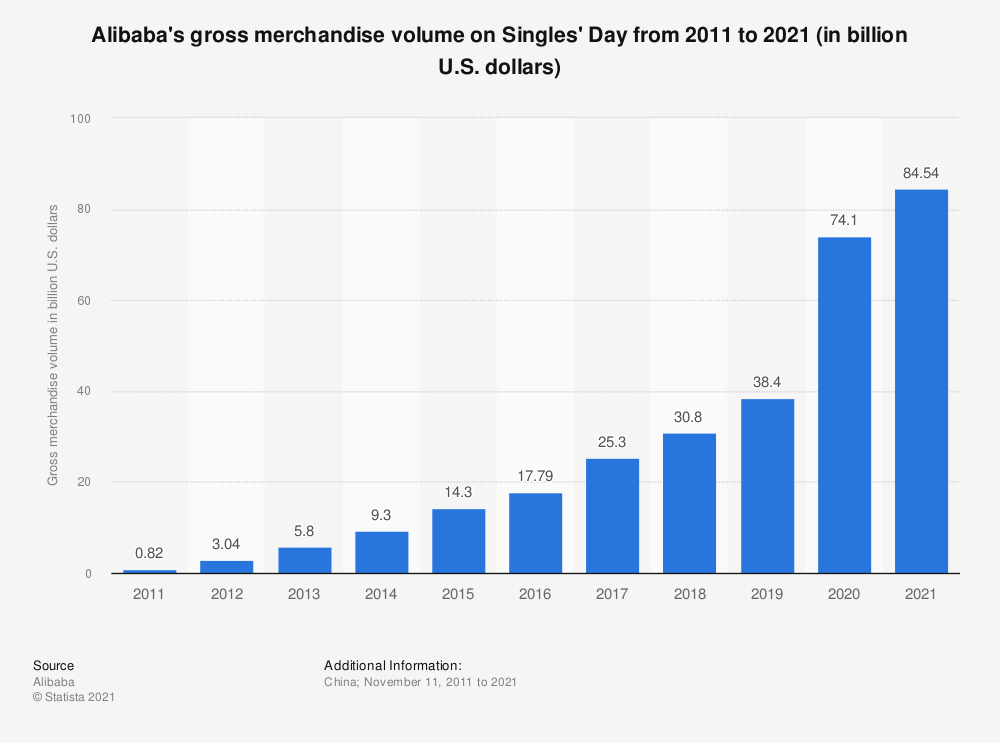 The famous brand, Alibaba, has helped make Singles' Day what it is today: the world's biggest shopping day. Sales took its biggest jump in 2020, but continued to rise in 2021 (Source: Statista)
These numbers back up the fact that Singles' Day, at least on a global scale, is bigger than Black Friday or Cyber Monday. In fact, according to Techcrunch, it is 2.5 times larger than Black Friday and Cyber Monday combined!
You might be saying to yourself "That's all well and good in China, but no one knows about this holiday here." Well, it might not rival Christmas in terms of recognition, but Europeans are definitely becoming more and more aware of the holiday as well: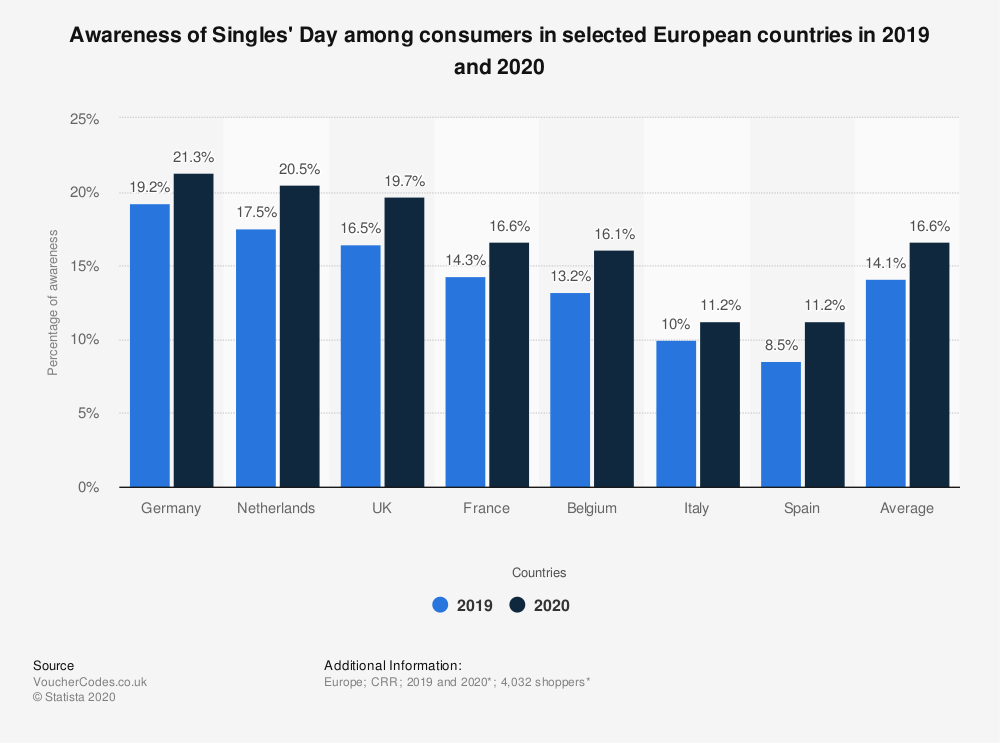 As of 2020, consumer awareness in Europe is getting higher and higher (Source: Statista)
As you can see, the holiday is actually relatively well-known for being somewhat "new". This is particularly true in the UK, Germany, France and the Netherlands.
We can even look at some specific stats for some European countries. In the UK, for example, we saw a value of sales of £1.52 billion in 2020 and an estimated £1.72 billion in 2021: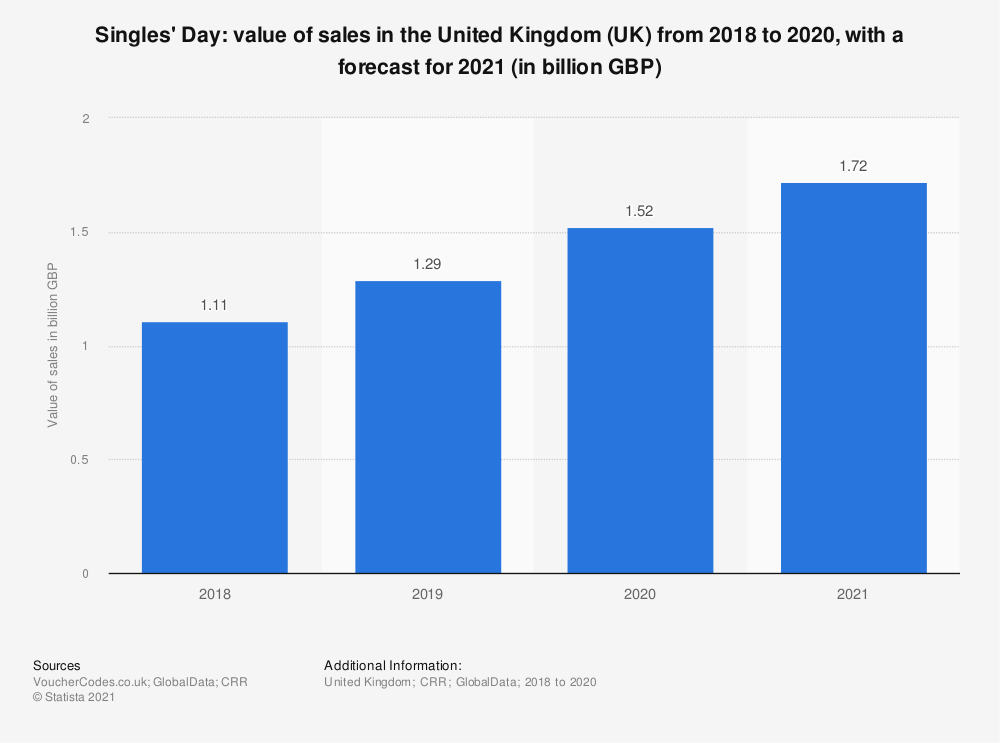 British online shops saw tremendous sales numbers on Singles' Day in 2020 (Source: Statista)
In France, things look similar, especially when it comes to online sales. In the French market, we saw nearly £900 million worth of sales on Singles' Day: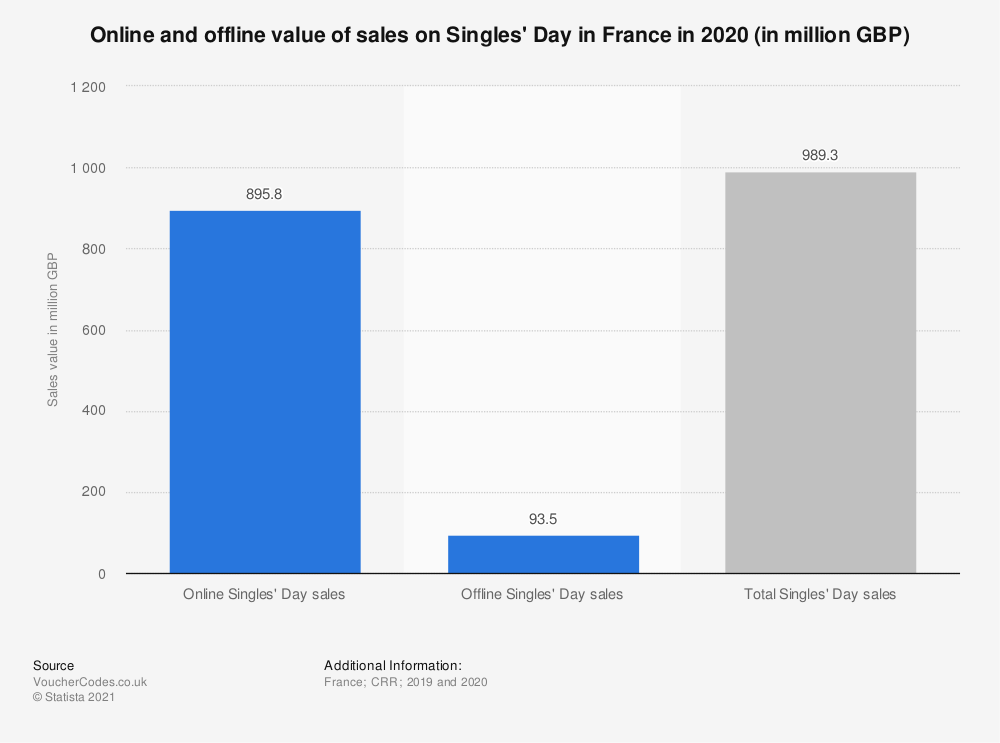 French online shops saw some impressive sales numbers on Singles' Day in 2020
(Source: Statista)
In the Netherlands, a survey on the share of shoppers who had already shopped on specific sales events and intended to do it again the next year, 41% of respondents stated Singles' Day: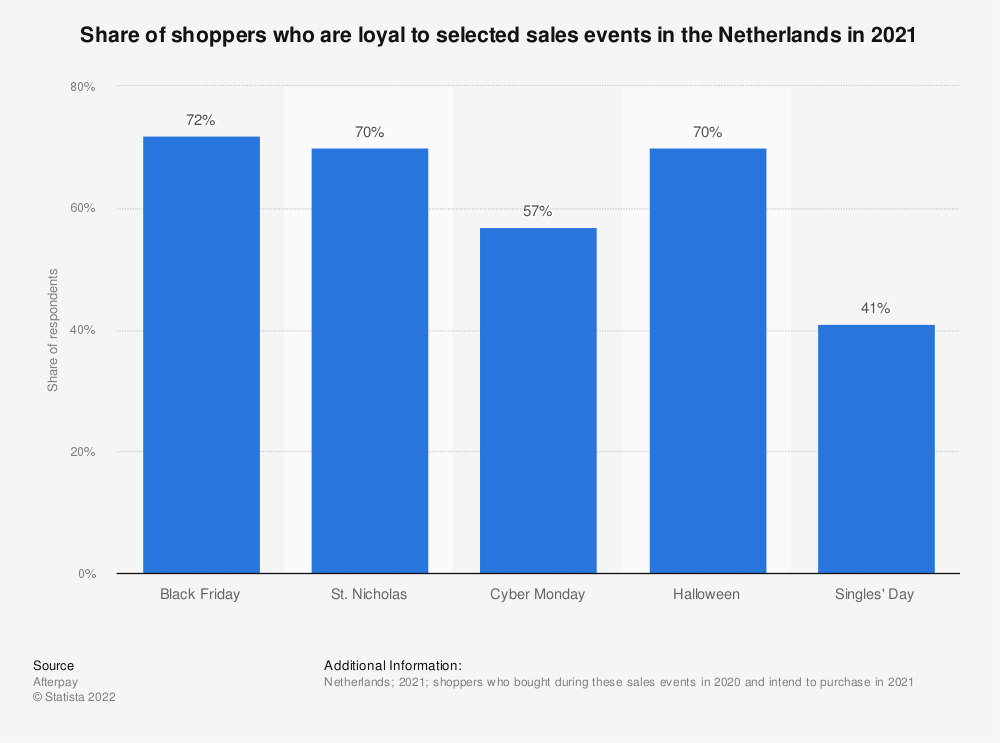 Source: Statista
Why your business should pay attention to Singles' Day
The Chinese have been celebrating this holiday online as their version of Black Friday. Although the holiday hasn't quite reached the same level of mainstream status in the UK and across Europe, it has been growing in popularity... rapidly. Thanks to Alibaba's global success, we've seen this holiday sale become more prevalent around the world in the last few years.
Alibaba isn't the only brand benefiting from the holiday. JD.com has also reported major profits in the last few years. British brand ASOS has been participating as well. Doing a quick Google search will reveal that there are many websites dedicated to sharing the different Singles' Day sales out there.
As Black Friday and Cyber Monday have become immensely popular in the last few years, you may have noticed that some brands are trying to get one step ahead. In the last few years, plenty of brands ran pre-Black Friday or "Countdown to Black Friday" sales.
Because Singles' Day takes place in early November, it seems like the perfect time to get a jump start on your Christmas sales, especially as the "new" holiday grows in popularity every year.
Singles' Day marketing ideas
So, now that you realise the sales potential of Singles' Day, you must be asking yourself what do next. Let's have a look at some marketing ideas for this increasingly popular sales day.
Hold a BIG sale
This might sound obvious, but it's important to remember that consumers are looking for deals on this day. Although it's meant to celebrate singlehood, the biggest allure of this holiday is really the shopping deals out there.
There are a number of ways to go when it comes to this holiday sale:
Create a selection of products to offer on sale (e.g. create a special landing page to display the items you are offering on sale)
Similarly, you can create another offer that entitles users to a discount for buying bundles or spending a certain total amount at the checkout
Do a site-wide sale (e.g. 20% everything on the site!)
Embrace singlehood
Although we did just say that the primary appeal of the holiday is the sales, it doesn't mean you should totally ignore the meaning behind the holiday: Promote some products that celebrate singlehood.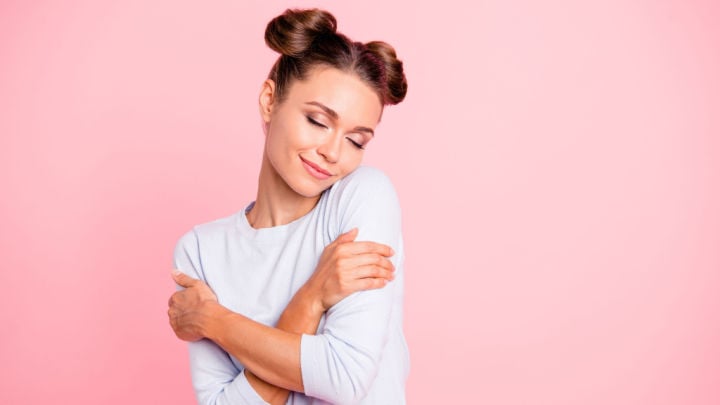 Source: shutterstock.com/Roman Samborskyi
Self-love is an important thing to remember these days, so you could also create a landing page promoting products that promote that idea.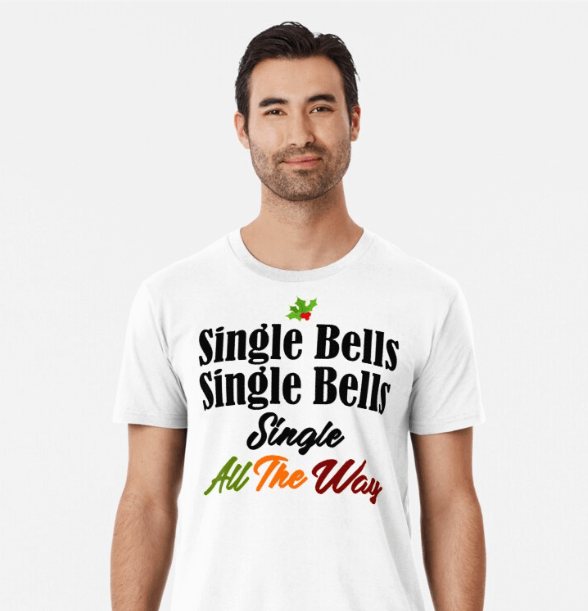 Source: Redbubble
Recommended reading:
How Your Business Can Reach Valentine's Day Lovers and Haters
Online marketing
Just as you would for any other sales opportunity, make sure your customers remember the holiday is coming. Not only that, but make sure they know what you're planning.
Send out email marketing campaigns or inform people in your newsletters.
If you have an active social media account, post your plans a few days/weeks in advance to make sure your customers are ready to visit your site on this one-day event.
On the day of or the night before, you may even want to run some ads to really drive traffic to your site.
Recommended reading:
8 Low Budget Ideas for Creating an Advent Calendar on Social Media
Decorate your site
Like many holiday or theme-sales, it's a good idea to have a dedicated page to your sale items. Make this visible on your homepage since some of your website traffic will have no idea about Singles' Day. Consider displaying a banner a few days/weeks before the event to raise awareness.
Be sure to visibly show users the discount amounts. This can be done on the dedicated sales page and/or on a product page level. Besides being transparent, it can inspire people to buy.
Display reviews
Speaking of product pages... Shoppers do love a good discount, but they can still be careful when shopping on a new site, especially ones that are offering huge discounts. With a "too good to be true" mindset, consumers who are not familiar with your shop may look to do a bit of research on you before pulling the trigger. Therefore, it's a good idea to collect reviews and display them throughout your website.
If you want your impressive rating to show up in Google, you should strongly consider using a Google-certified reviews provider, like Trusted Shops.
Conclusion
If you want to get a jump start on your holiday sales, you should strongly consider starting a Singles' Day promotion. The key here is to start a marketing campaign a few weeks in advance. Get on social media and spread the word. For example, you can go on Instagram and set up some polls to get engagement and an overview of the interest from your audience.
Are you ready for Christmas? Download our free Christmas Guide by clicking on the button below: