This year's Black Friday event will take place on Friday, November 26, 2021. The coronavirus crisis will undoubtedly play an important role for Christmas shopping again this year just as it did in 2020. Many consider Black Friday to be one of the best-selling days of the year, and therefore an opportunity for shops. However, this massive shopping event also has its downsides.
"In Europe, Black Friday and Cyber Monday saw the most concentrated retail sales activity by far. Cyber Monday and the freshly-minted shopping event 'Singles' Day' also triggered greater sales activity", Statista found in their Dossierplus on Christmas shopping in Europe in 2018.
According to Statista, awareness of Black Friday and Cyber Monday shopping events in Europe have led to increased participation, which has made these two sales days "a commonplace presence in the Christmas shopping journey of European consumers".
---
Have you already started preparing your Christmas marketing? Download our checklist for online shops to get to know some tips to increase your Christmas sales!
---
Black Friday first emerged in the US, marking the end of Thanksgiving by seeing a massive amount of discounts both in local stores and in online shops.
However, the offers aren't just concentrated on that single day any more. Many offers last for more than a week.
In fact, some companies cannot resist launching some promotions before Black Friday and shift their sales activities up a few days, allowing their customers to benefit from their exceptional offers for more days and thus being one step ahead of the competition.
Just as Black Friday is an opportunity for many businesses, for others it has become an obstacle that could turn into a risk of loss.
And all this without considering the impact Black Friday has on the environment.
In this article, we'll talk about both the advantages and disadvantages of Black Friday for businesses. Also, you'll get some tips for this year's event since it will be taking place under different circumstances.
Great win for big businesses, while SMEs lose
Who doesn't prefer to buy gifts on days when products are on sale? It's clear that offering great discounts around the Christmas season is an easy way to attract many shoppers and intensify business sales.
In 2019, shoppers worldwide spent $717.5 billion during Black Friday. Amazon, for example, was able to increase their sales during the Black Friday, Cyber Monday and Christmas sales weeks by 23% compared to the same period in 2018.
If we look at 2020, predictions for Back Friday revenue in the US were set at $184 billion, up from the record $142.4 billion set in 2019. The final numbers for 2020 reached as high as $188 billion (Source: Adobe).
However, not all businesses benefit from this situation. For SMEs, Black Friday could mean a threat.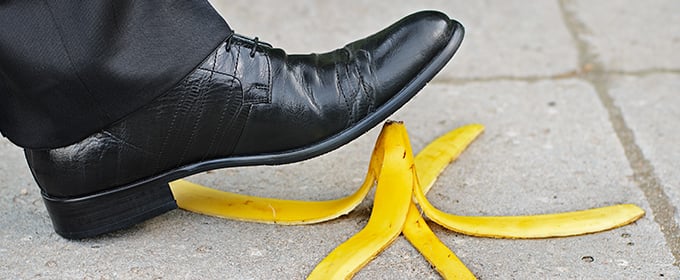 (Image source: Shutterstock.com/Andrei Shumskiy)
Competing against larger companies and multinationals offering large discounts could result in your business being in the red.
In addition, on days as busy as Black Friday, more staff is needed to provide good customer service, and this would simultaneously mean more (personnel) costs.
Recommended Reading:
E-commerce Recruiting: When Should you Hire your First Employee
If you are to participate and offer lower prices, be aware of the possible risks that may come along.
The other option would be to stay out of the game completely. Some companies have already realised that these types of discounts aren't profitable and just not worth it.
Meuf Paris, for example, a French online shop, has published this post on its Instagram account explaining the reasons why the company no longer wishes to participate in Black Friday.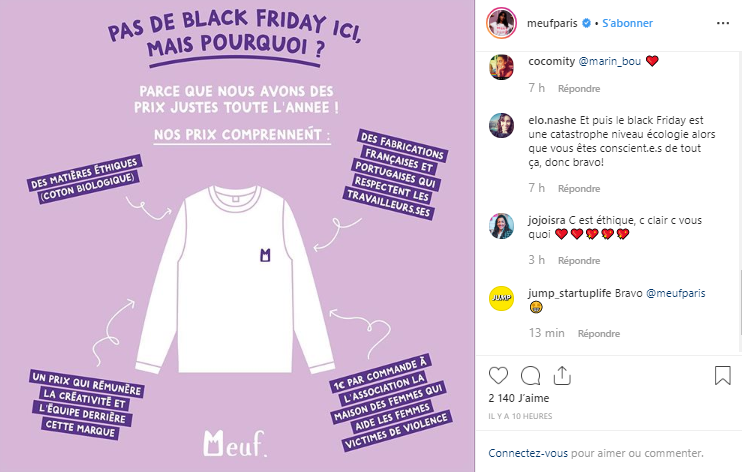 (Source: Meuf Paris)
The shop explains that it isn't possible for them to both act according to their ethics and fulfill the purpose of Black Friday. Their French-produced items containing 100% organic cotton carry high production costs that just don't work with the massive Black Friday price cuts.
In fact, in 2020, many businesses cancelled their Black Friday promotion plans altogether. However, this varies from country to country.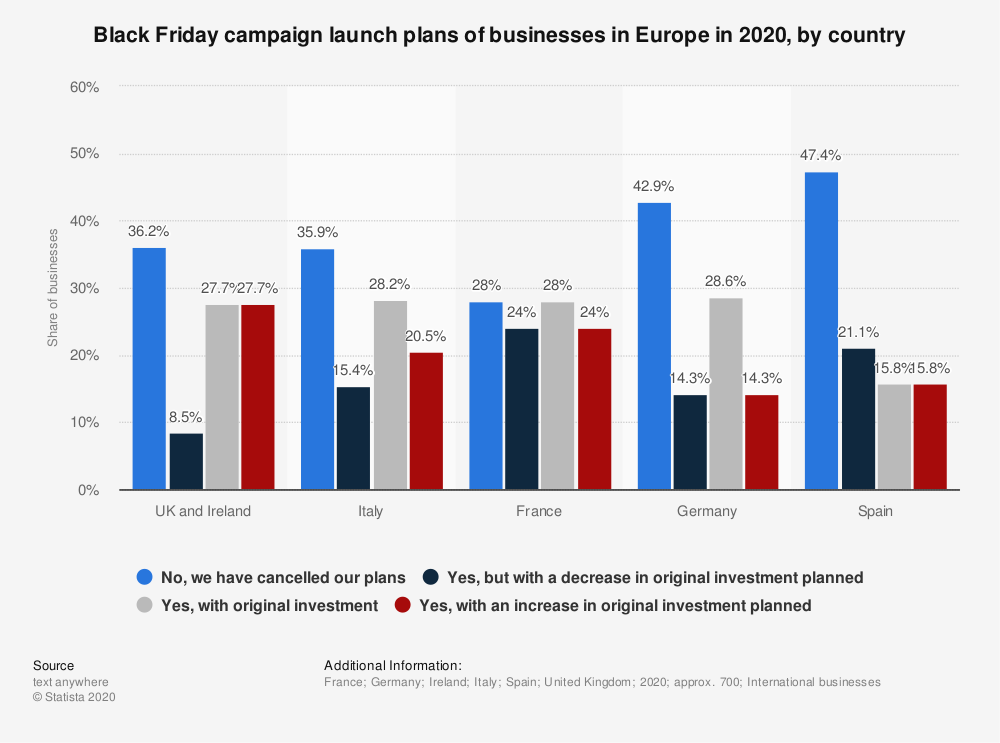 (Source: Statista)
In the UK, for example, more than half of respondents (55.4%) said that they would continue with their plans or increase their investment into the sale. France saw similar numbers as well (52%). However, the other countries surveyed were below the half-way mark (although Italy comes pretty close!).
Recommendations for Black Friday
If you're considering participating in Black Friday as a shop owner, I recommend the following:
Integrate elements of trust in your online shop: Taking a look at the increase in online purchases since the outbreak of the coronavirus, fake stores have proliferated on the internet. And it's no surprise that during Black Friday, one of the best selling events of the year, the number of scams is likely to increase even more.
Consumers who aren't used to shopping online need to learn more about where to buy safely. That is why you should integrate trust elements in your online shop, such as: a quality seal (a.k.a. trustmark), a rating system, a wide range of payment methods, etc.
Keep an eye on your warehouse stock: It has been proven that during the boom in e-commerce caused by the pandemic, many online businesses had to increase their stock of products to avoid possible breaks in the supply chain.
Taking into account the shopping trends that are expected for this last quarter, I recommend you also to check your stock from time to time and, if necessary, increase it in the face of a possible wave of new online orders.
Offer your (potential) customers an omni-channel shopping experience:
Now more than ever, companies must make an effort in offering consumers an omni-channel shopping experience at each shopping stage, allowing customers to make their choices in accordance with their needs.
In 2020, UK shoppers in the post-lock down period were surveyed about their Christmas shopping habits. About half of the consumers who normally would shop in-store shifted their habits to click-and-collect.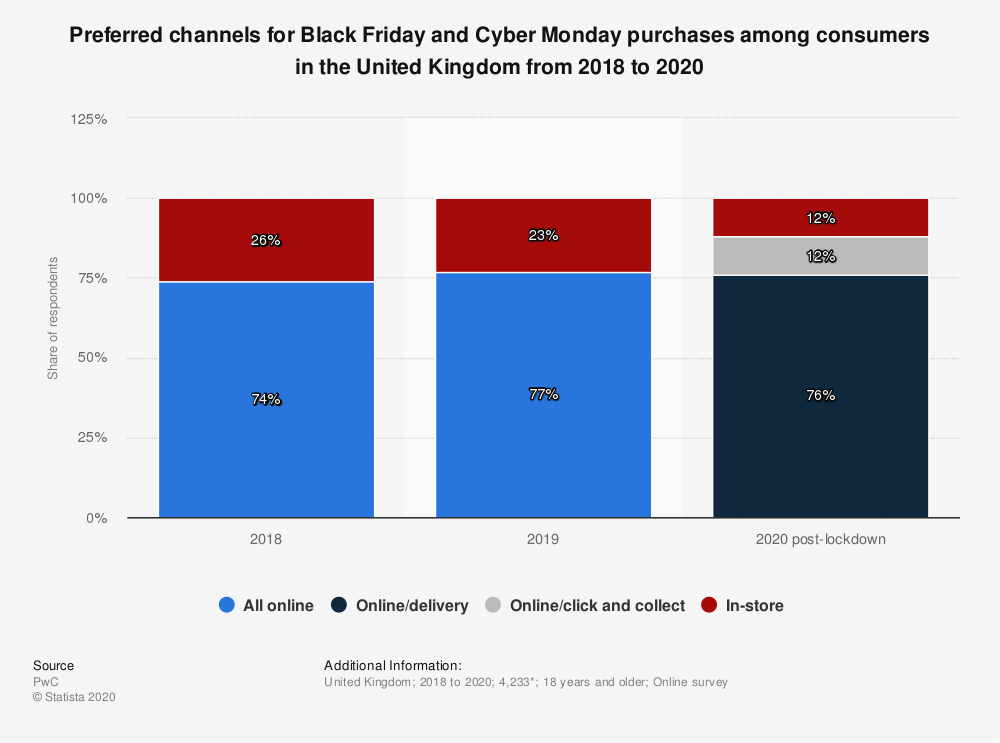 (Source: Statista)
Optimise the customer's shopping experience in your local store as well: Offer your customers accurate information about the availability of your products, your opening hours, and the health and safety policies.
50% of consumers who plan to make purchases this Christmas say they will choose to buy in local shops that offer contactless payments or a completely contactless shopping experience.
Give your website a responsive design: 71% of Black Friday shoppers in the UK made their purchase from a mobile device in 2019 and this trend is expected to continue this year (

source

).
Having a responsive website for your online shop not only favors the shopping experience of your customers, but it will also make your sales multiply that day. In addition, Google penalises those shops that aren't responsive, so you already have two good reasons to adapt your online shop if you haven't done so already.
To end this section, I would like to point out the opportunity Black Friday presents for all types of businesses, whether large or small: clearing out what's left in stock.
In this sense, businesses could offer great discounts on products that haven't been sold that much lately in order to minimise the number of unsold items.
Orders increase, but so do returns
Given the great discounts and the convenience of being able to shop from any internet-capable device, consumers tend to buy more than necessary on Black Friday.
However, and as a result of impulsive purchases, the more orders you get, the more returns you are likely to get.
The reasons for returns can be various: the product doesn't meet the customer's expectations, the size is wrong, the customer bought the product due to the low price even knowing that they are going to return it anyway.
The increase in returns is also due to the fact that many businesses extend the right of withdrawal during Black Friday and during the Christmas season. In this way, they facilitate returns for buyers, allowing them to return Christmas gifts even in February.
Here, once again, you should take this issue into account and act accordingly to avoid a negative impact on the development of your business.
💡Tip: If you integrate a rating system in your online shop combined with quality product images, your customers will have a better idea of the product they are buying and, consequently, your return rate will decrease.
Did you know that returns not only have an impact on business development, but also on the environment?
Let's now take a look at our third and final topic:
Logistics win, while the environment suffers
In 2019, European post offices delivered record volumes of Black Friday/Cyber Monday orders, CEP research found.
On the one hand, this shows the accelerated development of the logistics sector during those important days but, on the other hand, the massive need to consume and buy that occurs during Black Friday has a great impact on the environment.
However, in order to meet the massive demands of this season, a lot of cardboard and plastic containers are needed. This requires the production of natural resources and/or raw materials.
According to the Guardian, the shopping event sees about 82,000 diesel delivery vans on UK streets, carrying items like plastic toys and electronic goods around.
Stephen Holgate, professor of immunopharmacology at the UK Medical Research Council said: "These vans sit and idle for hours in the road as they wait to deliver more packages, and this is a huge problem."
In recent years, the fashion sector has multiplied its production, going from producing two seasons to producing more than six. Many of these "fast-fashion" brands offer new items and trends every two months to consumers who throw away their clothes after having worn them just a handful of times.
To combat the pollution generated by the fashion market, movements such as the "no buy year" have emerged that encourage consumers not to buy clothes for a year and, therefore, not to shop just for the sake of shopping.
There are already some brands that even reduced their business activities during Black Friday. For example, the sports equipment brand, REI, has closed its shops every Black Friday since 2015.
They give their employees the day off and encourage them and their customers to spend the day in nature instead of hanging around in shopping centres. They've even created their own #OptOutside campaign.

"Make Friday green again"
Of course, not all the companies can afford this type of action since it would mean giving up the day with the highest income of the year.
For this reason, more and more small and sustainable businesses are joining "Green Friday", an alternative movement to Black Friday. This movement aims to make consumers aware of the fact that alternative forms of consumption are possible and thus the negative impact on the environment and the climate can be reduced..
According to a Nielsen study, 66% of global consumers say they are willing to pay more for sustainable brands.
Recommended Reading: What Steps Can Your Business Take to Go Green?
Conclusion
Black Friday is not only an opportunity for doing more business, but it's also an event that could have a significant impact on the survival of some brands.
Also, more and more consumers around the world are becoming more aware of the environmental damage caused by Black Friday. I wouldn't really be surprised if the sustainable alternative Green Friday movement grows even more popular in the future.
In view of the data mentioned in this article and the purchasing trends expected for this year, it's now your turn to process all this information and decide whether your online shop should participate in Black Friday or not!
Black Friday isn't the only sales opportunity for online shop owners. If you sell internationally, make sure to download our European Holidays Marketing Calendar to get an overview of the biggest sales opportunities in the biggest European markets.
This article was originally published on our Spanish blog: Black Friday 2020: ¿Una oportunidad para tu negocio o una amenaza?