Consumers read reviews for everything these days. Whether it's because they want to try out a new restaurant, buy a car, or see a doctor. That's why it's important to have online reviews even if you don't sell anything online. That's where local reviews can help your physical shop grow.
Boosting Foot traffic
As a local business, foot traffic is no doubt enormously important to your livelihood. Before we dig into all the reasons why local reviews are important, let's look at some of the methods brick-and-mortar shops can use to get a boost in foot traffic.
Google Business Profile
Google Business Profile (formerly known as Google My Business) allows shop owners to have more of an impact on their Google presence. This means that when users search or stumble upon your shop online, they will get all the relevant information they need.
This information might include your shop address, phone number, opening hours, photos, and, of course, online reviews.
In any case, if you are a local business owner, make sure you have claimed your business in Google Business Profile to make sure potential customers are seeing and reading the right things about your shop.
Local SEO
We've covered the topic of local SEO in a previous blog, but let's review some of the main topics:
Write local blog posts with your city/region as a main keyword

Include your city in your website's page titles (e.g. Edward's Hobby Shop of London)

Try to get backlinks from local newspapers or other businesses
Google Ads
Of course, people still use Google to research local businesses. Google Ads, therefore, shouldn't be forgotten. A search in Google Maps might be more relevant for someone looking for a restaurant while on the go. However, if you are a B2B business, make sure you bid on keywords that relate to your city or region.
Naturally, online reviews will help here as Google Ads allows you to display your star-ratings in Google Ads. There is, however, one catch. Reviews need to be collected by a Google-partner (like Trusted Shops).
Waze
Waze, the socially-powered navigation app has started showing ads to their users. There are a variety of options, but the basic idea is that users get small notifications for local businesses on their route while driving.
Recommended reading: Check out our overview on Waze for businesses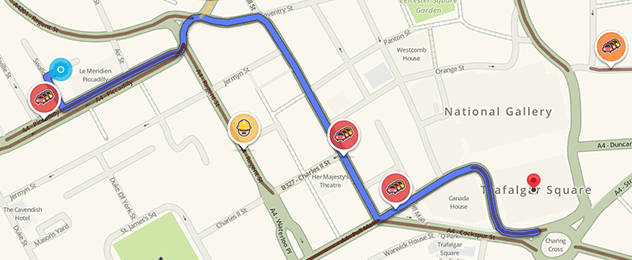 The power of reviews
If you're an avid internet user, then you've probably read an online review at some point in the last month. Indeed, there's something powerful about online reviews. They obviously feel more genuine than reading the marketing texts on a company's website.
Bright Local looks into the power of business reviews annually and they have released their 2018 survey results, which compiled the answers of over 1,000 US-based consumers.
This survey has a focus on local reviews, although you can definitely get some great insights for online business reviews in general. Let's take a look at some of the most interesting results that they've shared with us.
Using the internet to find local businesses
So the question here boils down to just how often customers use the internet to find a local business.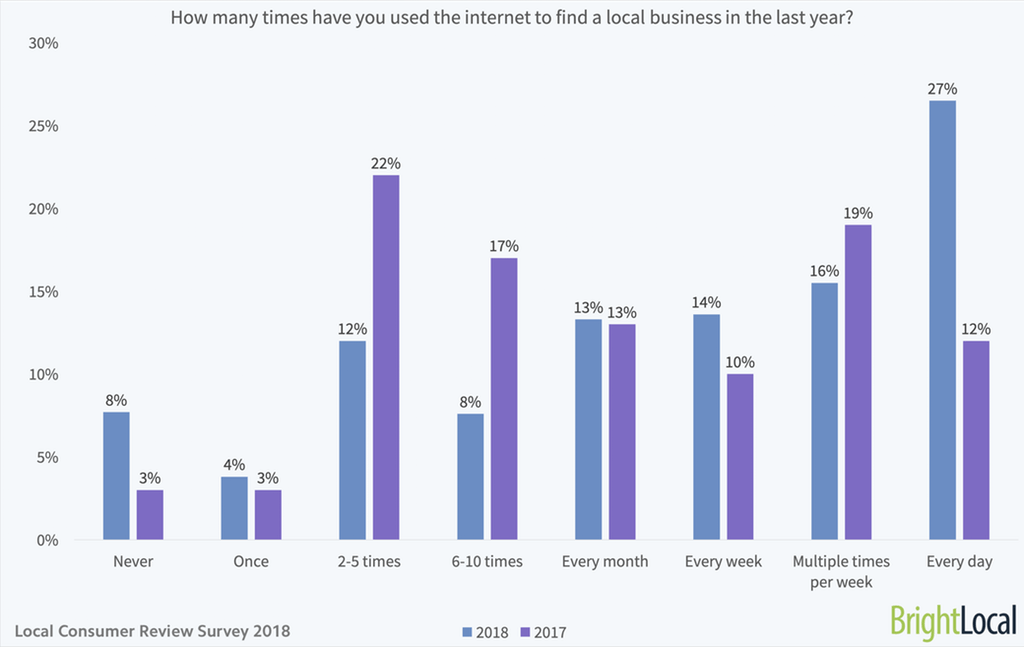 Click on the image to enlarge (Source: BrightLocal)
As you can see, there have been a few changes from 2017 to 2018. The most notable differences occurred in three categories. Using the internet to find a local business actually went down in the 2-5 times per year" and "6-10 times per year".
Shop owners with a strong online presence will be pleased to hear that the biggest increase came in the "every day category". This number more than doubled in 2018, from 12% to 27%!
This is an enormous change and reflective of the digitization of our every day lives. It seems "location, location, and location" are not the first three rules of business anymore. It seems that "online presence" should squeeze into the top three nowadays.
If you break down these 2018 stats into age groups, it's quite obvious who is responsible for these searches and everyday usage: 18-34 (54%) and 35-54 (27%) year-olds. This means that over half of "younger" people use the internet to discover local businesses every single day and about a quarter of those in the 35-54 age group do so as well!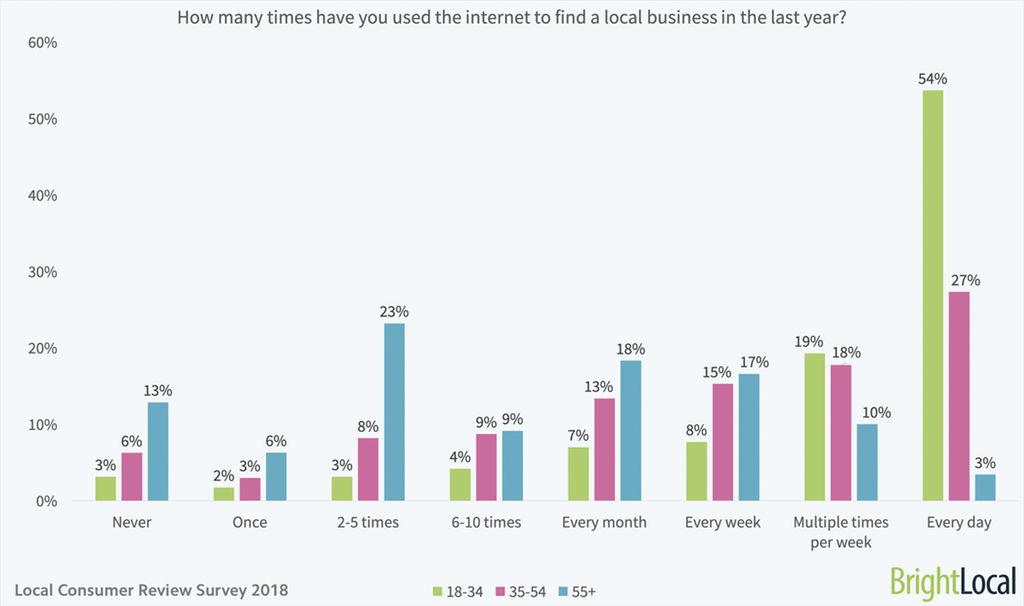 Click on the image to enlarge (Source: BrightLocal)
Remember, a lot of local search results will pop up with a star-rating. If you've managed to work your way up to the top of the SERPs, it would be a shame if you had no reviews to convince potential customers to visit your shop in person.
Judging local businesses
The next question is a simple question, but it reveals the real reason we all read online reviews: do we use online reviews to figure out if a business is good or bad?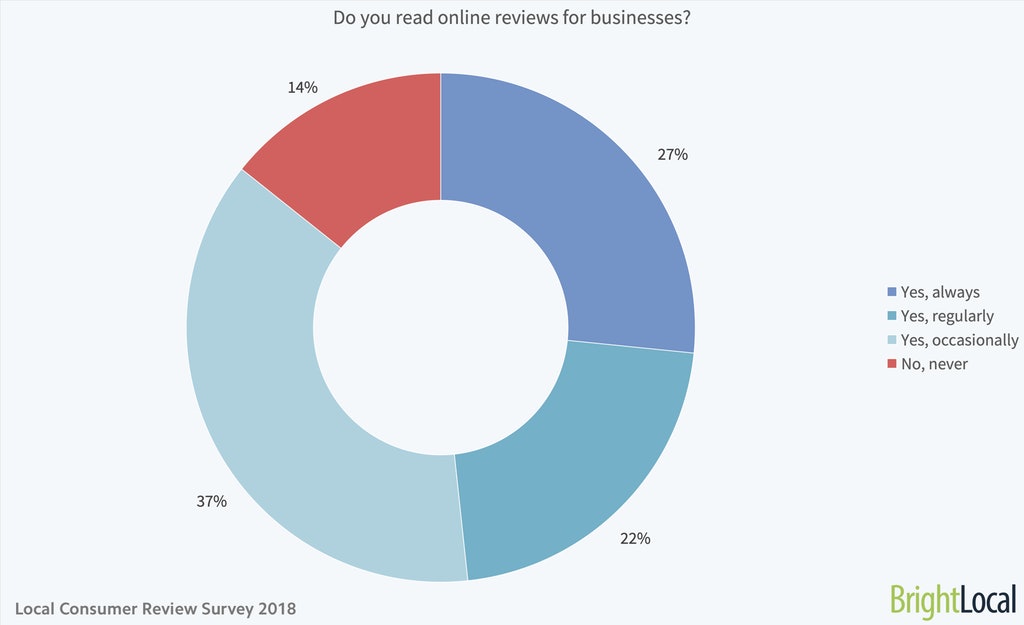 Click on the image to enlarge (Source: BrightLocal)
Basically, 86% of respondents said yes in one way or another. It's pretty straightforward, isn't it? However, it really breaks down the whole point of online reviews, especially for local businesses.
People want to know if you are a good or bad business. It might sound black and white, but this really highlights the importance of being proactive when trying to manage your online reputation.
Want to read more about how you can manage your online reputation across multiple platforms? Check out our free whitepaper!
Age of online reviews
This next question is quite interesting. It looks at the impact of the "age" of online reviews.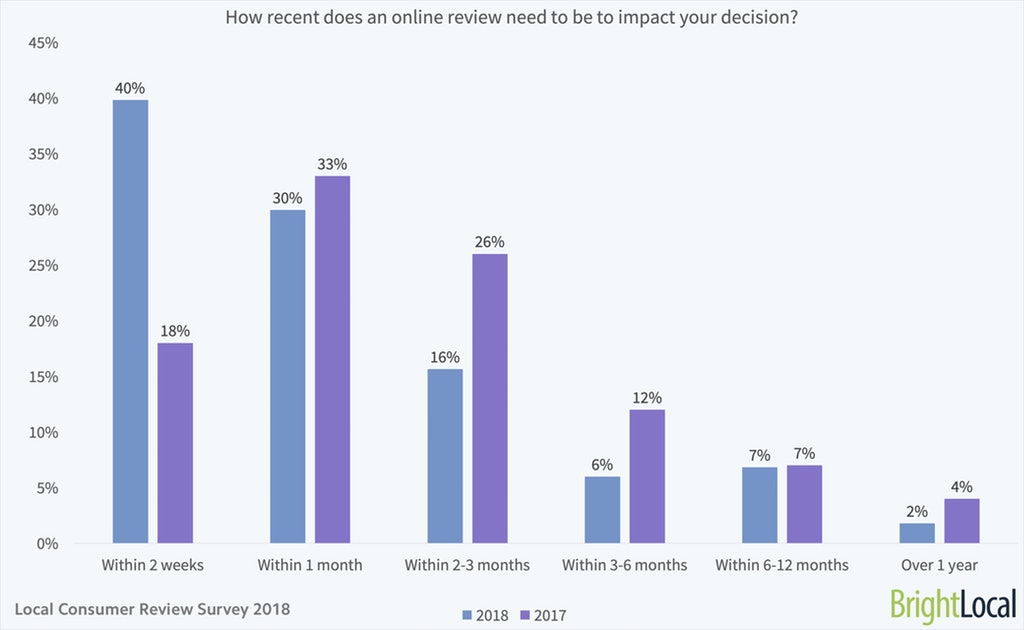 Click on the image to enlarge (Source: BrightLocal)
To be honest, these numbers surprised me a bit. When added together, 86% of respondents said that a review has to be "younger" than three months in order to have an impact on their decision.
Perhaps most shocking is the jump made in the first category (within 2 weeks) from 18% in 2017 to 40% in 2018. This definitely highlights the importance for business owners to continually collect reviews, especially for local businesses.
Though it might seem silly to some business owners, think about this: if you suddenly stopped collecting online reviews after a certain point in time, customers who notice this might assume that management has changed or that the business is trying to hide something. After all, we've all witnessed one of our favourite local businesses decline in quality or service, especially in the restaurant business.
Star-ratings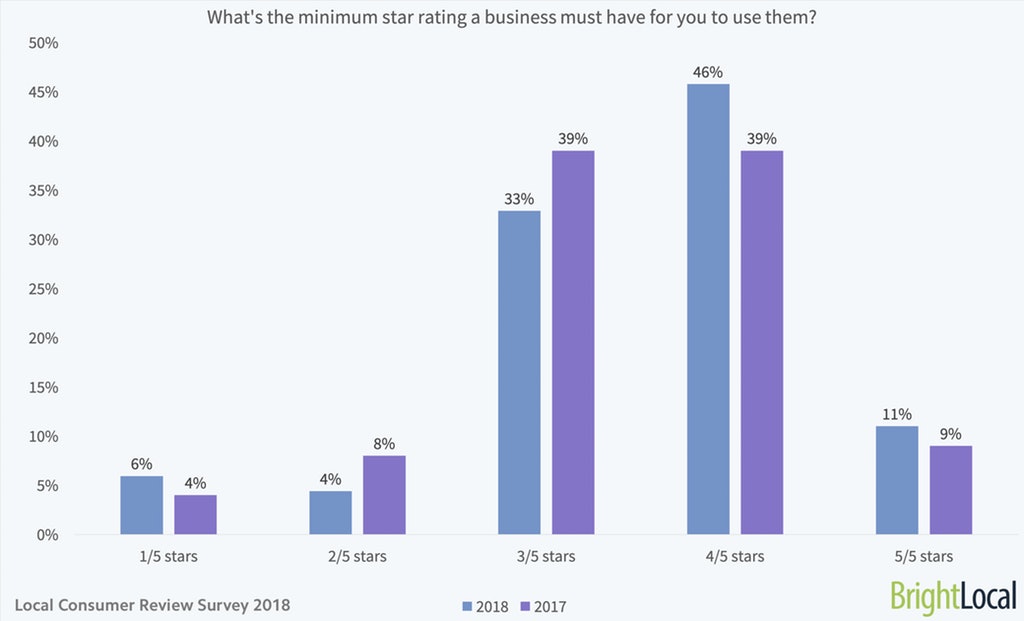 Click on the image to enlarge (Source: BrightLocal)
In this chart, we can see that shoppers can be a bit picky when it comes to star-ratings and decision making. Clearly, shoppers place priorities on shops that display at least three stars or more. In 2017, the combined number was 78%, while in 2018 it went up to 79%.
However, it's worth noting that shoppers seemingly have become more picky because in 2018, a great importance was placed on shops with four stars or more (46%) compared to 2017 (39%).
Trustworthiness of online reviews
If you frequent our blog often, then you've surely heard us quote the following statistic before, but it's so powerful that I wanted to share it again with you.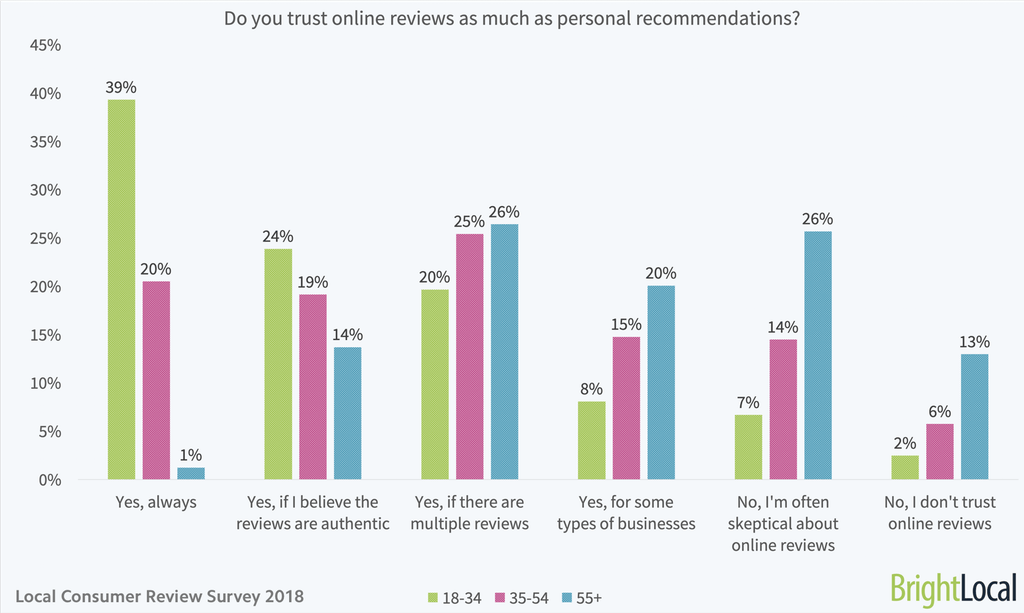 Click on the image to enlarge (Source: BrightLocal)
This chart is broken down into age groups once again. What's noteworthy is that the youngest group is much more trusting of online reviews than the oldest group. The middle age group is actually quite steady for all possible answers.
Conclusion
Online reviews are crucial for building your brand's reputation, whether your shop is online of offline. The numbers speak for themselves: despite some questionable review platforms, people still turn to online reviews to help them with their purchase decisions.