Despite how much e-commerce has changed our lives for the better, there is still something special about going to a physical store, touching the items, and buying them right then and there. If you own a physical shop (nowadays, they are called "brick-and-mortar shops"), you should still take advantage of the digital tools that can benefit your business. In today's blog, we'll have a look at how advertising on Waze can help boost sales for your business by increasing foot traffic to your physical shop.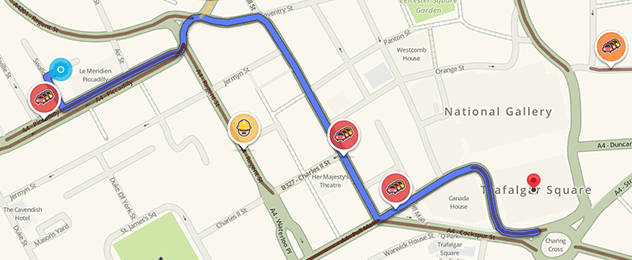 Table of Contents
In case you want to skip ahead, here are the topics we'll cover in this article:
How the digital era can help physical shops
Even if the majority of your business's transactions occur in person, there is still plenty that your shop can do online to drive customers to your brick-and-mortar shop. Before we look at what Waze is and how it can help your business, let's have a quick look at some of the digital tools that can help physical shops.
Collecting local reviews
Collecting customer reviews is obviously important for online businesses. However, you should not underestimate the power of reviews for a local business. People often use Google Maps to find local businesses and will use reviews and star-ratings to help with their decisions.
BrightLocal carried out a survey on online reviews for local businesses in 2018 that is definitely worth a read. They revealed some really interesting statistics. Without getting too deep into this topic, here are some of the most noteworthy facts from their survey:

86% of consumers read reviews for local businesses (including 95% of people aged 18-34)

40% of consumers only take into account reviews written within the past 2 weeks – up from 18% last year

91% of 18-34 year old consumers trust online reviews as much as personal recommendations

89% of consumers read businesses' responses to reviews
Google My Business
It goes without saying that almost any shop, whether online or off, relies on Google to some degree when it comes to discoverability. For instance, many physical shops use Google My Business to manage their online presence across Google.
With this tool, shops can get discovered in Google searches more easily (including in Google Maps). Users can learn more about registered businesses, such as their opening hours and phone numbers.
Bonus: Download our free whitepaper on Google My Business!
These are just some of the ways that you can drive foot traffic to your brick-and-mortar shop with the help of digital tools.
One of the most up-and-coming social networks, Waze, can be a great online "weapon" for getting people through your shop's doors. Let's take a closer look at Waze is and what your options are as an advertiser.
What is Waze?
Although Waze might be relatively new to you, it has been around in some form since 2006. Google acquired Waze mobile in 2013 and they've continued to innovate since then. So what does Waze do exactly?
Waze describes its app as a community-driven GPS navigation app, which is free to download and use.
In other words, it's a navigation app that gets is strength from the participation of its users (also called Wazers). While driving, those users share traffic information actively (notifying about accidents, police checkpoints, etc.) and passively (sharing traffic flow, speeds) with the app.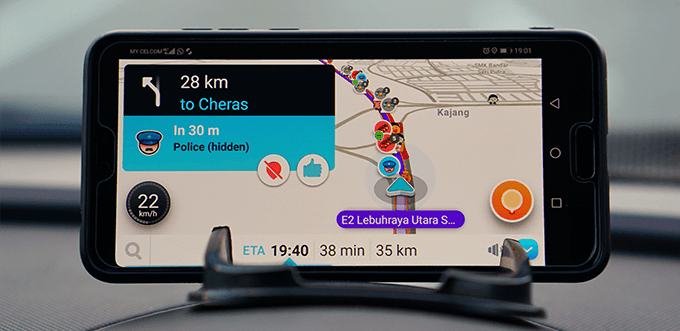 Waze in use. In this image, a police checkpoint has been added by one Wazer to warn other users to slow down. (Source: Shutterstock)
This allows other Wazers to benefit from this information because the app will make route suggestions based on this real-time information. The days of tuning into the radio for traffic updates are gone!
The app is constantly innovating and releasing new features, such as music player integration and car-sharing options. However, real-time navigation is definitely its main feature and what has made the app incredibly popular.
Currently, Waze claims to have over 150 million worldwide users. With over a million users in London alone (and over 2 million throughout the UK), Waze has even become an integral part of the city's infrastructure.
Waze has teamed up with Transport for London (TfL) to exchange real-time data in order to make the city run more efficiently. Users can report potholes, congestion, and failing junctions, allowing TfL to respond to incidents more quickly.
Advertising on Waze
Waze has been selling ads to big brands on their app for quite some time with their Waze for Brands ads system.
However, in 2018, Waze introduced Waze Local, a way for small businesses to advertise on their app. Since its introduction, Waze Local ads have attributed to more than 7 million navigations to local businesses. According to their site, you can start advertising with Waze with as little as $2 a day.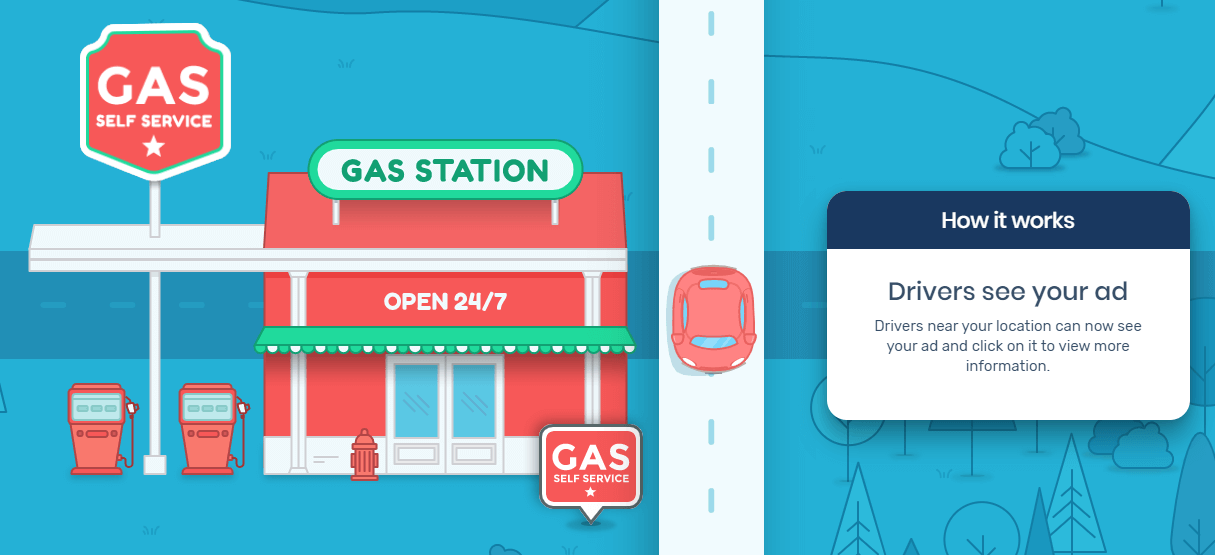 How it works: Drivers near your location can now see your ad and click on it to view more information.(Source: Waze.com)
Being that Waze is a navigation app, you'd be correct to assume that the biggest benefit of advertising on the app is that it can drive real-life foot traffic to your local business. However, there are some other benefits to this new ad format.
One of the most overlooked benefits of Waze is that it can help build brand awareness, especially for users who drive the same (or similar) routes frequently. Not only will users become aware of your brand by seeing your logo again and again, but they'll learn about the actual location of your shop. This could be particularly useful for new shops in the neighborhood or shops that don't get much organic visibility (e.g. if your shop is not on a main road).
For Waze, there are four ad formats offered to businesses:
Branded Pins

Promoted Search

Zero-Speed Takeover

Arrows

However, with Waze Local, only three are available (no Arrows).
Let's have a look at each one:
Branded Pins
Waze describes Branded Pins as a "perfectly placed digital billboard". The idea here is that if your shop is on or near a user's route, a pin displaying your logo will be highlighted on the map during the user's journey.
Tapping on the pin will reveal the ad at the top of the screen. Here, you have the option to display more information about the location such as your address, store hours, your phone number, and special promotions. If the user is interested, they can click on the "Drive there" button to reroute them to your location.
The potential actions (CTAs) for Branded Pins include: ♥ + Brand Name (Favourite Brand), Save for Later, Save Offer, Drive There, Remind Me, Save Video, Change Voice, and Download App. (more on these CTAs below)
The pricing here works by CPM (cost-per-thousand views). Naturally, the frequency of your Pins appearing on users' maps depends on your advertising budget (and your competition).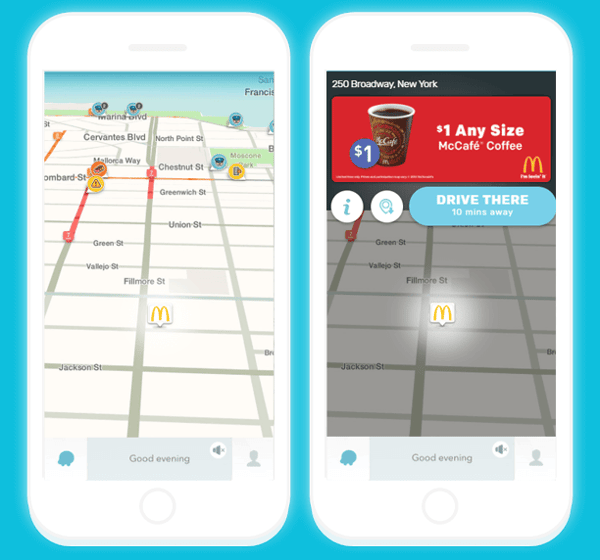 On the left, McDonald's pin shows up on map when the driver is nearby. Clicking on the pin brings up McDonald's ad. (Source: Waze)
Promoted Search
Waze also has a search function. With Promoted Search, your company can show up at the top of relevant searches.
When users begin a search query, Waze will present some auto-completed results for nearby locations that match the characters typed in so far. Your business will appear in these search results based on name-matching and the proximity of your business to the user.
After users click on the "search" button, a list of organic results will show up (based on the user's location) and one Promoted Search result shows up at the top. This is very similar to how Google Ads show up at the top of a normal Google search.
The potential actions for Promoted Search include: ♥ + Brand Name (Favourite Brand), Save for Later, Save Offer, Drive There, Remind Me, Save Video, Change Voice, and Download App.
Promoted Search is actually offered as a value-add to Branded Pins. You don't pay for Search impressions.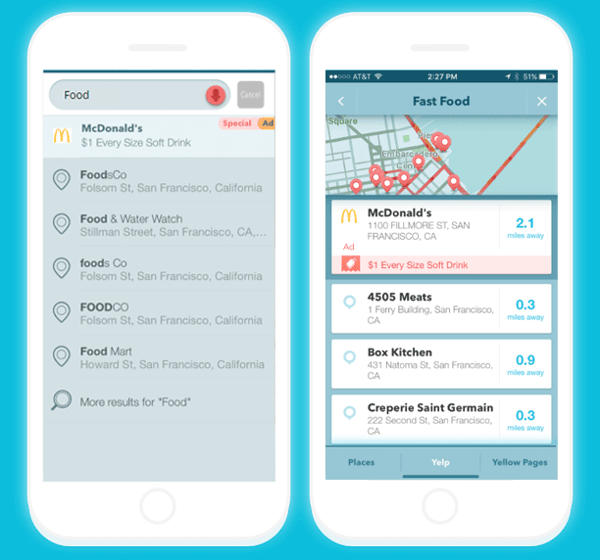 In Waze's search function, a related search term will bring up a sponsored ad. (Source: Waze)
Zero-Speed Takeover
Waze considers Takeovers as a high-impact ad unit that also drives engagement. As with all Waze ads, Zero-Speed Takeover uses location context to service ads to users.
In this case, Wazers are shown the ad once they are completely stopped along their route (e.g. at a red light or in heavy traffic). If the advertised business is ahead of them (and within a certain radius of their location), the banner will appear at the top of the screen.
As with the other ads, an info button appears below the banner to reveal more information about your business.
The potential actions for Zero-Speed Takeover include: ♥ + Brand Name (Favourite Brand), Save for Later, Save Offer, Drive There, Remind Me, Save Video, Change Voice, and Download App.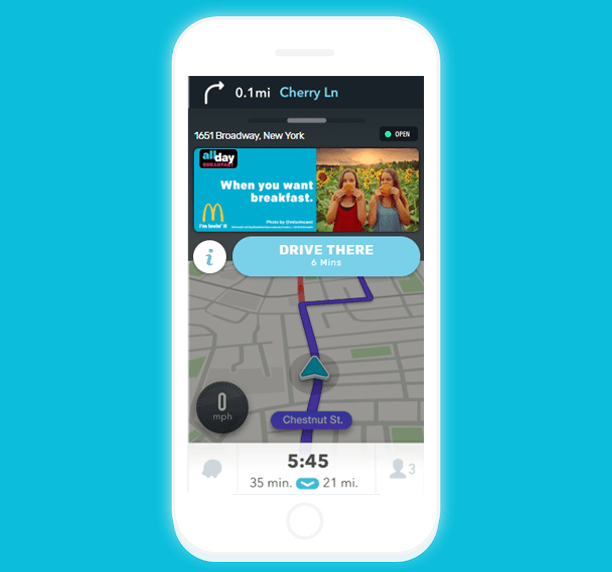 When Wazers come to a complete stop, they will be presented with a Zero-Speed Takeover ad.
(Source: Waze)
DV360
It's worth noting that Zero-Speed Takeover ads can also be purchased through programmatic buying via Google Display Video 360 (DV360, formerly known as DBM). These adverts are called Zero-Speed Takeovers DV360. Although these work the same as Zero-Speed Takeovers, the DV360 version only allows advertisers to use the "Save for Later" CTA.
If Wazers click on this CTA, they will receive a Waze Inbox Message.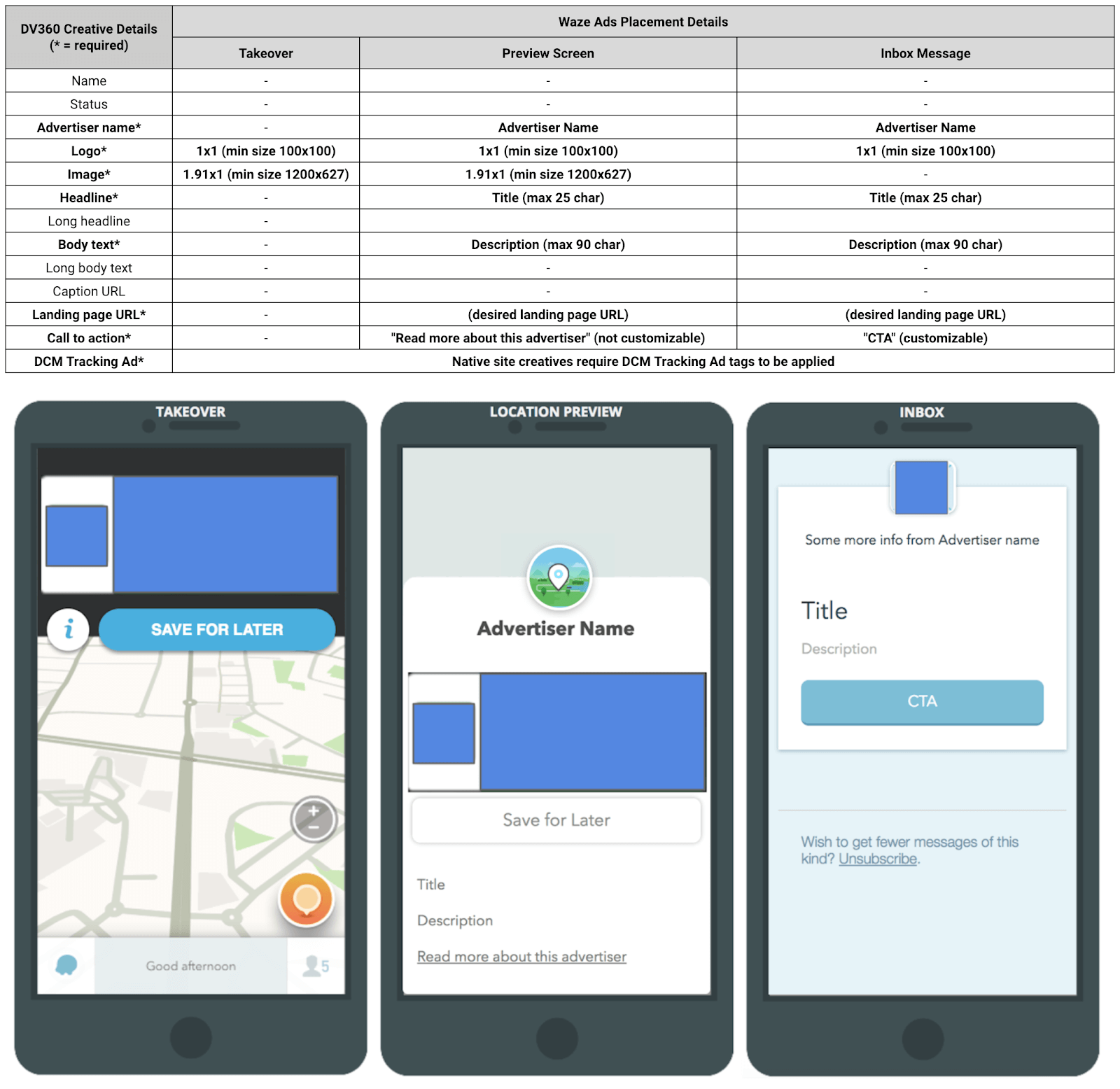 Some of your inbox options for Zero-Speed Takeover DV360 ads. Click on the image to enlarge.
(Source: Waze)
The costs for any of these Zero-Speed Takeovers also works by CPM.
Arrows
The concept behind this ad format is quite simple. When a user turns on the app, an arrow with your brand logo will appear on the map if your shop is nearby. If users tap on the arrow, the map will move to the nearest pin and then display your ad along with some business information.
The potential actions for Arrows include: ♥ + Brand Name (Favourite Brand), Save for Later, Save Offer, Drive There, Remind Me, Save Video, Change Voice, and Download App.
The pricing here works by CPM (cost-per-thousand views). Remember that as of now, this ad format is only available for Waze for Brands customers, not Waze Local.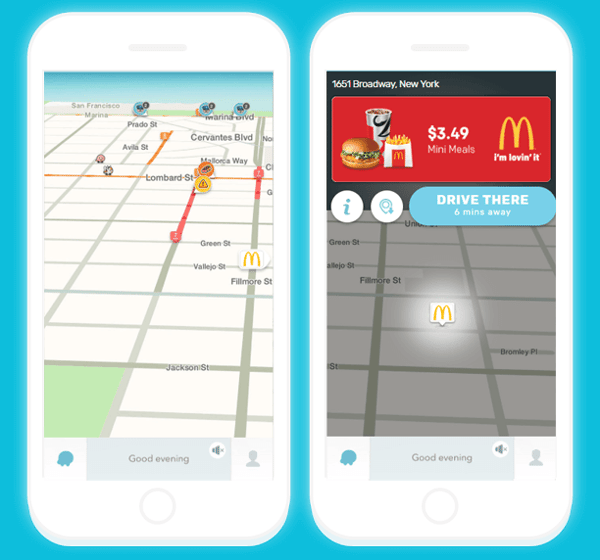 When a user opens the app, an arrow will point to your shop if it is nearby. Clicking on the arrow will present the ad. (Source: Waze)
To see the Anatomy & Asset Checklist for the different Ad formats and Company Profile Pages (i.e. image dimensions, character limits, etc.), check out Waze's PDF.
Pricing for Waze Ads
We've mentioned that Waze has divided their ad accounts into Waze for Brands and Waze Local. As you can imagine, Waze for Brands is used for bigger brands. If your shop has more than 50 locations, Waze recommends using Waze for Brands.
However, with Waze Local, pricing can be broken down into two kinds of accounts as well: Starter and Plus.
Waze recommends creating a Starter account for smaller businesses. Starting at $2 per day, this account is suitable for shops with less than 10 locations. Starter, unfortunately, does not offer Zero-Speed Takeover ads. Buyers can sign up on their own and get email support. Credit card billing is how buyers pay for ads.
The Plus accounts have some more benefits. Starting at $100 per day, this account is suitable for shops with less than 50 locations. With Plus, you get all the same things as a Starter account with some extra benefits. For example, you can purchase the Zero-Speed Takeover ads with a Plus account. You also get a dedicated account manager, phone support, and invoice billing options.
Below is a chart, breaking down the biggest differences between the three pricing plans.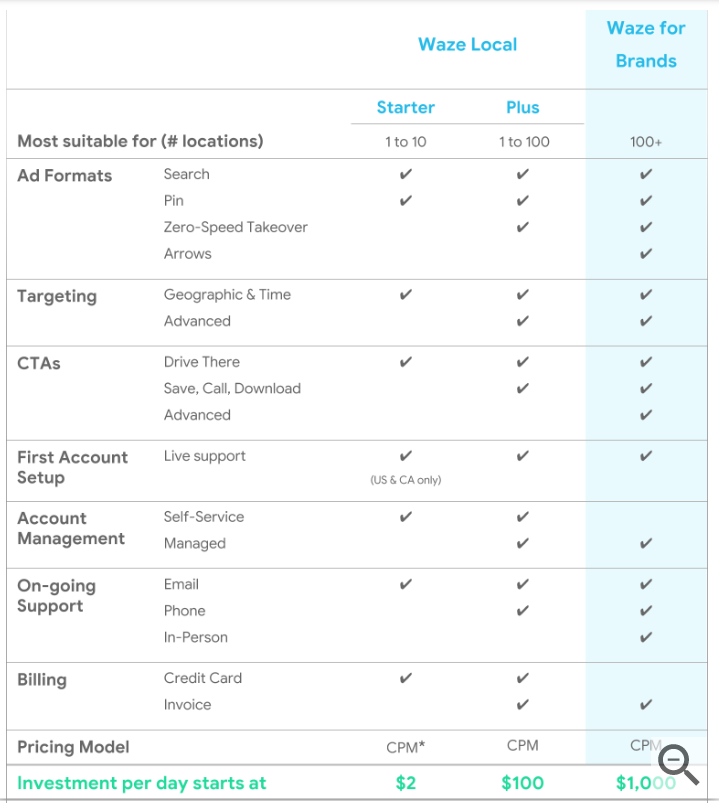 Click on the image to enlarge. (Source: Google)
Targeting in Waze ads
As mentioned before, different accounts offer different targeting options.
All accounts allow advertisers to target by geography and time. When it comes to geography, this is based on the locations of your shops.
Time is based on either two things:
Schedule targeting - you can set the hours your ads will run

Opening hours targeting - your ads will only run during the opening hours of your shop
With Waze for Brands, advertisers are offered advanced targeting options. Waze offers both audience and real-time targeting options. Let's look at what that means:
Audience Targeting
Audience targeting really focusses on the driver and their unique qualities, such as language settings, where they frequently drive and their work and home address settings. Some types of audience targeting options include:
Tourists vs. locals: reach Wazers based on how near or far your business is from their home or work addresses

User interests

Age & Gender

Operating system (Android or iPhone)

Mobile carrier
Real-time Targeting
Real-time targeting focuses more on the route (or the drive) rather than the driver. For example, you can focus on their destinations or even the weather. Some of these options include:
Business opening hours

Day part targeting - use different messaging in your ads depending on the time of day or day of the week

Destination - reach users on their way to specific locations (e.g. home, work, a category of business)

Weather - use specific messaging depending on the weather at that moment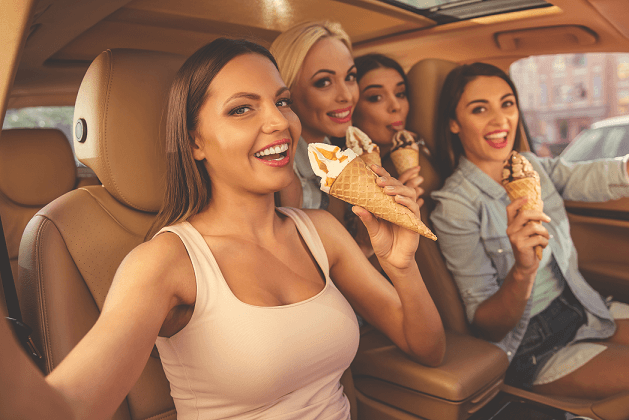 Hot day? It's the perfect time to advertise your ice cream shop!
Waze Ads' Calls-to-Action (CTAs)
We've listed all the CTA options for Waze ads above. Let's have a closer look at what those calls-to-action actually mean. You can divide the objectives of these CTAs into three segments: Reach Drivers Now, Reach Drivers Later, and Additional Solutions.
It's worth noting that not all of these options are available to all advertisers, as some are available only for Waze for Brands.
Reach Drivers Now - Immediate action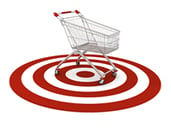 As you can guess, the following CTAs involve engaging with Wazers immediately. These CTAs are meant to inspire action as soon as the ad is seen.
Drive There: When clicked, the user's route will be changed to lead them to your shop.
Call Now: When clicked, the user's mobile will call your business.
Change Voice: Users will download a promoted navigation voice (for big brands).
Change Car: Users can change the look of their in-app car (for big brands).
Reach Drivers Later - Save ad info to continue engagement later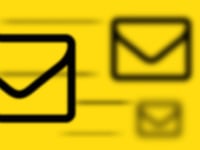 These calls-to-action are meant to be engaged with at a later time when it is more convenient for the driver.
Save for Later: Clicking on this CTA will send a message to the Wazer's inbox with more information about your offer along with a link to your website.
Save Offer: Once clicked, users will receive a message in their inbox with the coupon code or image and information about where the offer can be redeemed.
Save Video: An inbox message is sent to the Wazer which includes a YouTube video player. Once clicked, the video will play (and count towards your YouTube view count).
Download App: Users will receive an inbox message with a link to your app's page in the App Store (iPhone) or Play Store (Android).
Remind Me: similarly to "Save for Later", users will get a message in their inbox with more information as well as a push notification.
Additional Solutions
These additional solutions offer advertisers alternative objectives.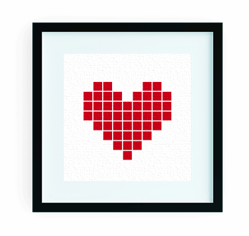 Favourite Brand: When users click the ♥ + Brand Name (heart) button, Waze will save that location (or chain of locations) in the user's "My Stores" section of their preferences. Once the user is close to one of your stores again, your shop will be promoted in the Waze search experience and Branded Pins for your store will show up on the map along with additional "Heart" (♥) icon.
Save Location: Clicking on this button will save the business location to their navigation menu, making it easier for them to find again in the future.
Branding: This allows advertisers to reach users with a brand message and no CTA or user action is required for this type of objective.
Simple (Ad Copy by Location): Pair any of the above-mentioned CTAs along with your business name, a short description and a square image.
Conclusion
There are many possibilities for advertising with Waze no matter what size your business is. As the business continues to grow internationally, this could be a great way to drive foot traffic (real people!) into your physical shop.