You've probably heard of the term omni-channel before, but what does it mean exactly? And how is it different than multi-channel? In this article, you will read about the advantages, disadvantages, pitfalls and a step-by-step plan for implementing your omni-channel strategy.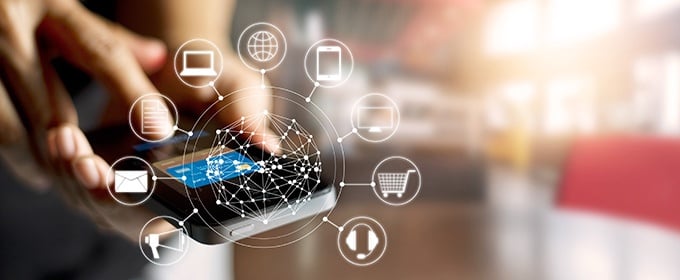 You can skip ahead to the section that interests you:
What is omni-channel?
An omni-channel experience refers to an integrated, well-structured, and consistent customer experience throughout all the possible channels that a customer engages with.
In other words, it means that no matter how a customer interacts with your brand (physical shop, website, app, etc.), the experience is very consistent.
In essence, the omni-channel strategy takes the multi-channel experience one step further.
Multi-channel vs omni-channel
So, what exactly is the different between omni-channel and multi-channel?
With the multi-channel experience, customers can choose between a few channels that are not directly aligned with each other. The company decides for the customer which channel best suits the customer experience.
Omni-channel, on the other hand, allows the customer to use many different channels that are well coordinated. Here, the customer decides what channel to use. They revolve around the customer and they can, therefore, choose their preference.

The idea of omni-channel retail is that the customer is at the centre and can choose which channels and media they want to use. This applies in B2C as well as in B2B.
With an omni-channel strategy, all the information about the product is the same throughout the channels: whether in the physical store, the online shop, app or advertisement. The customer has the possibility to pick up the product in the store, order it to the store, or have it delivered to their home. Returns and payment options should also be the same everywhere.
At the end of the day, the customer should be able to visit any channel (or multiple channels) and the information and experiences should be fluid and consistent.
As multi-channel and omni-channel are very similar, it can be a bit unclear what the differences are. To emphasise the difference between the two, let's look at an example for each.
Multi-channel example
A customer wants to buy a pair of trousers online and uses the app on their phone to have a look at the online shop. They decide they want additional information, so they go to the website. However, the price in the website is different than in the app.
Another example would be if the customer decides to go to the physical shop, the same price as in the app is offered. However, if they want to return the trousers, the conditions are different than in the app.
Omni-channel example
The customer who wants to buy trousers sees an advertisement on Facebook for them. They click on the ad and end up in the online shop.
The customer can immediately say whether they want to pick up the trousers in the shop or have it delivered to their home. The return options are also directly pointed out. Through a chat function in the app, they can ask questions about the product and find the same information again.

The bottom line with an omni-channel strategy is that the customer should have an extremely smooth interaction with your physical and online shop, as the same information is displayed everywhere.
Nowadays, customers no longer see a channel or medium, but they see the brand or company they are in contact with. All (social) media channels overlap so that consumers no longer distinguish between the different channels. As a shop owner, this is what you should be aiming for.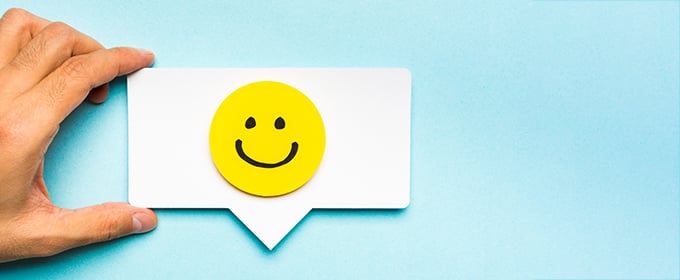 The advantages of omni-channel
It takes a lot of time and effort to set up an omni-channel experience, but is it worth it? Here are some advantages of the omni-channel strategy.
Customer satisfaction is higher
If the right channels are used for the right target group, consumers can use the channel they prefer. In addition, the fact that you have a physical and and an online presence gives your company a "face" and creates consumer confidence.
This fluid experience gives customers a deeper, more satisfied connection with the brand, which should boost customer loyalty. By now, you should know that keeping existing customers is always easier and cheaper (and therefore, more efficient!) than attracting new customers.
Companies with a strong omni-channel strategy retain an average of 89% of their customers. The average customer retention rate is 39%, so that is a significant increase.

A survey by Accenture shows that 75% of B2B customers will make a follow-up purchase from the same provider if it performs well in omni-channel.
Time-saving
Customers can go to the physical store with their products that they purchased online and return them there. In many cases, this saves time for the customer. If it's convenient or urgent, they at least have the option to exchange items in person and they won't have to wait for the new product to arrive.
This flexibility will add to customer satisfaction and can also help boost sales as foot traffic to your physical shop increases as well.
On a side note, having in-store returns may be also be better for the environment.
Conversions increase
Because the product information is displayed throughout multiple channels, consumers are more inclined to actually buy the product. Shoppers get a certain feeling of trust when they know any channel can be used to buy a product and know they are getting the same deal wherever they choose to go.
Bonus download: You can also increase your conversions with an optimised checkout process! Minimise abandoned shopping carts by downloading our whitepaper below today:

Disadvantages of omni-channel
To give you a clear overview of the omni-channel strategy, we should also look at a number of disadvantages that you have to take into account if you're considering implementing this strategy at your company.
Mobile phone threat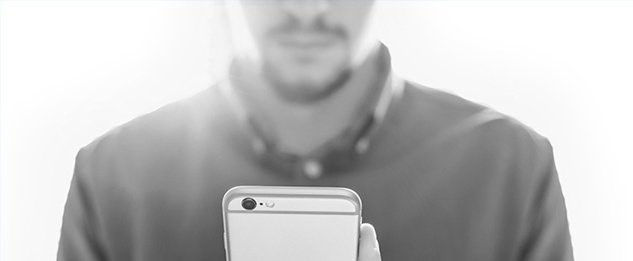 Mobile phones are still often seen as a threat to shop owners. A lot of work is done on showrooming, which means that the customer will look at the product in the physical shop and then search for it online to maybe find it at a lower price.
This can be detrimental to your physical shop. Try to reverse this mobile phone trend so it becomes a positive medium for you. You can, for example, add QR codes to your shelves and shop windows. This way, these shoppers are sent directly to your website and don't end up "somewhere else" while standing in the middle of your shop.
This can also be seen as a way of boosting transparency, another trust-builder.
Change organisational structure
Implementing an omni-channel strategy means that you will have to make some changes within your organisational structure.
Most companies have a traditional marketing department and a separate online marketing department. Similarly, your mobile support may come from the development department rather than the customer support team.
Working this way within your company is difficult if you want to implement an omni-channel retail strategy.
It often happens that these departments work separately from each other and therefore the different channels "stand alone" (this would be a multi-channel experience and not omni-channel).
A better solution would be to have a branding team that takes care of all offline and online branding and positioning.
In addition to that, there should be a sales team that is responsible for the customer journey and the coordination of the different channels. The disadvantage of this is that you have to make room for it and invest time and money in it.
Starting with omni-channel
Now that you know the important things about omni-channel retail, all you have to do is start with it!
But how do you do that?
#1 Set goals
Implementing an omni-channel strategy can't be done overnight, so set small goals. Make these goals specific and measurable so you can always track your progress and how close you are to reaching the ultimate goal.
#2 Know your customer
Omni-channel retail only works really well when you know who to focus on. Find out who your target group is and where they are located.
Create a customer persona to help you. Once you really know who your customer is, you can make the customer journey more personal and customer-oriented.
#3 Map out the customer journey
Now that you know who your potential customers are, it is important to map out the customer journey.
Some questions to ask yourself during this journey are:
What is the route taken by consumers before they buy something from your shop?

And what channels do they use to do so? Is the journey too long or confusing?

Are shoppers cancelling their orders more often on one particular page?
#4 Setting up and using channels
Determine which channels you want to implement and set them up in such a way that they appeal to the target group. Ideally, all of your channels will be optimised eventually. The key is prioritisation.

For example, if your target group is young, then prioritise your Instagram shop (if you have one). Is your demographic more of a "mom" audience? Get on Pinterest!
#5 Optimising and developing
Now that everything is up and running, it is important to continue to measure and develop the result. You have to keep up with the market and make sure you stay up-to-date.
Some quick tips to apply omni-channel to your shop:
#1 – QR codes on the shelves and shop windows
#2 – Virtual shop at the physical location
#3 – Mobile app
#4 – Show quality marks/trustmarks and ratings/reviews on all channels
Pitfalls of omni-channel
Now that you know what omni-channel is and how to get it started with your online shop, it is important to know some of the pitfalls before you start implementing your new strategy. Take the time to set up each relevant channel properly, so you get the best results.
Don't forget to make each channel mobile responsive. Nowadays, mobile phones play an important role in the e-commerce world and you don't want to be seen as out-of-touch or left behind.

Don't focus on all the channels that exist. Many companies think it's good to be available on as many channels as possible. However, this is not the case. Find out where your potential customers are and focus on the channels that are important to them.

If you have a physical store alongside your online shop, there is a danger that the offline experience will become neglected. Keep in mind that your physical store is also a part of omni-channel retail.
Conclusion
In an era where offline and online worlds merge, customers are looking for an experience where these two worlds work flawlessly together. The omni-channel experience offers the customer a smooth, personalised experience that ensures more customer loyalty and higher conversions.
Although it may take a lot of time and effort to make your brand completely omni-channel, it's definitely worth it.

This article was translated from our Dutch blog: Wat is Omnichannel? - De voordelen, nadelen en valkuilen