Many small businesses buy their products from wholesalers and then sell them directly to consumers. It's a very common business model. If you keep an eye on competitors, then you've surely come across other shops that sell the same products as you.
Although your business might be doing just fine (for now), you can't help but ask yourself what you can do to stand out from those competitors selling the same products as you.
Some of these competitors have the advantage of selling on popular marketplaces like Amazon and eBay. Others may have you beat on design. Others might gain an edge with lower prices. So how can you make your shop stand out? The key is to look at the specific elements that can potentially separate shops from each other.
Some points where you can really stand out are:
Let's have a look at some these points in detail...
Pricing and Quantity
Though this might seem pretty obvious, it's worth considering some pricing adjustments here. Lower or discounted prices are always a good way to increase sales, but this strategy may not sustainable in the long run. Let's have a look at some pricing strategies for businesses that sell the same products as their competitors:
Lower prices to penetrate the market
Once again, this advice is based on the fact that you are selling the same products as your competitors. Therefore, using a competitive pricing strategy probably makes sense for lots of shops.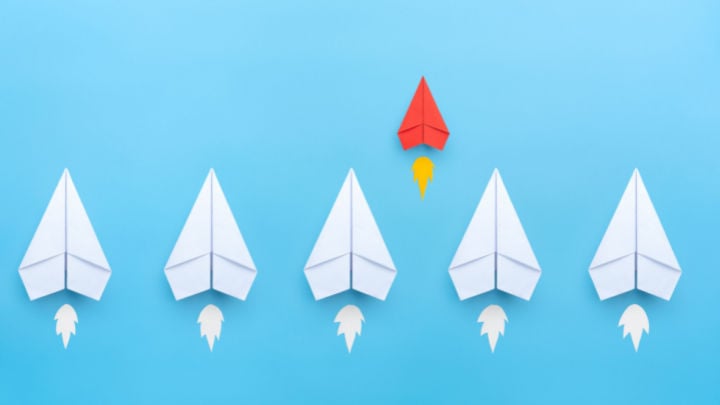 Source: shutterstock.com/Pasuwan
A competitive pricing strategy basically means that your pricing will fall within a similar range as your competitors rather than calculating prices based on business costs and profit margins.
You won't want to go too high or to low from what your competition is doing, so staying within a certain range definitely makes sense.
However, if you're just opening a new business, you might want to start off with lower prices than your competitors. As we mentioned above, you won't be able to keep this up forever... and that is exactly the point.
Recommended reading: How to Create a Suitable Pricing Model for a Business
If you're the new kid on the block, you'll want to make a strong first impression and leave your mark on the minds of your audience. After they've bought from you once or twice and had a great experience, they might end up heading straight to your shop the next time around instead of using a search engine to find the best seller.
Bundle pricing
Bundle pricing is the idea of selling multiple products together at a discount. This works well for businesses that sell complementary products or companies that work in a specific niche.
This strategy is very similar to up-selling and more specifically, cross-selling. To read more about that, check out the link below:
Recommended reading: Increase Sales through Upselling and Cross‑selling

Subscription pricing
Subscription pricing is the idea of having customers subscribe to your service rather than making a one-time purchase.
We've covered this topic as well in our subscription businesses blog, but the basic idea is similar to bundle pricing in the sense that you're delivering a discount based on a higher purchase value.
By getting the customer to commit to purchases in regular intervals (e.g. monthly), they'll pay less than a one-time purchase, while the shop gets guaranteed income for that period of time. This is also a great way to build customer loyalty with your customer base.
Bulk quantity discounts
When it comes to quantity, you may want to consider offering discounts on bulk purchases. Companies like Alibaba (or AliExpress) do this to encourage more purchases at once. You can think of this as similar to subscription pricing except for the fact that all the products are sent at once instead of in regular intervals. Many retailers actually buy their products like this.
Convenience
Lots of people sell quality products online. Making your shop stand out doesn't always have to come down to pricing.
Making your shop more convenient than others is another way to separate yourself. Convenience is such a broad term; it could go in 100 different directions – what does it mean in this context?
Some examples would be to offer more payment options. If you sell abroad, figure out what the preferred payment option is for that market and do your best to make it available for those respective domains.
Besides payment options, you can highlight where your warehouse is located in order to emphasize that you have quick delivery times.
Showing off where your warehouse is could also boost sales for local customers who aspire to be more environmentally conscious. Being perceived as a green business is generally a good thing, don't you think?
Source: shutterstock.com/maxsattana
Highlight your return policies if that's one of your shop's strong points.
If you offer a Buyer Protection to your customers, make sure that your visitors see this somewhere on the homepage, the product page, and during the checkout.
If you offer gift-wrapping, make sure people know that, too.
When it comes to delivery, let your customers know that one-day delivery is an option. Alternatively, if they can take a slower delivery option to save money, make this clear as well.
Finally, if you offer service from different carriers, make that known as well. Generally speaking, consumers love to have plenty of options, and shipping options are no exception.
Selling abroad? Make sure to offer the site in multiple languages. Offering your products in local/different currencies is also a way to build trust in new international markets.
There are tons of ways to show your visitors that shopping with you is more convenient than your competition. Make sure that this information is prominent on your homepage and/or your product pages.
By the way, if you're here because you're thinking of starting your own online shop, make sure to read our blog "How to Start an Online Shop: A Beginner's Guide" and then download the checklist version of it as well!
Customer Experience & Service
We touched on this topic in the last section, but let's have a closer look. Similarly to convenience, you want your customers to know that if something goes wrong, your customer service team will be there to help them resolve the issue as soon as possible and as smoothly as possible.
Things can break, malfunction, arrive late, etc. Everyone knows that things like this can happen, even to the most famous brands.
So, if you pride yourself on your customer experience, make it known that you are there for your customers. You might want to include a chatbot so that shoppers know they can reach out to "someone" at any point.
Perhaps you can add a note on the sidebar letting visitors know that you will get back to any customer enquiries within 24 hours.
If you have a phone number for customer service, make this prominent in your navigation bar. Showing your contact details prominently can a real trust-builder as well.
Recommended reading: 5 Tips for Making Your Website Easier to Navigate
Use trust indicators to your advantage
Speaking of trust-builders, there's a lot you can do for your site to build up trust with new customers.
Unfortunately, negative feedback can sometimes show up in your customer reviews. Have no fear! If you handle the situation in the right way, you can actually turn a negative experience into a positive insight for you and, perhaps more importantly, for your potential customers.
If you can manage to resolve the issue in a timely manner, most customers will be really satisfied. Knowing that they are important to you even after they've paid for the goods can mean the world to a (potential) customer.
The key is knowing how to respond to negative feedback.
Speaking of which, make sure to download our whitepaper on handling negative reviews. Click below to get your copy:
Besides handling negative reviews in the right way, hopefully, you'll have collected plenty of positive reviews as well.
All those positive reviews can really help with your website's search engine ranking as ratings have become part of Google's ranking algorithms. Additionally, all the "new" and relevant keywords that are added to your pages by a constant flow of reviews will benefit your pages from an SEO perspective as well.
Recommended reading:
Why are Customer Reviews so Important for Your Online Shop?
Personally, I have definitely factored customer service reviews into a purchase decision. It makes me feel good knowing that others have had a good experience with your company, especially when things didn't go as planned.
Service reviews are great for your business's reputation, but don't forget product reviews show off the quality of your product line. Having both service reviews and product reviews are essential in today's e-commerce world.
Besides reviews, you can have other trust indicators directly on your website. The Trusted Shops Trustmark can help form your company's image as a trustworthy one. Again, you might not necessarily win over your customers with style or pricing. However, when online shopping, trust is always a must.
Branding and Marketing
You might sell the same baseball caps as the next shop, but your brand image can go a long way in convincing your customers that you're the better shop.
If you sell hip-hop clothing, then your website, your models, and your product descriptions should reflect that.
If you sell high quality cigars, try and touch your customers on an emotional and aesthetic level through your advertisements and in your overall marketing.
Speaking of aesthetics, you should definitely consider the look and feel of your website as well. This includes the fonts, the language/tone, the colours/images, and the general "vibe" of your online shop. Your company logo should also be considered really important when trying to differentiate your online shop.
We've written up an extensive guide on branding and touched on all those important factors. Check out the link below:
Recommended reading: The Trusted Shops Big Branding Guide
Additionally, something as simple as changing your packaging can actually have a huge impact. Considering that unboxing videos have become so popular, there is no doubt that packaging can easily be included as an element of your brand image.
Create a customer persona to help guide your branding decisions
You might want to write up a description of who your typical or ideal customer is (aka buyer persona). This should include basic stuff like their age and gender, but go deeper and see what their core values are, along with their shopping habits, their income, their musical tastes, their fears, and their desires.
This will help you connect with them in your advertising and focus in on them when creating your paid and organic social media campaigns.
Product descriptions
You might think that product descriptions aren't very important. You could just copy and paste some text from the manufacturer's website because people don't really read it much anyway, right?
Wrong! Even if they don't really read it, Google essentially "reads" your website during it's "crawls". If you provide your own texts, Google will see it as original content, thus helping you in your search result rankings.
Besides the SEO advantage, some people do take the time to read it. Similarly to branding, this is an opportunity to speak to the core of your customer group. Use the lingo that your customers use and take the opportunity to display your brand's identity.
Recommended reading:
9 Ways to Differentiate Yourself From Your Competition
Conclusion
If you sell popular products, there's a chance someone else is selling it, too. Focusing in on the right aspects that can differentiate you from your competition is vital, especially if they sell the same (or similar products). Trusted Shops can really help with some of these elements. For example, if your customer service is something you take pride in, a review system like the one from Trusted Shops can help spread the word.