Whether you've just started your online shop or you're considering a redesign: picking the most suitable colours for your web design is crucial. After all, they need to match your brand identity, reflect your brand's values and stand out from the competition.
How can the right colours encourage potential customers to buy from your online shop? Which colours are suitable for your brand and your online shop? In this article, we'll show you how to increase your online shop's conversions by including the perfect colours in your website.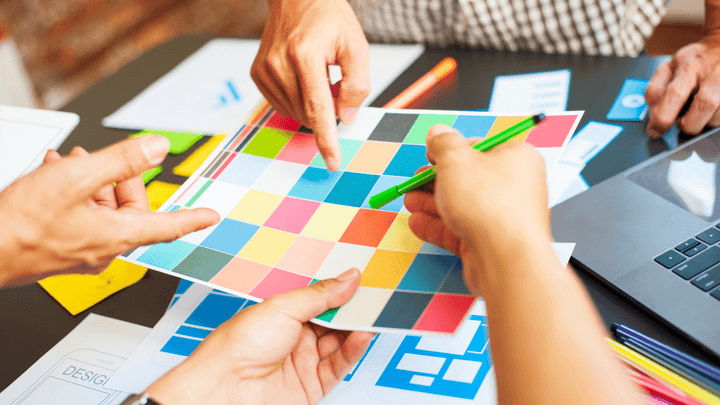 shutterstock.com/Wasan+Tita
Index
1) What kind of impact do colours have on your website?
2) What to consider when choosing the perfect colours for your website
3) 3 free tools that help you choose the best colours for your website
What kind of impact do colours have on your website?
In today's digitalised world, we are constantly confronted with a multitude of visual or audio content.
In a matter of just a few seconds, we discover new content and decide if we want to keep looking at it or if we want to move on. This is the case for content on social media as well as websites we've discovered through a Google search.
As the operator of an online shop, you inevitably want to stand out from your competitors and get your potential customers to stay on your website for as long as possible in order to increase the probability of a purchase.
What role do the colour(s) on your website play in all of this?
1. The colours on your website represent your brand identity
Just like your logo or company's name, colours are an integral part of your marketing identity.
Sometimes, all it takes is a word or an emoji for the associated brands to be recognised.
In a similar way, colours play a crucial role in your branding. By the way, some brands are recognisable just by their colour(s) and an associated quote or symbol.
To see how much a colour can represent a brand's identity, let's do a little test now! Which brand comes to your mind when you see the following combination of colours and symbols?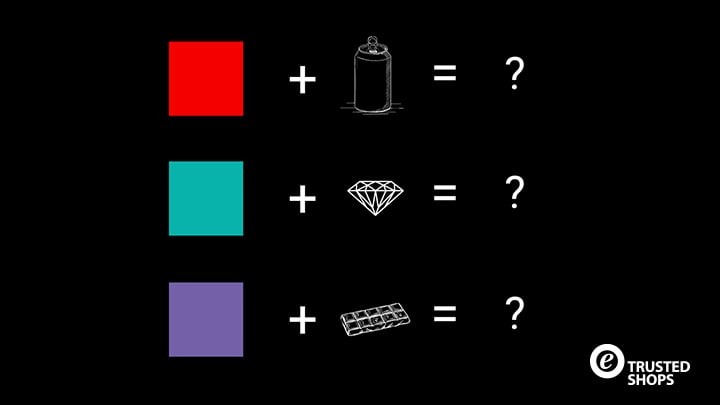 Find the solutions at the end of this article...
In our example, we are talking about big brands that are enormously well-known in their industry. However, you should still dare to compare and set yourself the goal that one day your brand will be just as easily recognised by a set of colours.
Recommended Reading:
The Big Branding Guide: Logos, Social Media and Much More!
2. Colours attract the attention of potential buyers
The visual aspect of your website doesn't only represent your brand identity, but also shapes the very first impression customers get of your brand. As you surely know, it's the first impression that counts, especially in e-commerce.
Potential customers may very well leave your shop before they've visited your product pages (or your "About us" page to learn about your brand) if the design or colours don't match or aren't used consistently.
Why? Because a website like this wouldn't seem trustworthy enough to make a purchase from.
Instead, attracting potential buyers with the right combination of colours is a profitable strategy that will pay off and should therefore be an integral part of your conversion funnel.
3. With the right colours, it's easier for customers to remember your brand
Think of it this way: For our brain, it's way easier to absorb and retain new information if it is illustrated with a colourful image.
Black and white visuals, on the other hand for example, attract much less attention than visuals in colour.
4. Colours stimulate our senses
What do we mean by this? Let us put it like this: depending on how well they are chosen and used, colours can, in fact, positively influence the buying decision of potential customers.
An appealing colour choice can make visitors stay longer on your online shop's pages and, according to Colorcom, even increase the recognition value of your brand by 80%.
What to consider when choosing the perfect colours for your website
Let's now look at what you need to consider before your new web design goes live.
1. Getting to know the significance and impact of colours
As we have already seen, choosing the right colours has a big impact on how your brand is perceived by potential customers.
First, you need to define a clear goal you are aiming for as a brand and what message you want to convey.
Being familiar with the psychological effect of different colours can help you choose the right colours for your online shop.
To give you an overview, let's have a look at the meaning of two cold and two warm colours.
Blue: Blue is certainly the most commonly used colour on web pages. It usually represents trust and security.
Industries that tend to use blue colours: finance, insurance, aviation, technology, health.
Green: This colour radiates serenity and is reminiscent of nature and tranquillity.
Industries in which green colours are usually used: Energy, ecology, agriculture, home, gardening, etc.
Red: The use of this colour attracts attention and gives energy to your message or corporate identity. It is also the colour of passion. However, be careful not to overdo it with the use of red colour tones to avoid oversaturating attention.
Industries that tend to use red colours: Gastronomy, technology, automotive industry, etc.
Yellow: Hope, optimism, light or creativity – these are some of emotions that are mainly associated with the colour yellow. Yellow is a colour that radiates confidence and dynamism.
Industries in which yellow colours are often used: Gastronomy, energy, household.
In general, you should keep in mind that cold colours are associated with calm and serenity, while warm colours evoke associations such as passion and dynamism.
Choosing the right colours for your website is not that easy and it's important to consider other criteria besides the psychological aspect.
Note: To avoid overdoing it, you should concentrate on a maximum of 3 different colours for your website's design.
2. Combining different colours
As we already indicated, it's not enough to know the psychological effect of colours. In fact, the way of combining colours also has an influence on the perception of your brand.
Depending on what kind of impact you want to make with your colours, you can use so-called analogous colours.
When talking about analogous colours, we refer to the ones that are next to each other on the colour wheel, such as green, yellow, and orange.
Combining analogous colours will provide your online shop with a calm and harmonious design. However, make sure you keep a good contrast between your analogous colours by varying the brightness.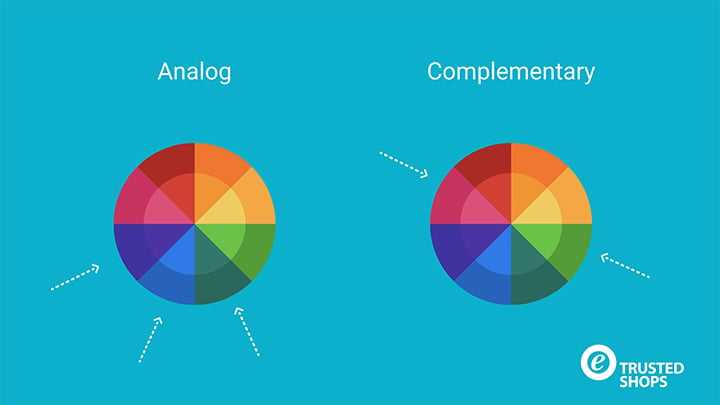 Using complementary colours that face each other on the colour wheel, on the other hand, will lead to your website looking more "dynamic". Also, it helps to emphasise essential elements like the navigation bar or the shopping cart icon.
Recommended Reading: 5 Tips for Making Your Website Easier to Navigate
A colour combination like this, for example, can be used for call-to-actions on your order page (e.g. an orange button on a blue background).
3. Adapting your colours according to the customer journey
Once you have settled on a specific corporate design, you will be tempted to use your colours consistently throughout your online shop.
However, we recommend you to adapt the mood and appearance of your website to the customer journey. Doing so, you'll ensure that your website offers the best possible user experience.
On your homepage, make sure to attract the attention of visitors with bold colours and a contrasting font colour. Focus on visual elements (images or videos) and only use as few text elements as possible and limit the amount of detailed information you provide.
On your product pages, on the other hand, you should preferably use softer colours to highlight images and product descriptions.
For the tail end of the consumer journey (i.e. from the shopping cart to the order page), we recommend you choose an even softer design, but keep a strong contrast for your call-to-action buttons.
On these pages, the focus should be on the visibility and harmony of the design so that customers can easily complete their order.
4. Consider your target group
Another important criterion you should consider is your target group. You may end up going with different designs for different target groups.
Without falling into clichés, you might use a different design if, for example, you want to address a primarily female audience (soft colours, pastel tones) than if you focus on a primarily male audience (more contrasting colours).
Also, consider the age of your target audience when choosing colours for your website. For a young audience, go for dynamics and bold, quirky colour combinations.
In addition to the age and gender of your target group, also consider their culture of origin. The colour white, for example, usually stands for purity in Europe, but will be associated with sadness in India or Morocco.
Recommended Reading:
Target Groups on Social Media: How to Find Your Potential Customers
5. Make sure to stand out with your corporate colours
An important tip that you should also definitely consider before selecting colours for your website: remember to check the web design of your competitors.
You don't want your brand identity to get lost in the crowd, do you? Then you need to be careful not to follow the typical colour scheme of your industry.
Let's take an example. If you sell coffee, you will probably be tempted to choose a brown or black shade to match your logo and web design to the colour of the product.
The well-known coffee chain, Starbucks, did this when it was founded in 1971. But these weren't the colours that made the company famous. Rather, the company became world famous when it adopted a solid green as a symbol of freshness starting in1987.
What can we learn from the Starbucks example?
If you are less of a risk-taker, of course, it's a good idea to design your online shop according to the products you sell.
However, if you really want to stand out, you need to ask yourself what kind of energy and impression you want to communicate to your potential customers and above all, ask yourself what could visually set you apart from other players in your sector (and still reflect your brand image).
Note: Some brands have patented their corporate colours. If you are in the same industry, it is better to avoid a colour that is too similar. Another reason, to analyse the websites of your competition.
3 free tools that help you choose the best colours for your website
Nothing beats the expertise of a professional web designer to help you find the perfect colours for your website.
However, nowadays there are more and more tools that allow you to do the selection yourself. Here are some useful (and free) tools:
Colours
This provider offers ready-made colour combinations, but also the option to create your own colour palettes and edit the individual colours accordingly.
A small disadvantage of Coolors: you cannot be sure that you will get an original design and it could be a bit risky to combine the 5 colours suggested by this tool.
Adobe Color
With Adobe Color's colour wheel, you have a more creative setting. You can even extract the colours from an image you like or even from your already existing logo.
Here is an example of the colours we were able to extract from an image in one of our Trusted Shops offices:

Canva Color Generator
Just like Adobe, Canva offers its own colour generator.
What's more is that you're even allowed to export your design to your Canva account where you can adapt all of your templates to the colours of the chosen palette. You can then use these templates for social media posts or other marketing publications, for example.
Conclusion
Choosing the perfect colours for your website will allow you to engage with you customers throughout different stages of their customer journey.
Thanks to an original and colourful graphic charter, your potential customers will be attracted to your website and will be more likely to remember your brand later on.
Take the time to think about the emotions you want to convey with your brand and combine colours, brightness, and contrast wisely.
You will see: an appealing web design will ultimately lead to more conversions for you and your online business!
By the way, here are the solutions to our quiz from above:
1st brand: Coca Cola
2nd brand: Tiffany & Co.
3rd brand: Milka
---
This article was originally published on our French Trusted Shops blog: Comment choisir les bonnes couleurs pour votre site internet ?