Assessing a shop's trustworthiness can be a difficult task. We've all been there: visiting an online shop we've never heard of before and trying to figure out if the shop is trustworthy or not.
You'll probably do what we've all done: start snooping around the website looking for clues that will tell you whether this shop will rip you off or not. Online shoppers in such a position are more likely to start with a cynical perspective because of either first- or second-hand experience.
Being unknown to the user means that the burden of trustworthiness falls on the shop. In other words, the shop has a limited amount of time to prove that that the user should feel safe completing a purchase there.
It's quite easy to build mistrust. For example, spelling mistakes are a big no-no for many online shoppers. Bad quality images. Lack of contact information. Things like that are usually the fastest ways to lose a potential shopper's interest.
With that in mind, let's look at a few of the most common questions a shopper may ask themselves when trying to assess a shop's trustworthiness:
#1 Is this shop trustworthy?
Although this may sound like an obvious question, it is most definitely the first thing someone thinks when arriving in a shop they've never heard of. If they found your website through Google or a Facebook ad, there's a good chance they're asking themselves how trustworthy your shop is before they've even clicked on the link.
With that in mind, it's clear that your first impression is going to be very important. So, the question you've got to ask yourself, as a shop owner, is "how can you build trust at first sight"?
A lot of elements can be quickly scanned when someone arrives on your website.
Here are few more questions to ask yourself regarding website elements that impact first impressions:
Is the design of your online shop clean or is it cluttered?
Is your website easy to navigate?
Do you have high-quality images?
Is your company contact info easy to find?
Do you have any active trust-builders on your site like awards or accreditation?
The first four points on the list should be relatively easy to address. It may still require you to get some external feedback, but if you are relatively self-aware and honest with yourself, you may be able to address these questions yourself.
What about that last question... about trust builders?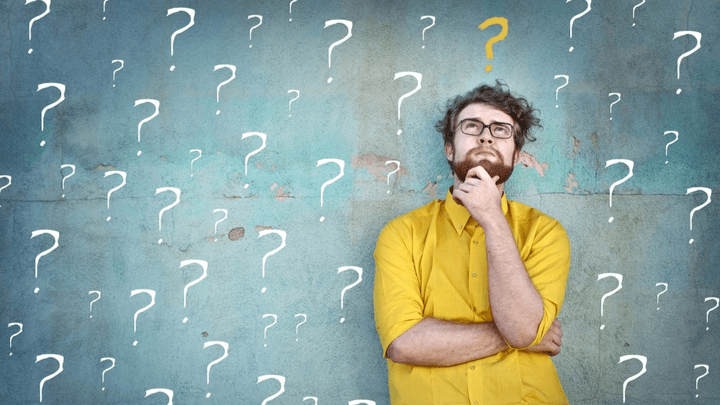 Source: Shutterstock.com/Ollyy
Depending on your niche or industry, there may be a few directions you can go in. There may even be multiple options.
For example, if you sell Fairtrade products, you may want to look into what it takes to be able to display the logo in your site.
If you sell award winning products, you can also display those awards in your footer or even on a dedicated page on your website created solely for your awards and certifications.
Look how Dotty Fish has done it. No matter which page you are on, they proudly display their awards in their footer, all of which are clickable for more information: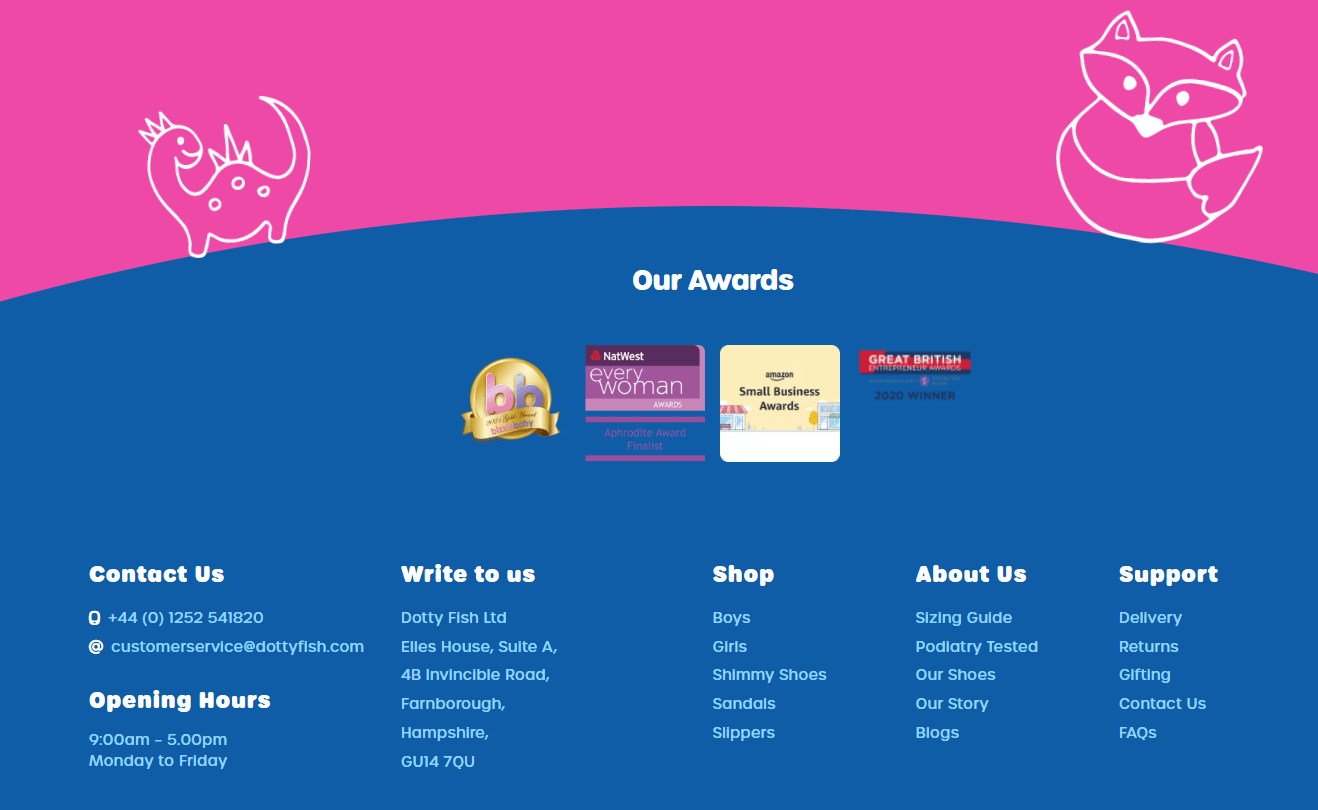 Alternatively, you can do what Future Shop has done and create a dedicated page on their website to display all their awards: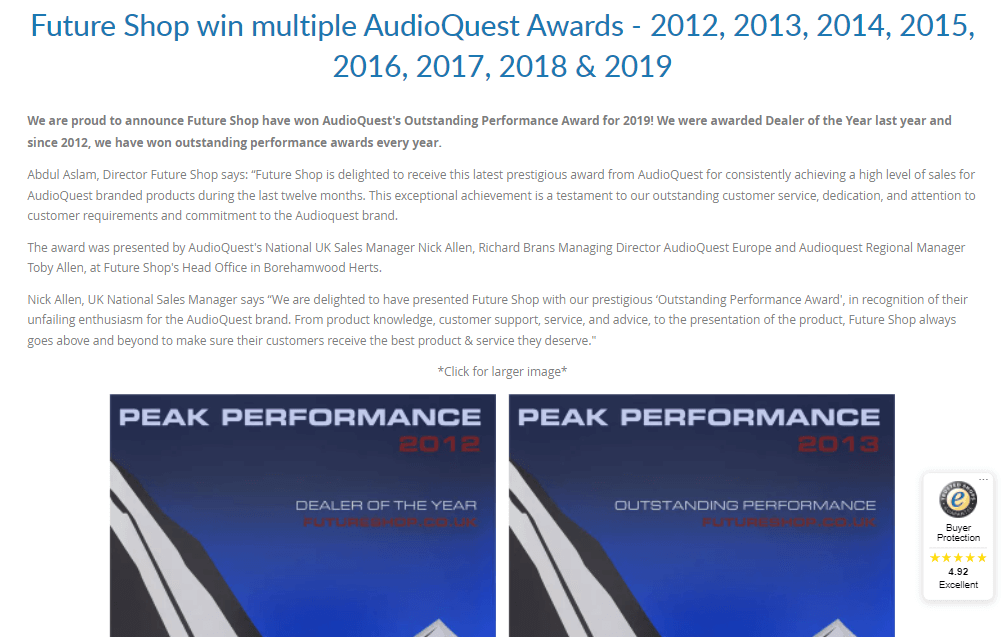 Future Shop not only shows off their awards here, but you may also notice the "Buyer Protection" badge on the right side of the screen.
This clickable widget is actually is the Trusted Shops Trustbadge. It allows users to learn a little bit more about a shop's trustworthiness.
At the core of the Trusted Shops Trustbadge are:
Let's start with the Trustmark including Buyer Protection and how it's awarded:
The Trustmark is awarded to shop's that pass a special audit process that is based on EU and local regulations. Only shops that follow those guidelines can be awarded the Trusted Shops Trustmark.
Now, a certification is only as good as the protection it provides. Behind the Trustmark is the Buyer Protection. This provides shoppers with a 30-day protection for non-delivery or protected non-refunds.
The Trustbadge widget also provides access to the shop's customer reviews (more on that a bit later).
There are many customisable display options, but in most cases, the Trustbadge can be seen throughout the website (and during checkout) to remind users that they are in a legit and safe online shop.
#2 Will the product I receive be as expected?
Is there anything worse than the old "bait and switch"? It's probably happened to all of us at some point, whether it's the image of a juicy hamburger on TV or a used car, this ancient and shady business practice has caused a lot of people stress and disappointment over the years.
Although that might not be what your online shop is all about, in the digital world, this is often still a big concern for shoppers. On the one hand, shoppers can be very excited to find a product that seemingly fits their needs perfectly. On the other hand, there can be some hesitation buying from an unknown shop.
There is a really simple solution for this when it comes to first impressions. Showing off your product reviews is a great way to assure new website visitors that your offer is legit and that what you see is what you get.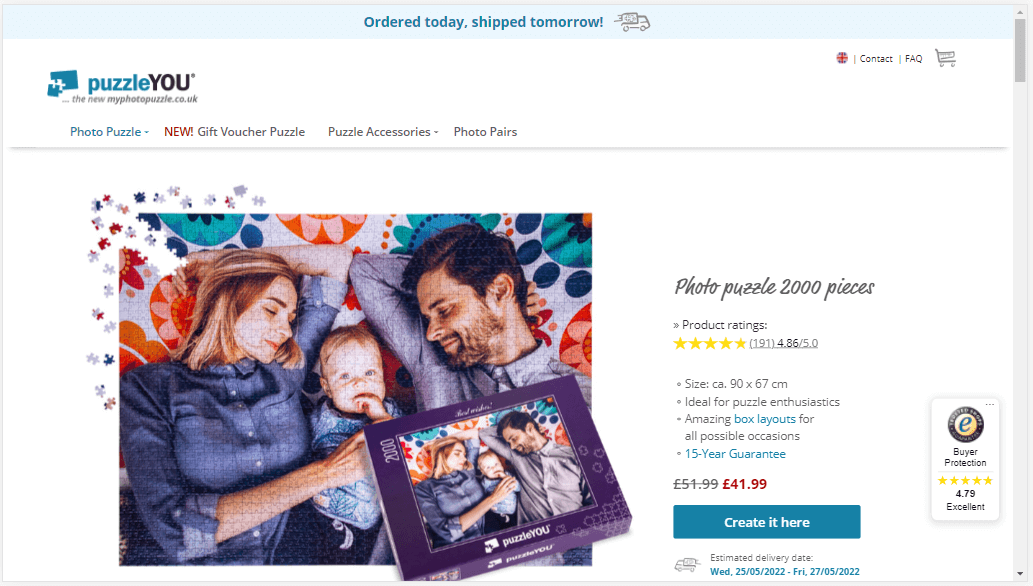 191 customers can't be wrong! Myphotopuzzle.co.uk displays their product reviews (in red box).
Having product reviews on your product pages is simply a must these days. Not only does it reassure your customers about the quality of the product they are considering buying, but it does so without the need to leave your website. On top of that, reviews collected by a Google-certified reviews provider can benefit your search engine marketing efforts as well.
Is the service from this shop reliable?
After they've been convinced that your products are real and your site is safe, one last question that might come to mind is how good your shop's service is.
After all, your products might be great, but are the deliveries on time? What happens if a product arrives to the consumer broken? Customer service has become more and more of a deciding factor when consumers shop online (or offline for that matter).
Give your shop's visitors insights into your service. This can include information on deliveries, packaging, pre-order service (chats, emails, FAQs) and post-purchase service (customer service, tech support).
Look at this example from international wine distributor, Millésima. They've placed some of their service reviews right on their website to put potential customers' minds at ease: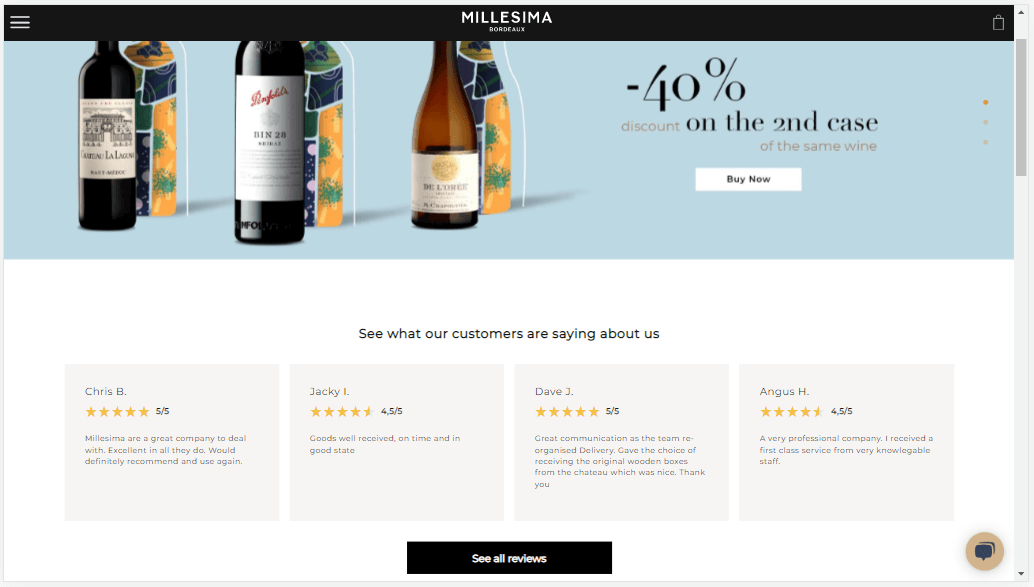 Speaking of product pages, remember that many elements can help drive customers to finalise their purchase from your business. Get some insights with our free whitepaper. Just click on the button below:
Conclusion
Online shopping has been on the rise for over two decades now and has been pushed even further along in a post-pandemic world. As each demographic gets more and more comfortable shopping online, it's on shop owners to prove their trustworthiness to their site's visitors. Be proactive when building confidence. For more information on Trusted Shops products, feel free to contact us.