An unboxing video can be your marketing leverage, a tool for both customer acquisition and retention. How can you achieve that? Find out in this blog!
If finding the right audience is difficult, be prepared because that's only the tip of the iceberg. Modern customers are like spoiled kids. They live in a constant excess of goods, easily available and at increasingly competitive prices.
As customers, we are getting lazier, too. If you want to order a new TV, you no longer need to drive all the way to your local electronics shop. You can simply head to Amazon and before you know it, you're waiting for the package to arrive. All without needing to leave your comfy sofa (until the doorbell rings!).
In a world increasingly fueled by online sales, it can be extremely difficult to acquire customers.
Your customers are bombarded by a bunch of your competitors every single day. Online retargeting, social media advertising, affiliate programs - there are a lot of ways to grab their attention. And the fact is that:
your marketing tricks are your competitors' marketing tricks, too.

your discount is going against their discount.
It gets even more difficult once you've won the attention of a customer. Why? Because you need to make sure this customer comes back to you.
However, you're about to see that this isn't as bad as it seems. By creating great value for your target audience, you can inspire them to turn to you for transparent insights into the products you offer.
In this article, you will find:
information on the unboxing experience as a customer retention tool

how unboxing videos might help you acquire customers

how an awesome unboxing experience helps you gain independence from big brands like Amazon
The idea of an unboxing experience
At its core, "unboxing" is the process of recording the moment when a certain product is opened and removed from the packaging it was sold in.
You might ask yourself - why would anyone watch others opening boxes?
Consider these statistics below:
Over 90,000 people type "unboxing" into YouTube every month.

There are almost 40 unboxing videos with over 10 million views.

Products range from phones and clothing to action figures and bedding, in languages from Portuguese to South Korean.
There are several reasons for the incredible popularity of unboxing videos.
Most importantly, each and every adult (including you and me) is a grown-up kid.
Remember Christmas time when you were little? The tingling feeling you got when you unwrapped presents from under the Christmas tree? That was a moment of sheer excitement. Nothing could take your eyes off those shiny presents.
The same mechanism works today when you're older and wearing a tie. When you order a package from Amazon or eBay (or any e-commerce shop in general), you expect it to look great. You look at the box and "judge the book by its cover". It's an experience that you want to cherish from start to finish.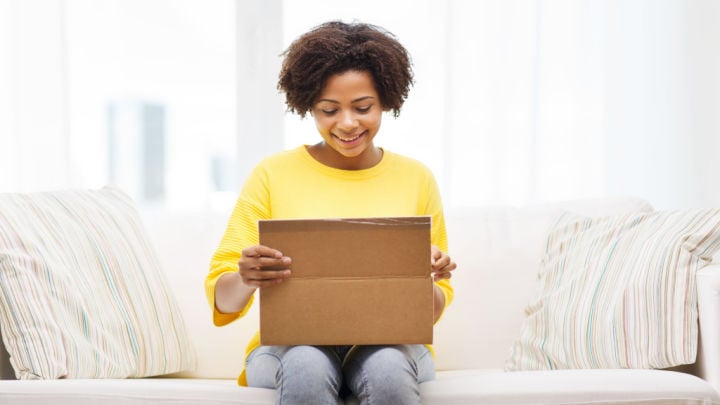 Source: Shutterstock.com/Ground Picture
And if it's a memorable one, you very well might buy from that brand again.
That's the foundation of the unboxing videos. People like to watch these videos, because it reminds them of that excitement. There is that emotional element that they relate to whenever they watch an unboxing video.
Naturally, it's not just an emotional thing. Unboxing videos are also a way for customers to conduct "market research" (similarly to searching for product reviews).
Before you purchase those lovely headphones or subscribe to a monthly box of premium clothes, you want to be sure it's a great product. That's when an unboxing video becomes relevant. An unboxing video is usually very descriptive - you can really learn all the necessary details about any particular product.
It's a natural space for your product to shine.
How can you leverage unboxing videos in your marketing strategy?
Thanks to unboxing videos, customers receive information about your product. But here's a question - isn't this the exact role of your website?
Obviously, it is.
But an unboxing video is not made by your request (unless it's a paid collaboration). Usually, they're created by one of your customers, so they can share their opinions. In other words - it's social proof.
You probably might be afraid that only the most visually beautiful products become topics of unboxing videos. Indeed, you tend to see a lot of videos like the one below.
You can tell that it is a professional production. The camera work, the setting - they all look professional. Moreover, it's Apple - the design guru, the benchmark for us all. You simply can't compete with their brand strength.
But don't you worry – unboxing videos aren't necessarily done this way and they aren't always about the biggest brands out there. Look at this video:
Not quite as professional as the previous one, right? It still has over 400,000 views!
The idea of unboxing isn't supposed to be an expensive promotional video. It might be like that, but it's not a necessity. Many channels do get more professional over time, but the whole point is to show the contents of a package (and the box itself). In order to do that, all you need is a camera and a microphone.
If you want to get the attention of an influencer that specialises in unboxing videos, you should keep one or two things in mind- like the tips below:
For starters, unboxing videos are usually focused on details.
Since unboxing is essentially a video describing both the product and the package, every detail of your packaging matters as much as your product. Your package will look a lot more attractive if you include something extra - a label, a catch-phrase, a memorable pattern printed on the box. You can create an abstract design with vivid colours or go fully minimalist. Anything that will attract the attention of your customer.
A fantastic idea that might inspire you is Loot Crate and their printed box. After opening the box, the customer sees the catch-phrase "tips for the perfect unboxing", with a suggestion to take a photo of the box and share it online. Pure genius, isn't it?
The unboxing experience of Loot Crate is immediately improved with that simple trick. The box is interactive in a certain way, with a killer marketing idea included. Imagine if every third customer of yours would post a photo like this: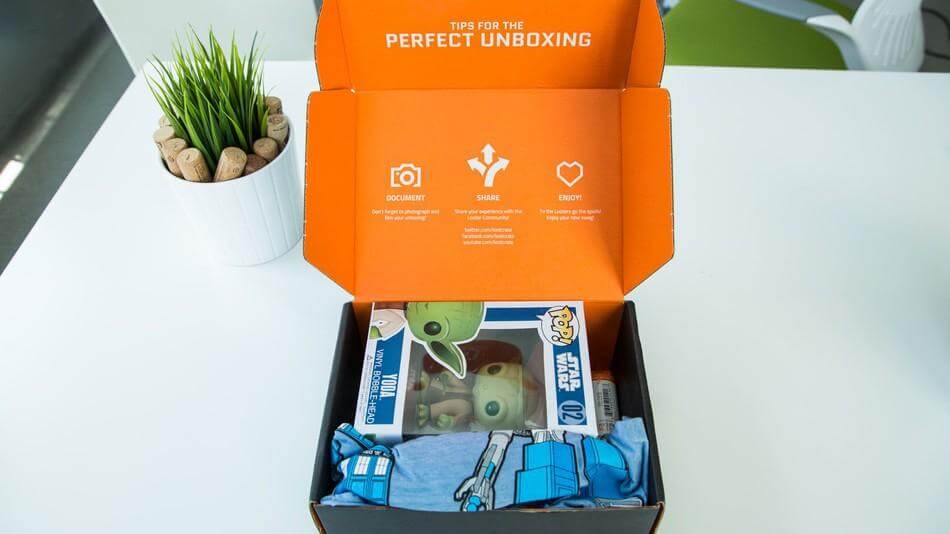 (source: Mashable)
Furthermore, remember that YouTube isn't just a place where people watch Minecraft videos or listen to music.
They also go there to learn. Unboxing videos are your customers' source of knowledge about you. If you want to elevate unboxing in your marketing strategy, be prepared for a scrutinized look at your product.
From a marketing perspective, YouTube is a search engine. While you probably focus on getting your site ranked as highly as possible on Google, YouTube is your second go-to platform when it comes to SEO and marketing.
Unboxing experience, customer acquisition, and retention
Let's imagine a situation where your product is the topic of an unboxing video. You reached out to an influencer, they received your package. You are positively reviewed, and the video is out there for the world to see.
Would you want to invest your time in promoting it?
The answer should be yes, because this unboxing video is a perfect customer acquisition tool.
People, who don't know much about your brand, get an extensive look at it from someone "outside" your company. An influencer is not biased, because their primary goal is to build a community and remain credible. Unless you pay them to make a promotional video, it's their honest opinion.
Beauty subscription boxes are great benchmarks for measuring the benefits of unboxing videos. Influencers create multiple video-reviews of monthly sets, brand comparisons, etc. And companies like Glossybox or Birchbox treat these videos as a social proof.
It's just like websites that gather customer reviews. No shopper wants to throw away their money just like that. Social proof is very important these days.
An unboxing video is also a customer retention tool.
A customer who has bought your product once is harder to be surprised and, moreover, expects more. Future purchases depend on adding value and enriching the bond. You have to maintain your high quality, but you can't be boring either.
That's another reason that designing a clever unboxing experience can be very beneficial. Try including a personalised thank-you note in the next shipment or add a sample of your upcoming product. Give your customer a reason to love you even more.
In terms of an unboxing experience, think of designing your packaging in a more complex form. Add tissue paper inside of it, rebrand your boxes from time to time or introduce seasonality in your packaging design.
Independence from Amazon
Is there a relationship between gaining independence in the e-commerce market and an unboxing experience?
Since this question was asked, you can be sure there is.
Amazon has dominated the e-commerce world in just a few years. The numbers speak for themselves. Amazon has grown from $7 billion in annual revenue in 2004 to a jaw-dropping $136 billion in 2016. Currently, Amazon is a hegemon in the U.S. and seems very keen on capturing a significant slice of the Europe pie.
Source: Shutterstock.com/maxsattana
On the other side, there is your brand: a small shop that wants to have full control over every step of the process. If you do not sell via Amazon, you almost seem to be in a "David vs. Goliath" situation. But just as that story ended well for David, you have a chance at winning, too.
Your winning recipe includes both a great unboxing experience and a smart delivery process.
Recommended reading:
Should I Only Sell in Marketplaces Like Amazon and eBay or Focus on My Own Website?
While Amazon has nailed the e-commerce game in many ways, their unboxing experience is horrible. If you do a bit of social media research, you will often find pictures and posts like this: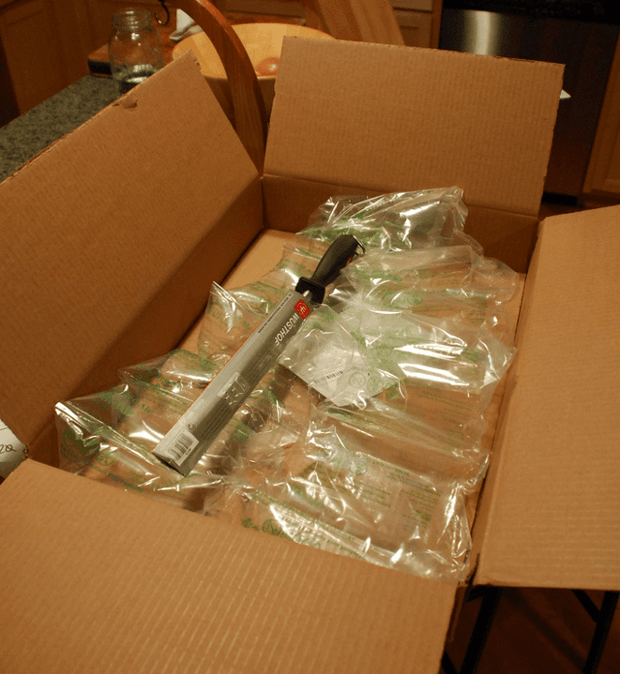 (source: Gizmodo)
The photo above gives you an idea, doesn't it?
One of the things you can do better is using the box size correctly. Manage the space inside your packaging with fillers. Don't choose plastic airbags, but instead - go green and show some love for the planet. Add wood or tissue paper to provide cushioning and create a more premium effect.
Amazon has been criticised often for its lack of eco-awareness. That creates an opportunity for you. You can draw inspiration from hundreds of small brands that build their value by being eco-friendly. Choose simple boxes made from corrugated cardboard and make sure it's all recycled.
A high quality unboxing experience is also your winning ticket.
Amazon sellers are not in control of their packaging. But you can be. By creating a memorable experience with your package, you create a bond with your customer. This is a way to pave the way for future retention. On top of referral programs, special discounts, and offers of product bundles, your packaging will make your customers care.
The future of unboxing
The popularity of unboxing experiences will continue to grow, but it will also significantly change in the future.
We're still waiting for YouTube to fully embrace the possibilities brought on by VR sets. But imagine the moment when an unboxing video is seen from a first-person perspective. You would experience the unboxing process first-hand while still on YouTube.
To conclude, your unboxing experience influences your business in many different ways. If you're looking for a way to stand out from the crowd, associate your brand with memorable moments. The more unique you are, the longer your customers will stay with you.
BONUS DOWNLOAD: Learn how your online shop can use YouTube with our free whitepaper.