In the last couple of years, mobile apps have significantly grown in popularity. Along with it, the e-commerce industry has grown immensely as well. Is there a way to profit from both of these developments?
In this article, we'll take a look at what shop owners like you should know about in-app purchases. Also, find out about in-app advertising and how to use it to promote your shop. Keep reading to learn about social commerce and how to sell your products through apps like Instagram, WhatsApp, or TikTok.
In today's article, we'll answer the following questions:
More and more internet users use their mobile devices to browse through websites, watch videos, or purchase items online. In fact, e-commerce experts who keep track of the current trends are expecting mobile commerce to continue growing and increasing its impact on online shopping in the future.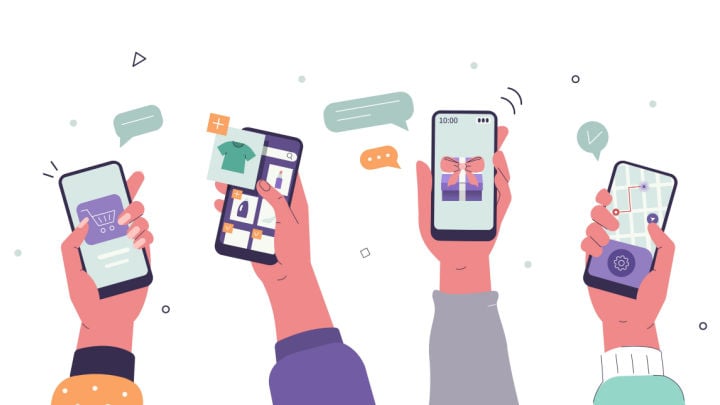 Source: shutterstock.com/Irina Strelnikova
According to Jmango360, internet users that own mobile devices such as smartphones or tablets spend 90% of their time browsing through apps, as opposed to only 10% of their time that they spend browsing through websites.
Also interesting is the fact that on a global scale, Android smartphones outnumber Apple devices by far: In 2020, people downloaded around 109 billion apps from the (Android) Google Play Store, compared to 34.4 billion that were downloaded through the Apple App Store. Research by eMarketer recently revealed these numbers.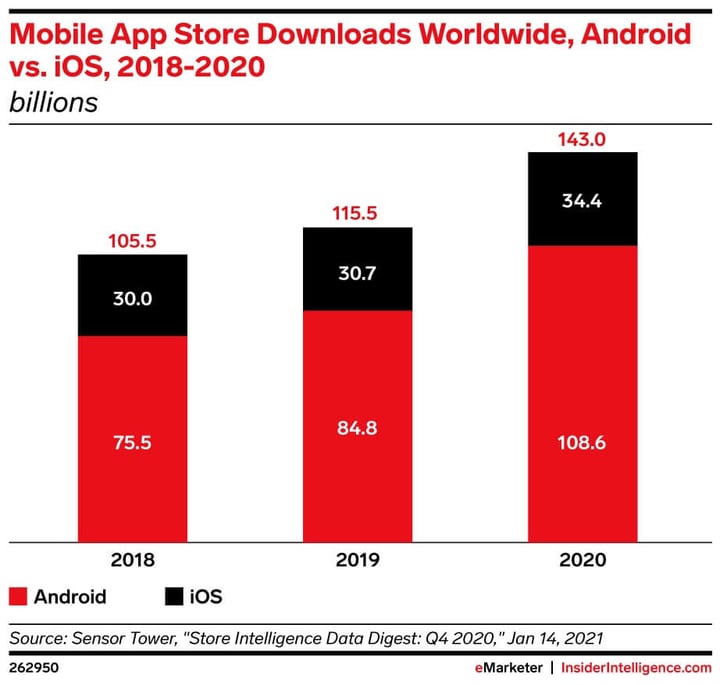 With all this in mind, let's take a look at what strategies shop owners can follow when it comes to selling through apps:
In-app advertising
One of the most popular methods of generating sales through apps is to run ads that are displayed within an app. In-app ads are banners, videos or other visual advertising formats that are integrated in the standard version of a mobile app; something you've surely seen before.
According to the respective operating system (e.g. Apple's iOS or Android by Google) and device, there are different options available for integrated advertisements.
Banners, interstitials (pop-ups that are visible at a certain point when using the app) or rich media ads (videos or animations starting at certain points in the app or while the service is loading) are only displayed when users go to an app using their mobile device such as a smartphone or tablet.
In contrast to ads that are displayed on websites or in the browser, in-app ads are tied to specific applications.
Recommended reading: Advertising Your Local Business on Waze
They are often displayed in gaming apps, but can also be sponsored posts or tweets on social apps.
You can, for example, use Google Ads to show your ads in certain mobile apps.
However, some users may regard in-app advertisements as spammy or annoying which is why we suggest you inform yourself more about this topic before investing your marketing budget in in-app advertising. Either way, you should try creating ads that don't come across as spammy to achieve the best marketing goals!


Either way, there are plenty of benefits to advertising in an app as opposed to a mobile website. For example, targeting tends to be better because of the first-hand data connected to the user's device. Also, ad-blocking technology is not as effective on apps as in browsers. According to Smaato, people tend to spend a lot more time on apps than in browsers when they're on their mobile devices (3 hours and 35 min vs 25 min).
What are in-app purchases?
In-app purchases, as the term already suggests, is all about purchasing items, subscriptions, or additional functions directly through a mobile app.
Apps, often within the gaming app industry, allow their users to buy services, content or special features that aren't available on the standard or basic version of an app.
With this strategy, developers release a free version of their app, which then offers users in-app purchases. Through in-app sales, developers are still able to profit despite allowing downloads of the app's standard version for free. It's basically like the freemium business model.
However, app stores like the Apple App Store or the Google Play Store inform users before downloading whether a certain application offers extra paid services or content within the app.
Still, as this statistic shows, the revenue of in-app purchases has grown significantly (consumers spent over $110 billion on in-app purchases in 2020). Other data suggests that the revenue is also much higher than the revenue generated by pay-to-download apps.
Now that we've talked about the growing importance of apps, let's take a look at how you as a shop owner can specifically benefit from using apps to sell your products.
How to generate in-app sales with social selling
Although shopping has traditionally always been considered a social activity, with Social Selling (aka Social Commerce), this has deepened even more. Users now have more possibilities to learn about new products, access the product catalogue of a shop, or even buy items directly via social media apps.
Businesses, on the other hand, benefit from this shift and have even more possibilities to reach out to customers and generate sales for their shops.
That's why we'll now talk about how you can use specific social apps like WhatsApp or even YouTube to facilitate social commerce.
WhatsApp
The Facebook owned messaging app, WhatsApp, has about two billion users worldwide. For that reason alone, it's the perfect place to reach out to potential customers and sell your online shop's products.
It has already been possible to communicate with customers directly in WhatsApp chats for quite some time. However, WhatsApp recently introduced a couple of features to make purchasing products within the app possible.
How selling products in WhatsApp works
In 2020, Facebook decided to launch new features that simplify the purchasing process within the WhatsApp messenger app.
WhatsApp Business users can therefore create a catalogue to showcase and share their products in the app.
Customers can choose a product or service they're interested in and share it with their friends or get in touch with the business to ask questions about the presented products.
Since November 2020, the messenger allows users to learn about a retailer's available products in the chat and then even buy them directly in the chat as well.
WhatsApp therefore offers the possibility for users to ask for product catalogues in a chat, view them directly in the app, and even complete the order there. Afterwards, it's still possible to clarify further order details in the chat process.
In the following December, the Facebook owned company then introduced another feature to help businesses sell their products in the app: WhatsApp 'Carts'.
With the 'Carts feature', WhatsApp users can browse a catalogue, select multiple products, and send an order as a message to the business. This will make it simpler for businesses to keep track of the load of order inquiries, manage requests from different customers, and close sales.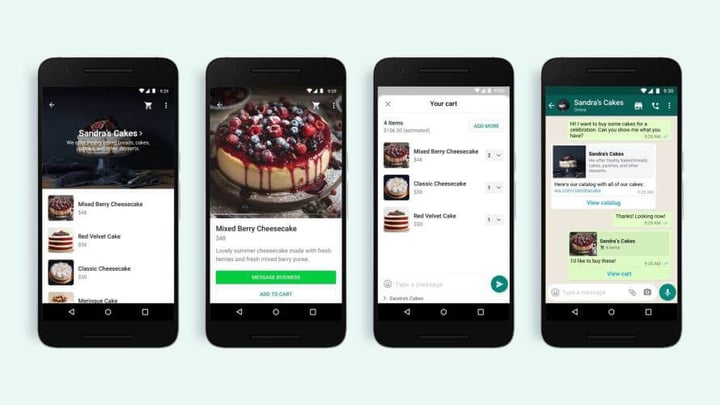 Source: Facebook blog
With WhatsApp seeking to extend its e-commerce features and business options, introducing your products in the app could turn out to be a great opportunity for your business.
For more details on how the shopping cart feature works, take a look here.
TikTok
The most popular app in 2020, video app TikTok, doesn't only serve as an entertainment platform anymore.
Since October 2020, the company has been partnering with Shopify to promote the sale of products shown in video content in the app. Shopify merchants have been able to access the TikTok for Business Ads Manager via their Shopify Dashboard.
Recommended reading:
What is the Best E‑commerce Platform for Your Online Shop?
This cooperation hasn't led to direct sales in the video app, but was definitely a further step towards simplifying sales via TikTok.
However, the Chinese company just decided to expand its e-commerce options for businesses. As the Financial Times reported, TikTok has informed advertisers about a series of new functions for the application in 2021. This includes a tool that would allow the most popular users to share links to products and thus automatically obtain a commission for sales.
According to the Financial Times, TikTok also seeks to include the option for brands to create catalogues of their products, similar to the product catalogues on Instagram and Facebook.
For now, shop owners will have to focus on just advertising their business and products in the app until the planned e-commerce options are officially rolled out.
Stay tuned as we'll let you know when new features are enabled.
Sign up for our newsletter now to catch all the important news (e.g. in our biweekly news-feature that is E-commerce Compact) and tips and tricks in the e-commerce world.
Instagram
Instagram, the popular photo and video sharing platform with more than 1 billion monthly-active users, also offers some e-commerce features within the app.
Instagram Shopping is a set of features that allow users to purchase the items that businesses showcase in photos or videos no matter where they are in the app. Shopping on Instagram is not an entirely new feature, but it has been increasingly refined and expanded.
With 'Shops', the Facebook owned service introduced a hub in May 2020, making it possible to showcase the brand and their specific products in the company's feed.
"People can visit a shop from a business' Instagram profile or through Feed and Stories. Once they're at the shop, people can browse products, explore collections, and purchase products — seamlessly through our in-app browser or without leaving the app from shops with checkout, " Instagram explained on its business blog.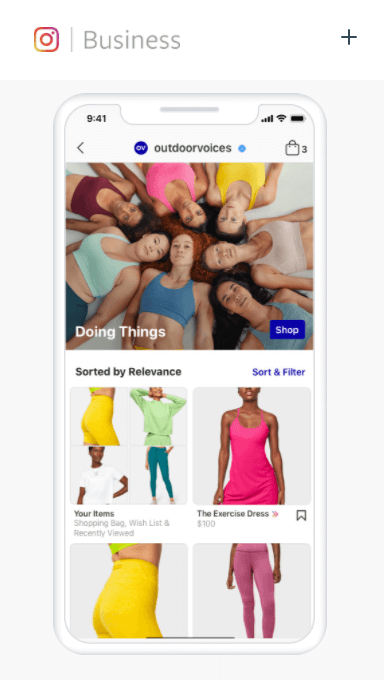 Source: Instagram Business blog
With the checkout feature that was already launched in 2019, users can place an order directly in the app.
In November 2020, Instagram decided to even change the home screen in the app, introducing both the new 'Reels' tab and the 'Shop' tab.
"With the Shop tab, we're making it easy to get inspired by creators you love, shop on Instagram, and support small businesses. You can find personalized recommendations, editors' picks curated by our @shop channel, shoppable videos, new product collections, and more", the social platform explained.
This big change made it obvious once more: the company intends to strengthen its focus on e-commerce and in-app sales.
Recommended Reading:
Boost Sales with an Influencer Marketing Campaign on Social Media
How selling products on Instagram works
In order to start showcasing and selling your products on Instagram, you need to (if you don't have one already) sign up for an Instagram Business profile. This account also needs to be connected with your Facebook business page.
Once you have successfully set up an Instagram Business profile, you can start creating and connecting your product catalogue. In order to do so, you need to synchronise the catalogue with one you've already set up for your Facebook Business page. If you didn't create a product catalogue on Facebook yet, use Facebook's Catalogue Manager to do so.
It's also possible to let your e-commerce platform, like Shopify or BigCommerce, help you set up the catalogue for Instagram and Facebook.
After this set-up is done, you can sign up for Instagram Shopping on your Business profile. This will allow you to tag your products in the content you share on both your Instagram feed and in your Stories.
Recommended Reading:
How to Improve Your Social Media Marketing with Hashtags
Facebook
With Facebook 'Shops', as we already touched in the section earlier, businesses have the possibility to set up a shop on the platform that customers can access via Facebook and Instagram.
For now, the actual in-app order and checkout process is only accessible in the US, the United Kingdom, and Canada. However, shop owners worldwide can already set up a product catalogue to showcase their brand and relevant products.
How selling products on Facebook works
In the Facebook app, business users living in the regions where Facebook Shops has already been launched, can use the already mentioned 'Catalogue Manager' to upload and manage products (either manually or via their shop system).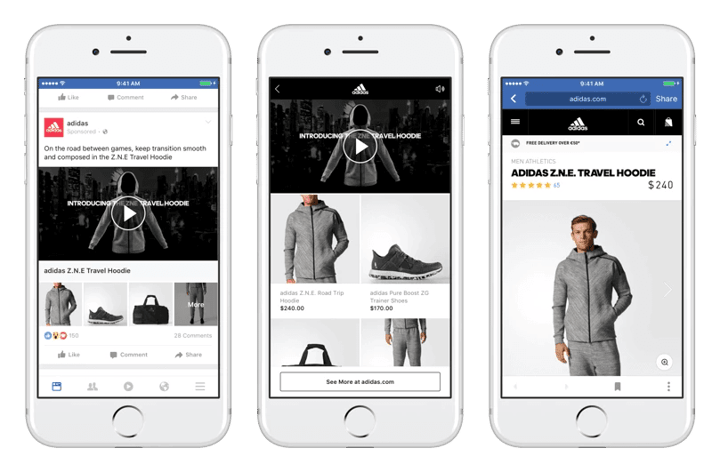 Facebook Shops currently supports e-commerce platforms like Shopify, Bigcommerce, Feedonomics, Channeladvisor and some other US-based solutions.
If a shop system is connected to Facebook Shops, the incoming orders are managed within the shop system; If you work without an external partner system, you can use the 'Commerce Manager' to manage your orders.
The 'Commerce Manager' is where retailers manage all the organizational aspects of their shop in Facebook: orders, retailer and tax data, as well as the transaction and reverse processing.
Facebook users buying products via the platform can reach out to brands through WhatsApp, Messenger, or Instagram Direct to ask specific questions, get support for their order, track deliveries, and more.
Recommended Reading:
5 Beginner Tips for Targeting Shoppers with Facebook Ads
YouTube
YouTube has also confirmed plans about wanting to turn the popular video platform into an e-commerce platform by simplifying purchases directly on the platform. Learn more about these plans and what we can expect in the future in this version of our biweekly e-commerce news series.
Also, find out about YouTube's latest development: the platform is now testing 'product tags' in videos.
Recommended Reading: How to Use YouTube for Your Online Shop
Conclusion
Mobile devices and social apps have changed the way we live and now shape our everyday life. That's why mobile commerce is evolving and is likely to drive about 73% of the worldwide retail e-commerce sales in 2021, as Statista data shows.
Tech giants like Facebook and Google are therefore expanding the e-commerce options for their social apps in order to keep up with the mobile shift.
As a shop owner, we recommend you to always try to stay up to date with the latest trends. Using social apps to not only promote your online shop, but to directly offer your products within the apps, can significantly boost sales for your business.