What are the newest insights in the world of e-commerce? In this edition of E-commerce Compact, find out about the fact that in-app purchases were more popular than ever in 2020. Also, learn about LinkedIn insights on user behaviour and usage of the platform. Keep reading to find out about a new regulation for UK parcels with EU destinations and an exciting new feature possibly coming to Google Chrome soon.
Consumers spent more on in‑app purchases
In 2020, the numbers of in-app sales reached a new peak and increased by 30% compared to 2019.
SensorTower found that consumer spending on Apple's App Store and Google Play in 2020 reached new records as $111 billion were spent on in-app purchases, subscriptions, and premium apps worldwide.
Looking a bit deeper, the Apple App Store generated significantly more sales ($ 72.3 billion) than the Google Play Store ($ 36.6 billion).
Besides gaming apps, the entertainment app industry (with apps like TikTok or YouTube), saw the most user spending. Growing by 29.3% on a year-over-year basis, Apple users preferred making purchases in this category.
In the Google Play Store, user preferences leaned towards purchases in the social category, thus spending on apps like Google One or Disney+.
Source: SensorTower
First-time installs in the App Store and the Play Store also achieved record revenues in 2020. Together, the two app stores reached around 143 billion first-time downloads.
Both the Photo & Video category and the Tools category recorded particular growth.
While entertainment and social apps are booming in many parts of the world, this can also apply to apps such as the Zoom video conferencing service as an effect of the stay-home restrictions due to the coronavirus pandemic.
Source: SensorTower
2020 may have changed consumer behaviour significantly. Entertainment and social apps were already quite popular. However, since the outbreak of the coronavirus, they've grown even more in popularity.
Video service apps like Zoom and WhatsApp were able to benefit from the spatial restrictions. However, the biggest winner of the past year is likely to be the trendy app, TikTok.
Recommended Reading:
What is TikTok and How Can You Use it to Promote Your Business?
LinkedIn gives insights into user behaviour & marketing opportunities
In an infographic, LinkedIn recently shared exciting insights about users and their usage of the platform to persuade B2B marketers to build a marketing strategy for promoting their business on the platform.
For marketers planning to continue or start new marketing campaigns, the information provided by the platform can help to decide whether or not (and to what extent) LinkedIn should be a strategic channel in terms of promoting their business.
With over 706 million users in more than 200 countries, the platform has definitely grown in popularity and reach.
LinkedIn is also slowly expanding its focus from B2B to other branches.
Spoiler alert: In the infographic, it becomes obvious that video content plays an important role on the network as this trend has been vital on other social media platforms as well.
Recommended Reading:
5 Top Tips for Generating E‑commerce Leads through Video Marketing
According to data shown in the graphic, LinkedIn found that brands whose ads had been seen on the platform were perceived by users as "more professional" or "more intelligent".
UK parcels with EU destinations: custom forms now required
UK carriers like Post Office and Royal Mail are warning consumers that because of Brexit, parcels with a EU destination containing goods or gifts must now have a custom declaration form attached.
With the United Kingdom now officially having left the European Union, the custom declarations rule now also applies to parcels and packages that are being shipped to EU countries.
The new rule applies to anyone sending parcels from England, Wales or Scotland to any EU country.
However, the custom form doesn't have to be filled out in the case of people from the UK only sending letters, postcards, or documents to an EU-member country.
According to the British Post Office carrier, 45% of their international parcels have EU countries as their destination.
Chrome Cart: New Shopping feature in Google Search?
Tech giant Google has recently released some hints about the new experience it is currently developing for its search engine: a function that will enable users to directly see a purchase module that will be integrated into the Chrome browser.
A few weeks ago, Chrome Story web author Dinsan Francis shared her discovery of the "Chrome NTP Cart Module" within the Chrome source code: "At first, I thought this was just a new name for existing shopping suggestions. Then I found a tag that groups all the code changes related to Chrome Cart".
Reportedly, the new shopping feature for Search seems like some sort of a widget that you can include in new tabs, storing the shopping carts of different online shops.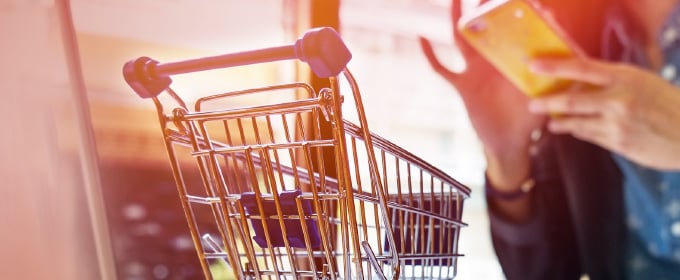 So far, websites that are known to support this feature are Walmart, Amazon, eBay, Etsy, Target and H&M.
There is still a long way to go until we know for sure what features this module will enable.
However, Chrome Story predicts the following:
Chrome Cart will gather information from different websites or online shops, all in one place.

It may be that the module will also include a comparison feature to show different product prices from different online shops.
For now, nothing has been officially confirmed by Google. As soon as there is news about "Chrome Cart", we'll let you know!