Did you make use of Google's Rising Retail Categories tool? During the pandemic, Google released this free tool to the public in order to help retailers during the times of uncertainty. In essence, it was designed to give retailers insights into the most trending consumer product searches in order to help them optimise their product offers.
The tool looked something like this: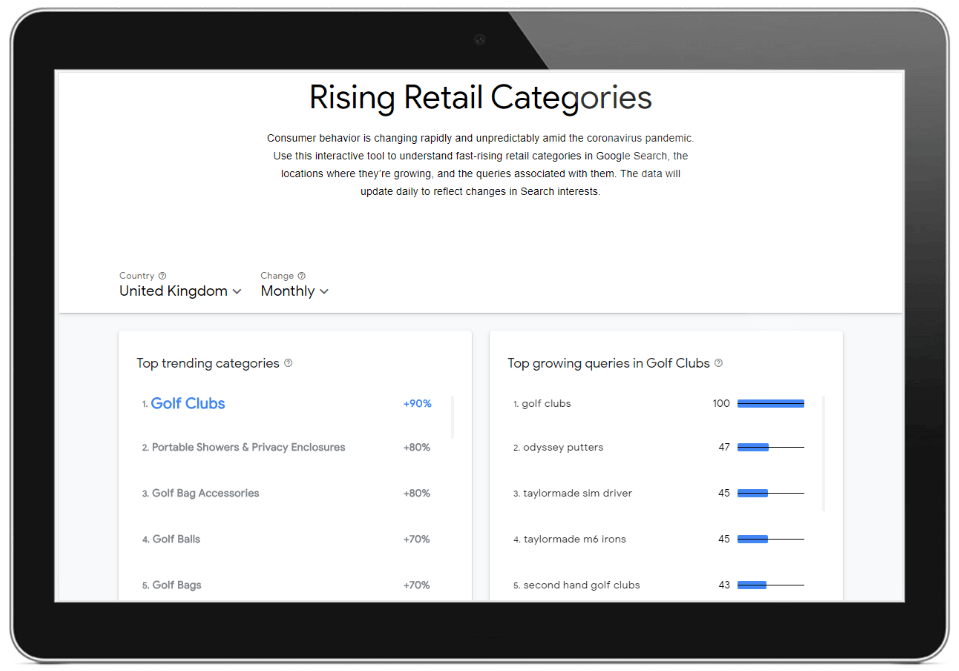 As the pandemic slowed down and life slowly started returning to normal, Google removed the tool early in 2022. According to Google's support pages, they have since replaced the tool with a feature in Google Ads alongside some other tools meant to support companies in their attempts to optimise their business activities. Let's have a look at some of these tools today.
Insights Page in Google Ads
As mentioned, Google shifted their Rising Retail Categories tool back towards their advertising platform, Google Ads. This "replacement" tool is known as the Insights page. The idea is that these insights also provide data more closely related to your business.
What that means is that these insights are based on the ads you run. Google will give you information about trends across Google that are relevant to the products and services you advertise. Many of these insights will give a high level of detail regarding what is working (and what might not be working so well).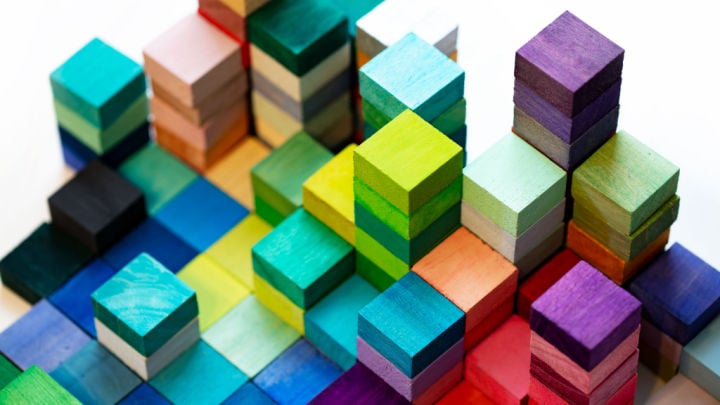 Source: Shutterstock/optimarc
The Google Insights Page can be found on the left side of the screen once you've logged into your Google Ads account. At the top of the Insights page, users will see a summary of the top insights: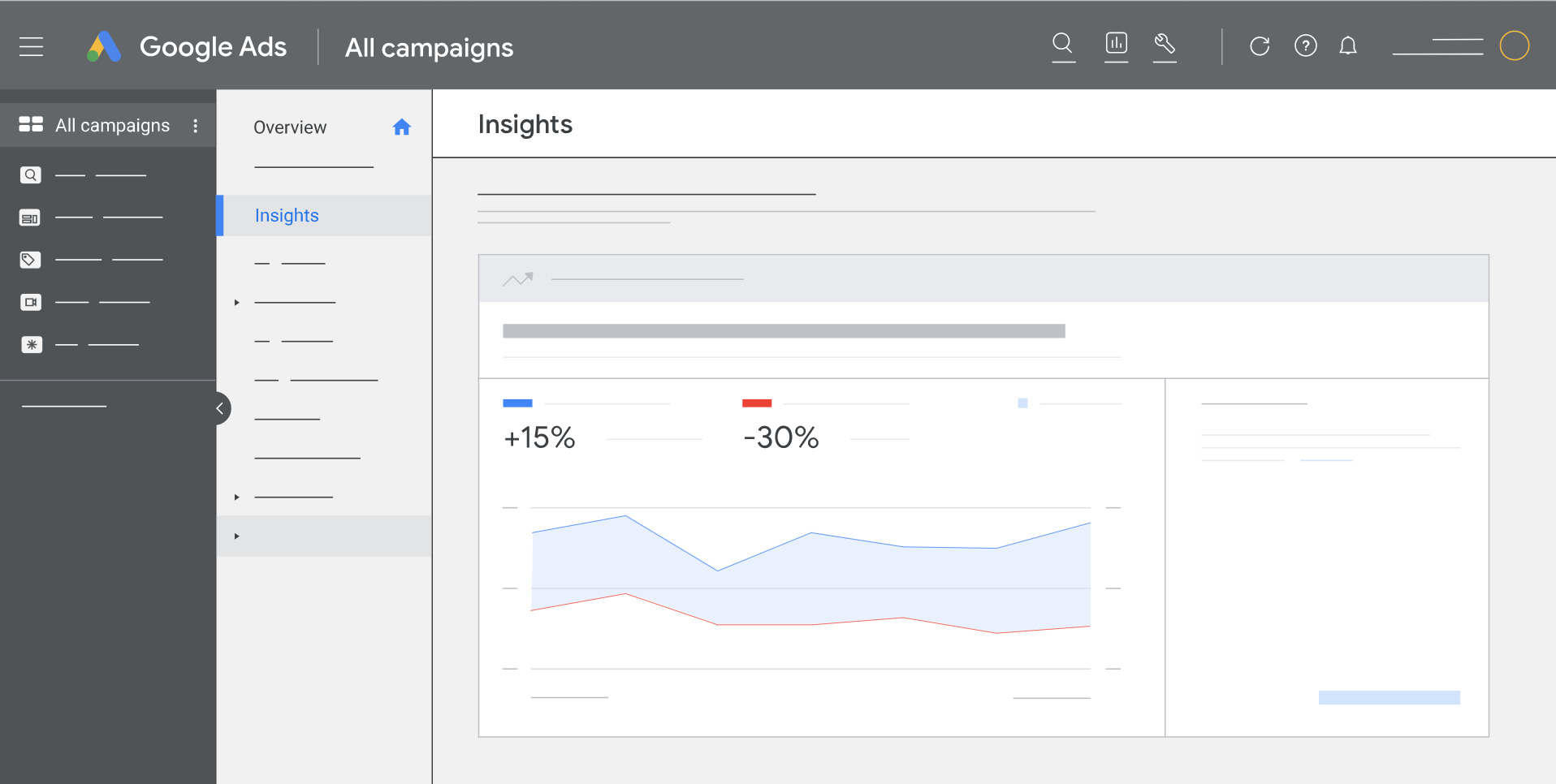 Within the Insights Page, there are different sections meant to give you specific information. Let's look at some of the most useful ones:
Search Trends
One of the most similar tools to Rising Retail Categories is Search Trends Insights. These insights are intended to help advertisers understand the search interest for products and services relevant to their business. Generally, you'll find insights on both your existing ads as well as opportunities for you to advertise a product you aren't currently advertising.
By having these trending insights on searches and consumer behaviour, advertisers can plan better campaigns. Advertisers could adjust their budgets, focus on different keywords, or even create new campaigns for other products.
In the example below, we see insights into searches related to "tents" over the last seven days. Here, we get insights into specific keywords, search growth, search volume, and the effect on your clicks: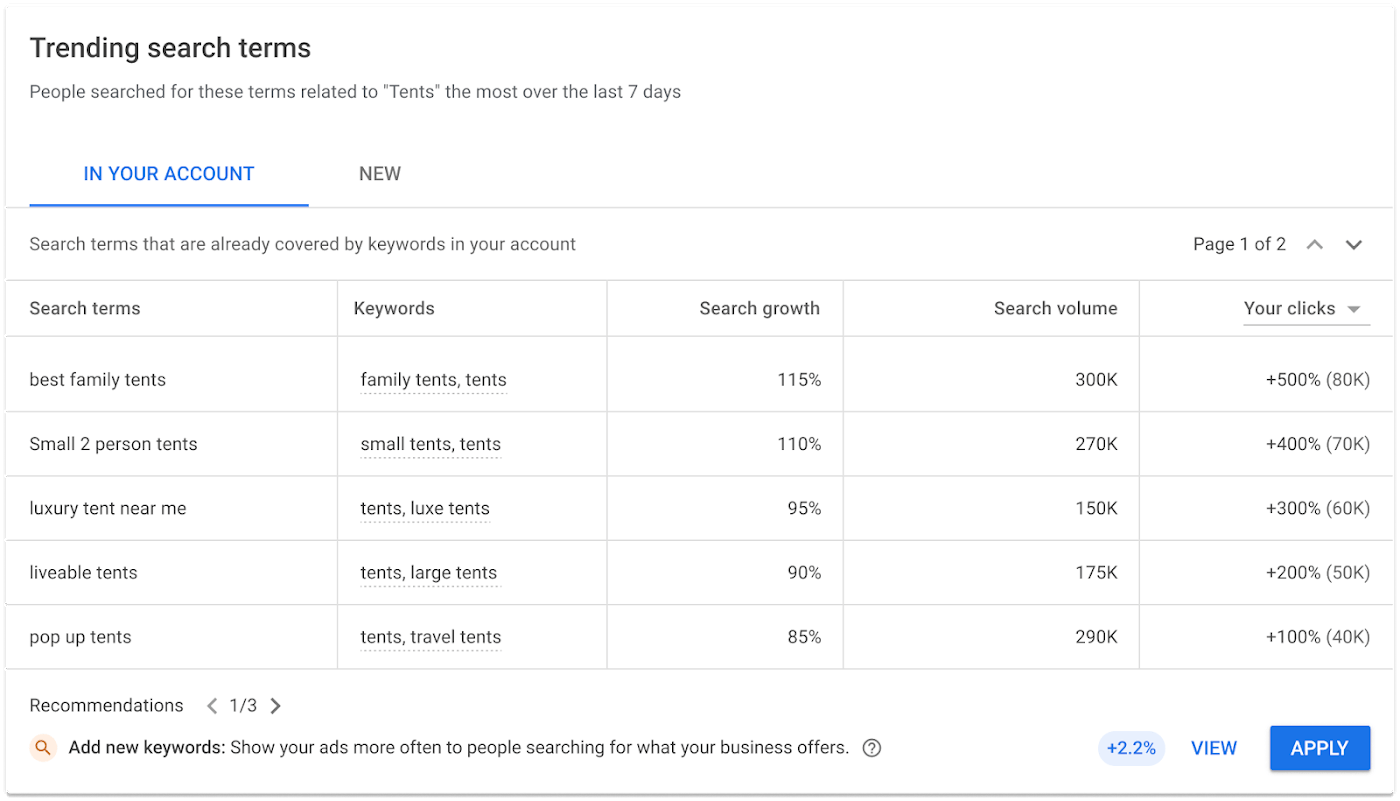 You can read more about Search Trends on Google's support pages.
Demand forecasts
With Demand Forecasts, advertisers can get predictions on upcoming trends that are relevant to their business. Once again, these insights are tailored to your business, thus making this tool even more insightful than the Rising Retail Categories tool.
Using historical data, advertisers are made aware of potential products and services that may receive an increase in search interest within the next 180 days. This gives shops plenty of time to prepare their next campaigns.
Once again, you'll see two types of insights: You'll get information regarding the ads you currently run as well as suggestions for ads you don't run but may be relevant to your business.
With a big picture perspective in mind, these insights can help you identify less known events for your industry. For example, you might start noticing that sales for tents go up in the first week of March. Or if there is a trade fair in your niche (e.g. board games), sales might increase within the period directly before and/or after the event.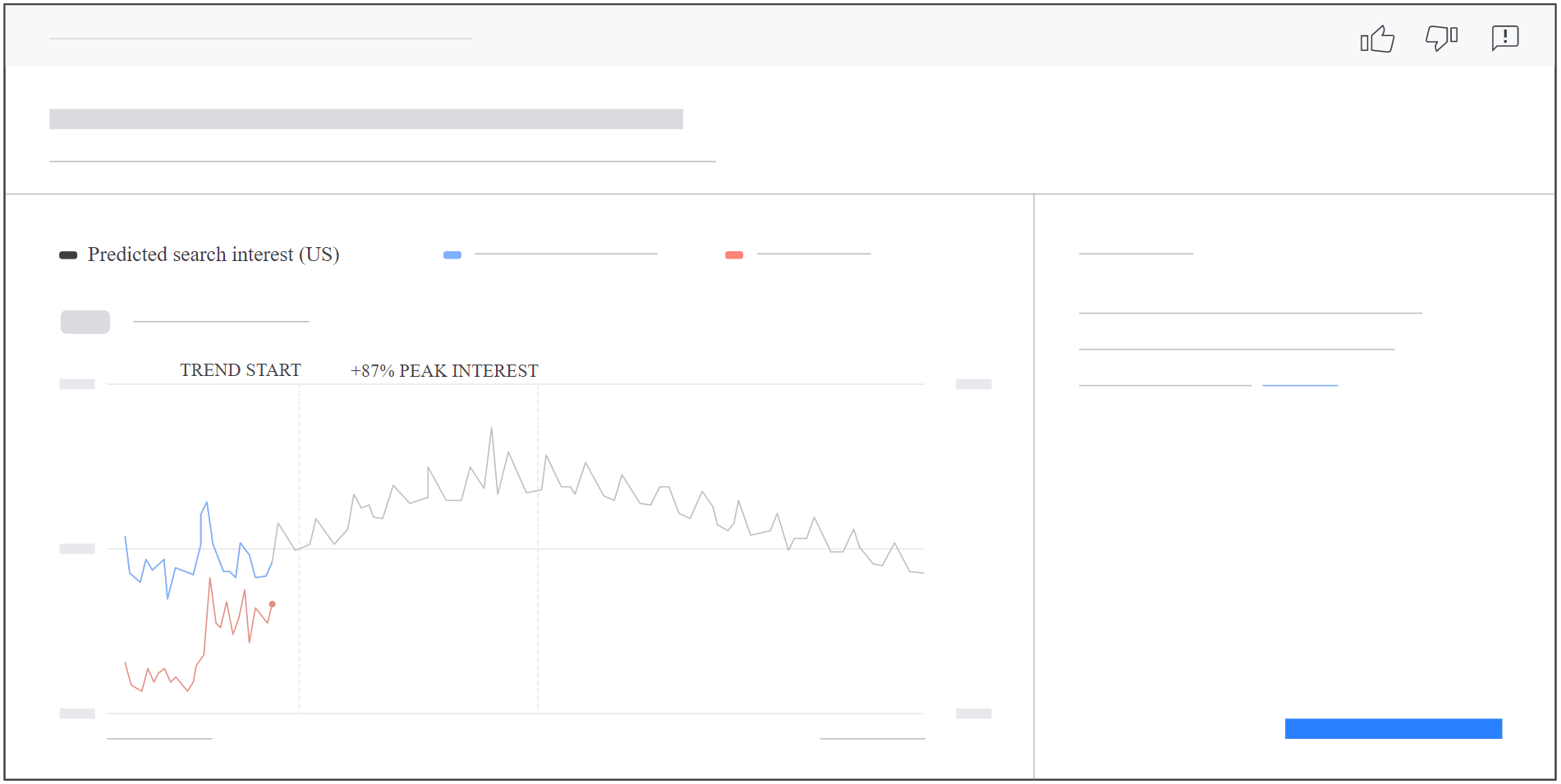 Users will see recent data alongside the predictions for the near future. As the demand starts to increase, you can track the performance in the Search Trends section mentioned above.
Read more about Demand Forecasts on Google's support pages.
Search Term Insights
With the Rising Retail Categories tool, users could see trending categories in retail and the search queries connected to them. The Search Term Insights section dives a bit deeper into the search terms used to discover your business (specifically, your ads). The search terms are broken down into search categories and subcategories.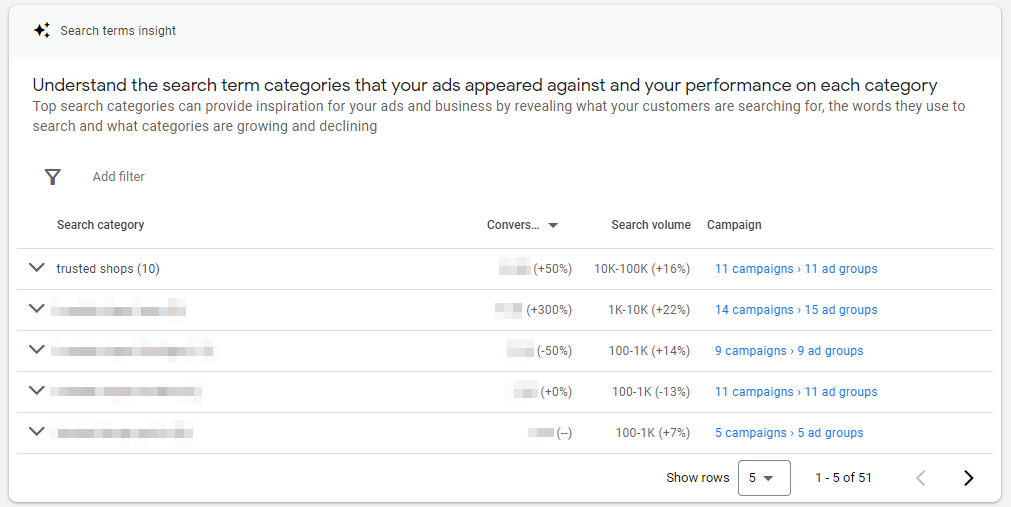 With these insights, shops can optimise their campaigns, landing pages, and product pages (and product descriptions) to improve their performance.
Read more about Search Term Insights on Google's support pages.
Want more information on keyword strategies? Check our whitepaper below:
Audience Insights
Audience Insights, as you might expect, gives you information on those who view your ads and convert. By getting insights into the unique characteristics, interests, and behaviours of your audience, you can optimise your campaigns and offers to better suit your best customers.
This can be particularly useful for advertisers who use automation features such as optimised targeting and automated bidding. You'll get information on these segments, including information on conversions and how your ads perform with the audiences you've targeted.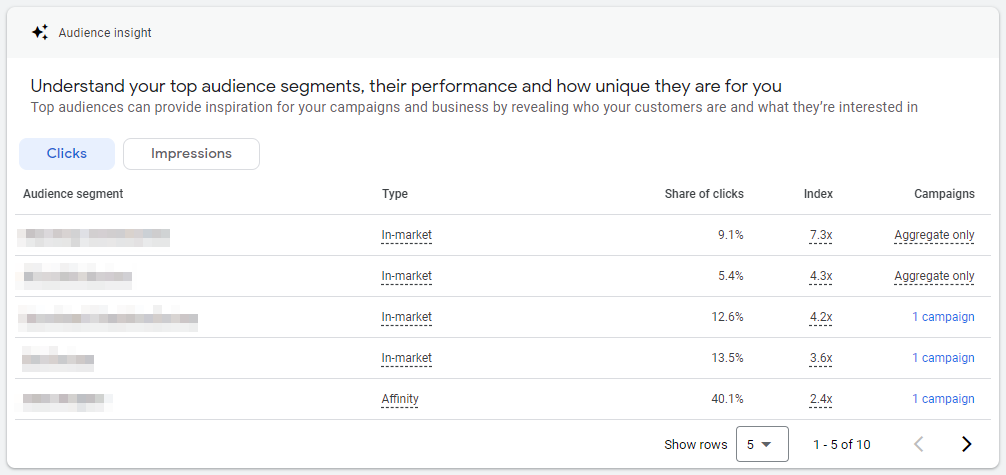 With all this information, there are even more opportunities to optimise your creatives and brand messaging to better suit your core audience.
Read more about Audience Insights on Google's support page.
Recommended reading:
Creating a Buyer Persona to Better Understand Your Customers
Remember, whether you're looking to improve your performance on Google organically or through paid ads, your online reputation can help you get discovered more easily. Displaying your shop's star ratings can improve your click-through rates throughout Google. Learn how to display your stars on Google's different platforms with our whitepaper:
More insights on Google
There is even more data provided on the Insights Page that you can read about in detail on Google's support page.
You'll find information about Diagnostic Insights, which gets a bit more technical about why your campaigns may not be performing (or displaying).
You can also read about Change History Insights, which highlights recent changes you've made to your campaigns and analyses the changes in performance.
Auction Insights provide information on your auctions as well as your competitors for those search terms.
Performance Shifts highlight significant changes to elements within your campaigns, such as ad groups, product groups, and keywords in order to understand what drove these changes in performance.
With that said, remember that there are also other tools out there for you to use in order to optimise your marketing strategies...
Google Trends
Google Trends can be a helpful tool in seeing what is currently going on with Google search in different regions of the world.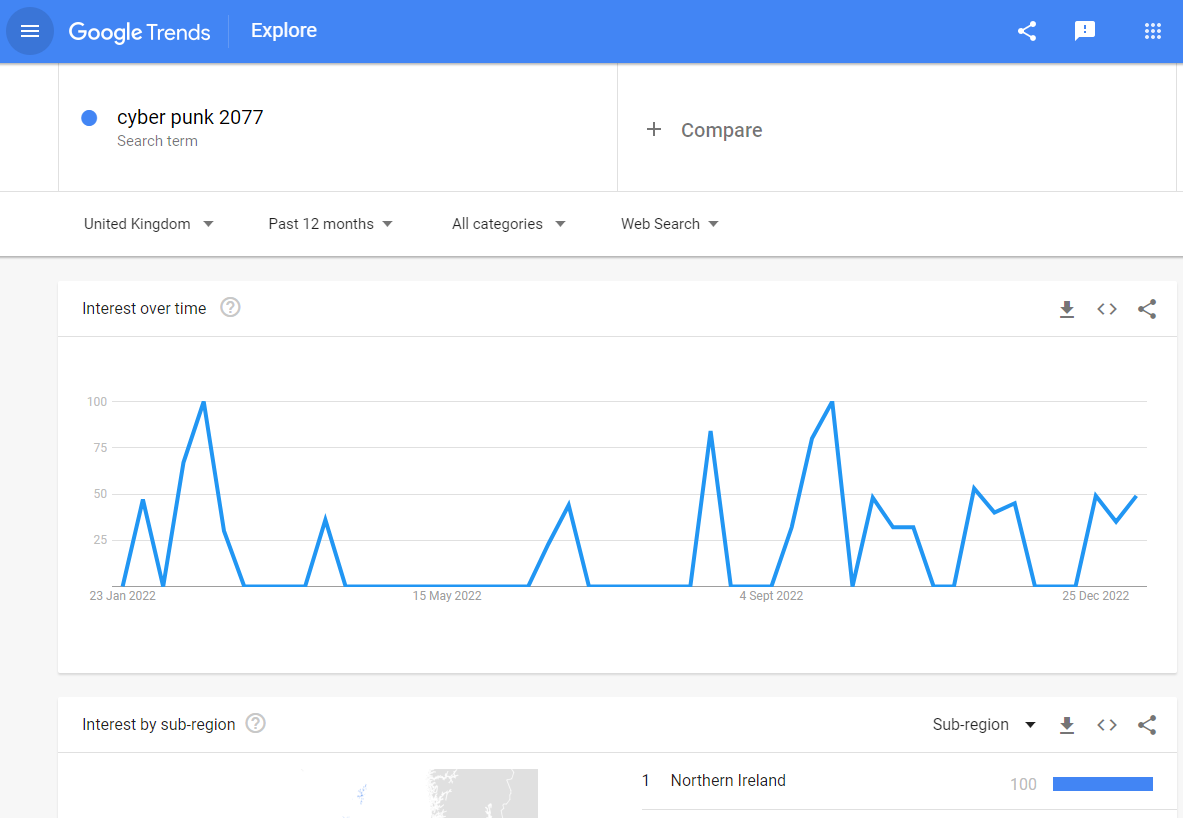 Use the search function to get trending insights for any given search term. You can use filters like country, length of time, and industry categories.
Think with Google
The aforementioned Google Trends is actually part of a larger suite of tools called Think with Google.
This website can be a great tool for many businesses. There are blog articles, videos, infographics and other tools to help retailers make informed decisions for their businesses. This site includes dedicated sections for consumer insights, marketing strategies, the future of marketing, and tools.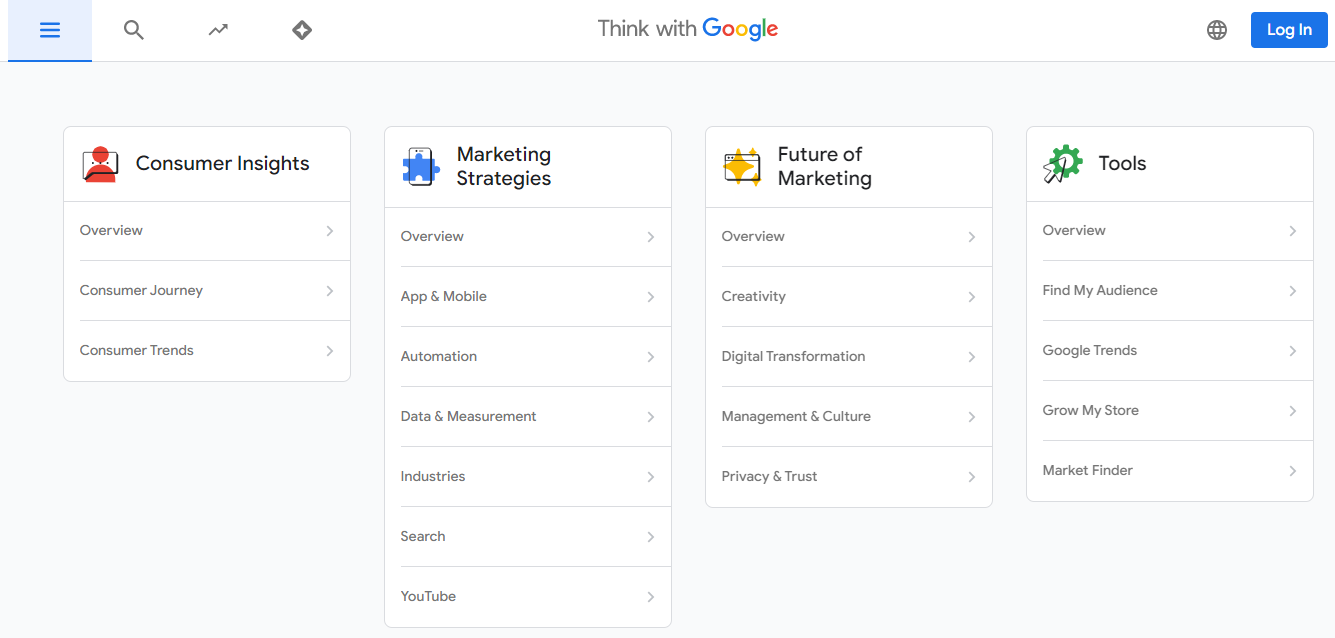 Think with Google is definitely an interesting website with lots to offer business owners. Make sure to visit and poke around. You're bound to find something interesting and insightful for your business.
Conclusion
The removal of Google's Rising Retail Categories tool was really a shame for many online retailers. Google indeed saw the introduction of their tool as a way to help boost the economy, especially for smaller businesses during the pandemic. With life slowly getting back to normal, Google is offering similar insights to those who advertise on Google. Although it might not be free, Google Ads has proven to be very effective for many businesses, so if you're not doing it already, now might be a good time to start.
Want a complete overview of Google Ads? Check out our whitepaper below: