Welcome to E-commerce News & Trends, the series where we update you on the latest news in the world of online shopping, digital marketing, SEO, social media, and everything related to the world of e-commerce. We update this page once per month, so feel free to bookmark us.
In today's article (23 August 2023), learn about:
Want to dig into some past news? Here is a list of our most recent updates:
23 July update:
19 June update:
Want to see all our previous updates?
Click here to see the complete list
Want the latest news delivered straight to your inbox? Make sure to sign up for our newsletter, which is sent out every two weeks.
23rd of August update:
Amazon Shipping is back in the UK & Europe
Amazon wants to focus on their logistics products once again. After taking a 3-year break in order to focus on the boost in sales during the pandemic, Amazon is once again offering their logistics services as a product to retailers.
This means that you can arrange for pickups with Amazon drivers for delivery even if the item wasn't purchased on the Amazon platform or stored in Amazon warehouses (FBA). It's worth noting however that the shop does generally need to sell on Amazon in order to be eligible for this service.
Across Europe, the service can also be used in France, Italy, and Spain. Head over to Amazon Shipping's UK site for more info.
"Fulfilled by TikTok" (FBT) available in the UK
Speaking of fulfillment, it seems TikTok is also throwing their hats in the ring when it comes to logistics. Although they might not be quite on the same level of Amazon, they are working on it!
The new program is meant to make it easier for retailers to sell on the platform. Merchants that sell on TikTok Shop in the UK can sign up for the service.
Similar to Amazon's offer (FBA), FBT offers merchants the possibility to store, prepare, pack, and ship their products to the TikTok community.
According to TikTok's blog, the service offers:
Same day fulfillment for all orders made by 7pm, Monday-Saturday
"next working day" premium delivery service
Improved customer feedback & ratings through the instant message service
Dedicated customer service employees
Improved metrics for reduced delivery times
There are of course some restrictions and rules that apply (read more in the link provided above). The idea is to offer this service to retailers so that they can focus on content creation and other marketing activities.
Video growth slows but still dominates
Video's share of daily social user time has increased immensely since the start of the pandemic. From 2019 to 2022, this number went up by more than 20 percentage-points (from 33% to 53.3%).
Although continued growth is expected, it will not be anywhere near the jump we saw between 2019 and 2022. According to eMarketer, this number is expected to go up to 60.1% by 2025, totaling 65.3 minutes per day.
Other platforms have not seen the success with video quite like TikTok has. Meta has reprioritized video content (it used to be a top-3 goal for Instagram), but they've leaned more towards balancing video alongside other forms of content.
The article revealed that globally, social media users still primarily use these platforms to stay in contact with friends and family rather than to discover new content. Even younger demographics (16-24 year-olds) use these platforms to maintain connections (46.5%) rather than content discovery (33.4%).
With that in mind, as an online retailer, it is suggested that you still invest in video content and video advertising. Having said that, you should balance those video ads out with other, more traditional forms of digital ads (i.e. image-based ads).
24th of July update:
Google to implement more AI to Search
As a response to the massive popularity of Open AI's chatbot ChatGTP, Google announced the development of its very own search assistant chatbot back in February 2023.
In Europe, however, the roll-out of Google's chatbot was yet to be expected as some in the EU feared violations against data regulations (GDPR).
Now, on July 13, Google's own chatbot (named Bard) was finally rolled out in Europe.
Bard is available in more than 40 languages, which include English, Spanish, German, and Chinese.
Google users are able to keep their previous chat conversations. Later, they can revisit their conversations or delete them.
In addition, the new Bard chatbot allows users to share their chat responses via a link.
Apart from the Bard chatbot, Google has also announced plans to integrate AI to the Google Search on their Search blog.
In the past, Google Search has already been powered by artificial intelligence. Now, the search engine intends to implement this technology even more prominently into its search functions.
Based on a generative AI technology, users will soon be shown results generated by said technology that display information in a more intuitive way depending on the search inquiry.
This will also include product searches.
Shopify introduces AI assistant, Sidekick
E-commerce platform Shopify has also decided to join the AI movement and is now introducing an AI powered assistant.
Shopify has now developed its first AI-powered digital assistant for e-commerce use called "Sidekick".
This was announced by Tobi Lütke, CEO and founder of Shopify, via a post on his personal Twitter account.
Sidekick is to enable businesses to use AI to increase their productivity, improve workflows, make smarter decisions, and spend less time on operational tasks.
According to Lütke, the AI feature is able to understand and interpret questions or prompts issued by users.
The AI is uses and combines data from its platform and provides it to Shopify merchants in order to boost creativity, as well as productivity for businesses while streamlining workflows.
Recommended Reading:
3 Solutions for Running an Online Shop While on Holiday
To learn more about how Trusted Shops uses AI technology, check out the Smart Review Assistant.
Positivity proven to be a key driver of action
New research by popular inspirational platform Pinterest suggests that, among others, positive marketing and communication has proven a key driver when it comes to shopping action.
The platform had commissioned research and database company Morning Consult to survey adults and their social and shopping preferences.
As presented in a blog post, the data showed that positive environments can lead to an increased impact for brands at every stage of the buying funnel.
When in these kind of surroundings, half of those surveyed stated they were more likely to remember brands that they had encountered online (51%) or had a positive attitude towards those brands (52%).
What is more, 54% said they would trust brands they came across in positive environments, while 47% would end up making purchases of products from those brands.
Advertising in positive, trustworthy online spaces positively impacts how consumers interact with brands and increases the impact for brands at every stage of the buying process.
💡Tip: Speaking of trust... Apart from positivity, trust has also proven to be one of the main factors to drive sales in e-commerce. Learn more about the power of trust in our free whitepaper and find out how to increase trust for your online shop.

E-commerce sales in Europe post-covid
It is no news that the global outbreak of the coronavirus in 2020 has led to a major boost and popularity in e-commerce.
Now that health measures and restrictions have been set aside, online shopping is still popular among many consumers.
In the course of the so-called "E-commerce in the Post-Pandemic Era" report, the Dutch CBRE group discovered how the e-commerce industry in Europe has changed in the post-covid era.
The report revealed that the online sales in the six biggest European e-commerce markets (i.e. the UK, the Netherlands, Germany, France, Italy, and Spain) are still contributing to the majority of European online spending in 2022 (72%).
However, according to the report, there are remarkable differences to be found between these six markets.
While the British and German e-commerce markets make up the largest European markets (UK: 28%, Germany: 18%), the other four accounted for a quarter of online spending in 2022.
Comparing the figures from pre-covid times with post-pandemic numbers, it was found that all markets have seen at least small increases in growth trends – more than they would have experienced without the boost in online shopping popularity stemmed from the pandemic and lockdown measures.
Particularly in Spain and Italy, e-commerce penetration rates seem to be 5.2 and 3.9 years ahead of the pre-covid trend.
Recommended Reading:
Internationalisation: Localise Your Website to Sell Abroad
19th of June update:
Shopify introduces rewards program
Shopify has launched its own rewards program: "Shop Cash". Customers that complete their purchases via Shop Pay (Shopify's checkout service), will soon automatically earn 1% in cashback.
The new rewards program is entirely funded by Shopify.
For the time being, the Shop Cash program is only available for immediate use on all eligible Shop Pay purchases in the US. However, as seen before, the company is likely to roll it out to other countries if proven successful.
Upon completion of a purchase, online shoppers will see their rewards reflected in their Shop Pay wallet within the Shop app.
The collected rewards can then be redeemed on future purchases within the app at the time of checkout.
Recommended Reading:
What Kind of Loyalty and Rewards Systems Work for Small Businesses?
Amazon adds AI technology to logistics
Amazon, the world's leading marketplace, is to implement artificial intelligence in the logistics workflows of some of its warehouses.
The e-commerce giant is turning to AI technology to weed out damaged goods in order to decrease the number of such items being shipped to customers and to optimse deliveries.
So far, the AI has been implemented in two fulfillment centres. The company is planning to roll out the system at ten more warehouses in North America and Europe.
On average, Amazon handles about 8 billion packages a year. However, according to the marketplace, one in 1,000 products is damaged.
For this reason and in order to save time and manpower, AI was trained to recognise damaged items during the packaging process in Amazon fulfillment centres.
Verified advertisers only: Microsoft Ads now requires verification
Starting August 1, Microsoft will only show ads that were created by verified Microsoft Ads users.
"Microsoft Advertising requires advertiser identity verification to ensure that customers see ads from trusted sources to improve their overall experience", the company explains on their website.
If you're using the Microsoft Advertising platform and haven't fully verified your account yet, you will have to do so before August 1 to avoid your ads not being displayed on Microsoft surfaces.
"We want our customers to have choice and control through transparency, so in addition to making our network safer, one of the primary goals of AIV is to increase visibility to those who interact with our ads.
"To support this goal, all ads will display the name and location of the advertiser, the business or the individual who is funding the ad, and information about why they're seeing an ad (such as targeting parameters)", Microsoft clarifies in a blog post.
In addition, Microsoft has launched a new Ad library allowing advertisers to take a look at ads shown in the Bing search that have impressions in the European Union.
Recommended Reading: 12 Tips for Creating Perfect Google Shopping Ads
New trust badge for online shops in Google
Talking about verification and trustworthiness, Microsoft's biggest competitor, Google, is rolling out a new trust badge for online shops.
The former "Trusted Store" badge displayed in the products listings and shopping section of Google is now being replaced by a new "Top Quality Store" label.
As communicated by Google, it was decided to rename the label, but keep everything else as it was for online retailers.
"There's no action you need to take, and the update will not affect your performance metrics at all", Google reassures.
Online shops can be rewarded with a "Top Quality Store" badge if their performance fulfills specific metrics in relation to their competition.
Some of these metrics are shipping speeds and costs, as well as return policies and speeds.
It's no secret that trust badges and seals of trust lead to more clicks and more sales in online shops.
Trusted Shops offers the most popular and recognisable trustmark in Europe alongside the Buyer Protection, making your online shop's trustworthiness visible at first sight.
💡Tip: Learn more about the Trusted Shops Trustmark in our whitepaper 👇
22nd of May update:
EU Commission proposes big changes to benefit EU sellers & consumers
The EU Commission put forward ambitious proposals to reform the EU Customs Union this week. The proposal can be broken down into three main points:
A new EU Customs Data Hub
A new EU Customs Authority
Changes to VAT exemptions and consumer responsibilities
Source: Shutterstock/Drazen Zigic
A new EU Customs Data Hub would ensure that all businesses that want to import goods into the EU will be able to log all their product and supply chain information into a single online platform. This will greatly simplify the processes for businesses.
A new EU Customs Authority would thus be formed to interact with this new EU Customs Data Hub. This new authority would have a better overview on supply chains. Using artificial intelligence, they'll be able to anticipate where problems, dangers, and risks may arise and thus be able to dedicate resources to those places efficiently.
With more information on supply chains, the authority could enforce EU laws better. For example, bans on certain products that don't align with EU values regarding climate change or labour practices. All in all, the formation of a new customs authority would help improve the cooperation of law enforcement and customs regulators at the EU and national levels.
Changes to VAT rules should also improve things for EU retailers and manufacturers. The proposal would abolish all VAT exemptions for imported goods. Currently, there are exemptions for products valued under €150. However, many retailers exploit this system by undervaluing many products that get imported. These changes could bring in an estimated €1 billion per year of customs revenue.
These changes would probably benefit EU sellers and manufacturers by closing loopholes for international sellers that have been taking advantage of them.
The change could also benefit consumers because platforms would be responsible for ensuring that customs duties and VAT are paid at purchase. That means that consumers would no longer be hit with hidden charges or unexpected paperwork when their parcels arrive.
Meta introduces AI-powered shopping and ads for Instagram and Facebook
To help online businesses drive more sales, social media giant Meta has worked on new shopping and targeting tools powered by artificial intelligence (AI).
With the aim to improve the in-app shopping experience for both users and sellers, Meta plans to launch Shop ads for US businesses.
Shop ads will then also be added to the dedicated Advantage Suite, a hub created by Meta where ad features and other businesses tools are bundled up in one place.
In addition, the tech company seeks to simplify the set-up of the in-app checkout, in order to allow for a smooth customer journey on Facebook and Instagram.
Also, new shopping tools such as customer ratings and reviews, as well as buyer email opt-ins and dynamic product pages are in the making.
Recommended Reading: How to Get Your Star-Ratings Throughout Google
Apart from the soon to be launched shopping features, as reported by news site TechCrunch, Meta has also announced new augmented reality (AR) features for Instagram and Facebook.
The overall aim is to take the in-app shopping experience and in-stream commerce tools on the meta-platforms to a new level.
These new features will be applied to Meta's popular short video format, "Reels". A larger CTA button with additional information is to be added to the interactive Reels ad format.
The CTA button includes an ad thumbnail, a headline, and additional business details such as the website URL.
Meta intends to offer marketers and online shops the opportunity to target users in innovative ways with immersive ad formats. AR for Reels Ads and Facebook Stories has already been tested by some well-known brands such as Sephora and Tiffany & Co.
Pinterest announces partnership with Amazon
Visual media platform Pinterest has announced a multi-year strategic advertising partnership with retail giant Amazon. The partnership involves third-party ads.
The aim is to bring more "relevant" brands and products to the platform.
"The partnership with Amazon will bring more brands and relevant products to the platform combined with a seamless on-Amazon buying experience for consumers and offer advertisers strong performance", Pinterest discloses on the Pinterest newsroom page.
The implementation is expected to start rolling out later this year.
Zalando launches AI shopping solution
Popular online fashion retailer Zalando is to launch its very own ChatGPT and AI-powered fashion assistant.
The AI feature will be available both on desktop devices and in the mobile Zalando app.
First, the chatbot is to be rolled out this spring in the course of a beta test. Selected customers in the United Kingdom, Ireland, Germany and Austria can then access the feature.
Using the ChatGPT technology for Zalando, customers can pose questions and the chatbot will help them navigate through the website or app and offer personalised items that match the shopper's taste.
According to the retailer, this way, the AI powered assistant is expected to make the customer journey for shoppers more intuitive.
Recommended Reading: Why Your E-commerce Store Needs an A.I. Chatbot
17th of April update:
Consumer Trust and Online Reviews: 3-star rating is not enough
A new study conducted by Go Fish Digital revealed that online shopper trust towards online shops has decreased.
The vast majority of shoppers still consider online reviews "very" or "extremely" important when it comes to researching a product or service online.
This shows that many consumers appreciate feedback from former customers and will take it into account before deciding whether or not to purchase an item or service in an online shop.
Source: Go Fish Digital
However, the study for which more than 1,000 consumers were surveyed, also demonstrates an attitude that the bulk of consumers share: a 3 star rating in online reviews is often considered not trustworthy enough.
A 4 star rating on the other hand, is regarded 67% more trustworthy, with 96.3 % of those surveyed saying that they would consider buying the respective product or service if it had a minimum rating of 4 stars.
Source: Go Fish Digital
Looking at the graphic above, one more thing becomes obvious: 2 or 1 star ratings basically seem to be considered not trustworthy at all and can therefore negatively impact the buying decision.
In other words: products or services that are rated 3 stars and are less likely to be purchased.
Tip: Generating more product reviews will normally boost your average star rating. But you need to be proactive about it! In our whitepaper, find out how to generate more product reviews. Download it now 👇


Snapchat launches new AR feature for businesses
Source: shutterstock.com/fizkes
Artificial intelligence (AI) and augmented reality (AR) technologies continue to evolve all over the place. Whether they are being implemented to search engines or social media apps, these technologies are incredibly popular at the moment.
Now, as it was announced in their newsroom, instant messaging app Snapchat has introduced a new AR marketing feature that should enable brands to better engage with potential customers via augmented reality.
The new so-called "AR Enterprise Services" or "ARES" feature allows brands to create personalised immersive experiences within the app to showcase their products.
Snap Inc.'s new Software-as-a-Service (SaaS) model offers companies a range of technologies bundled in the so-called "Shopping Suite" hub.
According to Snapchat, the overall goal is to support brands in terms of brand loyalty and increase conversion rates.
Another advantage for online shops selling accessories, fashion and similar products could be a reduction in returns if their customers are to use the AR technology to try on clothes virtually first.
If you're interested in learning more about the new AR features for brands, visit the dedicated ARES hub on the Snap Inc. website.
Recommended Reading:
Artificial Intelligence & E-commerce: 5 Practical Applications
Sustainable Collections: Klarna boosts eco-friendly and ethical shopping
After evaluating new data from online shoppers emphasising the importance of transparency when it comes to the environmental impact of their online purchases, popular BNPL payment provider Klarna has worked on a new feature for its shopping app.
The mobile Klarna app now features insights and "conscious badges" that highlight the environmentally and ethically friendly achievements of a given brand in the app.
This kind of information includes insights on a brand's energy resources, greenhouse gas emissions, and more.
Online brands can obtain up to 5 different badges.
"With the launch of conscious badges, Klarna is now celebrating businesses prioritising more sustainable practices in the electronics space, further equipping shoppers with the insights needed to inform future purchasing decisions", the Swedish payment provider illustrates on the Klarna newsroom site.
Recommended Reading: How to Create an Ethical Marketing Strategy for Your Eco-friendly Business
Cross-border sales in Europe to reach new peak
In Europe, cross-border electronic commerce has reached a new peak in 2022. With a value of 179.4 billion euros, cross-border online sales increased by 4.8% compared to the year before.
In total, online shops in Europe attained a turnover of more than 105 billion euros in 2022.
This was found in the course of the "Top 500 Cross-Border Retail Europe" report realised by EU retail network, Cross-Border Commerce Europe.
According to the network, Germany continues to be the strongest cross-border market in Europe with 34 billion euros worth.
In the UK, on the other hand, cross-border sales dropped by 4% compared to 2021, thereby losing its number one position as the leading European cross-border market.
This was said to be due to Brexit and new VAT, import duties, logistics and returns regulations for cross-border transactions.
Recommended Reading: Top 5 Logistical Tips for Cross-border E‑commerce
20th of March update:
Google's February 2023 Product Reviews Update
In the past, we've reported on several updates that search engine giant Google has rolled out to optimise its search algorithm.
In February, Google once again rolled out an update with the aim to promote the visibility and value of product reviews in search results.
In comparison to former updates that focused on product reviews, the "February 2023 Product Reviews Update" is now applied to eleven languages worldwide. Former updates had only affected English-speaking content and websites.
The February 2023 update also concerns French, German, Spanish, Italian, Indonesian, Vietnamese, Portuguese, Russian, Dutch and Polish content.
Recommended Reading:
How to Optimally Respond to Reviews for Your Shop
As announced by Google, the roll-out of the update took two weeks and was completed on March 7, 2023.
According to several SEO sources, fluctuations in ranking were more evident and significant than with recent product reviews updates.
In a blog post on the Search Central blog, Google clarifies how online shops and websites that provide product reviews can optimise their content accordingly to avoid any negative effects on their website's ranking in Google.
Collecting reviews is obviously crucial, but "managing" them is important, too. Potential customers usually seek out reviews in order to gauge product quality, but they often want to check out how responsive companies are to feedback and that's why review responses are so important. Trusted Shops' newest tool makes replying to reviews really easy thanks to the help of artificial intelligence. To learn more, click on the banner below:
Shopify Editions: Shopify introduces new checkout and app features
Within "Shopify Editions", a biannual format to inform merchants about changes and innovations made to the Shopify platform, the e-commerce provider has unveiled the launch of several new features.
The former checkout page powered by Shopify used to feature multiple pages. After the roll-out later this year, merchants using Shopify will have the possibility to include a "one-page" checkout in their online shop.
According to Shopify, consumers expect a shorter checkout experience than before. The platform wants to match customer expectations and thereby facilitate the checkout process.
The new so-called "Checkout Editor" will then allow online shops using Shopify to customise their checkout.
Apart from the changes made to the checkout features, the e-commerce platform also added multiple updates to the "Shop" app, a Shopify owned app available for iOS and Android devices.
In Europe, it allows customers to track packages and see updates from Shopify merchants where they have made a purchase, while providing brands with another channel to connect directly with their customers.
The Shop app now includes options to customise the layout of an online shop's product collection and customer reviews.
In total, more than 100 product updates and new features were introduced in the course of the latest "Shopify Editions". For more details, you can visit the Shopify blog.
Recommended Reading:
Which Web Hosting Service Should I Choose for My Online Shop?
New desktop design for Google search
Favicons are icons displayed directly next to a result in Google's SERPs. Usually, in the mobile version of Google, they show the logo of the website in question.
Now, the search engine company has rolled out Favicons and site names for desktop devices as well.
Apart from these additions to the desktop version, Google has also replaced the former "ads" label with a "sponsored" one.
Search ads will therefore now feature a more visual and clear label. Google wanted users to be able to better distinguish ad results from organic search results.
Recommended Reading:
How Can You Add Favicons to Google Search Results?
Google makes changes to Google Ads
Google has also made changes to its advertising platform, Google Ads.
After Ads users had issued feedback that the navigation and dashboard interface on the platform wasn't very user-friendly, especially to newer users, Google is now testing new designs for its popular advertising platform.
"Today, we're testing new designs to improve how the product is organised and make things easier to find—while continuing to provide the same tools and solutions you rely on to grow your business."
"These changes reflect our ongoing commitment to deepen our understanding of your expressed business goals so we can help deliver better results", Google announced in a statement in the Google Ads help center.
Source: Google Ads Help
The changes include:
a new navigation menu, either displayed as a single-level menu or a two-level one



a reorganised interface (improved Goals section as well as Audiences, Keywords, and Content menu categories)



an overall redesign of the platform
However, the changes are only being rolled out in the course of a testing phase and will first only be made available to a small number of accounts.
Google Ads users can now evaluate the changes and give feedback to Google.
Stay tuned for more updates.
21st of February update:
New AI technologies: ChatGPT & Google Bard
Artificial intelligence technology has been discussed a lot lately. OpenAI's ChatGPT was only recently launched in November 2022, but has already had an huge influence on the digital world.
Using the ChatGPT technology, users are able to imitate conversations, write credible texts such as essays and job applications, as well as create program codes.
Since its release, the free ChatGPT model has been used by many.
Now, Google has decided to release its own AI chatbot in response to the hype that ChatGPT has created. The new technology is to be implemented in the Google search.
As reported in a blog post on the Google Keyword Blog, "Bard", Google's tool for AI search, is powered by a "Language Model for Dialogue Applications" (or LaMDA) technology, miming information and content from the internet.
According to the search company, the new AI features will soon be rolled out on Google search. However, it was stressed that Bard will only be released in the course of an experimental test phase.
Recommended Reading: Why Your E-commerce Store Needs an A.I. Chatbot
In addition, Google plans to develop various AI mechanisms for different Google services such as Google Maps, Google Translate, and Google Lens.
Some of the new features related to e-commerce are:
Google Lens: the tool can now be used to search for elements or products displayed in photos or videos on all kinds of websites and in other applications outside of Google (such as messaging and video applications).
Multisearch: It is now possible to use both photo and text when creating a search query. The new feature is currently available worldwide, on all devices and languages. Google's Multisearch function in the mobile Google app will also soon include the possibility of doing local searches to discover local businesses nearby.
Google's competitor Microsoft, on the other hand, has announced plans to collaborate with ChatGPT developer OpenAI.
Microsoft intends to optimise a variety of its services with AI tools from OpenAI. ChatGPT will, for instance, be implemented in the Bing search.
Recommended Reading: Microsoft Ads: Better than Google Ads?
Expected European e-commerce sales growth
Delivery management provider Metapack has partnered up with payment provider Shipstation and research consultant Retail Economics for this year's Ecommerce Delivery Benchmark Report.
According to the report, a growth in the non-food online retail sector of between 2.3 and 4 % can be expected in the United Kingdom, Germany, Italy, France and Spain.
This will be the result of the cost of living crisis, accompanied by a decrease in online sales volume.
In fact, the sales volume in Europe may decrease between 1.5 % (Italy) and 5% (UK).
For the report, data from 8,000 consumers and 700 retailers across 8 international markets was collected and analysed.
For furthers findings of the study you can access the Ecommerce Delivery Benchmark Report 2023 on the Metapack website.
New ad features: TikTok introduces Promote hub
Being one of the most popular social apps used by millions of consumers, the potential that TikTok has to offer in terms of marketing purposes is undoubtedly obvious.
The Chinese platform is seeking to find new ways that will allow brands to authentically showcase their products and connect with their respective target group.
Recently, TikTok launched its own in-app advertising tool "Promote" to help advertisers use the platform efficiently and easily turn their videos into ads.
Now, as it was announced in the TikTok newsroom, a series of new targeting and ad features for the Promote tool were released.
According to the app, the new features are meant to help brands drive traffic to their profiles, generate more potential leads, amplify their creator marketing budgets, and allow for better targeting to their desired audiences.
TikTok's new Promote features include:
a new Promote goal allowing advertisers to drive traffic back to their TikTok page



a new "more messages" Promote goal that allows SMEs to better interact with their audience



the promotion of creators' videos and livestreaming videos in order to increase the views and grow the videos' reach



location targeting that will help local businesses reach their local target groups
Recommended Reading:
Livestreaming Shopping: The New Trend in E‑commerce
EU finds: 40% of online shops use manipulative practices
In a press release, the European Commission released results of a screening of almost 400 European online shops.
It was found that 148 out of 399 online shops practice so-called "dark patterns".
According to the European Commission, dark patterns refer to practices that push customers into finalising an order under false pretenses.
These practices may consist of online shops hidden or less visible information, fake countdown timers, and web interfaces that direct customers towards certain actions such as making a purchase or choosing a more expensive product or delivery option.
The authority revealed that 148 out of the 399 evaluated online shops practiced at least one of these three dark patterns.
Now, as announced by the European Commission, national authorities will reach out to the online shops in question in order to rectify their websites. If necessary, further action will be taken according to national procedures.
23rd of January update:
Google adds new ranking factor to E-A-T guidelines
E-A-T is a set of guidelines introduced by Google that relates to the field of search engine optimisation (SEO).
The quality rater guidelines involve several criteria such as "Expertise", "Authoritativeness", and "Trustworthiness".
Recommended Reading:
What is E-A-T and How Does It Affect Your Online Shop's SEO?
Now, the search engine company has added a new criteria to the E-A-T guidelines: "Experience".
In December 2022, Google adapted the guidelines and added another "E" (Experience) to the E-A-T criteria.
Since then, the quality rater guidelines are now referred to as "E-E-A-T" or "Double-E-A-T".
From now on, Google will take into account whether content is in fact based on the real experiences of those who created it.
This may involve, for example, content concerning a particular product or service, but also testimonials about a certain location.
"Does content also demonstrate that it was produced with some degree of experience, such as with actual use of a product, having actually visited a place or communicating what a person experienced? There are some situations where really what you value most is content produced by someone who has first-hand, life experience on the topic at hand."

Source: Google Search Central blog
According to Google, however, what kind of "experiences" are taken into account when it comes to determining the quality of the content and its ranking position will highly depend on the respective search intent of the user.
If a user is to look for information about a particular product or service, for instance, they may prefer to find search results from online forums or review platforms.
BigCommerce introduces Microsoft Ads and Listings integration
Microsoft has teamed up with open software e-commerce provider BigCommerce to introduce a new ad marketplace that will allow BigCommerce merchants to access Microsoft Advertising features through their BigCommerce Control Panel.
The integration is now available for shop owners using BigCommerce as their e-commerce platform in the United Kingdom, in the United States, Australia, and New Zealand.
BigCommerce and Microsoft are also planning to expand the integration of Microsoft Advertising and Listings to more markets throughout 2023.
Recommended Reading: Microsoft Ads: Better than Google Ads?
With the new Microsoft integration, BigCommerce merchants can now synchronise their products with the Microsoft Merchant Center to showcase their products in Bing and on other Microsoft surfaces.
Through their BigCommerce account, they can also set up ad and shopping campaigns, as well as keep track of their performance.
Microsoft launches Retail Media Network
Apart from the collaboration with BigCommerce, Microsoft has also announced the pilot launch of the Microsoft Retail Advertising Network.
The new platform will enable online retailers to monetise their onsite inventory.
Brands using the Microsoft Advertising platform will be able to set up their ad campaigns for Microsoft and other associated properties, as well as on the websites of retailers participating in the Microsoft Retail Advertising Network.
Retail Media Advertising Network is part of PromoteIQ, a retail advertising startup that Microsoft acquired in 2019 as it sought to compete with rival Amazon's fast-growing advertising business.
A dedicated article on the Microsoft Advertising blog describes the platform as follows:
"The Microsoft Retail Advertising Network is designed to easily help retailers monetise more of their onsite inventory and drive incremental shopper traffic to their website by partnering with hundreds or even thousands of brand advertisers using the broader Microsoft Advertising platform and ecosystem."

"Retailers can hit a saturation point where they're unable to get more demand from their largest brand partners. This is where the Microsoft Retail Advertising Network comes in, helping retailers unlock new budget from the broader array of Microsoft Advertising brands that also sell on a retailer's site."

Google Analytics 4: New features for online shops
Since 2020, Google Analytics 4 (GA4) has been the default platform for website operators seeking to track and analyse their website data.
Now, a series of new e-commerce features was added to Google's popular web analytics service, Google Analytics.
In the Analytics help center, website operators using Analytics were recently informed about the roll-out of new e-commerce dimensions and metrics.
Online shop owners can now access new dimensions for various metrics related to items as well as events for the classification of interactions.
"For example, you can now easily analyze items purchased by item name, which shows the number of times each item was purchased. You can also now see items purchased and purchases by country, which shows you the number of items purchased and the number of purchases for each country", Google explains.

The new e-commerce dimensions and metrics include, among others:
Items added to cart



Items checked out



Items clicked in list



Items clicked in promotion



Items viewed



Items viewed in list



Items viewed in promotion



Shipping amount
Recommended Reading: 4 GDPR-Compliant Alternatives to Google Analytics
New navigation bar for Instagram
Social media platform Instagram has announced plans to restructure the navigation of its app.
As we already reported in one of our former E-Commerce News & Trends updates, Instagram boss Adam Mosseri issued plans to abandon the Shop tab from the app.
Now, it looks like those plans will soon be put into action and the Shop tab will be removed from the navigation.
Instead, the navigation bar at the bottom will soon include the Create Content shortcut and the Reels shortcut on the right.
As Instagram announced in its help center, these changes will be implemented in February 2023.
However, online shop owners and online business will still be able to run their virtual shops on Instagram.
"You will still be able to set up and run your shop on Instagram as we continue to invest in shopping experiences that provide the most value for people and businesses across feed, stories, reels, ads and more", it says in the help center article.
What separates great social media ads from ordinary ones? We've got the answer! Check out our whitepaper on how to create social media ads that generate more sales. You can download our whitepaper now: ⬇️
2nd of December update:
UK online shops miss out on customer support
E-commerce fulfilment provider Salesupply revealed insights from a study evaluating customer service in British online shops.
Reportedly, more than 50% of UK online shops usually close their customer service at 5 pm. Salesupply UK's Business Development Manager, Jonathan Hugget, says this is a "missed opportunity" for online shops.
"The importance of customer service in the pre-purchase phase is often underestimated. Online customers are impatient. When a question arises, they expect an answer right away. If customer service is not available at that moment, they will not hesitate and go to a competitor. Nowadays, an online store can no longer avoid offering customer service during evenings and weekends."
This particularly applies as most customers prefer to shop in the evening. However, between 7 and 11 pm is when most shopping carts are abandoned by shoppers.
In addition, Salesupply found that for most online shops, the preferred customer service channel is email (89%). Phone follows as the second popular channel with 86% and chat as third (34%).
Having said that, on a positive note, most customer support agents in the UK are quick to answer the phone (most were quick to pick up the call in less than 40 seconds) and quick to reply to email requests (usually in less than an hour).
Recommended Reading:
E-Commerce Customer Service: In-house or Contact Centre?
Google simplifies process of adding new products to Shopping tab
As a website operator, you might already be familiar with some of Google's most useful tools when it comes to SEO and online shop optimisation. One of the most popular and essential free tools that Google offers is the Google Search Console.
Google Search Console (in short: GSC) allows webmasters to monitor, optimise, and troubleshoot their website's performance in the Google search.
Now, in order to support merchants and help them grow their businesses, the tech corporation has introduced a new feature for retailers.
With the aim of helping online shop owners display their products in the Shopping tab on Google, a new dedicated section will soon be added to GSC.
Recommended Reading: Google Search Console Insights: How to Analyse your Content and Rank Higher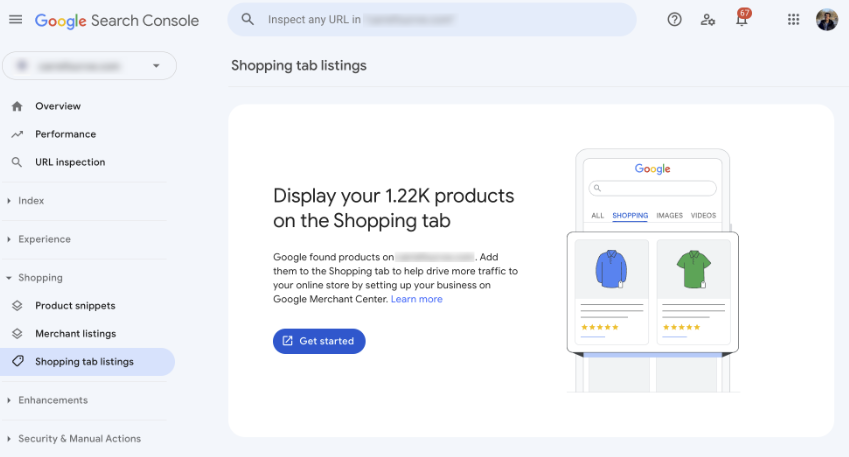 Source: Google Search Central
According to Google, the new "Shopping tab listings" section will gradually be rolled out throughout the next few weeks. That is why, even as an online shop owner, you may not be able to access the feature just yet.
In the past, when it came to adding products to Google, online retailers had to upload their product range in the Google Merchant Center tool using the product feed feature.
With the new "Shopping tab listings" feature in the Google Search Console, merchants no longer have to upload a product feed – as long as their structured product data is up to date.
Thus, the process of displaying products in the Google Shopping tab, has been simplified.
However, online shop owners will still need to register for a Merchant Center account.
In the Search Console help centre, you can access more information on how to show your products on the Shopping tab via GSC.
Tip: Are you already running Google Shopping ads? Check out our whitepaper for tips on how to optimise your Google Shopping ads. Download it now ⬇️

YouTube tests in-app shopping feature in Shorts
According to the Financial Times, YouTube has decided to expand shopping features to its short video platform (Shorts).
YouTube is planning to allow Shorts users to make purchases while scrolling through their video feeds.
As reported by the Financial Times, the new shopping feature is to be introduced next year and will initially be rolled out in the US, Australia, Canada, India, and Brasil.
Shorts creators will then receive a 45% commission of the advertising revenue. YouTube has already announced plans to expand the in-app shopping function to other countries in the future.
Michael Martin, Shopping General Manager at YouTube, says the new feature will be considered less of a traditional advertising model or paid product placement than as an affiliate marketing model.
Recommended Reading:
In-App Sales & Social Commerce: Generating Sales for Your Online Shop
18th of November update:
95% of online shops offer a poor checkout process
Every year, payment provider Stripe publishes its "State of Checkouts" report. This year, Stripe has found that the majority of the world's leading online shops lose revenue on a regular basis due to simple errors in the checkout process.
For the study, Stripe evaluated 1,600 online shops and their checkout processes. In addition, 1,600 consumers were asked about their online shopping preferences.
60% of the consumers surveyed said they would abandon a checkout if the entire checkout process took two minutes or longer.
Interestingly enough, according to Stripe, the average checkout time for many online shops is currently more than three minutes.
It was also found that 95% of online shops had five or more basic errors on their checkout pages that slowed down their checkout process. For example, more than a third of European online shops would authorise and process payments from customers who had provided invalid card numbers during checkout.
Recommended Reading: What is UX and Why is It Important for Your Online Shop?
Likewise, Stripe discovered that 64% of online shops didn't offer the one-click payment feature to their customers, which doesn't allow customers to save their payment information for future purchases and quicker checkouts.
Over half (51%) of online shops didn't make use of a cross-selling-strategy in their checkout process to recommend suitable and matching products.
In addition, only 27% of European online retailers offered Buy Now Pay Later (BNPL) as payment method in their online shop.
Tip: Optimise your checkout process to generate more revenue! Our whitepaper gives you 10 tips on how to optimise your checkout. Download it now:

What to expect from this year's Black Friday and Cyber Monday sales
One of the biggest sales events of the year will take place November 25. Now, e-commerce software provider Shopify has published its Black Friday Cyber Monday global research survey revealing some striking insights for this year's sales holiday.
Evaluating the data gathered in the course of its global survey, Shopify found that 73% of small and medium-sized business around the globe are planning to take part in the 2022 Black Week sales events.
Source: Shopify newsroom
Furthermore, it was found that 40% of consumers are seeking to shop with brands that offer climate-conscious products and are even willing to pay more for sustainable products.
Recommended Reading: 9 Sustainable Shipping Strategies for E-commerce
44% of the Gen Z shoppers interviewed even said they would be open to purchasing products via TikTok or other social media platforms during Black Friday and Cyber Monday sales.
In total, Shopify interviewed more than 24,000 shoppers and 9,000 SME businesses in the United Kingdom, Spain, the Netherlands, the U.S. and many other countries around the world between September and October 2022.
"Black Friday-Cyber Monday is more than just a weekend–it's a season. It is without a doubt the biggest commerce event of the year. I've said this before: modern retailers need to sell wherever their customers spend time–online, offline, and everywhere in between," Shopify's President, Harley Finkelstein, said in a press release.
"If you've built a community and a direct relationship with your customers, you'll also secure their loyalty. Consumers are voting with their wallets to support the brands they love that reflect their values."
Recommended Reading: Black Friday 2023: Pros, Cons & Tips for Participating Online Shops
To access all of the insights found by Shopify in the course of the new Global Consumer survey, visit the Shopify newsroom to read the full report.
2nd of November update:
New update to the Google algorithm
From time to time, search engine giant Google rolls out updates with the aim of optimise its own algorithm.
On October 19, Google rolled out the latest update for the search algorithm: the so-called "October 2022 spam update".
On the Google Search Central blog, Google explains what spam updates are about:
"While Google's automated systems to detect search spam are constantly operating, we occasionally make notable improvements to how they work. When we do, we refer to this as a spam update and share when they happen on our list of Google Search ranking updates"
The last spam update took place in November 2021.
With this year's update, Google wants to take action against spam violating the Google Search Essentials (formerly referred to as Google Webmaster Guidelines).
Only two days after the start of the roll-out, Google announced that the roll-out had been completed.
With the Google spam update fully launched, websites may experience a loss in ranking. If your own website is subject to significant ranking fluctuations, you might have to take action in order to improve your ranking again.
Tip: Find out more about the two essential ways to improve your ranking in search engines and attract new customers to your website: SEO and SEA. Download our free whitepaper on SEO & SEA now:

Shopify's Enterprise Resource Planning now available in Europe
Last year, Shopify launched the so-called Enterprise Resource Planning program (ERP in short).
Now, the e-commerce provider has decided to localise its program for European markets.
Shopify is now collaborating with local software companies in Germany, Spain, and the Netherlands.
The ERP allows Shopify merchants to access apps that can be integrated with the respective Shopify store.
Deann Evans, Director of EMEA expansion at Shopify said:
"Businesses must think of retail being more than just a transaction. It's about understanding what consumers want and building a connection with them. With solutions now being specifically tailored to local market nuances, merchants can achieve this even more."
You can find more information on the Shopify's ERP program on the Shopify website.
Recommended Reading:
What Is the Best E‑commerce Platform for Your Online Shop?
Amazon launches new ad features
Amazon announced a series of new ad features at its annual advertising event, the Unboxed 2022 conference.
These new ad functions include the new "Rewarded Sponsored Display ads" which allow brands to offer Amazon shopping credit to customers who buy the advertised product.
In addition to new ad formats, Amazon launched a new video creation tool, "Sponsored Display Video Creative".
With the tool, advertisers can create video campaigns to showcase their Amazon products on the marketplace platform and other associated surfaces.
Recommended Reading:
Selling Online: Marketplaces Like Amazon & eBay vs. Website
21st of October update:
Google Ads come with a new label
Google has begun rolling out a new label for Google Ads that appear in the search results. According to Google, this change is to make ads more transparent to users, "ensuring that ads are clearly labelled".
This new ad label will be displayed as the word "Sponsored", something they have done in the past. However, for the last 9+ years, most Google text ads were labelled with a much shorter text (i.e. "Ad").
You can see the new label in the image below:
Source: searchengineland
That's not the only change coming to the Google search...
Google adding site names and larger favicons to search results
In order to add more transparency to what goes on in the search results, Google is also adding site names to search results on mobile devices. This is meant to help users quickly identify the website associated to the result they are shown.
On top of that, Google will be updating the size and shape of the favicons (i.e. logos) that appear directly next to the site name.
Google announced that they will extend both these changes to Search ads in order to increase clarity and advertiser transparency.
E-commerce sales numbers continue to grow
More and more purchases are being made over the internet, and national borders do not play an important role here. E-commerce sales figures have not stopped increasing since the pandemic.
According to the Statista Digital Market Outlook report, the global e-commerce market was worth over $3.8 trillion in 2021 and will reach a total revenue of $4.2 trillion by the end of 2022.
This not only translates into an increase in sales from e-commerce, but it gives us insights into the growing relevance of e-commerce in the retail industry in general:
E-commerce will gain importance in all product categories. Following a 21% increase, electronics is projected to reach a 60% share of online revenue by 2025. Apparel and Beauty & Personal Care categories are projected to have similar online share growth rates.
The growth champion in terms of online share of total retail revenue is an e-commerce product category that has yet to mature: food and beverage . The share of e-commerce in the category is projected to rise from 5% in 2021 to 7% in 2025, which corresponds to an increase of almost 50%.
10th of October update:
98% of websites aren't accessible to all users
According to a study carried out by WebAim, 98% of websites don't meet accessibility requirements.
The report shows that up to 65% of consumers with disabilities leave e-commerce websites due to poor accessibility.
"At its core, e-commerce should be something that removes the barriers to a shopping experience for everyone. Unfortunately, though, many people are doing it badly," Dom Hyans, head of strategy at specialist disability and inclusion marketing agency Purple Goat told news site The Drum.
Recommended Reading:
Bounce Rate: What is It & Why is It Important for your Website?
"Brands are so focused on 'designing websites that look beautiful from a brand perspective' that the experience for someone who uses accessibility software is just not being considered."
In the United Kingdom, for example, experts expect that those aged 64 and older will make up 24% of the total population by 2043. As the population and a large share of potential customers gets older, the likelihood of sight loss increases. For this reason, websites and online shops need to adapt.
Good to know: websites that are accessible for the blind and visually impaired are more likely to rank higher in search engines. Making your online shop accessible to a broader audience can bring many benefits to your business. Want to learn more? We dedicated a full article to this topic:

Recommended Reading:
Make Your Website Accessible for the Blind and Visually Impaired
Half of European online shoppers prefer eco-friendly online orders
The new Descartes Research Report conducted by Descartes Systems Group revealed that over 50% of online shoppers are willing to wait longer for a delivery if it is from an eco-friendly online shop.
The multinational tech company interviewed 8,000 consumers in 9 European countries, as well as shoppers in the United States and Canada.
Consumers in the United Kingdom, Germany, Sweden, Norway, Belgium, the Netherlands, Finland, Denmark and France participated.
In the course of the last 12 months, 54% of online orders in the UK, for example, were home-deliveries. In Finland, on the other hand, only 29% of online orders were delivered to the home.
Good to know: the Nordic region is a very mature e‑commerce market.
With the digital and logistical infrastructure in place, the Nordic region is full of potential. Get our free Nordics market analysis now: ⬇️

When it comes to sustainability in online retail, only 38% of all of those interviewed found that retailers were performing sustainable deliveries.
Nonetheless, 50% of all consumers were interested in environmentally-friendly delivery methods. However, only 1 in 5 shoppers said that they were open to paying more for a green delivery.
Almost half of respondents in France (49%) and Germany (48%) stated that they were making purchasing decisions based upon their environmental impact. On the contrary, only 32% of British respondents claimed to do so.
Recommended Reading: 9 Sustainable Shipping Strategies for E-commerce
23th of September update:
Microsoft introduces new ad features: multi-platform and multimedia ads
Microsoft has issued the launch of several new ad features for the Microsoft Advertising platform.
In a blogpost on the Microsoft Advertising blog, the US tech corporation revealed plans to launch a feature that will allow marketers to run their ads not only on Microsoft surfaces and its several search engines and platforms, but also on Google, Instagram, and Facebook.
The all-in-one feature "multi-platform ads" feature has now been integrated to Smart Campaigns within the advertising platform.
"Not only do we provide a single place for the management and analytics of your campaigns across platforms, but we also bring the power of Microsoft AI, which automatically optimises your budget for the best performance across all these platforms," Kenneth Andrew, Vice President, Global Small Medium and Channel Partner for Microsoft Advertising, said in the blogpost.
For now, multi-platform ads aren't available to all marketers yet. However, it is possible to sign up for a waitlist.
To learn more about the new multi-platform ads, you can go to the Microsoft Advertising help center.
Recommended Reading: Microsoft Ads: Better than Google Ads?
Apart from communicating the launch of multi-platform ads, Microsoft has announced the roll-out of a new ad format.
The so-called "multimedia ads" are displayed at the top of the SERPs in Bing, in Microsoft 11, and Microsoft Start.
According to Microsoft, the new ad format is to allow for better and more visual storytelling that brands can benefit from.
"Our brain processes visual content at an incredibly high speed. By one estimate, visuals communicate information 60,000 times faster than text. Additionally, content with imagery results in 50% more recall. In today's age of big data, people are receiving much more information than ever, and visual content can uniquely cut through the static," Microsoft explains in the announcement published on the Advertising blog.
All advertisers in all the countries where Bing is available can now create and run multimedia ads.
Instagram plans to eliminate the Shop tab
In 2020, Instagram created a dedicated tab allowing users to shop for products they like directly on the social media platform.
Now, as news site The Information reported, the social network is planning to step away from some of its shopping features and instead focus on boosting advertising and content creation on the platform.
However, Instagram isn't planning to abandon e-commerce efforts for the app entirely. The Meta owned company has also announced a replacement of sorts for the current Shop tab: "Tab Lite".
A simpler and less personalised version of the Shop tab will be tested in the upcoming months.
Shopify simplifies localisation and cross-border selling
As the popular e-commerce provider announced in the Shopify newsroom, the former "Shopify Markets" section for cross-border sales was upgraded to "Shopify Markets Pro".
Shopify Markets Pro is powered by a partnership with Global-e and was created to help merchants easily expand their businesses to more than 150 countries worldwide.
In the course of the relaunch, a new app for the Shopify Markets section was launched. With the new "Translate and Adapt" app, Shopify aims at simplifying the localisation process for online merchants when selling internationally.
Shopify merchants that wish to expand their online shop to other markets, can now use the app to get their website translated to the respective language and create localised content for their respective target groups.
Recommended Reading:
Internationalisation: Localise Your Website to Sell Abroad
9th of September update:
What the mourning period for the Queen means for your business
Queen Elizabeth II's passing on September 8, 2022 is certainly a sad day for the UK and its friends around the world. After holding the crown for over 70 years and standing as a symbol of the UK through high points and lows, her passing has triggered a period of national mourning.
King Charles III has now requested this period of mourning be extended until 7 days after her funeral, which is set to take place on September 19th.
Through this time of mourning, it's important to know what this means for those running businesses in the UK.
It's worth noting that it has not yet been decided whether the day of the funeral will be declared a bank holiday or a day of national mourning, which means it will be up to individual businesses to decide whether or not they will work.
At least in London, it is expected many businesses close to the route of the procession will be closed.
In shops across the country, you can expect that on-going promotions will not be pushed very hard and the music played inside physical shops will reflect the national mood.
What about the media? Companies on social media are also expected to shift towards a more somber mood on their pages. Many are already sharing messages of grief and condolences.
As far as televion, the BBC will suspend any comedy shows during the mourning period while other channels will most likely do similar things to mark the occassion.
It's also worth noting that the strikes planned by Royal Mail and RMT rail workers has been suspended as a mark of respect. The Royal Mail workers strike was originally planned for Friday 9 September, while the railway strikes were planned for 15 and 17 September.
Google launches Helpful Content Update
Google has announced the launch of a new update to its search algorithm. The release of the so-called "Helpful Content Update" is to ensure that websites displaying quality content will rank higher in Google search results in the future.
"Helpful content" is thereby considered as content that offers added value to users, as well as a positive user experience (UX).
Recommended Reading:
What is UX and Why is It Important for Your Online Shop?
As Google explained in a Tweet, while quality content for website visitors will be rewarded by the search engine's algorithm, content that was primarily created for the purpose of search engine traffic is most likely to face downgrades in ranking.
The update will not only affect the respective content and specific pages, but have an impact on the entire website's performance in Google.
The roll-out of the update has already started at the end of August for English-speaking websites and search queries.
What can webmasters do now?
In order for your content and your entire website to rank high in Google's SERPs from now on, you will have to consider the following criteria, among others, when creating and updating your content:
Make sure to create "people-first content". Write for real people (and potential customers), instead of creating content for search engines.



Address a specific target group with your content. Think of who will find your content particularly helpful and direct your content to them.



Create unique and relevant content that will offer added value to your readers.



Try to answer all the questions that readers might have when looking for answers on a specific topic. Does your content give all the answers that users look for when searching in Google?
For more information on the Helpful Content Update, you can visit the Google Search Central Blog.
Recommended Reading: Creating a blog to help your business grow
TikTok introduces new Shopping Ads
In a blog post, TikTok has issued the roll-out of a new ad format.
Businesses registered for TikTok for Business can now run Video Shopping Ads, Catalog Listing Ads, and LIVE Shopping Ads to promote their brand and products on the popular social media platform.
"Shopping Ads is a simpler, smarter, and more advanced ad solution that helps brands meet shoppers wherever they are in the purchase journey, sparking demand and boosting sales", TikTok illustrates.
Recommended Reading:
#TikTokMadeMeBuyIt: What to Know About the Shopping Trend
Video Shopping Ads, for example, will be displayed to TikTok users on the For You page as shoppable product videos.
If the product shown in the video ad is to their liking, users can add the product to their shopping bag and purchase it. In the course of a testing, the ad format was rolled out globally and is now available to all brands and marketers using TikTok worldwide.
Catalog Listing Ads, on the other hand, are for the time being only available in the United States. This ad format allows brands and marketers to promote their product catalogue on the app.
The so-called LIVE Shopping Ads can be created and run in countries where the TikTok Shop feature is accessible (in the United Kingdom and several Asian countries). Using Live Shopping Ads, businesses are able to showcase their products live on the For You page.
TikTok has partnered with e-commerce providers such as Shopify, BigCommerce, Ecwid, and WooCommerce to enable purchases through shopping ads.
26th of August update:
Consumers consider product reviews helpful
When shopping online, many consumers turn to product and service reviews to help them in their decision to buy. In fact, reviews form a large part of search results.
As the importance of online reviews is increasing, ignoring negative reviews from dissatisfied customers is nothing that online shop owners should be doing.
In the course of the Global Consumer Survey conducted by Statista, it was found that many consumers throughout Europe find product ratings particularly helpful.
In the United Kingdom, for example, half of the survey's respondents said product ratings helped them when shopping online. In Italy, on the other hand, 54% of consumers found product ratings in e-commerce useful.
In comparison, Swiss online shoppers seems to be more skeptical when it comes to product reviews. Only 40% of Swiss respondents consider them helpful.
Source: Statista Global Consumer Survey
Recommended Reading: Why Only Collecting Reviews Isn't Enough Anymore
Meta introduces new ad features
Last year, the Meta group introduced a dedicated hub where marketers can access all of Meta's automated ad features – Meta Advantage. The hub was created with the aim of simplifying work processes for advertisers while enabling personalised ads based on AI technologies.
Now, the group has launched new automation tools for the Advantage hub.
Advantage + Shopping Campaigns were developed for direct-to-consumer and retail advertisers. Using AI technologies, they help advertisers identify which ad campaigns are the most lucrative.
"Advantage+ shopping campaigns help advertisers get smarter and faster on which campaigns are converting. It eliminates the manual steps of ad creation and automates up to 150 creative combinations at once. This helps advertisers more quickly learn what ads are working, while making the most of their advertising budget," Meta explains.
According to Meta, even small business can now create automated ads, directly on their Facebook Page.
With the Advantage+ Creative and Advantage Audience features, ads can be displayed differently and in a customised way, depending on who is seeing the ad.
Recommended Reading:
Creating Facebook, Twitter, and Instagram Business Accounts
New features for the Advantage+ app campaigns were also added. These include more flexibility in the combination of assets for creatives, a seven-day click attribution capabilities, new split testing capabilities and more granular reporting insights for the performance analysis of the ads (e.g. based on regions).
Apart from this, Meta also launched a new function allowing marketers to upload images and video content in the Advantage+ Creative section. This way, ads containing this creative elements can be automatically set up.
---
12th of August update:
Deadline for phasing out third-party cookies in Google is postponed
Search engine giant, Google, has once again decided to postpone the deadline for phasing out third-party cookies in Chrome.
In 2020, Google first announced plans to phase out third-party cookie tracking in the Chrome web browser in the future. Last year the deadline was set for mid-2023.
Now, in a blog post, the tech giant announced a new delay of the phase-out deadline.
According Google, advertisers and marketers now have until mid-2024 to find alternative tracking methods for their marketing measures.
Anthony Chavez, Vice President of Google's Privacy Sandbox, stated on the Google Blog:
"The most consistent feedback we've received is the need for more time to evaluate and test the new Privacy Sandbox technologies before deprecating third-party cookies in Chrome. This feedback aligns with our commitment to the CMA to ensure that the Privacy Sandbox provides effective, privacy-preserving technologies and the industry has sufficient time to adopt these new solutions."
According to Chavez, the test phase for the newly developed sandbox APIs is to start at the end of August, giving advertisers and marketers the opportunity to prepare for the time after third-party cookies have been phased out and get to know alternative tracking technologies from Google.
Based on the feedback, the search engine company intends to make further adjustments and optimisations to the new APIs.
Recommended Reading:
12 Tips for Creating Perfect Google Shopping Ads
E-commerce provider OsCommerce launches new version
OsCommerce, one of the most well-known eCommerce software providers, has launched a new version.
Just like before, the new v4 version is to stay an open-source and free-of-charge tool for online shop owners.
With the new version, the company introduces various new design templates and improved security settings, among other things. In addition, shop owners can now access different sales channels.
What is more, the v4 version includes a visual editor, a content management system, advanced functions for stock and product management, and an open API.
The e-commerce provider is currently used by 46,000 online shops.
Good to know: Our Trusted Shops solutions work well with OsCommerce and allow for an easy integration.

New Twitter feature: Promoting business information in the profile
Twitter has announced the worldwide rollout of another new feature dedicated to businesses. In a blogpost, the social media platform said that Location Spotlight would launch globally and more tools for professionals were to be expected soon.
With the new Location Spotlight feature, businesses with a local shop or physical location can add their shop's (or office's) address, opening hours and other additional contact information at the top of their Twitter profiles.
This way, followers and potential customers can easily get in touch with businesses they are interested in.
In addition, businesses are able to visually show their directions with a location pin on a small cutout of a Google map. Twitter users can click on the map to receive directions that will navigate them to the local business' location.
"As we scale the Location Spotlight, we're also giving it an extra boost that can help professionals drive their customers further down the path to purchase," Twitter said.
Twitter also revealed that more features for professionals such as a centralised hub with more insights about a businesses' performance on the platform, as well as more additional spotlight features allowing companies to display more information in their profile, are to be launched soon.
Recommended Reading:
9 Tips for Successfully Promoting Your Business on Twitter
---
1st of August update:
Online shoppers prefer a personalised shopping experience
When it comes to personalisation in e-commerce, we're not referring to a new shopping preference. More and more customers expect brands and online shops to offer a personalised and intuitive shopping experience.
Twilio's "State of Personalization Report" now found that online shoppers value personalisation. From April to May 2022, Twilio surveyed a total of over 3,000 consumers and 300 companies from the United Kingdom, Germany, the United States, and 11 other countries.
shutterstock.com/Rawpixel.com
62% of those interviewed said that they would abandon an online shop if they didn't feel that the personalisation offered by the online shop was enough. Instead, the respondents said, they would switch shops and buy from the competition.
After having experienced a personalised shopping journey, 49% of the surveyed consumers said that they would likely become repeat customers – even if other online shops had cheaper or more convenient offers.
The interviewed company leaders on the other hand reported that 80% of their customers spend more when their shopping experience was personalised.
Recommended Reading:
How to Personalise Your Customer Journey in the Digital Age
However, many of the customers said they were reluctant to give out their personal information for personalisation purposes. Only 40% trust brands and online shops to keep their personal data safe and use it responsibly.
Instagram introduces new features for shops
Instagram has recently added a series of new and promising e-commerce features to its platform, making their intentions of becoming another e-commerce platform obvious once more obvious.
Finding local businesses with Instagram
Another new feature that the social media platform has introduced is the so-called "Instagram Map" allowing users to discover popular businesses nearby.
The Instagram Map will show users a number of locations such as restaurants or sights, as well as local businesses.
Instagram's map feature shares similarities with Google Maps as local businesses can be filtered by categories or users can save locations or shops they are interested in in their profile.
The map can be found when using the platform's search bar. On the search results page, users will have to select "places" and then click on a location they want to find. Instagram will then show the respective location or local business on the map.
The feature is now available to all users worldwide.
Recommended Reading:
Why Local Businesses Need to Collect Online Reviews
Selling via direct messages
Instagram users can now buy products and services from certified small businesses directly via chat on Instagram. This new feature was just launched in the US market.
Shops can confirm purchases directly in the chat, create invoices with item descriptions and prices, and request payments.
Source: Meta Newsroom
In addition, the app now allows businesses to set up a digital shop window to showcase their products on Instagram and Facebook.
In a blog post, Meta explained:
"We want to help people start conversations with businesses they care about and help them find and buy products they love in an easy, seamless experience, right from the chat thread."
Recommended Reading: 4 Ways To Grow Your Business With Messaging Apps
Finding influencers with a dedicated marketplace
As Instagram reported on its Business blog, the platform is currently testing a new hub to help brands find creators and influencers. Like most of its new features, Instagram will first test it in the United States.
With the "Creator Marketplace" hub, brands can easily discover creators for partnerships and influencer campaigns and get in touch with them.
What is more, brands can use the hub to manage campaign processes together with the selected partners, as well as agree on content, compensation and other conditions for future collaborations.
The tests in the US are currently only running on an invite-only basis, meaning that only invited brands can access the Creator Marketplace platform.
---
18th of July update:
TikTok steps back from shopping feature
Popular video clip platform TikTok has decided to cancel its own liveshopping feature. In 2021, TikTok launched a feature allowing businesses and influencers to sell products in a livestream.
Despite the huge success of liveshopping in Asia, the feature didn't meet the company's expectations in Europe.
According to the Financial Times, an insider revealed that several influencers opted out of the project in the UK. Additionally, the shopping feature hasn't been as popular among users either yet, making it harder for the feature to gain a foothold in the British market.
At first, the Chinese video app intended to roll out the feature in Germany, Italy, France and Spain as well. For now, TikTok has decided to only focus on the UK market instead.
But don't get us wrong: despite this unfortunate development, TikTok remains a relevant channel for brands and online shops as the number of users signing up for the trending app keeps growing.
Recommended Reading: #TikTokMadeMeBuyIt: What to Know About the Shopping Trend
On the other hand, shopping features are still highly popular among Instagram users.
Being one of the most popular social media platforms in the world, Instagram is a great channel you can use to engage with your audience and make your brand stand out.
In our free checklist, we gathered 21 effective tips for selling successfully on Instagram. Download it for free now:
E-Commerce growth in Europe
In 2021, European e-commerce grew by 13% to €718 billion / £607 billion.
However, despite this, the total number of online purchases slightly declined in 2021.
shutterstock.com/tippapatt
This was found in the course of the 2022 European E-commerce Report. For the report, Ecommerce Europe, the association in charge of the report, collected data from 37 different European countries.
After the massive boom in the e-commerce sector during the Corona pandemic, growth is now gradually stabilising and starting to normalise.
"In the past two years, retailers have gained a lot of experience in digitalisation. This acceleration was significantly pushed by the pandemic, during which e-commerce and retail played an essential role. These developments are reflected in this report", Luca Cassetti, Secretary General of Ecommerce Europe, commented.
"In 2022, Europe has, unfortunately, become the stage of a major conflict. Though still difficult to evaluate, the war in Ukraine will have major consequences on the European economy, as well as on e-commerce markets. Many of our members have already reported declines in consumer purchasing power and confidence, mostly due to high energy prices, inflation and uncertainty about the future."
Due to the effects of the war in Ukraine and the rising inflation, consumers are starting to be more cautious in their spending. However, as the report suggests, the industry is still expected to grow by 11% in 2022.
Recommended Reading: How to Calculate and Boost Your Conversion Rates
BigCommerce now available in other European markets
E-commerce provider ,BigCommerce, has announced plans to expand to other European markets.
The software solutions that the provider offers have already been available in several countries, among others, the United Kingdom, the United States, Germany, and Spain.
Last year, the company counted around 60,000 merchants in 150 countries.
Recommended Reading: Sales Holidays in Europe: Important Days to Know When Selling Internationally
Now, BigCommerce announced the expansion to the Nordic countries: Norway, Denmark and Sweden in a press release. In addition, BigCommerce has issued plans to enter the Austrian market.
BigCommerce allows local retailers to build their own online shop with local storefronts and to sell internationally. Sellers can offer their products in different languages and currencies, in order to allow for a localised shopping experience.
4th of July update:
Microsoft introduces its own marketplace
The world's largest search engine's biggest competitor now also wants to gain a foothold in the world of e-commerce.
At the beginning of this year, Microsoft's search engine, Bing, launched a partnership with e-commerce provider Shopify, enabling Shopify merchants to offer and sell their products in the Shopping tab on Bing.
Now, Bing is working on the launch of its own marketplace that shares quite a few similarities to Google Shopping.
With "Buy Direct", Bing's marketplace, users can start product searches, access information on various products and retailers, and purchase a desired item directly in the marketplace.
Although the implementation of Buy Direct has not been officially announced or confirmed by the Microsoft subsidiary, Bing has already been working on the launch of a marketplace in recent months and involved several US shops in the process.
As Business Insider reported, there are already around 100 US retailers that have access to the hub and are able to showcase their products.
Even though Bing already has a shopping section called "Start Shopping" where users can discover products and with only one click, go to the corresponding online shop to finalise their orders, the new Buy Direct platform will work as a stand-alone shopping platform.
Here, on the platform itself, users can not only spot products they like, but also complete the checkout process.
Sellers can set up their own shops in Buy Direct, while Microsoft handles the transactions. In return, Bing will surely charge a commission for sellers.
Recommended Reading:
Selling Online: Marketplaces Like Amazon & eBay vs. Website
Additionally, shop owners will be able to advertise and target their products within Buy Direct.
For this purpose, Microsoft will provide target group data from LinkedIn (which also belongs to Microsoft), as well as an additional tool to help advertisers manage their ads.
Moreover, in order to attract more sellers to offer their products in the new marketplace, Bing wants to make up for a particularly easy set up and is even offering to have the merchants' Google Shopping ads transferred to Microsoft.
It will probably take some time before Bing's marketplace will officially be launched.
For now, it is hard to tell if the new shopping destination will be an actual alternative and/or threat to Google.
Until then, however, Google will surely be the number 1 destination to advertise and offer your online shop's products.
Click here for our free step-by-step guide to learn how to get started with Google Shopping and set up your ads:
You're already familiar with Google Shopping and you would like to know looking how to optimise your ads? We got you covered!
In our free whitepaper, learn our tips to optimise your Google Shopping ads with some more advanced tips:
Pinterest launches new ad format
Speaking of advertising: social media platform Pinterest has introduced a new inventive ad feature for creators and online shop owners.
Last year, the so-called "Idea pins" were already launched; now, the app has rolled out a corresponding ad format for Idea pins.
As Pinterest explains, the ad format allows advertisers to "present ideas in action" in the course of a paid collaboration with creators.
Recommended Reading:
Boost Sales with an Influencer Marketing Campaign on Social Media
"Idea ads with paid partnerships can help to scale content beyond the creator's following. As Pinners see and engage with an Idea ad with paid partnership, they'll have the option to follow the creator, save the Pin and visit a destination URL provided by the business", Pinterest describes the new feature.
In other words: Idea ads are creative, multimedia, multi-page ads that combine video content and images.
Users can view a brand's content, visit their website and follow step-by-step DIY instructions - all within the ad.
This means whenever a Pinterest user clicks on the ad, they are taken directly to the respective brand's website for information about the product where they can also purchase the product.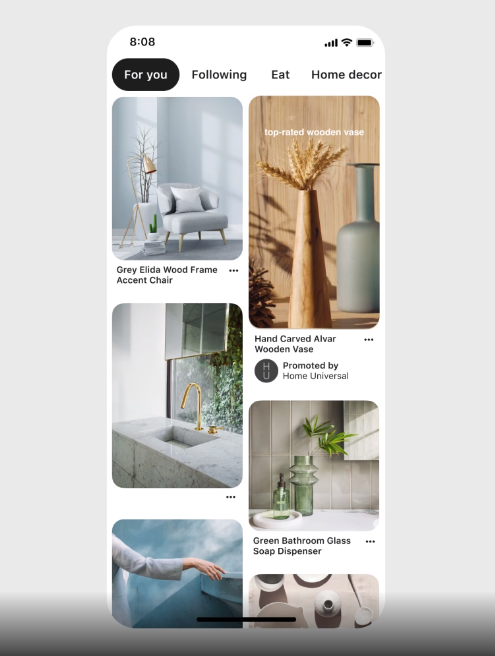 Source: Pinterest / Search Engine Land
In addition, Pinterest also launched a new collaboration tool to make it easier for advertisers and creators to work together on the platform.
For example, influencers can now tag advertising partners in their pins. Brands, in turn, benefit from the authenticity of the content and the enhanced reach of their brand.
What is more, brands can also promote the pins as their own Idea ads in a paid partnership on Pinterest.
Recommended Reading: How to Generate Sales with Pinterest Marketing
Many UK shoppers can't cover their Buy now, Pay Later orders
Since the outbreak of the coronavirus, the "Buy now, Pay Later" payment method (BNPL in short) has become one of the most popular online payment methods among online shoppers.
As the name suggests, BNPL allows online shoppers to order from online shops and only having to pay for it after the order was successfully delivered to them.
Some providers such as PayPal or Klarna even allow customers to cover their payment up until 30 days after the order was completed.
No interest or charges are imposed on customers using BNPL – if they manage to pay their invoice on time. Instead, lenders such as Klarna and PayPal charge a commission from online shops.
As the Guardian reported, 30% of British consumers have already used this payment method for their online orders.
However, research now found that around a third (31%) of all BNPL customers were having trouble handling their repayments.
In the course of the survey, 400 decision makers from the retail sector were interviewed. Those offering BNPL in their shops, believe that by the end of 2022, BNPL orders will account for more than 22% of their sales.
June 2022 updates:
EU introduces stricter guidelines for pricing & discounts
On 28 May, a series of new EU directives came into force which, among other things, relate to online trade.
We have already discussed the regulations affecting customer reviews in online shops that were set with the so-called EU Omnibus Directive in another article. In our article, "The EU Omnibus Directive: The new regulations and how they affect you", you can read about these changes and how you to implement them.
Apart from the regulations that concern online reviews, the European Union has amended the Price Indication Directive. The directive affects all businesses that sell in the European Economic Area or that are based in one of the member states.
What to know about the new Price Indication Directive
In general, the new regulation aims to improve transparency in price communication.
Since 28 May, the EU has stipulated that online shops and local shops must always indicate the lowest total price of the last 30 days whenever price reductions and discounts of the respective product are concerned.
This is to prevent customers from being deceived with alleged price reductions when shops indicate higher base prices to make discounts and offers seem more appealing.
Often, right before big holiday sales events such as Black Friday or Singles Day, many companies would deliberately increase their prices in order to lower them again on the sales days.
Speaking of holiday sales events: learn about important international sales events and how to include them in your shop's marketing strategy in our free whitepaper. ⬇️

From now on, as an online shop or local business owner, you are obliged to display the basic price both on the price tags on site and on the product pages in the online shop, during the checkout, in email communication or in any another sales channel concerned.
However, there are some exceptions:
In the case of personalised discounts, it is not mandatory to indicate the previous price of the product. This also applies to promotional codes, vouchers, birthday gifts, and credits or points offered to specific customers.



Price fluctuations and discounts that are not being promoted



Combined Offers
So far, the European Union has not clarified what exact sanctions will be imposed on business owners who do not comply with the regulations. These may also vary by country.
However, it's not only consumers that can benefit from the adapted guideline. The obligation to price transparency can also represent an opportunity for shop owners.
By communicating the prices you offer in your online shop openly to potential customers, you convey trust. After all, trust is one of the most important marketing tools in the online world and can be an enormous conversion booster for your own online shop as well.
Recommended Reading:
'The Reviews Helped Us Build Trust' (Interview with Decathlon)
Twitter Product Drops: A new feature for online shops
The popular social network has yet again taken further steps towards e-commerce. Twitter recently announced a new feature on its blog that will allow online shops and brands to strengthen their presence on the platform and drive sales.
With "Product Drops", online shop owners will be able to notify their followers and potential customers about upcoming product launches. The feature is the first of its kind for a social media platform.
As soon as a business profile on Twitter tweets about an upcoming product launch, followers will see a "Remind Me" button at the end of the tweet. When they click on this button, they will be receive a notification on the day of the product launch 15 minutes before and at the time of the launch.
Clicking on the notification will take them to the shop's website where they can buy the product.
Source: Twitter's Blog
Twitter is currently running a test phase for the new feature, only making it available to US users with iOS devices.
According to the social media platform, well-known brands such as Dior, Home Depot and Fossil are now testing Product Drops. However, Twitter is planning to make the feature available to other brands and shops soon.
Recommended Reading:
9 Tips for Successfully Promoting Your Business on Twitter
Google revolutionises the search
This year, Google's annual developer conference, the Google I/O, took place on 11 and 12 May. At the event, the tech giant presented its latest hardware, software, and tools.
Let's look at some of the most important innovations and the most promising announcements of the conference that will affect e-commerce.
The search engine company is planning to revolutionise the search. With "Multisearch", Google app users have already been able to start image searches in addition to regular text searches.
Soon, users will also be able to use Multisearch to search for businesses, local shops or restaurants in the vicinity. This "local information" will be rolled out over the course of the year, first in English and then for other languages.
Google users can then use an image or screenshot to search for local restaurants or shops nearby that sell the products shown in their image using the "near me" filter.
"Today, we're redefining Google Search yet again, combining our understanding of all types of information — text, voice, visual and more — so you can find helpful information about whatever you see, hear and experience, in whichever ways are most intuitive to you. We envision a future where you can search your whole world, any way and anywhere," Prabhakar Raghavan, Senior Vice President at Google, explains.
Source: Google Keyword Search Blog
With this new feature being released, having a Google Business Profile for your local business can be a real sales booster.
Tip: Find out everything you need to know to create a successful Google Business Profile (formerly known as Google My Business) ⬇️

Another innovation that was announced for the Google app: with multi-search, physical locations can be "scanned" and recognised by Google.
With scene recognition, users can move their smartphone's camera back and forth like taking a panorama picture in order to quickly obtain information about objects that can be recognised in the shot.
Source: Google Keyword Search Blog
Previous updates: