Voice searches are one of the newest considerations for SEO specialists. As voice recognition technology has steadily improved over the last few years, it has become commonplace for users to ask their phones short questions using a microphone rather than typing out a question.
With this new technology, a new term has emerged in the world of SEO: Answer Engine Optimisation (AEO). As a shop owner, there may very well be some cases where such voice searches can lead to sales in your online shop.
Summary:
1. Voice search and AEO definitions
2. Why optimise your site for voice search?
3. Tips to improve your site's AEO for voice searches
Voice search and AEO Definitions
Before we get into the optimisation techniques, let's make sure we're on the same page. Here are some the definitions for voice searches as well as AEO:
Voice search is a technology that allows users to search the internet by simply asking a question out loud. The device will interpret the users speech and give an appropriate answer.
You are surely aware of some of the most common examples of voice search technology. The biggest tech companies use them. Apple users trigger their devices by saying "Hey, Siri". Google users say "Ok, Google..." and Amazon device users refer to "Alexa".
Let's not forget that Google is always looking for the content that will be most useful to internet users . In order to appear at the top of search results, content creators implement different techniques to optimise their ranking. SEO techniques thus focus on optimising page rankings in the SERPs following written queries. But what about voice searches? This is where the AEO comes in.
Answer Engine Optimisation (AEO) is a new branch of SEO that describes all the methods used to optimise a web page so that it ranks best for voice searches.
Google and Bing give priority to sites that provide a simple and clear answer to questions formulated by users. Without even having to enter the full question, Google provides users with an answer directly visible on the first page of results. Thus, the best result selected by Google to answer the query will be displayed in position 0, which is above the first URL that appears in the search results.
For example, if you wanted to know what the best movies of 2022 are, you can discover a selection of film titles directly in the carousel at the top of the SERPs and you won't even have to click on a URL.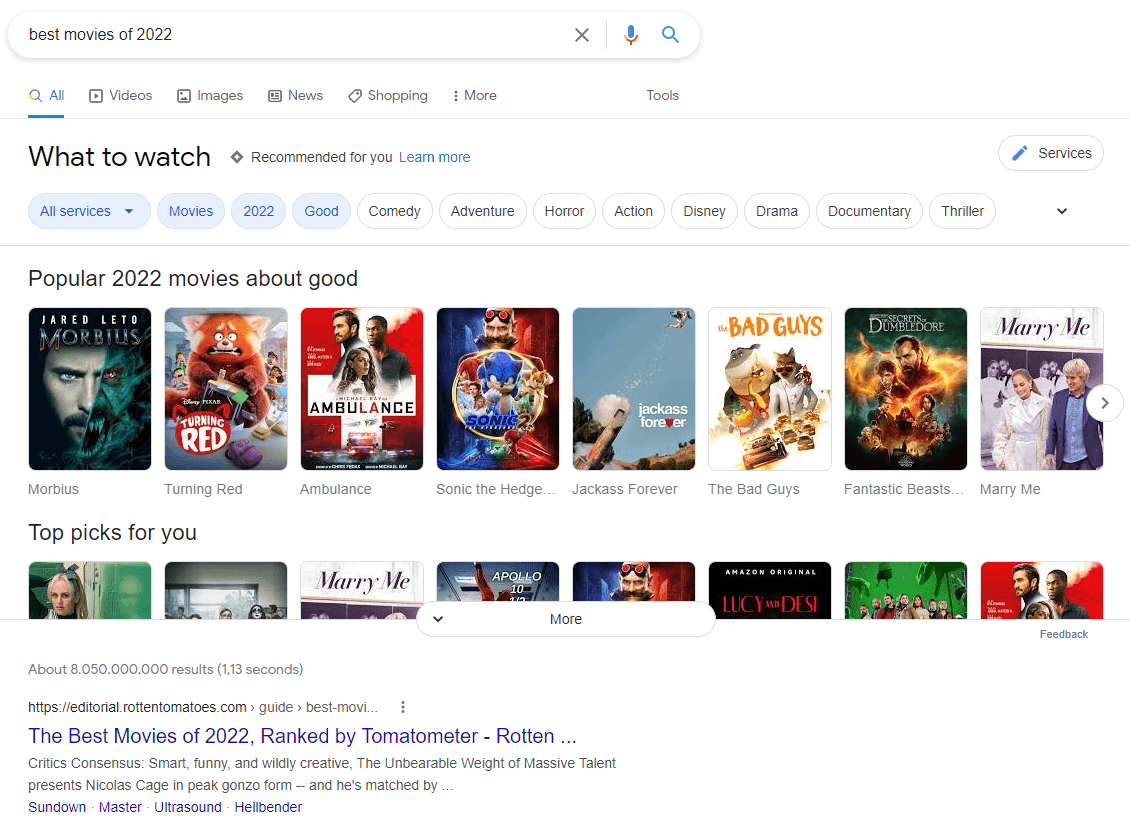 Similarly, if you want to know the definition of a backlink and use the Google voice search, the definition will also appear directly in position 0: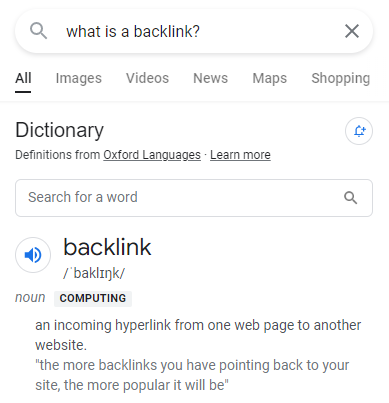 Google is positioned not only as a search engine, but above all, as an answer engine that favors content that best meets the oral requests of users.
If you sell pool accessories or online courses, you may be wondering if it's worth it for you to take the voice searches of your internet users into consideration for your SEO strategy. We explain why it is:
Why optimise your site for voice search?
Surely, you've noticed that voice searches are increasingly present in our daily lives and more and more devices allow users to literally speak, order, command or simply request information from their speakers, vehicles or smartphones. Many of these devices can be connected to your home automation systems and used for functions like turning lights on and off or listening to music.
Smart speaker ownership has shot up since 2019. Check out these numbers for UK users: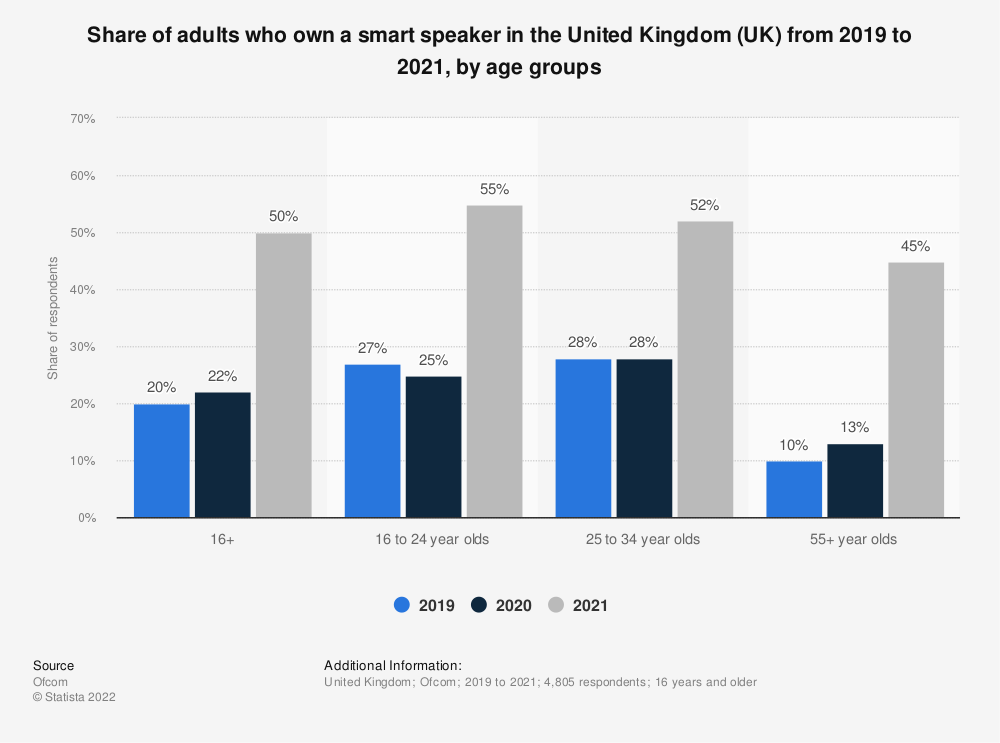 Source: Statista
Via voice search, individuals (with an over-representation of Millennials) are mainly looking for promotions or sales, personalised information and advice, or information on local stores or events.
Local search is becoming more and more relevant and refined. Studies have shown that a large number of voice searches are performed locally, meaning that users are looking for relevant information in the context of where they are physically located. For example, a typical voice search might sound like this: "Where is the nearest pizzeria? or "Where can I find a good dry cleaner?"
Recommended reading: Digital Strategies to Boost Foot Traffic to Local Businesses
But how do you ensure that your business does well and also appears in position 0 of the search results? We've got some AEO tips that will allow you to respond to voice requests in the best possible way.
9 tips on improving your site's AEO for voice searches
Backlinko's Brian Dean analysed over 10,000 Google Home search results and tested them for ranking factors. The result is a list you can use as a guide to getting the most out of voice searches.
#1 Increase the loading speed of your pages
Page speed ​​seems to play an important role in voice SEO. A result page loads on average in 4.6 seconds during a voice search. This is 52% faster than the average loading speed of all web pages.
It has long been known that the speed of a site plays an important role in search engine rankings. This is particularly true in e-commerce where the speed of a site turns out to be a real driving force in making purchase decisions. So make sure your online store loads quickly.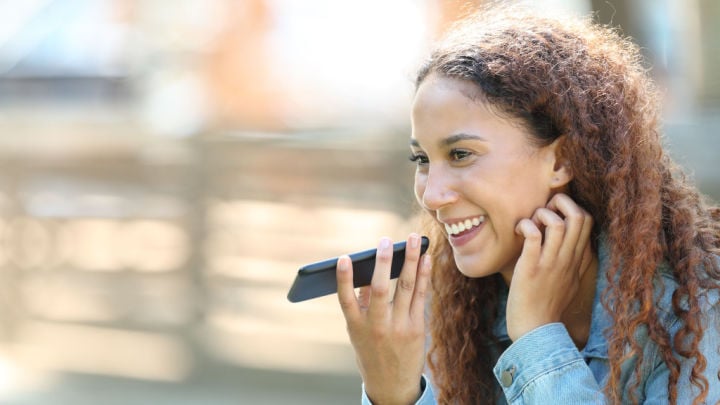 Source: Shutterstock.com/Antonio Guillem
You can do this by using a CDN like CloudFlare, downsizing your images, investing in good hosting, and making sure the code of your pages isn't unnecessarily complicated.
#2 Secure your site using HTTPS protocol
HTTPS websites dominate Google voice search results. In fact, up to 70.4% of Google's homepage websites are secured using HTTPS.
If you haven't yet secured your website using HTTPS, you should do so as soon as possible. By doing so, you will send a positive signal not only to Google, but also to your site's visitors.
Ask yourself: Would you shop on a website or enter your bank details on a website greeting you with a pop-up telling you that it is not secure?
#3 Be brief and concise when answering queries
Google prefers short, concise answers to voice searches . A typical voice search result is only 29 words.
If you want to optimise your content to be chosen as a search result by Google Home or other voice assistants, you should try to answer the search as briefly and precisely as possible.
#4 Implement structured data
Using schema.org tags is highly recommended when implementing a voice SEO strategy. Surprisingly, Schema markup doesn't really play a major role in voice referencing. However, it is still worth using them as they are considered good SEO practice.
#5 Take care of your domain authority
Authoritative domains (websites with lots of strong links) appear more often among voice search results than non-authoritative domains.
Indeed, the average score of a domain for a Google Home result is 76.8 out of 100. This certainly does not offer promising prospects for managers of small websites, but it's also not impossible, especially if your shop belongs to a unique niche.
Recommended reading:
Domain Authority: How it Can Improve Your Google Ranking
#6 Generate social media mentions
Even if the interactions and engagement rates on social posts do not directly affect SEO (and therefore the optimisation of your site for voice search), the number of clicks on a link leading to your site will increase traffic to your domain.
Indirectly, your content shared on social networks therefore has an influence on your SEO. The more content is shared, liked, retweeted or commented on, the more it will also be clicked and read. With this increased traffic, Google will consider the page in question as qualitative and it will then be at the top of the results.
#7 Be credible
It is already clear that simple, understandable and easily readable content has a good head start in voice SEO. Google's highest average voice search result has a language level comparable to a third grader.
Posting simple, easy-to-understand content can help you rank higher in voice search. If it is difficult for you to simplify your content, try to imagine that you have to explain the content to a child. After all, simplicity, prevails when it comes to answering your customers' voice queries.
If you sell products, for example, consider adding an FAQ section to provide content in the form of questions and answers. You could be noticed more easily by Google and increase your traffic by answering questions directly from internet users. Do you sell fire extinguishers? Add a section to your FAQs such as "How do you use a fire extinguisher?" or "Which type of fire extinguisher should I choose?"
#8 Take care of your e-reputation
Make sure your business information is always up-to-date across all your channels. It may be time to create a Google business listing page (Google Business Profile, formerly known as Google My Business) to increase your visibility.
Also, encourage your customers to write reviews to rate their shopping experience. Indeed, a large number of customer reviews will not only increase your visibility on the search pages but will also have the advantage of increasing interactions and mentions of your brand.
#9 Prioritise quality over quantity
It turned out that very few voice search results had the exact search term in the title. Therefore, building pages for every voice keyword doesn't seem like an effective SEO strategy.
You no longer have to worry about creating 100 different pages, each optimised for a specific keyword.
Instead, write very detailed content that can answer multiple voice searches on a single page.
Conclusion
Now you know why you should think about optimising your site for voice search. Keep in mind that the use of voice queries will increase in the coming years and that Google will always refine its algorithm in an attempt to deliver clear, concise, and quality content. If you have a physical store, think about orienting yourself even more to voice requests so that internet users find you even more easily. Finally, spend time improving your site's SEO as this benefits normal SERPs as well as voice searches.
This article was translated and adapted from our French blog: 9 conseils pour optimiser votre site pour la recherche vocale