Growth marketing and competitor analyses are important parts of the development of any business. Learning what you can optimise in your business while keeping an eye on the competition is as important as any other facet of your business. With that in mind, let's learn about how you can use growth marketing and a competitive analysis to boost your e-commerce performance.
Contents of this article:
What is growth marketing?
Understanding your own brand's strategies
Identifying your competitors
Getting to know your competitors
What is growth marketing?
Growth marketing, as its name implies, is a long-term marketing strategy that focuses on using data gained through marketing campaigns and experimentation to attract, engage, and retain customers.
Each business has a unique set of goals, so copying what other businesses are doing just won't cut it. The key to growth marketing is collecting and analysing both internal and external data, then utilising that data to perfectly tailor your offer to your niche.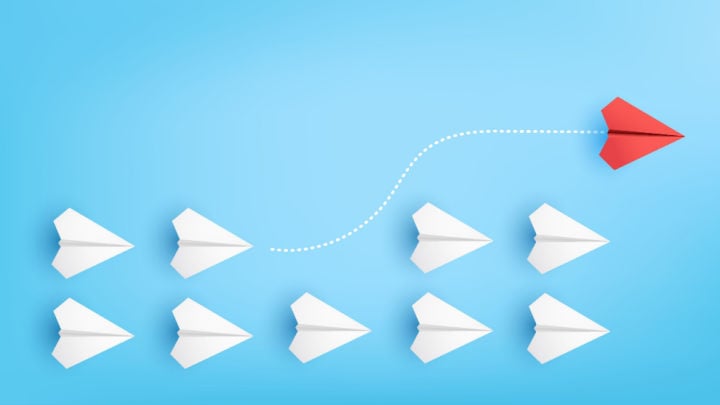 Source: shutterstock.com/M.Aka
Before we get into the competitive analysis, it's important to note that you must first understand the advantages and flaws of your own product first. Then, you can deeply analyse what your competitors are doing so that you can surpass their efforts.
Understanding your own brand's strategies
Most businesses only look at their competition to create a marketing strategy and don't dedicate enough time to critique their own product(s). Make no mistake; it's extremely important to do a deep dive into what your competitors are doing. However, when you run your own business, you often wear rose-tinted glasses, which obstruct the objective flaws in your brand and products.
When analysing your brand and marketing efforts, first ask yourself these questions:
What is the ROI on my paid ads?

Is my customer journey strategy effective?

What do my past customers think of my products?

Is my SEO strategy working?

What are my keyword rankings?

What are my bounce and dwell times?

How large is my following on social media?

Are there any similar products on market?

What makes your product unique?

Can you find your product on Google?
Recommended reading:
How to Stand Out When Competitors Sell the Same Products

As you can see, these questions cover a wide range of topics, from product development to marketing and SEO. With that in mind, let's look at a few ways we can answer some of the above questions:
Use free tools from Google
Google is one of your best research resources. With Google Analytics and Search Console you can perform audits of your own website and products on the largest marketing platform in the world, and all for free!
Recommended reading:
Google Search Console Insights: How to Analyse your Content and Rank Higher
Customer feedback
If you run an online shop, you inherently know your way around not only your products, but also around your website. This means you already have a bias, and it's hard to understand certain problems that your customers may experience. That's why the feedback from your customers is crucial to evolve your marketing as well as the product. The best way to collect this feedback is with customer reviews.
With positive reviews, you can analyse parts of the product that work, and expand/improve on them. You can also use this feedback to improve your marketing.
With negative reviews, you can find what the customers have a problem with and remove/improve these problems.
Example: You got a 3-star review from a customer who was happy with your product, but they found your payment page confusing or they're not sure about the subscription terms. This review is short, but they gave you a lot of data to work with.

First: The product was working as intended and it satisfied the customer.

Second: Your payment page needs an update. You can also design a short questionnaire/survey, that you could send to this customer. This could give you even more information and possibly give this customer positive impressions of the company.
Identifying your competitors
Nobody online operates without competitors. This is the most important tenets of e-commerce. This is your biggest advantage, but also your biggest drawback.
As an advantage, you can see what your competition is doing and adjust your strategy. You can also see whether your prices are in line with the market, if the structure of your website makes sense, or whether your marketing is effective.
The drawback is that everyone sees the same things as you do and they are also adjusting their strategies, which means that the e-commerce market is undergoing constant changes.
So, what are some strategies for learning about your competitors?
Market research
Market research is basically the analysis of targeted markets and customers. It combines consumer behaviour and economic trends to confirm and improve your data. Analysing the competition is also part of this.
To identify your competition, you have to understand your own market and consumers. If you find out what your customers want and who they are, you'll want to identify your competition as well.
How can you do this? Let's take a look at your options…
Tools to identify competitors
There are many useful tools ready to strengthen our marketing results. There is a huge amount of software to help you with the marketing, but which should we choose? Here are our recommendations:
Google products
Google is not only an advertising platform, but also a largest platform for data collection and analysis.
Google Shopping:

Learn who else is selling similar products. Get insights into their pricing and marketing strategies by visiting their pages.



Google maps:

Try to search for your niche in maps (e.g. "furniture store in Prague").





Google Trends:

This tool shows you how frequently the names of your competitors are entered into Google. Basically, you can monitor their positions. Trends can also be used to find out what the seasonal trends are for your niche and for comparative keyword research.
Web Intelligence
Tools from Google are awesome, but sometimes it's hard to make sense of the data, which is why we like to use other tools that give you insights into your competitors' website performance (e.g. traffic and engagement metrics). Here are some tools, that we like to use:
Getting to know your competition
To attract more customers, you need to beat your competition, and to do that you need to know them as well as you can. As an online retailer, it's important to get as much inside information as possible, because the e-commerce market and your competition are constantly evolving. Here are some things to keep track of:
Read their blog
Having a blog is an integral part of many online retailers. Competition won't give you any integral information about internal state of affairs on a public blog, but it can help you find out what products are being marketed, what their target group is, what new offers/products they are working on, and what their relationship with customers is.
Follow your competitors on social media
It might be strange to follow your competitors on social media, but it may be a great opportunity for you as well.
If you follow them, you'll also be exposed to both their organic posts and their advertising campaigns, giving you more insights into their strategy (more on this below). You'll start to see a pattern in their style and branding.
You can take this knowledge and use it to adjust your brand's image if it makes sense. Be careful to never directly steal your competitor's style because the internet will notice. Remember to keep your brand's style and consistency.
Find your competitor's paid ads
Sometimes, it's hard to find an inspiration for your digital ad campaigns. You might start wondering what the competition is doing.
Thanks to a Meta (Facebook and Instagram) privacy policy update that happened a few years back, you don't have to wait for your competition's ads to appear on our feed. Anyone with an account has ability to see the advertisements associated with any account on these platforms.
Facebook Ad Library
In the Facebook Ad library, you can find your competition's active Facebook ads. All you need is to choose location, ad category, and then put in the name of your competitor.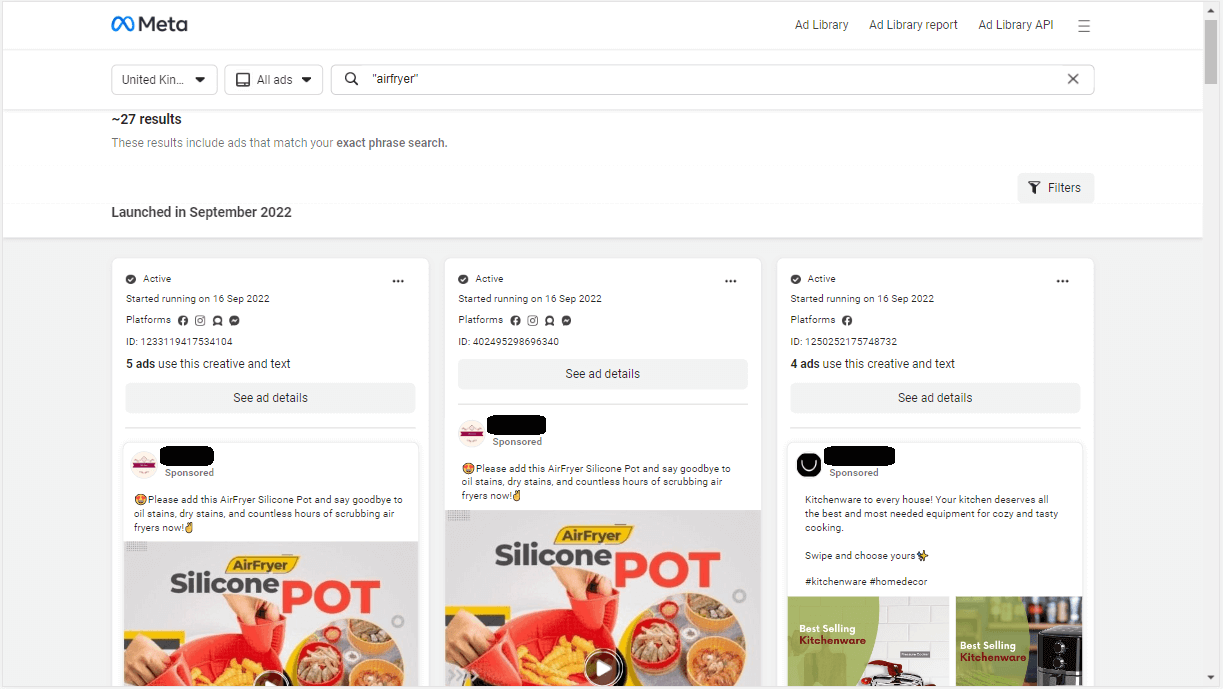 That's not all you can do on the Facebook ad library. Since Facebook owns Instagram, you can also find ads from Instagram. Once you've gained access to your competition's ads in the Ad Library, all you need to do is to click on Filter, select "Platform" and check the Instagram box. Now, you can see all of their active advertisements on Instagram as well.
Alternatively, you can head straight to your competitor's Facebook page, scroll down to the section called "Page Transparency".

Click on "See all". Scroll down to find the link to the Ad library there, which will show you all the current ads the company is running on Facebook.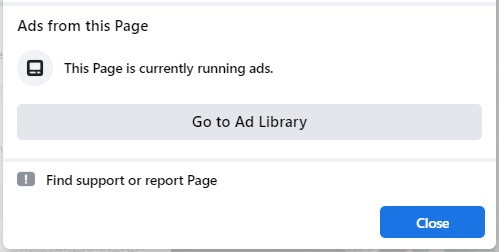 Place a test order
with your competitors
Placing a test order is a great way to get familiar with competition's ordering process, and it can give you good ideas on how to optimise your own ordering process. You can test out their payment process, customer support, and much more.
Put yourself in the shoes of consumer. What information is required to place an order? What does the confirmation e-mail look like?
Conclusion
Before you start analysing competition, you need to deeply understand your own product, business strategy and style. You must first find an effective growth strategy, that is focused on the goals of your business and not some shallow copy from elsewhere.
Use the tools available to you to not only track you competition, but also to find mistakes in your own strategy. Take inspiration from your competition's success and missed opportunities and use this analysis to give your business a head start.
Don't copy your competition, this tactic is not only unfair, but also self-destructive. People on the internet can have great investigative skills and sooner or later, underhanded tactics such as fake reviews and content copying will be unveiled, which would lead to a huge loss of public perception.