The Chinese New Year (CNY) is approaching. As you probably already know, it is a very important holiday in China. In today's blog, we wanted to take a look at what your online shop can do to make the most out of this important holiday.
What is the Chinese New Year?
The Chinese New Year is a holiday that goes by many names. In China, it is called chunjie (春节), and is also referred to as the Spring Festival.
However, it's worth noting that this holiday is important throughout much of Asia, not just China (more than 20% of the world population celebrates this holiday).
In Vietnam, for instance, it is known as Tet Holiday, and in South Korea it is known as Seollal.
It is also China's longest holiday, at 15 days (but some consider the holiday season as long as 40 days, beginning in December with the Laba Festival).
The Chinese New Year is a holiday for family members to reunite. Thus, it is responsible for the largest human migration in the world, with people travelling very long distances in order to get home for the holiday.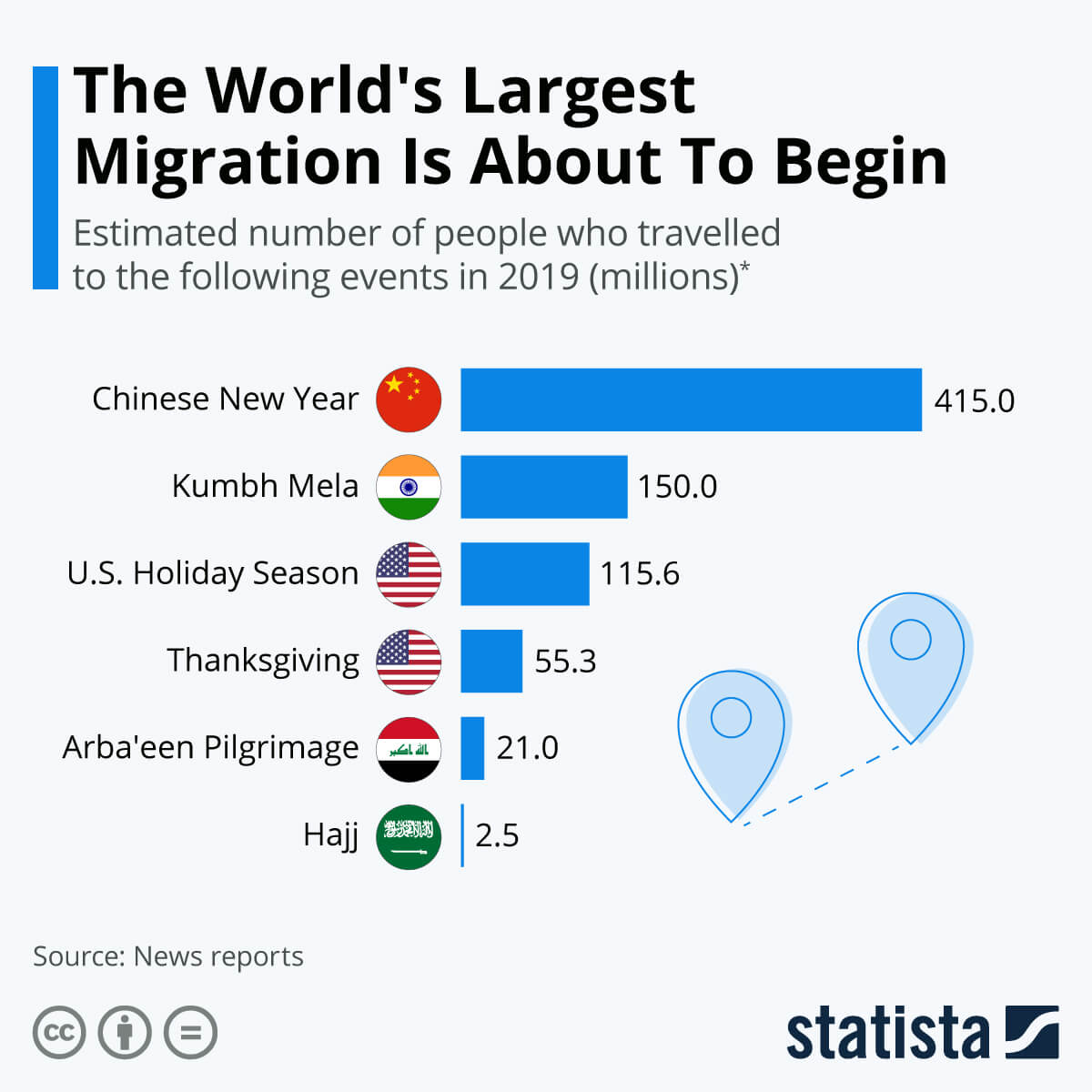 It is clearly a highly important holiday for a large global population.
Although travelling to see family is done by the majority of participants, recent trends have shown that many people like to travel abroad during this holiday as well.
In fact, before the coronavirus struck in early 2020, these were the travel predictions for the 7+ million Chinese international travellers:
Europe is clearly a popular destination for Chinese travellers.
What does the Chinese New Year mean for your online shop?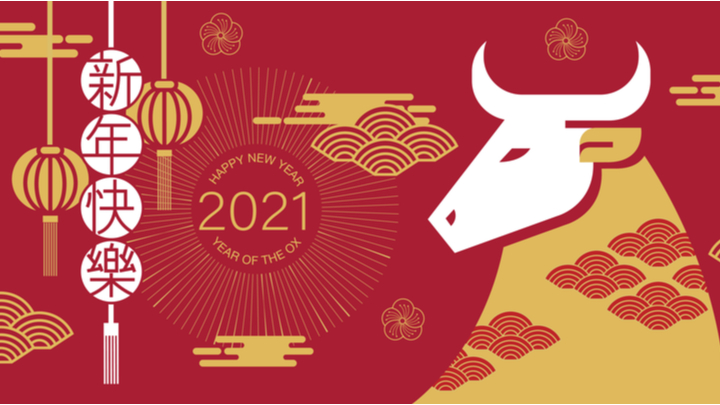 The Good
Although it might pale in comparison to Singles' Day, the Chinese New Year is still a big deal throughout Asia (and for Asian communities around the world).
In fact, 2017 saw a 38% year-on-year increase in orders for advertisers during the three-day core period. Some of the industries with the biggest boosts were health and wellness (83%), food and drink (28%), and photography (28%).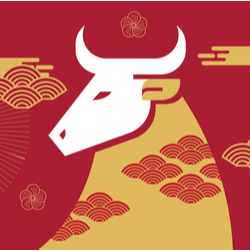 According to PCA Predict, these numbers correlate to a bigger trend of Chinese shoppers going online for the New Year's celebration (73%). An estimated 23% of Chinese consumers will make at least one cross-border purchase via the internet in the next year.
Looking specifically at the UK, Chinese shoppers were responsible for a 17% increase in completed transactions during the New Year in 2017. Consider all these numbers and it's easy to see the potential for UK retailers to benefit from the annual celebration.
The stereotypes of Chinese shoppers has also changed in recent years. With an increasing amount of disposable income, Chinese shoppers have come to appreciate luxury products and top brands. Check out these stats from late 2019 regarding online consumption habits during the Spring Festival: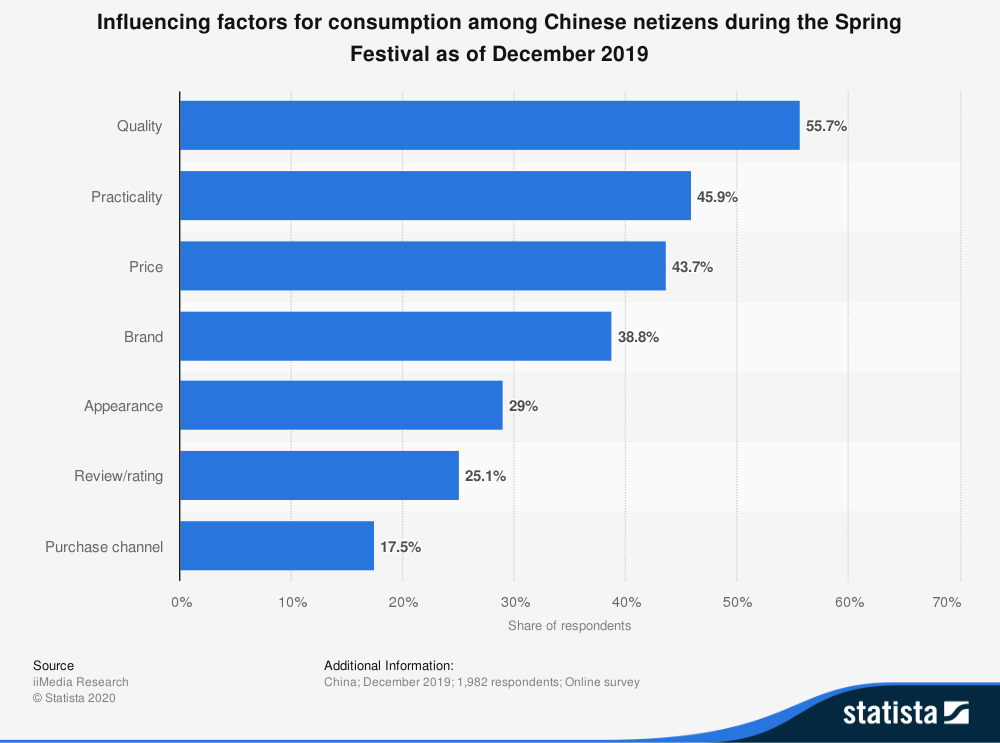 Taking it a step further, we can also see that tastes for brand names is quite high as well. To be fair, "famous online brands" is the smallest piece of the pie (4.9%), but "well-known brands" is the highest (57.4%):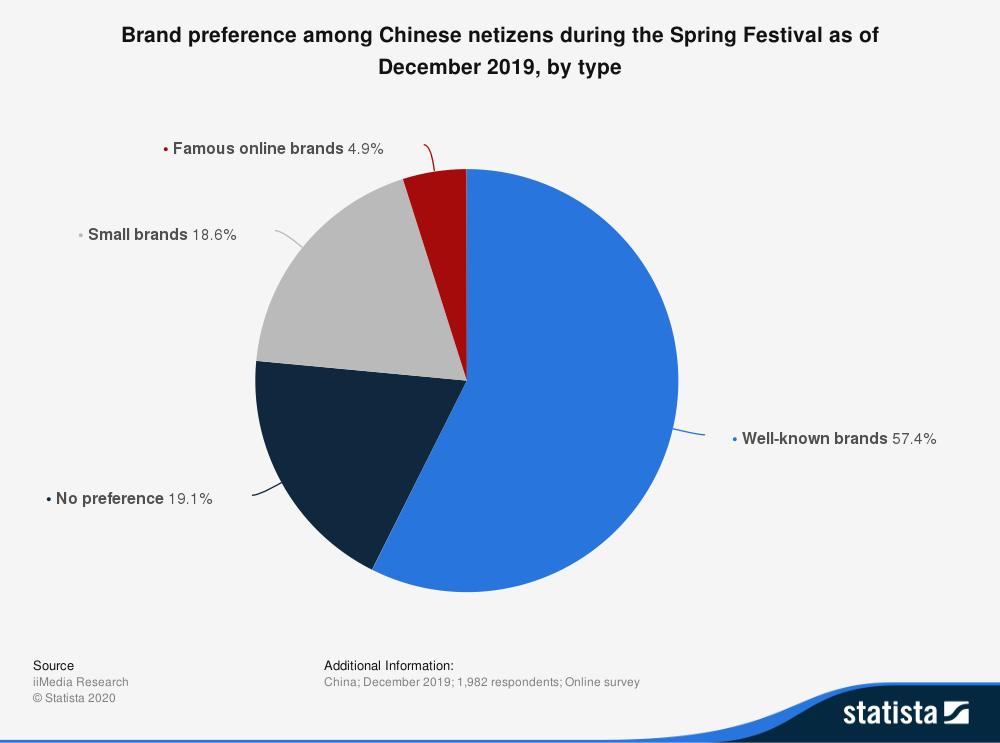 The Bad
If you're a retailer whose suppliers are in China, then it's worth noting that your supply chain might be affected by the holiday.
As mentioned earlier, the Chinese New Year is responsible for the largest human migration in the world. That means a lot of people have those days off, so don't expect to do business (with your partners) in China during this period
If you're a dropshipper, you might want to double check with your suppliers to be aware of any delays in their processes. You might want to stock up on some popular items beforehand.
Marketing Ideas for the Chinese New Year
So, what can you do to reach out to this huge potential customer base? Here are a few ideas and examples of past campaigns.
Get in touch with the traditions
As you probably already know, Chinese people have strong traditions and value them immensely. Learn about what makes this holiday unique.
First and foremost, this holiday is about family. Tiger Beer created a campaign, "The Reunion Project", based on the concept of reuniting families that hadn't seen each other for a few years. Through this project, people could nominate loved ones and potentially win them a trip home. (Warning: you might get teary-eyed here!)
The Chinese New Year is also a holiday about travelling (remember the migration?). This is a huge characteristic of the holiday. McDonald's created a campaign around a travelling Ronald McDonald doll coming home for the holiday.
Another tradition associated with Chunjie is the gifts. A common gift is a red envelope with money inside. There's definitely an opportunity to get creative with this idea as well.
Another thing to keep in mind is that the new year is associated with an animal. In 2019, this will be the year of the pig. You can sell products featuring this animal. Include those animals in your marketing campaigns, ads, and social media images!
Provide valuable content
Naturally, such a holiday can be stressful (15 days with your family!). Making their life easier in any way is a good way to build a relationship with them. This can be tricky depending on what your company sells, but try to get creative. Have decoration tips? Recipes? Travel hacks? Gift ideas? Share them!
User-generated content
Getting people to interact with your content is always a good idea. If shoppers feel a connection with your brand, there's a much stronger chance they'll want to buy from you as well. Get shoppers engaged with social media.
For Trusted Shops' guide to Instagram ads, click on the banner below:
Short micro-video clips are a popular trend in China that Michael Kors used perfectly to engage with their audience. When they first entered the Chinese market, they created a hashtag challenge for users to create a "city catwalk" video where they "catwalk" in public places. Around 30,000 users engaged in this campaign.
Coca-Cola created a campaign for people to "nominate those who made them happy". Users could create personalised internet memes to share on social media.
Of course, you don't have to create software for users to create their own memes. Social media contests with a unique hashtag or inviting them to tag their friends for a giveaway or low budget alternatives to boost social engagement with your brand.
Conclusion
The Chinese New Year / Spring festival is an absolutely huge event in Asia. Ignoring the sales opportunities of this period would be a mistake! Get started now in order to get the most out of one of the most important holidays in the world. Remember, the New Year falls on February 12th in 2021.
Bonus download: Click on the banner below for a free whitepaper on building customer loyalty: