The days of traditional advertising on TV, billboards, and newspapers are long gone. Nowadays, brands prefer to invest their marketing budget on digital advertising. Why? The answer is simply because that's where the customers are. Today, we'll look at live-streaming as a new medium to get more exposure for your business.
People no longer watch TV, they watch online videos on YouTube and Netflix. They've also have replaced reading newspapers with scrolling through social media feeds. On average, people across the globe spend 2 hours and 22 minutes of their daily time on social media.
According to e-Marketer, 2019 will be the first time ever that digital ads spending has surpassed traditional ads (i.e. television, newspaper, and magazine ads). Google and Facebook remain as the top two highest earners from digital ads with a combined revenue share of almost 60%.
These statistics have given proof that you should fully focus your marketing campaigns on digital platforms. Grow your social media following and presence in order to build brand awareness, customer trust, and traffic to your website, where you can convert them into paying customers.
In this article, we'll talk about how to build your social media presence and connect with your audience through the use of live-streaming videos. For those of you who don't know, live-streaming is a form of video that is recorded and broadcast live at the same time.
The advantage of using live videos on social media
Here are three advantages for using live-streaming videos for your social media accounts.
1. Reach a wide range of viewers
Social media platforms have the power to reach a wide range of people because everyone uses social media. The latest study shows that almost 80% of all internet users use social media.
The number of internet users in 2019 has risen 9.1% from last year, reaching 4.388 billion people. Out of that number, 3.484 billion people are active social media users.
Recently, live-streaming videos have been an on-going trend in social media with the emergence of Snapchat, Instagram Live, Facebook Live, Twitter's Periscope, YouTube, and other live streaming platforms.
As a matter of fact, the trend is so strong that 82% of users prefer a live video from brands over a social media post. With this massive amount of users, it's almost mandatory for you to use live videos to boost your social media growth.
2. Boost audience engagement
Live videos are different from the one-way recorded videos because the audience can actually interact with your video. In most live-streaming platforms, people can send comments, emojis, likes, and even donations during your broadcasts.
According to Tubular Insight, people spend a whopping 8x longer time watching live videos than VOD (video-on-demand). The average time spent on VOD is 5.1 minutes, whereas live videos have 42.8 minutes average view time.
Perhaps, users spend more time on live videos because it gives them an engaging experience that they can't find elsewhere (even when watching Netflix!).
3. Live-streaming videos are mobile-friendly
Whatever your digital marketing campaign is, if it's not mobile-friendly, then you can forget about it. Today's market, especially the millennials and generation Z, are addicted to mobile devices. Don't believe it? Here's the proof:
Half of the women aged 18 to 34 check their phones as soon as they wake up.

85% of people keep their phones close at all times, while 25% of millennials check their phones more than 100 times a day.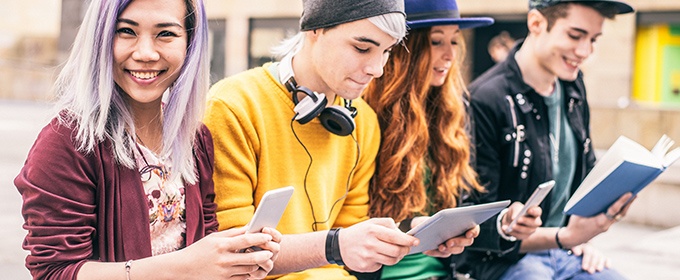 Watching videos is one of their favourite things to do on mobile devices:
Of all videos watched on the internet, 75% of them are viewed on mobile.

63% of people aged 18 to 34 have watched live streaming videos.

56% of millennials prefer watching live videos on their smartphones, while 44% prefer tablets.
Luckily, most social media platforms with a live-streaming feature are available on mobile devices, making your live video content accessible to those mobile users.
Now that you know the benefits of using live streaming video in your social media marketing campaign, you should start creating one.
Content ideas for live videos
If you're unsure of what kind of video you want to make, here are five content ideas for your live-streaming videos:
1. Behind-the-scenes of your business
Show what your business is like behind the scenes in order to build trust with the customers― how your product is made, how it is delivered to customers, how you lead your team, etc. You can even tell stories about your struggles and how you got to this point.
Do a walk-through around your office or business centre and tell specific history about a certain room, building, or any other ordinary thing with sentimental values. Or you can do a sneak peek of your live events like Starbucks did in 2016 when they broadcast behind-the-scenes clips of their event in Queens, NY.
This live-streaming event from Starbucks gathered over 3,000 interactions and many more views.
The more people know about you, your business, and your story, the more emotionally attached they are to you. And if that happens, it's only a matter of how and when you'll convert them into your customers.
This was proven by a study by Livestream - they found that 87% of the audience prefers to watch online videos rather than television if they get more behind-the-scenes content.
2. Product presentation
One of the best ways to promote your new product or service is by reviewing it in a live-streaming video. Invite industry experts and public figures to try your new product and give their honest reviews. If possible, you could demonstrate your product capabilities on-screen.
For instance, Land Rover did a live test drive on Facebook Live in 2017. The show went for a month to showcase the car's ability to perform well on all types of terrain and conditions.

This "Test Drive" from Land Rover had over 12,000 interactions and 800 shares.
3. Live Q&A with the customers
This is one of the most common videos created by influencers and YouTubers that brands can learn. This type of interactive video is, in my opinion, the closest thing to a direct conversation between a brand and its customers.
Create a weekly Q&A session, where you answer questions from a limited number of your audience. You can choose the questions based on the best or the most asked. Take a look at this live Q&A video from Jorge Cruise, who created this video to answer all the frequently asked questions he gets as a fitness trainer.
This Q&A video from Jorge Cruise ended up with over 2,000 views
4. Live interview with high-profile figures
Every famous person has a fan base, and if you manage to invite one of them to be interviewed on your channel, imagine the traffic that you'll get. Not only will more people know about your brand, but some of them will probably like your content, follow your account, and end up being your customers.
Moreover, if you do it consistently enough until your channel and guest stars become bigger, you can monetise it by offering a paid subscription or a one-off ticket because 45% of the audience is willing to pay for a live, exclusive, on-demand interview with their favourite team, star, or performer.
You can also invite experts and professionals in a certain field to give their tips and tricks, suggestions, advice, or tutorials. In this live video by Sephora, they invited Jen Atkin of Ouai Haircare and Christophe Robin Paris to discuss tips and trends in the beauty industry.
This video from Sephora garnered nearly 90,000 views.
5. Breaking news
Statistically speaking, breaking news is the most-watched live streaming video content out there, followed by concerts and festivals. People nowadays have FOMO (fear of missing out) syndrome. They want to know the latest news and trends, as well as what's currently viral.
If you're in the media or news industry, this is great for you. If you're not, you could create content where you talk about current news, issues, or trends and give your opinion on the matter every once in a while.
This breaking news content from Bloomberg is the best example I can think of. It's not a fancy video, but it gives valuable news updates in the stock market industry.

This video from Bloomberg has over 27,000 views.
Conclusion
Although there are plenty of pre-recorded videos that can bring lots of value to your brand (e.g. unboxing videos or explainer videos), it's important to stay with the trends and give your audience something new. Live-streaming is definitely a new trend in online media. It gives users access to influencers in a really unique way and it comes off as a really authentic. And remember, authenticity builds trust!