Google recently introduced a new video shopping platform called Shoploop. Google Shoploop offers a more fluid and interactive shopping experience than traditional shopping. Find out everything there is to know about the latest Google app in this article.
Imagine being able to discover, find and buy new products on a single shopping platform. The buying process would be faster and easier, right? That was what Google's Area 120 had in mind when they came up with Shoploop.
This new platform combines shopping and entertainment, encompassing all the steps from the discovery of a new product until its purchase.
Shoploop's purpose is therefore to allow users to have a nice and smooth shopping experience.
In a nutshell:
Shoploop is a platform with short interactive videos that help users discover new products and buy them, all without having to leave the platform.
How does it work?
Shoploop is similar to a social network, on which content creators can present products via videos. Those videos can be up to 90 seconds long.
Without having to leave the platform and search for information on other pages, users find all the information about the products presented on Shoploop. Also, they can listen to existing video reviews and, finally, save the product in their collection or purchase it directly by following a link.

The platform is currently available on mobile devices, but the Area 120 team is apparently working on the desktop version, as they've reported on their blog.
For now, videos related to beauty products such as make-up, skincare, hair and nails can be found on Shoploop. Content creation is therefore limited to influencers and experts of the beauty industry (for now).
Although the new shopping platform isn't available in Europe yet, Shoploop offers the opportunity to apply as a content creator already. You can apply via this Google form.
Shop owners can add a link to their website on this form. You can also select which category of products you would like to create content for. Apart from beauty and fashion, other categories like Home & Garden, toys or electronics can be selected.
What is Shoploop's potential?
In addition to the convenience of having everything on a single platform, Shoploop gives users a more interactive shopping experience. Instead of traditional online shopping, when users usually have to scroll through images, titles and descriptions on different online shops, the new Google platform shows its users everything they want to know about certain products visually.
The videos displayed are created by real people with whom users can identify. The idea is to help shoppers discover new products in a simple and entertaining way.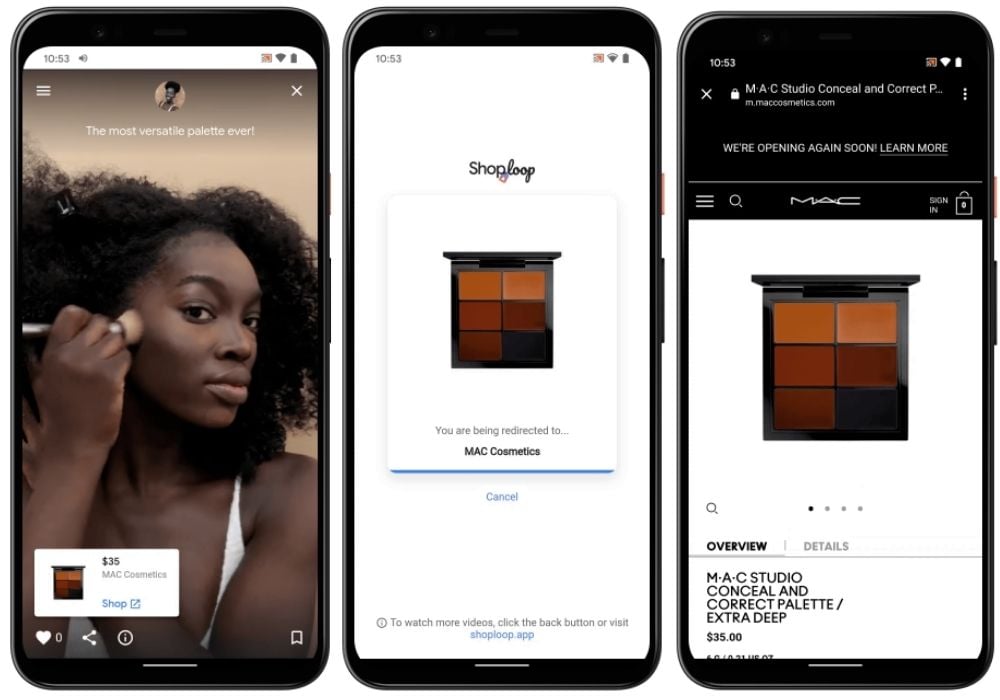 Also, the current situation due to COVID-19 certainly adds potential to Shoploop.
There has been a rise in e-commerce sales (and as the number of purchases increases, so does the number of sellers who decide to open an online shop), but buying online is still no substitute for the in-store shopping experience.
That's why, as Google states in its blog, this new platform wants to "help people experience the look and feel of products they're shopping for in real life without going to a physical store".
After all, Google knows the value of customer reviews and keeps this important element in Shoploop.
After discovering a new product, users have the opportunity to listen to the experiences of other customers who have already purchased the product. The platform therefore embodies the value reviews have on social proof.
Giving users this opportunity is important because it's exactly what particularly new users want to listen to before actually making a purchase.
Conclusion
The intention behind the new Google shopping platform is to unify all the steps that lead up to the purchase of a product into a single app, while being both interactive and easy.
Considering the similarities with Instagram, YouTube and TikTok, Shoploop certainly has great potential. It will be more difficult for the platform to establish itself if it remains on its own, but it would be an ideal addition to the above mentioned social media channels.
Until then, we'll just have to wait until Shoploop is available in Europe, too. We will of course keep you posted and let you know as soon as there's more news about it!
In the meantime, read up about how to utilise Instagram for your online shop by downloading our free whitepaper!
This article was originally published as "Google presenta Shoploop, un nuovo modo di fare shopping" on our Italian blog.