It's no secret that mobile-phone usage has skyrocketed in the last few years. Let's be honest, it's probably easier to name the people you know who don't have a smartphone than to name the ones who do. So, it should come to no surprise that these same people are accessing the internet with those very same phones. Therefore, mobile first design is how web designers are thinking and if your website hasn't done so yet, you should think twice! In this article, we'll look at 5 strong reasons why your website needs to be mobile-responsive.
However, before we start listing the reasons, let's make sure you know what it means to be mobile responsive. In the past, a company with a website had two options when it came to having a mobile-friendly website: do nothing or create two websites.
The first website was the standard version being used on desktop computers. If they chose to make it, the second version was a stripped-down mobile version of their website. As mobile-internet speeds were a bit slower back then, it made sense to have a "light" version of your site available for mobile users.
However, these days, mobile internet speeds are much faster and many more people are using smartphones. Not only that, but they are using devices of all shapes and sizes. Having a responsive website means that your website will adjust itself to fit on the screen of whatever device is displaying it. That means that the customer journey stays consistent on a phone, tablet, phablet, notebook or PC and no second website needs to be created to achieve this.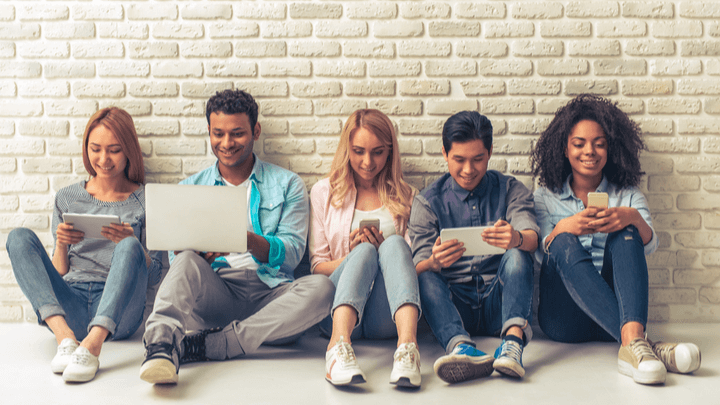 Source: shutterstock.com/George Rudy
As a shop owner, having a mobile first design attitude is simply necessary these days. So, without further ado, here are the top 5 reasons to get your website responsive and up-to-date!
Faster speeds for mobile users
It's all about the customer experience and you want this to be as smooth as possible. Mobile-responsive sites scale down a lot of the elements of a page based on the screen size of the user's device making for a more efficient web experience.
Even if mobile internet speeds are faster than they used to be, it's still a good idea to minimise the size of your webpages so that all devices can load them as quickly as possible. There's nothing worse than waiting too long for a page to load.
There are more mobile users than ever before
It's amazing where we are today. As I mentioned before, you'd probably be hard-pressed to name someone who doesn't own a smartphone. You know what? I bet you're even reading this on a smartphone right now, aren't you? Case in point. Mobile users are everywhere and we expect fast download speeds. We expect easy usability. And we don't want any hiccups.
Top 10 Website Hosting created a great infographic earlier this year about mobile usage around the world. In it, we see some fascinating stats about mobile users.
In the UK, 97% of the population (aged 16+) has a mobile phone and 61% has a smartphone. Of these mobile phone users, 66% browse the web, and 26% use it to go shopping. In other countries, like China and South Korea, those shopper numbers go as high as 43%.
You can bet those numbers will only go up next year. But don't forget, if a website doesn't look good, function correctly, or just simply seems outdated, mobile users are very finicky and will most likely bounce off the website very quickly!
Rank higher in search results
It's official. If there's one reason to make sure your website is responsive, it's this: Google prefers it. As of 2016, Google's web-crawlers have been treating the mobile pages of a website as the primary page to index, whereas before, the desktop version was always number one. This improves the chances of ranking higher if you have a mobile-responsive site.
Considering that Google gets more search queries on mobile than desktop these days, this move makes total sense. If you're not sure whether your page is considered by Google to be mobile-friendly, use Google's mobile-friendly test here.
Easier to manage
Having a mobile-responsive site means only having one website as opposed to two, which was more common a few years ago. This one website can simply adjust itself according to the device it is being used on.
Although there is a bit more coding involved than having a normal desktop-only site, this is definitely less work than maintaining two websites. This definitely makes your developers' jobs easier. This will save you time and money!
Brand Identity
There's something about a company that invests in their online presence. Your website is part of your brand identity. Naturally, this means more than having a mobile-responsive website.
It also means having an amazing customer experience. It means a smooth check-out process. It means having a beautiful design. And you better believe it means having a smooth mobile experience. It shows that you take your business seriously and that you really care about the customer journey.
Conclusion
Smartphones have changed the way we work, play, and shop. Having an online business and not catering to the mobile crowd is like having an ice cream shop and not selling chocolate and vanilla. You're just simply missing out on a big portion of your target audience.