For full disclosure: ASOS is a client of Trusted Shops.
---
ASOS may have started out as a somewhat niche retailer offering film fans the chance to own replica outfits from the big screen, but today it's become a true fashion giant. Selling some of the world's biggest brands, as well as their own label's clothing, ASOS is a firm favourite of millennials and 'Gen Z' shoppers, not only in the UK, but across the almost 200 countries that the business delivers to.
How has ASOS grown into one of the world's most beloved online fashion retailers? Marketing. More specifically, clever and strategic e-commerce marketing that engages with the right audiences and gives them exactly what they're looking for. Here are 6 of the most effective marketing ideas used by ASOS, with advice on how businesses in other sectors can utilise these concepts to create their own strategies:
1. Niche campaigns
ASOS's marketing efforts aren't just confined to its website, and like most fashion retailers, the company uses a number of different promotional platforms to get its message across. But just what is its message? ASOS's primary marketing message is so niche that audiences are left with absolutely no doubt as to who the retailer is trying to attract.
Recommended reading:
How to Sell Unique Products to Niche Markets
During the first 6 weeks of 2020, the ASOS Facebook account had already managed to share funny posts from student accounts, discuss the horror of accidentally sending a parcel to an old university address, laugh at 'dad trainers', worship the frappuccino, play letter games with followers, and use the word 'tomoz'. ASOS knows their audience, and they know how to draw them in.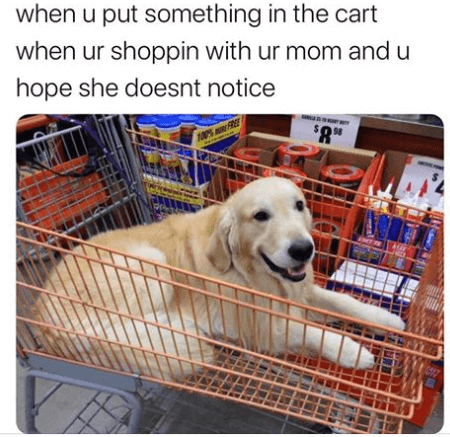 Source: Facebook
In order for businesses to replicate this with their own niche campaigns and highly tailored content, it's essential for them to know who their audience is, and what these people want and expect from the companies they choose to buy from.
Conducting target audience research is a vital task here, helping businesses to gain further insight into exactly who they're talking to.
By creating personas, and delving deeper into demographics and psychographics, organisations can work to generate tailored content that appeals and engages with a very specific audience group, whether that's students, professionals, retirees, men, women, pet-owners, parents, or any other group identified as a potential target.
2. Leveraging the power of important issues
Through target audience research, ASOS knows who they're talking to, and how to talk to them. But what should they be talking about? They've got it spot on by talking about issues that their target audience really cares about.
With the retailer clearly having a large student customer base, ASOS has made sustainability and responsibility two of the biggest talking points in their marketing efforts, connecting with audiences through issues that resonate with them.
According to research by the National Union of Students (NUS), 55% of students have taken personal action to protect the environment, which is why ASOS's focus on eco-friendly e-commerce plays a huge role in its marketing.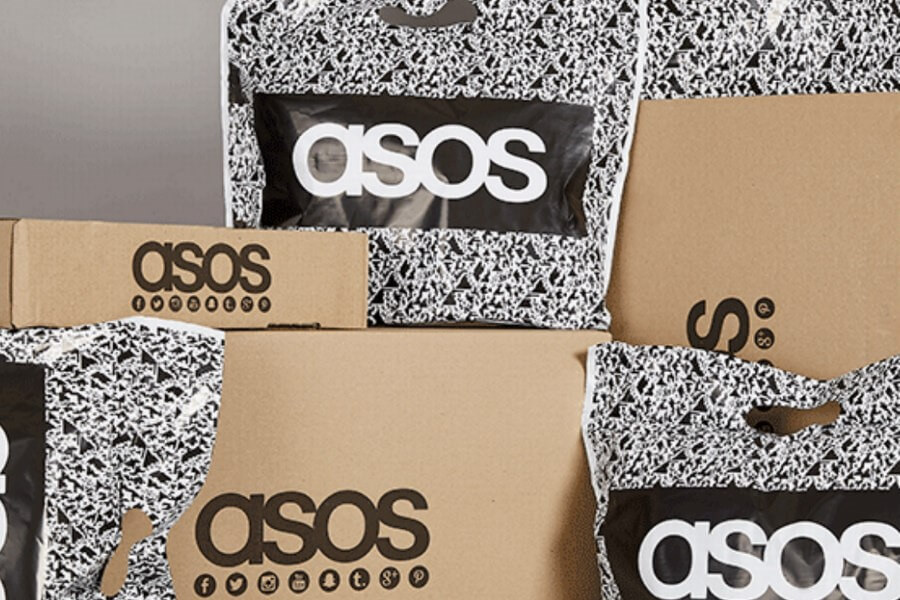 Source: The Current Daily
Unlike the company's Facebook page, which is filled with funny memes and questions, their Twitter account is used to share information and updates relating to the firm's ongoing commitment to introducing more sustainable practices.
ASOS reports that they send more than 71 million plastic mailing bags to customers each year, and a big part of their early 2020 marketing has focused on the transition to 65% recycled content bags, compared to 2019's 25%.
Brands can replicate this, not necessarily through sustainability, but by showing that the issues that matter to their customers matter to them, too. From charitable donations to building awareness, there are many ways to do good business by doing good.
3. Rewards
Equality matters. It matters in hiring, in pay, in gender roles, and across a huge number of other areas. But does equality have a place in marketing? ASOS doesn't seem to think so, and it's working for them.
According to a report by consulting firm Accenture, nearly half of all customers expect specialised treatment, and that's exactly what ASOS is giving a select demographic.
The ASOS website boasts an entire page dedicated to helping students — one of the company's largest audience pools — save 10% on their purchases with a discount code. ASOS has also teamed up with the NUS for money-saving coupons and announces special discount days offering between 10% and 25% off all ASOS fashion.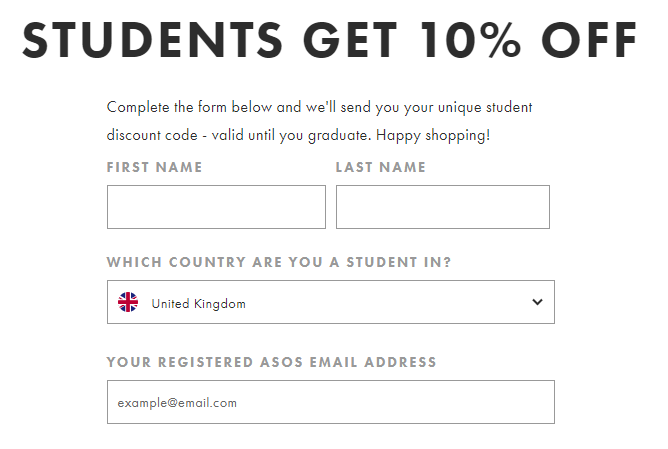 Source: ASOS
Inequality is a marketing technique that businesses may wish to consider bringing into their strategies. What ASOS is doing here is rewarding a select demographic for their interest in the company, and there are many ways that other businesses, in other industries, can do this too.
Starting a loyalty programme is perhaps one of the best ways to reward repeat customers, improve customer retention rates, and increase customer lifetime value.
Likewise, social media competitions can be used to reward those who engage and share through Facebook and Twitter. It all depends on what audience segments a business believes to be worthy of special treatment, and what a business believes a valuable reward is.
4. Augmented Reality (AR)
While virtual reality may be the hottest new phrase in modern marketing, ASOS is focusing its efforts on its slightly less talked about brother: augmented reality.
Augmented reality is based on the idea of digital overlays, showing virtual images simultaneously with real pictures. And ASOS has become one of the first fashion retailers to fully implement this technology into its marketing strategy.
The new 'See My Fit' feature allows customers to see how an item of clothing looks on different body shapes, ranging from a UK size 4 up to an 18. However, these are not photographs, but rather digitally augmented images to overlay a specific garment onto a model that most closely represents the customer's own figure.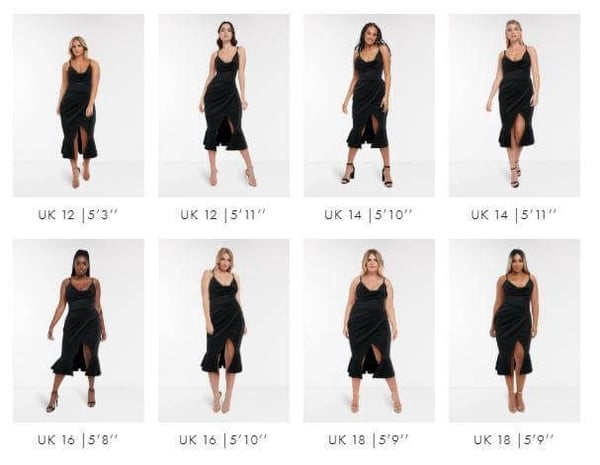 Source: Oxford Mail
Although adoption rates are growing, augmented reality is still seen as somewhat of a futuristic and unattainable area for many businesses right now.
However, ASOS's application of augmented reality is essentially little more than a derivative of the classic "try before you buy" concept. And this is something that all businesses can replicate in one way or another, whether it's offering a free trial or demo of the software, sending small-sized product samples, or promoting free, no-quibble returns.
John Lewis boasts a method which is perhaps a little closer to ASOS' use of the technology. The company offers a platform which allows potential customers to digitally place a sofa into their living room using the mobile app.
5. Tie-ins
ASOS's marketing team loves tie-ins, as can be seen by the retailer's partnership with basketball player Ovie Soko. The deal was sealed following Soko's appearance on Love Island; a show that appeals to ASOS's target audience.
According to research by YouGov, nearly half of all Love Island viewers are between the ages of 18-29, and 75% of viewers believe that "it is important for me to look physically attractive".
Therefore, by partnering with Soko, ASOS is attracting and engaging with a pool of young people who care about appearances… exactly what a fashion brand is looking for. This particular tie-in is a form of influencer marketing, but that's not the only way to create useful associations in the marketing world.

Source: ASOS
In fact, the ASOS team themselves have another great example of how it can be done. In 2019, ASOS used calendar tie-ins to create special offers for customers.
In November, the retailer celebrated 'Singles Day'; a popular shopping holiday in China that is intended to be the opposite of Valentine's Day. It's a day for single people to celebrate themselves, and it's custom for individuals to treat themselves to a gift, making it one of the busiest shopping days in Asia.
ASOS's marketing team capitalised on this by boosting awareness of the day in the UK and providing an incentive to spend through limited-time discounts. It shows just how businesses can use popular calendar days to promote themselves and increase sales.
6. Controversy
Sometimes, ASOS's marketing team simply has to sit back and let the media do all the hard work for them. The fashion retailer is certainly no stranger to a bit of controversy, as witnessed when they hit the headlines for labelling a UK size 14 garment as an extra-large; a slap-in-the-face to the average British woman who is a size 16.
Not only did ASOS stand by their sizing — which they say is based on their supplier's measurements — they also received an absolute ton of free publicity. And this publicity was everywhere. The issue was shared through retail-specific websites such as Retail Gazette, and also through general media and news publications including the Mirror, the Metro, and the Daily Mail.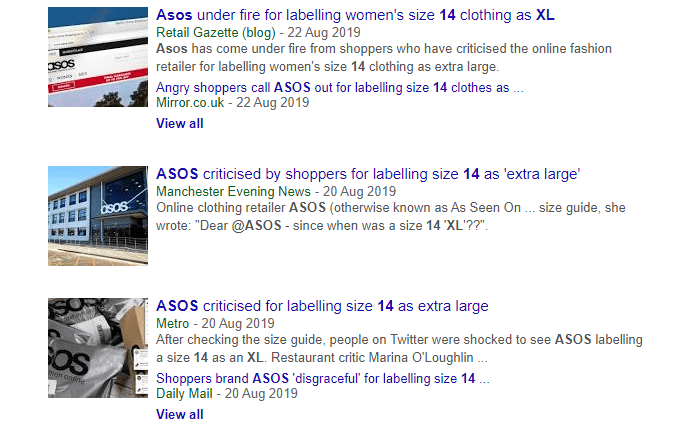 Source: Google News
The controversy — as well as the free publicity — doesn't stop there. ASOS has also made headline news for selling a men's see-through shirt that shoppers were quick to liken to a plastic bag, and a fake air pod, retailing for £6.
These appear to be humorous items, but the truth is that they're doing exactly what ASOS's marketing team wants them to do; get people talking about the brand. Let's be honest though… not all businesses are interested in sparking controversy.
However, that doesn't mean they can't get people talking. Ways to replicate this include publishing content that looks at common issues from alternative angles, being bold enough to introduce new ideas, or creating a funny, talk-worthy ad campaign.
Get Creative
Marketing is one of the most creative of sectors, so it's essential that marketers have the skills needed to look at ideas, see how other organisations are applying these concepts, and really have the confidence to put their own spin on things.
These 6 marketing ideas from ASOS may seem unique, but they're all based on common marketing techniques, with the ASOS team implementing their own one-of-a-kind twist and doing something new with an old idea. There's lots we can learn by looking at how global leaders do things and stand out, not only within our own industries but across every single sector.