Improving the search bar on your website can lead to increased conversions, but it is often underrated by many online shop owners. However, a search bar helps you understand which products your website's visitors are actively looking for.
An optimised search bar can, in fact, lead to an increase in conversions of up to 20%. In this article, we will show you how to successfully optimise this element to boost your conversions, ensure the best possible user experience (UX) and obtain valuable information from those visiting your online shop.
To clarify: when talking about the search bar of an online shop, we refer to the field that website visitors use to find a specific product in your online shop.
Usually, the search bar can be found at the top of the page. It allows customers to search, for example, for product names, brands or product categories.
A search bar is an element that shouldn't be missing from your online shop, particularly if your shop has a rather large product range.
Before we begin, let's take a look at some important facts to know about search bars:
30 to 70% of total sales of an online shop come from buyers who used the search function

on average, 20% of those visiting an online shop use the search function

users who enter a query in the search bar are 7-10 times more likely to conclude a purchase than normal website visitors

users who use the search bar are likely to spend up to 2.6 times more
A search bar allows you get to know your customers and their needs better, enabling you to optimise your website and increase your sales. After all, according to Doofinder, online shops that implement a search bar see an increase in sales of up to 20%.
Source: shutterstock.com/johnkstudio
Bear in mind that the success of your search bar also heavily relies on where it can be found on your website.
In general, to encourage potential buyers to use it, it is advisable to place it where they are used to finding it: at the top of the page, in the center or on the right.
Also, make sure to include a predefined text. For example:
💡 If you notice that the search bar in your online shop isn't used much, try using a colour or a font that stands out against the background to make it even more noticeable. Also remember to keep the bar fixed at the top of the page even when the user scrolls down.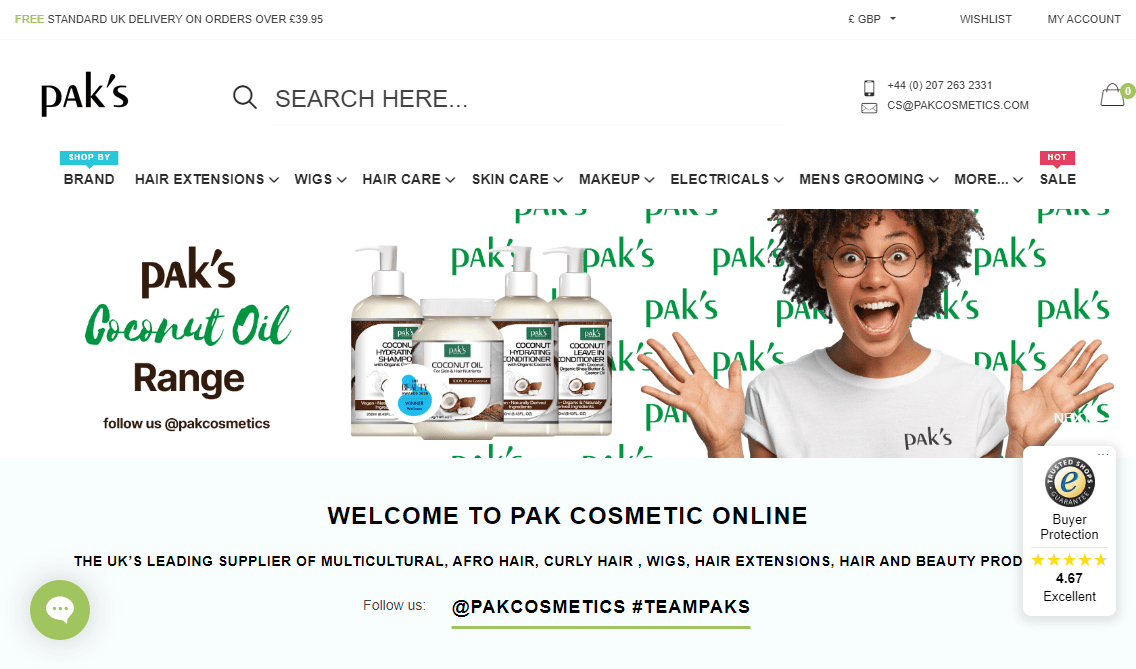 Source: Pak Cosmetics online shop
Search bar: SEO and SEA benefits
Keep in mind that your customers' search queries provide you with valuable information that you can use to optimise your product pages as well as your ads on Google and on platforms such as Pinterest and YouTube.
In other words: knowing which keywords are searched most will help you choose which ones to include in your product descriptions (to improve your SEO) or within your ad campaigns (to improve your SEA).
Recommended Reading:
Data Mining on a Budget: How to Use it for Your Online Shop
How to optimise the search bar in your online shop
It's no secret: the better the user experience (UX) is on your website , the higher your conversions will be.
The search bar has a great impact on your website's UX as well, which is why you should optimise it to get the most out of this beneficial element.
Here are 7 tips on how to optimise your search bar:
1. At least one search result for every search query
Rule number 1: make sure that at least one result will show for every search query.
Typically, 20% of searches in online shops lead to a '0 results' page, and according to Algolia, this leads to 12% of these shoppers leaving the website.
If you don't have the exact product your potential buyers are looking for, we recommend you show similar products or what other customers that have been looking for a similar product ended up buying.
Alternatively, you could include customer service contact details to avoid a "0 results" page. Always showing results will encourage potential customers to stay on your website.
Recommended Reading:
What is UX and Why is It Important for Your Online Shop?
2. Different spellings and synonyms
Did you know that 70% of search bars in online shops are unable to show results for synonyms and spelling mistakes?
This means that even if a product is available in your catalogue, your customers may still not find it because it isn't displayed in their search results. This, of course, would then result in losing potential customers.
This can particually affect mobile users. After all, spelling mistakes are more likely to happen on mobile devices since the keyboard they type on is a lot smaller than on desktop devices.
Don't forget: in the United Kingdom, for example, 65% of online purchases were completed on a smartphone.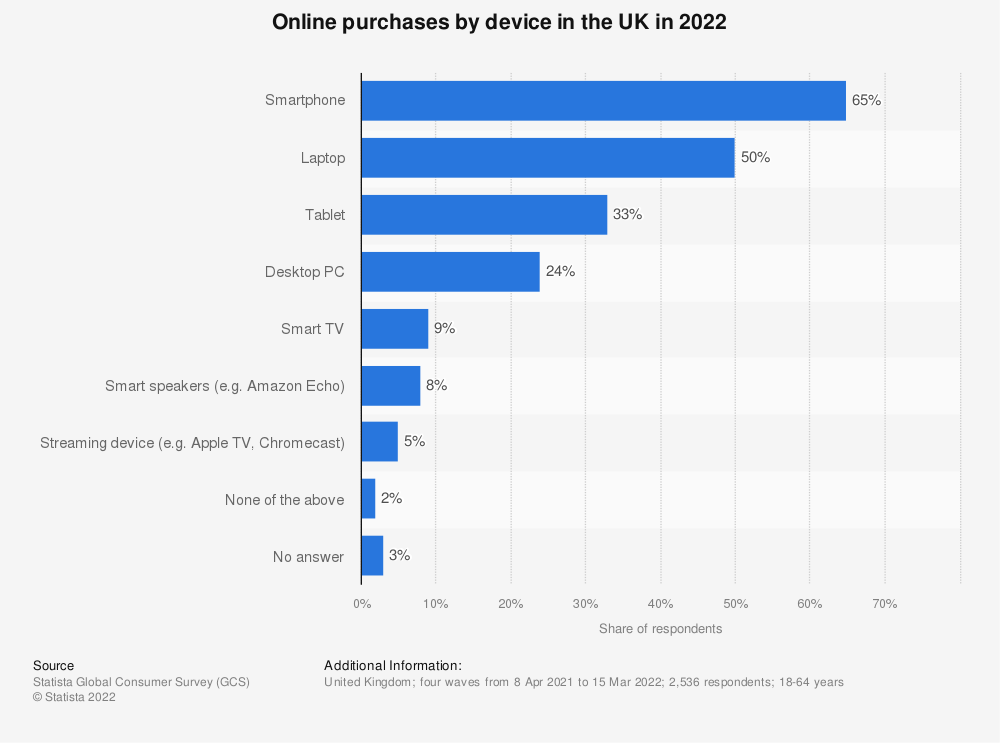 Source: Statista
Not sure what you need to do to optimise your website for mobile shoppers? We've got you covered! Find out how to improve your mobile conversion rates with our free whitepaper:
Apart from considering misspellings in your search queries, make sure to think of synonyms as well. In fact, there are many products that can be referred to in other words (e.g. stroller or pram).
Google can help you identify the queries potential buyers are looking for on your shop, along with any spelling mistakes or synonyms.
Just open Google Analytics and then select Behavior> Site Search> Search Terms to find synonyms your customers might use to find your products. On the Google Analytics help page you can find more information about this.
3. Autocomplete
Website visitors are 6 times more likely to become customers when the online shop has included an autocomplete function in the search bar (according to Klood).
With the autocomplete feature, customers will receive autofill suggestions as soon as they start typing a query.
Anticipating users' thoughts by quickly showing them the right product or product category they're looking for will improve your website's user experience. It saves them time, provides them with more relevant search results and prevents typing errors that could lead to a 0 results page.
💡 Do you have a blog articles or other information pages containing a keyword that potential buyers would most likely use when typing in your search bar? Having these articles displayed as search results will increase your website traffic and the time spent on your website, which will help improve your pages' organic ranking in Google. What's more; offering this content can also strengthen trust and engagement with your brand.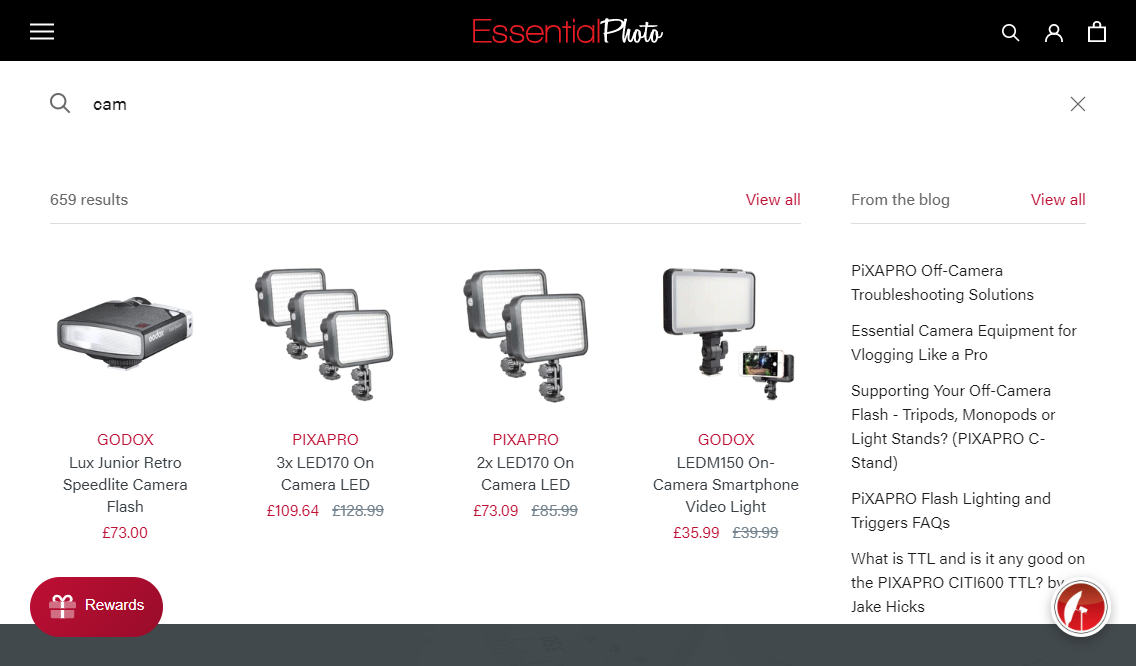 EssentialPhoto offers blog articles related to the product search on the right-hand side.
4. Product reviews
Do you offer multiple products that would show in the results for the same keyword? Imagine this: if a customer is searching for a particular item and your online shop offers it from different brands, sizes etc., the customer might feel overwhelmed by the amount of search results provided.
In order to make the search experience more user-friendly, you could display a product's rating directly in the search results: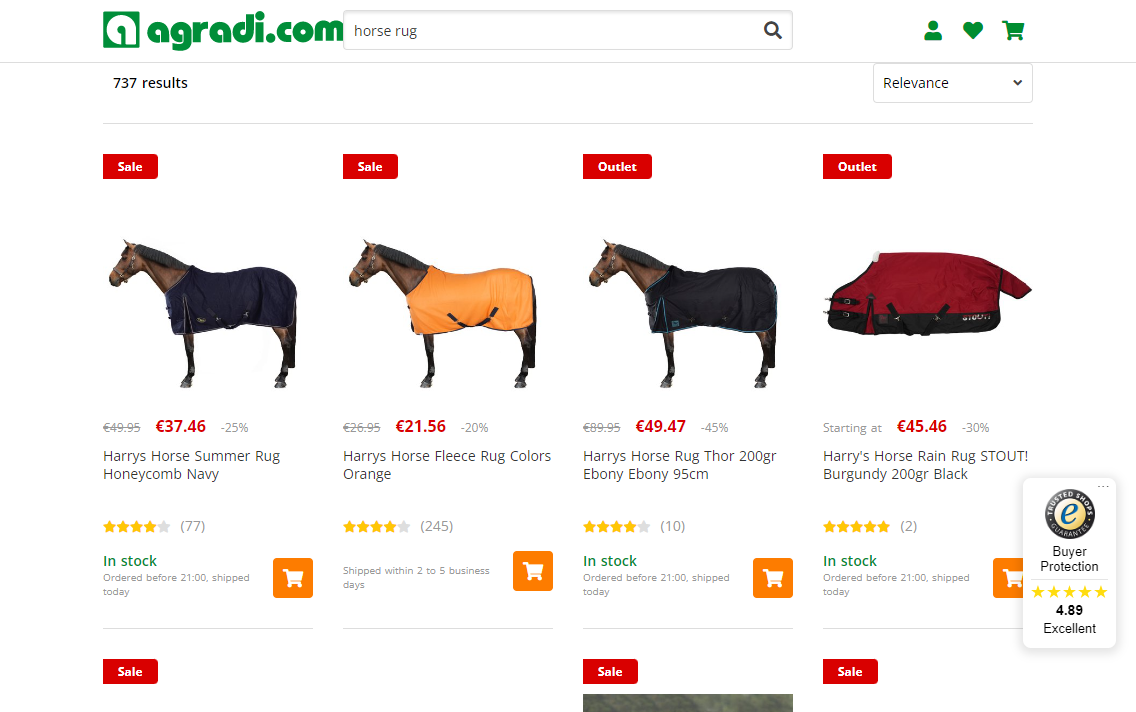 Source: Agradi online shop
5. Search filters
Imagine you sell shoes in your online shop. Potential buyers should be able to not only search for "sneakers", but also filter their search to "white sneakers" or "white sneakers casual", for example.
Allowing searchers to use as many search filters as possible will help increase the chance of your website's visitors finding exactly what they are looking for in your online shop. This, again, will improve your website's UX and thereby lead to more sales.
6. Search history
Since many online shoppers visit different shops to compare prices, product details, etc. before making a final decision, we recommend that you allow them to save their search history. This way, they will be able to easily return to their product search in your online shop.
💡 Some bigger online shops, especially those with a large product range, allow their customers to sign up for an account where they can save their search history.
7. Breadcrumbs
Our final tip doesn't necessarily relate to the search bar in your online shop. However, having breadcrumbs on your website will still help your customers find the right product.
Thanks to breadcrumbs, website visitors are able to quickly and easily navigate through different pages of your website, enabling them to explore similar products within a given product category.

Source: Pure Oils online shop
Recommended Reading:
Breadcrumbs: What Are They and How Can They Improve SEO?
Conclusion
Having an insufficient search bar in your online shop may be one of the reasons why you lose customers. An efficient search bar, on the other hand, will provide you with useful data that allows you to find out more about your customers.
In addition, having an optimised search bar helps you obtain keywords that you can use for targeting in in future marketing campaigns, as well as use them to increase your organic ranking in search engines.
Keep in mind that the search bar, as an important element of your online shop, influences the UX of your entire website, and, consequently, determines the success of your business.
Click on the blue button below to receive free tips, tricks and news from the world of e‑commerce and online marketing on a weekly basis:
This article was originally published on the Italian Trusted Shops blog: Come migliorare la barra di ricerca e aumentare le conversioni