The era of online publishing - and the evolution of new digital technology - has created unprecedented business opportunities. Suddenly, we can all become online personalities and create thriving online businesses.
Print-on-demand is one such business opportunity; a low-risk, high-reward opportunity which allows everyone from aspiring entrepreneurs to established online businesses to create and sell their own range of printed merchandise online.
Here is a table of contents in case you'd like to skip ahead:
What is print-on-demand?
Print-on-demand involves merchandise that's printed as and when orders are placed. Thus, making your own merchandise has become a much more efficient process.
Whereas the old model of merchandise printing might have involved buying (and printing) hundreds of units, and storing them in cardboard boxes in your back bedroom or warehouse while praying every night that you manage to sell them all! With print-on-demand, you never actually see the product. In this way, it is similar to the dropshipping business model.
Your customers place an order and that order is routed to a print facility, where the product is printed, packaged and dispatched directly to their door. You make a profit on each order, and all you're responsible for is uploading the designs, and marketing/selling your product.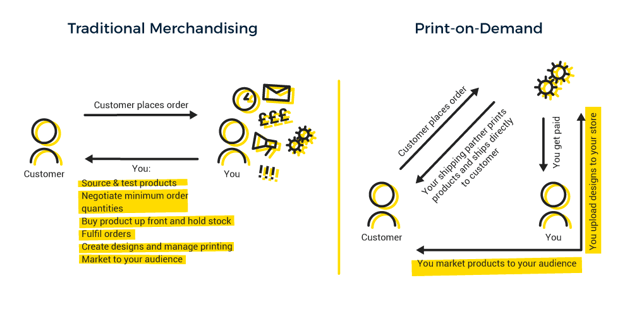 Click on the image to enlarge it (Source: Kite.ly)
In short, print-on-demand removes most of the obstacles I just talked about. There's minimal risk, no up-front financial expense, no need to setup any kind of logistical framework - and pretty much anyone can do it.
Why use print-on-demand?
There are many reasons why you would want to use a print-on-demand service, especially early on in your business development. Here are a few reasons why:
Sell merchandise to your audience
We've written quite a bit about influencer marketing. Influencers who've made a name for themselves through social media like YouTube and Instagram can have an impact on your shop's sales with the right campaign. This can work especially well for micro-influencers who are celebrities in their niches.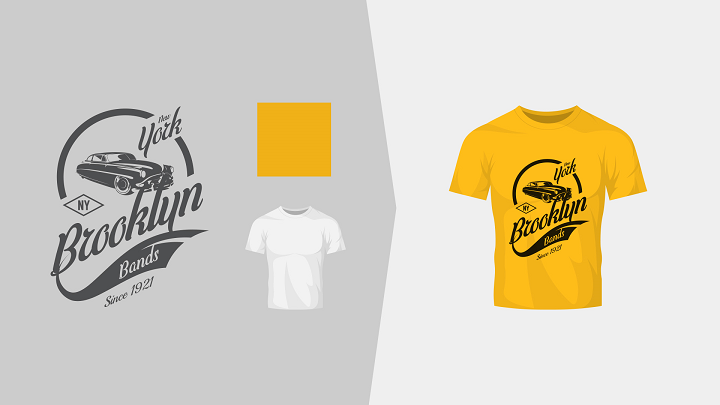 Sources: shutterstock/provector
However, influencers have other ways of making some income and that includes creating merchandise to sell to their fans (There's an example below from a popular YouTube channel in the Golf industry).
Sell to a niche market
Speaking of niche markets, this is another reason you might be interested in merchandise printing. Perhaps, you've penetrated a very specific niche. Niche markets are interesting because they are so specific that you can fill a gap for a demand for products where there is very little supply. Making products for this audience could end up being very worthwhile (at least testing it might be).
Testing a new product
Another great reason to use print-on-demand, at least early on, is if you want to test new products and see if there is indeed a demand for them.
As we mentioned before, one of the biggest benefits of the print-on-demand model is that you, as a seller, don't need to invest in a large inventory of products. If you want to sell products to a niche or your followers, test things out first and minimise your risks. Then, if you see success, you can take measures to increase your profit margins in the future.
Choosing the right e‑commerce platform
So how do you get started? Well, the first step is to set up an online store through which you can sell your products.
There are a lot of options out there when it comes to e-commerce platforms, but the names that you'll be most familiar with include the likes of Shopify, Magento, WooCommerce, BigCommerce, Volusion and 3DCart.
A lot of different factors come into play when choosing the ideal platform for you, but I strongly recommend doing your homework, giving great thought to:

Pricing
What are the ongoing monthly subscription fees - and how much commission will the platform charge on each transaction, if any? This handy pricing breakdown (via eCommerce-Platforms.com) is a good starting point* - but make sure you do your homework to establish exactly what's included in each package. Many e-commerce platform providers have different packages at different prices - so get familiar with what your company's needs are.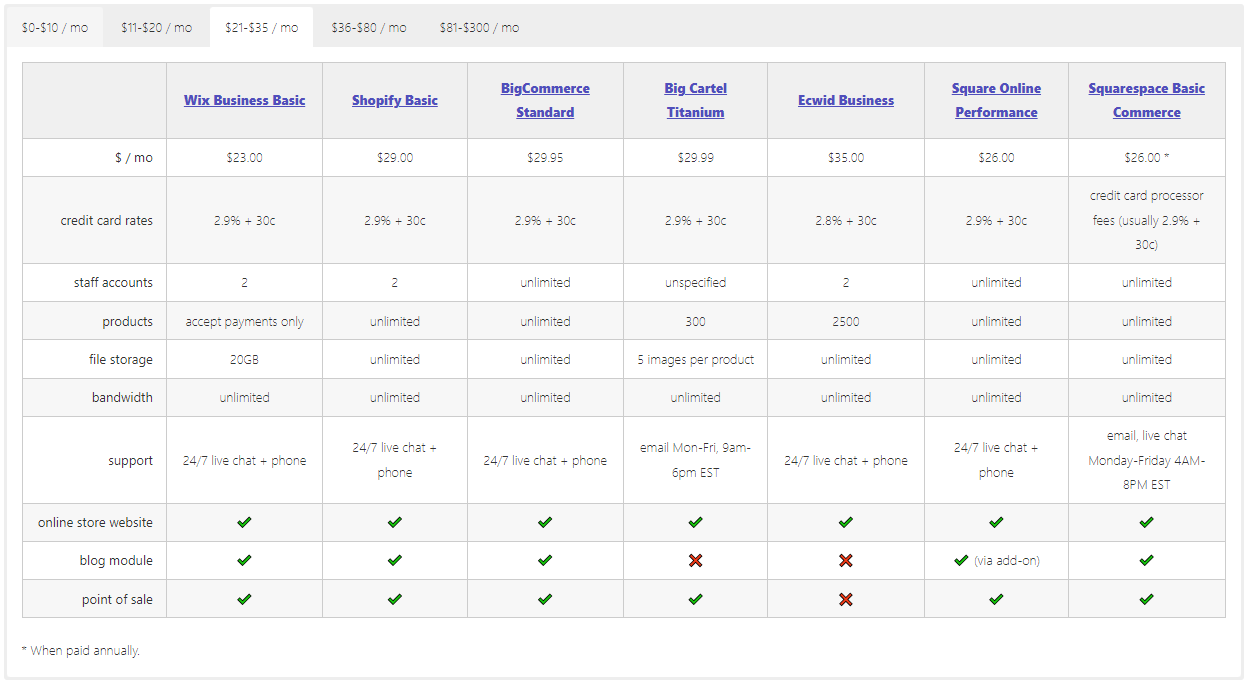 Click on the image to enlarge it.
*Prices in this image may not be up to date.
Integrations
These are tools and plugins that slot right into your store and help you run your business. At the very least you'll want to be sure that your chosen print-on-demand partner has an integration that plugs into your chosen eCommerce provider. This can really help make processes smoother.
Customer service
When things go wrong with your store, how much help can you expect - and how quickly? Check out some reviews to help you make your decision.
---
Starting an online shop? Check out our checklist!
---
Scalability
You might be starting small but you have to future-proof your business. Make sure you can easily 'scale up' your subscription to accommodate the extra traffic you'll hopefully accumulate along the way, and you'll avoid the potentially huge task of rebuilding a well-established store in future.
Still struggling? Capterra is a software comparison tool that lets you evaluate features, pricing and ratings across various different platforms.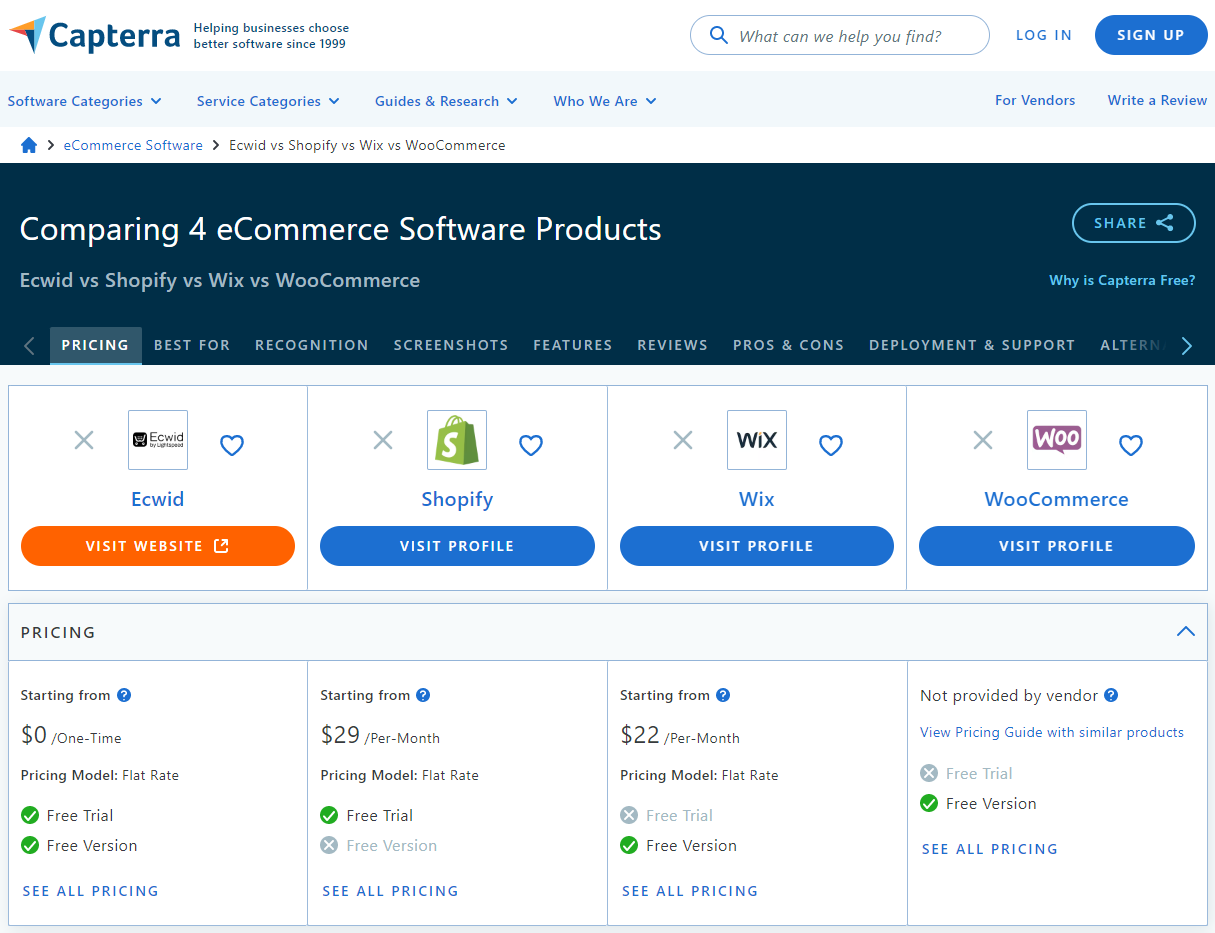 Click on the image to see a more in-depth comparison
A Google Trends search reveals that Shopify is the most popular eCommerce platform by a clear distance.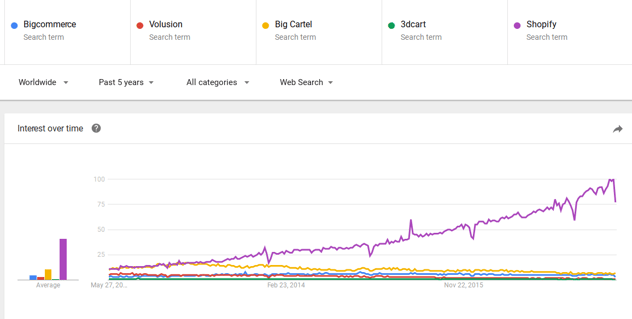 On balance, Shopify also gets my vote - purely because of its low entry price, great range of integrations and unrivalled scalability that can grow with your business. They also often offer free trials (with no credit card details necessary), so it's well worth signing up and just having a click around to see how you like it.

Choosing your print-on-demand partner
Once you've setup your store, you can integrate your chosen print-on-demand service with your online shop. This is easy to do through Shopify, in which a quick search for 'print-on-demand' reveals a number of options that can be installed in a couple of seconds.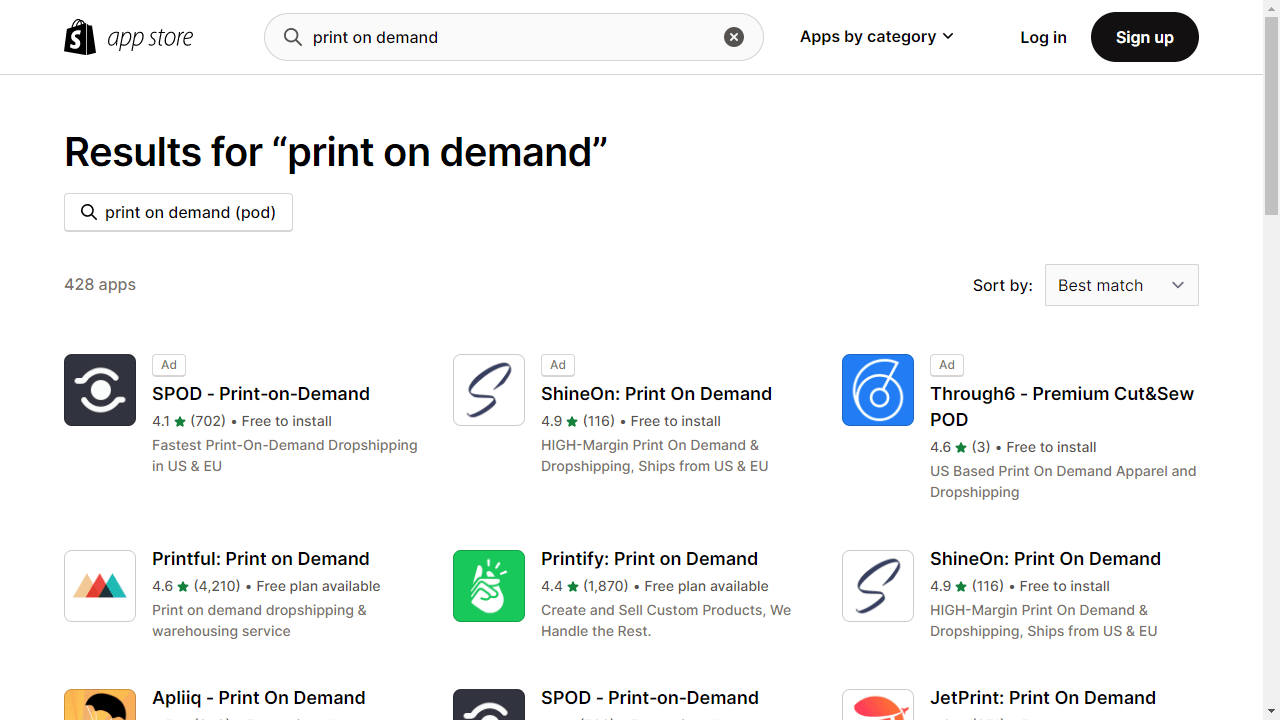 There are plenty of other ways for print-on-demand services to integrate with your shop, too, though many are a little more complex and may require programming or coding. Once you've identified both the store platform and P.O.D. partner you want to work with, take a look at their websites and identify the options for integrating the two.
Choosing your products
'Print-on-demand' is one big label for an almost endless list of different products. We're all familiar with prints, canvases and apparel, but we're seeing more and more new merchandise products being made available to print-on-demand. Everything from bags and towels through to coffee cups and flip flops.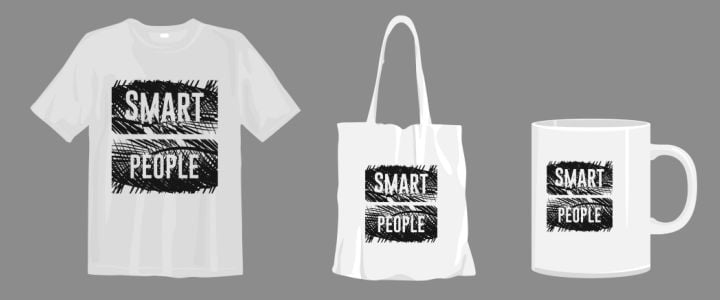 Source: Shutterstock/Universtock
When you're trying to identify a suitable print-on-demand partner, make sure to compare their product ranges to make sure the products are perfect for your audience.
Design
For creatives like artists, photographers, and illustrators, your design is probably already good to go - although, if you work on paper, you may want to spend some time thinking about how to digitise your artwork.
This also applies if you're a business and you already have designs that would work on merchandise. Print-on-demand is used by many traditional businesses, as well as influencers!
If you don't currently have designs - and you're looking to create some yourself - you can obviously do this using professional design software.
However, when you're starting out small and working on a budget, some of the more expensive bits of software may be beyond your reach. I recommend checking out a number of free/open-source alternatives which, while they may not be quite as powerful as their subscription-based alternatives, still let you do great work for free!
Check out GIMP, Inkscape and Scribus, which are free alternatives to Photoshop, Illustrator and InDesign respectively. They do pretty much the same job, just with fewer bells and whistles!
If you're not very design-savvy - or you just don't want to invest your time into creating designs - you can always leave it to the pros. You could purchase royalty-free vectors from sites like Shutterstock, run a design contest through 99designs.co.uk or identify a quality freelancer through Sites like Upwork, Fiverr, and Peopleperhour.
When you upload your design to your chosen print-on-demand partner, you'll probably be able to preview how the design will look on the products as well as tweaking how it's positioned. This generates mock ups of your products to go on your store.
Promote and sell
Setting up your storefront, uploading your designs and populating your store with products takes a matter of minutes - but that's when the hard work really starts.
You need to get those products in front of your audience and make some sales.
This can be especially difficult if you don't already have a thriving audience lapping up your content.
If you're an influencer, business, or an individual with an existing audience, then this should be pretty organic - just plug your merchandise posts in with the rest of your other content on social media.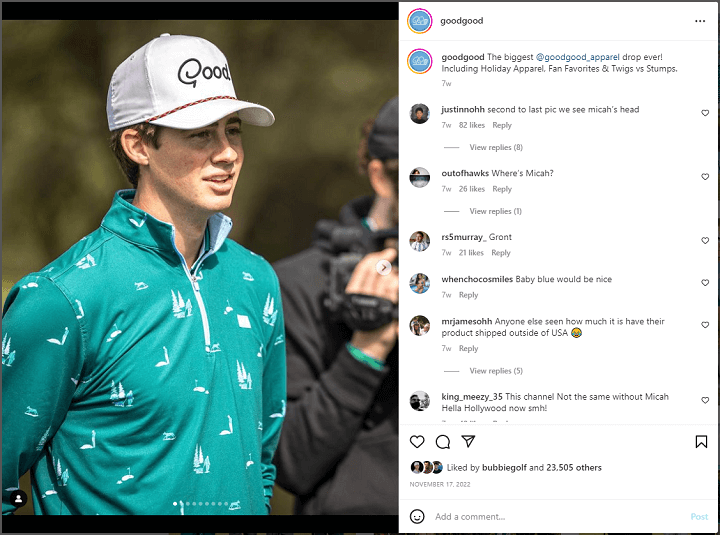 Good Good Golf promotes their clothing apparel on their social media channels often.
You can also add the 'Shop' feature to your Facebook page, giving extra visibility to your products - as shown below on Stephen Sharer's profile.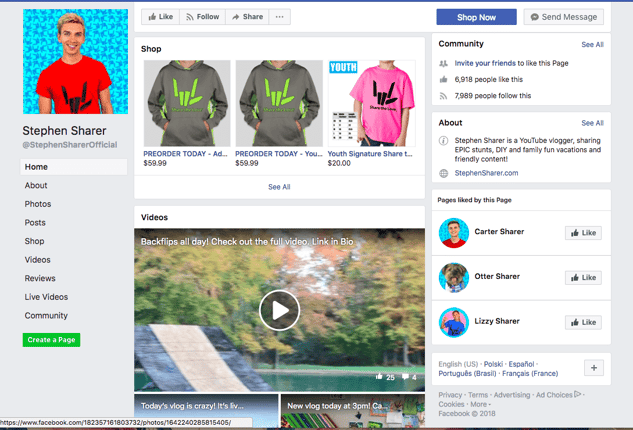 But what if you don't have that existing audience - or you want to expand? Shopify's Richard Lazazzera wrote a pretty well-known article back in 2015, entitled "How we built an e-commerce business from scratch and generated $922.16 in revenue in 3 days."
This article runs through the exact process he and his team took, in painstaking detail. And while much of it focuses on product ideation, sourcing, branding and packaging - none of which are applicable to print-on-demand - what's interesting is looking at how they gave their new store a kickstart.
Recommended blog: Starting an Online Shop: A Beginner's Guide
One super-simple step that anyone can do, is the use of personal outreach to friends and family.
"This proved to be very effective on day one as several sales came in through this one-on-one outreach," writes Richard. "Not everyone that was contacted bought, however, of those who didn't buy, nobody acted like they were horribly inconvenienced either."
He goes on to write pretty exhaustively about how the new brand used Reddit, content creation, Instagram, Pinterest and paid advertising on Facebook to drive nearly four-figures in revenue in just a few days. Many of these strategies would translate excellently to print-on-demand marketing.
Regardless of whether you have that audience already or not, here are a few best practices I'd recommend for promoting your new products:
Get super-focused with who your product's for (Do you have a buyer persona created?). You can then spend some time identifying communities where those people hang out - whether it's your own channels or elsewhere. This will also give you the best possible idea of who to target with paid ad campaigns - one of the best tactics you can use to reach new customers.

Order some samples and grab some images of the product 'in use.' This makes the product seem more tangible - and can be a great differentiator.
One last thing:
Thanks for reading!
If you found this article useful, and you're interested in reading more - check out our blog over at Kite.ly. We've got a wealth of great content designed to help you create, promote and ultimately grow a great, profitable print-on-demand business.