Rich snippets can be a great way to help you climb Google search rankings. Being found in the search engine results pages (SERPs) is one thing. Whether these users choose your website or not is another thing, and that depends on many factors. Of course, a page's position within the SERPs is important, but it is also important to stand out from other results. This can be done with rich snippets. What are they, what types do we distinguish and how to implement them on your website?
Contents:
What are rich snippets?
To explain what rich snippets are, we need to look at the definition of structured data first:
Structured data are tags in the HTML of a page that name individual elements of the page. Their goal is to describe the content of the website so that it is clear and readable for Google page crawlers. With structured data in your HTML, Google understands, for example, what your opening hours are or what your telephone number is because it is labelled appropriately in your site's code.
It is thanks to the structured data that we can see rich snippets (aka rich results) in the SERPs.
Rich snippets are additional items that are visible in the search results.
In the "basic" version of a search result, the title of the page, its short description (meta title and description) and the associated URL address are visible (as you can see in the example below).

However, the search result may look different and may be "enriched" with other elements important to the user (e.g. include rating stars or graphics). These extra elements are called rich snippets (or rich results).

Rich snippets are designed to provide the user with further information about the page directly in the search results. Well-implemented rich snippets contribute to an increase in click-through rates (CTR); with this extra information, the searcher can tell whether the website will contain the content they are actually looking for.
Source: shutterstock.com/REDPIXEL.PL
In addition, rich snippets are visual eye-catchers. They can attract the user's attention and allows your page to stand out from other results because these rich results generally take up more space in search results.
Download our Structured Data Poster to get some concrete examples of the most useful structured data for online shop owners. Just click on the button below for your free copy:
Rich snippets and featured snippets - how do they differ?
In addition to rich snippets, featured snippets may also appear in Google SERPs.
A featured snippet is the information seen at the very top of some organic search results (in the so-called position 0). They are generally longer fragments of text that should answer the user's query directly. They usually take the form of definitions, but they can also be, for example, a list or table.
In the example below, the search query has triggered an answer directly in the results. For more information, the user will have to click on the link below or keep scrolling for other search results.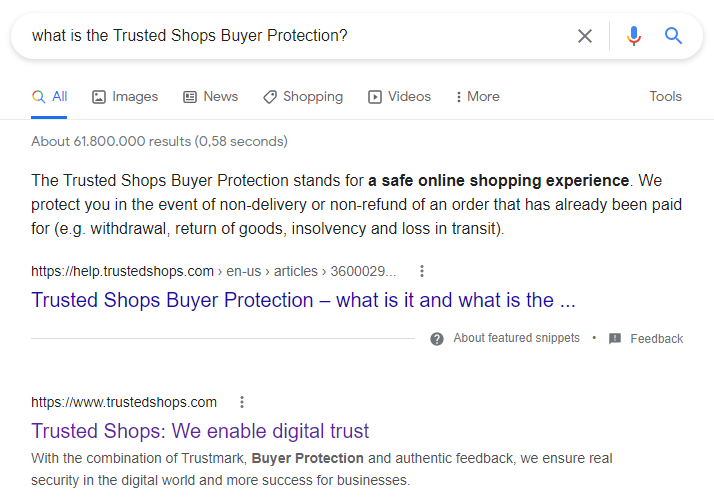 The role of featured snippets is to provide all the relevant information on the search results page without the user having to click on a link. Landing in position 0 is a bit of a double-edged sword. Pages that land in the featured snippet slot may have a lower CTR than the results below it because the user may simply not need to visit the site anymore as their question has already been answered.
Rich snippets, on the other hand, are simply an enriched version of a single search result that are meant to inspire more clicks.
Types of rich snippets
There are many types of rich snippets and they may differ depending on the subject and type of page they're for. However, owners of online shops should pay particular attention to them. At a time when new e-commerce businesses are popping up every day, the important thing is to attract attention to your offer.
Recommended reading: 9 Ways to Differentiate Yourself From Your Competition
Here are the types of rich snippets that will be especially useful for ecommerce websites:
Star ratings
With star ratings in the SERPs, you can immediately show the potential customer that your store is trustworthy and that your products are of high quality. The search results show not only the average rating, but also the number of reviews left.

Rating stars in rich snippets can really contribute to an increased click-through rate of your ranked page. Not only that, but the stars are eye-catchers that stand out in a wall of text. You can read more about what to do to be able to present your SERP reviews in the Google Search Central.
Star-ratings appear throughout Google and different stars have different requirements for being displayed. Want to learn more? Download our free guide!
Price
Price information is one of the most important - and in some cases the most important - consideration when making a purchasing decision. You can show it on the search results page.

Availability
Imagine the following situation: after weeks of searching, you finally find a product in a Google results page. You click on the link and it turns out that the goods are unavailable. Annoying, isn't it?
Thanks to rich snippets, you can also display whether you have a given product in stock directly in the SERPs (this can also be seen in the previous example). By sharing this information in the SERPs, you not only provide the potential customer with valuable information, but also reduce the bounce rate in case you are out of stock.
Delivery
The factor that distinguishes you from the competition may also be low shipping costs. Show this off with rich snippets! This is particularly important information, especially if you are offering free shipping.
Recommended reading: Free Shipping: Should You Offer It in Your Online Shop?
Read more about what tags to use on your product pages to show, for example, your prices, availability, and shipping costs in the Google Search Central.
Breadcrumbs
Breadcrumb navigation is an important element for both the user and the search engine. The former knows what path to take to find a specific product or product category, and Google bots receive information about the structure of your website.

Check out how to implement this rich snippet in the Google Hub.
Recommended reading: 5 Tips for Making Your Website Easier to Navigate
FAQs
The most frequently asked questions and answers appear in the search results in the form of a drop-down list. The rich snippet FAQ is especially useful for blog article subpages or H2s. Thanks to them, the user can delve even more into a given topic.

You can read more about flagging frequently asked questions here.
Search bar
Customers can search for an item in your assortment… directly on Google. This tool will be useful mainly for famous brands with a wide product catalogue. The user does not have to go to the home page of the store to search its assortment and find the appropriate subpage.
You can read more about this extended snippet here.
How to implement rich snippets?
Each of the extended snippets has its own tag that should be added on a specific subpage. They come in three formats:
JSON-LD (recommended by Google)
Microdata
RDFa
Rich snippets can be implemented in three ways:
Google Search Console:This is done with the Data Highlighter tool. After entering the website, click "Start highlighting", and select the correct URL and type of information (e.g. Products). Then, select parts of the page, assign them the appropriate tag, and click "Publish".
HTML code of the page: This is a manual way of tagging your website code. Schema.org will be helpful with this method, which will help you find the appropriate tag.
It's important to note that the merely placing the appropriate tag in the HTML code does not guarantee that the snippet actually shows up in the search results. Structured data is only a guide for Google, which ultimately makes its own decision about displaying rich snippets.
The last step is to verify that you have implemented rich snippets correctly. This can be done with the help of the Rich Results Test tool from Google.
Summary
Extended snippets can help you stand out from the competition and make a great first impression at the beginning of the customer journey. Rich snippets have an impact on increasing the click rate of your subpages and reducing the bounce rate. Moreover, identifying individual website elements with structured data sends a positive signal to Google.
This article was first published on and then adapted from our Polish blog: Rich snippets, czyli jak wyróżnić się w wyszukiwarce Google