Some years ago, when considering how to use marketing budgets, all we had to do was decide how to distribute it between television, radio, and print ads. With the advent of the internet, a large proportion of marketing activities have gone digital.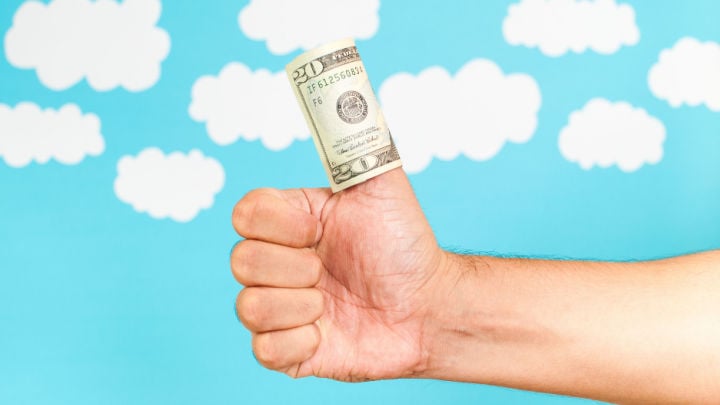 shutterstock.com/Gonzalo Aragon
Despite the advantages this has, it is not always easy to decide what proportion of the budget should be allocated to each channel (particularly when it comes to campaigns on social networks). What are the criteria to use when setting digital strategy budgets? How do you ensure that you achieve a good return on your investment (ROI)?
In order to adhere to your social networking budget, you have to define it first. What do you need to take into account? How do you ensure that you have determined the right strategy so that you don't have to invest more than planned in order to achieve your objectives?
We've created 10 tips to help you figure that out!
1. Adapting to the economic reality of your company
The bigger your company is, the larger your marketing budget will be. However, generally speaking, around 10% of a company's annual turnover should be allocated to promoting your products and services (between 5% and 15% to be exact). However, that remains subjective and there is no strict rule.
However, let's say you can use this number as a measuring stick to determine your company's digital marketing budget. Within this 10%, you can then determine which portion will be specifically allocated to paid campaigns on social networks.
The paid campaigns offered on all of the social networks are one of the methods that companies prefer to use in order to reach their goals and increase their sales. If you look at the number of social media users out there, it's no wonder why it is such a preference for marketers.
In fact, we know that in 2018, there were over 3 billion social network users globally. In the UK, there were over 44 million active users (66% of the population) who spent an average of 1 hour 54 minutes on social networks every day.
The potential for reaching your audience is clear.
Unfortunately, there is no universal recipe which can be applied to all companies, all budgets, all products, all markets, and all objectives. However, there are certain criteria to take into account in order to successfully handle your social media campaigns without spending more than you had planned.
2. Knowing how to determine and analyse your objectives on social networks
Every business has its own goals. Some will evaluate the success of their business in terms of growing sales figures. Others look in terms of the number of leads generated or even conversion rates.
Generally, there are 4 main groups of objectives that companies wish to achieve using social media campaigns:
Marketing products, growing sales, generating leads

Working on the company's brand image

Gathering customer reviews for questions for social proof

Gathering feedback in order to improve internal processes, product offers, or simply in the evaluation of external service providers (e.g. delivery services, etc.)
It is therefore clear that depending on your objectives, your ROI calculation will not be the same. That's why defining your campaign goals for social networks is important.
In fact, we often have this unique vision of ROI based solely on increasing sales, i.e. on the direct benefits.
Nonetheless, analysing the ROI from a financial perspective is not always pertinent. If you wish to improve your company's brand image, this calculation will be of no use.
It would be more appropriate to analyse your results based on the behaviour of your target market. Did your target market react as you hoped? Did you gain followers? Analysing the success of your campaign based on the level of engagement of your target market ("likes", comments, shares) makes much more sense.
Therefore, it is important to define precise and quantifiable objectives. In order to do this, you can use the SMART method, which means that your objectives need to be:
Specific

Measurable

Attainable

Relevant/Realistic

Timely
3. Taking the life cycle of your product into account
In order to determine the most fitting strategy, you also need to base it on the life cycle of your product. Depending on whether your product is in a growth phase, or rather in a phase of maturity or decline, your allocated budget does not need to be the same.
Are you launching a new product which you particularly believe in? It goes without saying that you need to invest much more than if you are promoting a product that already has a reputation and has proven itself, such as a best seller.
At this level, there is no difference between managing your marketing budget in general and managing a budget that is more specifically designed for social media.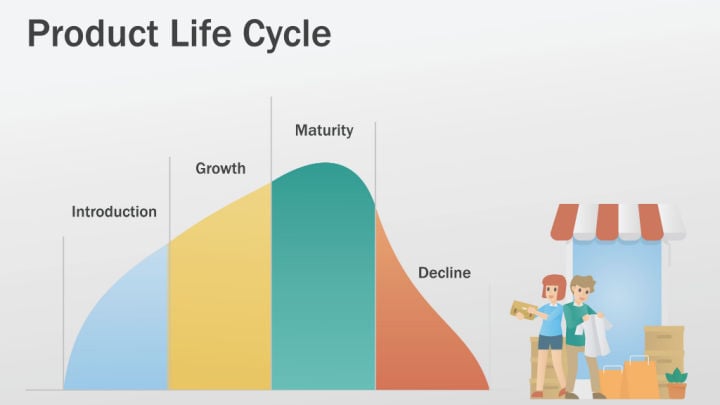 shutterstock.com/Appleing
4. Know your market(s)
Which international markets are you covering? Are you only selling in the UK or also selling internationally? The price of your advertisements, particularly on Facebook, may vary depending on the country you are targeting.
You must also take note of the fact that other criteria such as the time of the year may also cause ad prices to increase. Advertisements placed at busy periods such as Christmas or Black Friday, for example, may cause price increases.
The market and its particularities are therefore elements that need to be taken into account when you are establishing your financial plan.
5. Scout your competitors on social networks
Do your competitors use social media as well? What types of ads are they running? How frequently do they post?
Of course, all these elements need to be analysed in order to define the strategy that works best for your company and, therefore, the resulting budget as well.
This will also give you a vital indicator concerning which social network(s) to prioritise, but also the types of advertisements to plan.
Facebook, for example, has tried to increase transparency by adding an "Info and ads" tab on business pages. This allows any Facebook user to see what ads they are currently running. This can give great insights into their campaigns. For example, you can see if they are using single images or a carousel of images, short or long texts, etc.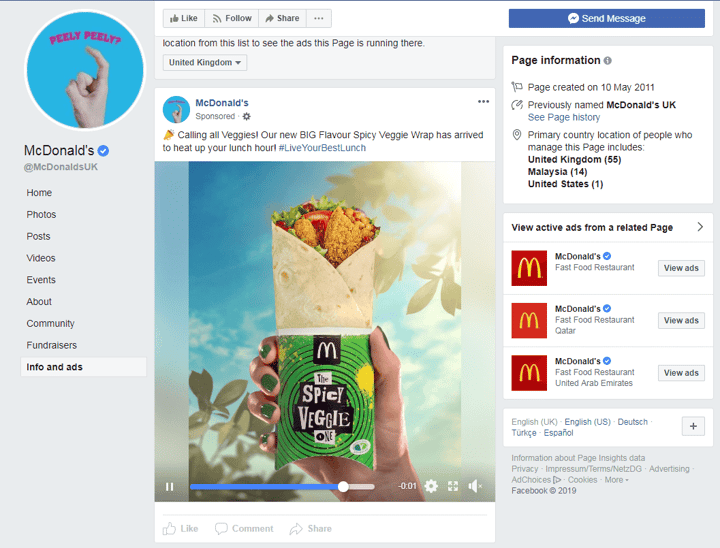 Currently, McDonald's is advertising their Spicy Veggie Wrap in the UK
A competitor analysis is therefore essential to avoid spending too much or too little on your campaigns. The more you know about your competitors' practices, the better placed you are to achieve your objectives.
6. Choosing the right social network
Defining the right social network based on your target and your objectives is, as we have said, essential to the success of your campaigns and for adhering to your social media budget.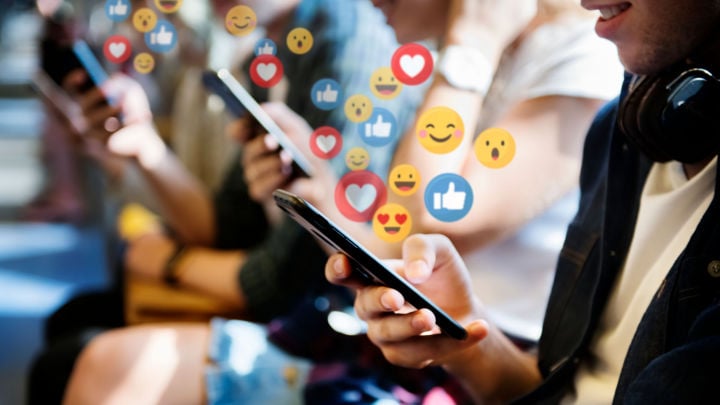 shutterstock.com/Rawpixel.com
Choosing a social network is generally done using these various questioning methods:
Who is the target audience (customer persona) of your company or brand?

Which social networks are best for reaching this audience?

What is the "culture" of each social network?

Which social network responds best to your objectives?
Here are some examples of the differences between Facebook and Instagram to illustrate this point:
Facebook
The main benefits of Facebook:
Creating relationships with clients while obtaining opinions and questions

Adapted to both B2B and B2C

Relaying clear commercial information, promotions, new products, etc. (Not all social networks lend themselves to this in the same way)

Generating leads
What you need to keep in mind:
The younger generation are increasingly shunning Facebook as a social network. If your target market is young or if you wish to build or develop the image of your company, making it a little more modern, Facebook is not the channel that you should be spending the majority of your budget. It would be better to do this on other social networks such as Instagram, for example.
If you work in B2B and want to generate leads, Facebook will always be one of the key social networks to focus on, as well as LinkedIn, for example.
Instagram
The main advantages of Instagram:
Working on your brand image.

Younger target – a big favourite for the 18-25 age group

Create a community and gain plenty of followers
What you need to keep in mind:
Instagram is the social network for sharing images. The aesthetics of how images are staged is a lot more important than on Facebook, for example.
Certainly, Instagram allows you to share your products and links to your site, but you need to take a certain level of care with the content you publish, even if they are sponsored, in order to fit with the demands of this social network.
If your communication is a little too "pushy" or if your Instagram feed is full of advertising banners, this will not fit well with this platform.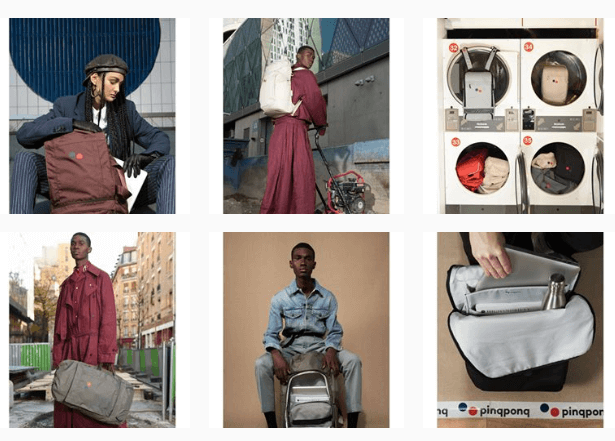 Pinq Ponq has put the effort into making their Instagram account reflect the nature of the platform (stylish, modern, etc.)
This is just a quick comparison between two of the most popular networks. This list is not exhaustive, of course. There are many other social networks such as Pinterest (which is on the up), Twitter, Snapchat (and more) to take into account.
It's all about finding out about the differences and specific nature of each social network and to ensure you are investing the lion's share of your budget in the one which is best adapted to your company and your goals.
7. Planning your social media strategy
Once you know a little more about your competitors, the networks to prioritise, and the type of campaigns to implement, it's time to move on to the planning phase.
This point may seem to be simply a comfort element to respect your deadlines, but in fact it is more important than it seems.
By fixing objectives, you measure the success of your campaigns and can readjust them according to your needs.
8. Capping your expenditure on social networks
If you want to ensure that you don't exceed your budget, opt to cap your spending. Facebook and Instagram, for example, both allow you to cap your expenditure by campaign or by account.
In the first case, this means that when the maximum budget you are prepared to spend has been reached, your campaign will end automatically.
If you opt for capping by account, this means that you have defined a maximum budget which cannot be exceeded across all of your campaigns for a given period.
These different options are very interesting in order to ensure that you don't go over your social media budget.
9. Consider a social media expert
The large majority of businesses have a team (or person) that is entirely dedicated to managing their social networks. Preparation, planning, interaction, analysis... Social networks are a full time job.
If your company cannot afford to have a dedicated team, do not lose sight of the fact that managing social networks will take up a lot of your time and as the old adage goes: time is money.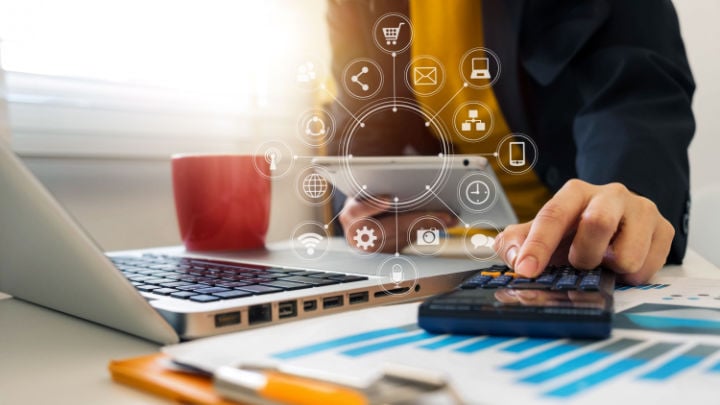 shutterstock.com/mrmohock
10. Don't neglect the long-term
When we talk about SEA as a whole, we are thinking of a short-term return on investment and that's not fundamentally wrong.
With some paid campaigns on social networks, you will rapidly see tangible results. However, depending on your objectives, you will also be able to observe the return on investment for the long term.
If you are looking to build your brand image, this won't happen with just one social network campaign.
You also need to keep in mind that many social networks get mounds of posts daily and the organic reach (i.e. free, unpaid posts) for businesses is constantly decreasing due to the frequent modifications of algorithms and the need for such platforms to make money through ads.
Facebook is a perfect example of this – they used to let businesses share free posts a lot. Now, it's almost impossible for a business page to get exposure without paying for ads.
This means that on average, only 10% of your followers will see your organic posts.
Even if you use a different social network that allows you to post for free, you should be aware that at some point down the line, those policies could very well change.
You will then certainly need to use paid campaigns on a regular basis to win over new clients, but also sometimes in order to be seen by your own followers.
This should therefore be taken into account in your strategy and in establishing your budget.
Conclusion
Social networks require a lot of input on your part. No pre-established strategy can ensure the success of your campaigns. Nonetheless, with a few tips and following certain rules to define realistic strategies which are adapted to your objectives, audience, and budget, the likelihood is high that your social network strategy will be successful.
This article was originally published on our French blog: 10 points clés pour définir et respecter votre budget réseaux sociaux