Google Ads can be one of the best tactics to use in your online marketing strategy. They might seem simple and unimpactful, but there is more to them than meets the eye. Did you know you can set up your Google Ads campaigns to display multiple things? Star-ratings are one of the best ways to draw attention to your ad and boost click-through rates.
Online marketing has so many facets these days, it's hard to keep track. However, some of the "oldest" methods still work best. Google Ads are considered part of a search engine marketing (SEM) strategy. SEM is defined as a method of placing online advertisements on search engine result pages (SERPs). So, despite all the fancy tech and features that Google is known for, their strongest product is still their search engine. Hence the success of Google Ads and why they will probably always be Google's cash cow.
Before continuing, consider downloading our in-depth Google Ads Guide! Just click below:
Now, back to the topic at hand:
How do Google Ads work?
If a Google Ad campaign is done correctly, the ad appears at the top of a related search. Advertisers choose the right keywords to trigger their ads. If the ad is clicked on, the advertiser is charged a certain amount depending on several factors (e.g. keywords chosen, bids, budget, etc.).
This system can really boost website traffic to your site without any technical issues. And if your website converts these visitors into customers, Google actually likes that and charges you less for each click. These click-prices are usually referred to as cost-per-click (CPC).
As we mentioned, there are lots of things you can do to make your Google Ad stand out. That includes loads of different ad extensions, which you can read about in the overview we've created below:
In this article, we'll focus on the extension called "seller ratings":
Seller ratings
Alongside the additional information in the organic search results, Google Ads also allows various other pieces of information to be displayed.
In the ad displayed below, the stars are part of Google Ads' ad extensions. With ad extensions, information such as additional pages (site links), location, or telephone numbers can also be added to an ad. These extensions can really draw the user's attention to the ad.

The stars are added by the automatic ad extension "Seller ratings". Unlike manual extensions, automatic ad extensions cannot be set directly in a Google Ads account. Here, the link works by domain specification. A domain's collected reviews and ratings are sent to Google. If the domain in a Google Ads ad corresponds to a domain with ratings, the stars can be shown.
The prerequisites are:
there must be at least 100 reviews and ratings (in most cases) from different users within the past 12 months for each domain/country where the ad is displayed

overall rating must be at least a 3.5 out of 5 (currently, lower ratings can be displayed as well)

Google and/or its partners have completed a research evaluation of your site
All existing reviews and ratings (possibly from various review providers) are aggregated. How many and which reviews and ratings there are can be checked here:
https://www.google.co.uk/shopping/seller?q=yourdomainwithouthttp://www.

Example: https://www.google.co.uk/shopping/seller?q=yourshop.co.uk
Seller ratings in Google Shopping Ads
Seller ratings are also shown in Google Shopping. Google Shopping is a price comparison platform; Since 2013, it has generally not been part of unpaid results, but is controlled via Google Ads and PPC (pay-per-click).
However, during the pandemic, Google Shopping results have been free while allowing advertisers the opportunity to pay for their ads to appear at the top (similarly to the normal Google Ads). When things get back to "normal", it's very possible the Shopping section will become exclusively paid as well. Time will tell.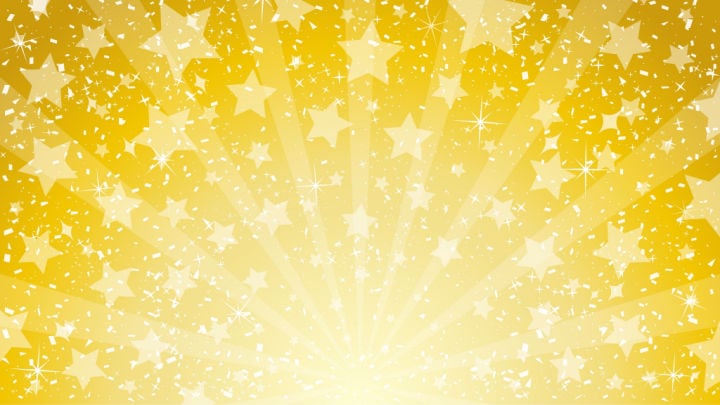 Source: shutterstock.com/KID_A
This form of ad (i.e. Google Shopping Ads), which shows products with their name, images, price and availability, is a product listing ad. First, advertisers need to open a Google Merchant Center account and upload their product list in order to provide Google with the appropriate information. The Merchant Center must then be linked to the existing Google Ads account. Selecting the "shopping ad" campaign type allows product ads to be displayed. If you're new to Google Shopping Ads, check out our free step-by-step guide to setting it up:
Product ratings
Even more prominent within the Shopping ads outlined above are product ratings (here, in orange). Once again, the reviews and ratings have to be given to Google, and the Google stars can then be shown for products with ratings. All existing ratings are calculated to form an average star-rating.
The prerequisites for display are, however, less strict:
Shops must have collected at least 50 reviews across their entire product feed for these reviews to be displayed.
Shops must share all their reviews with Google, including low ratings.
As a minimum, the shop needs to send Google the full reviews feed at least once a month (this can be done automatically with a Google-certified reviews provider like Trusted Shops).
All product ratings are shown on the detailed product page (e.g. if someone clicks on the stars). Product ads can also be shown in the universal search. As you can see below, Shopping Ads appear at the top and standard Google Ads right below them. If Google decides that a user's search terms were product-related, there's a good chance Google Shopping Ads will appear at the top of the SERPs.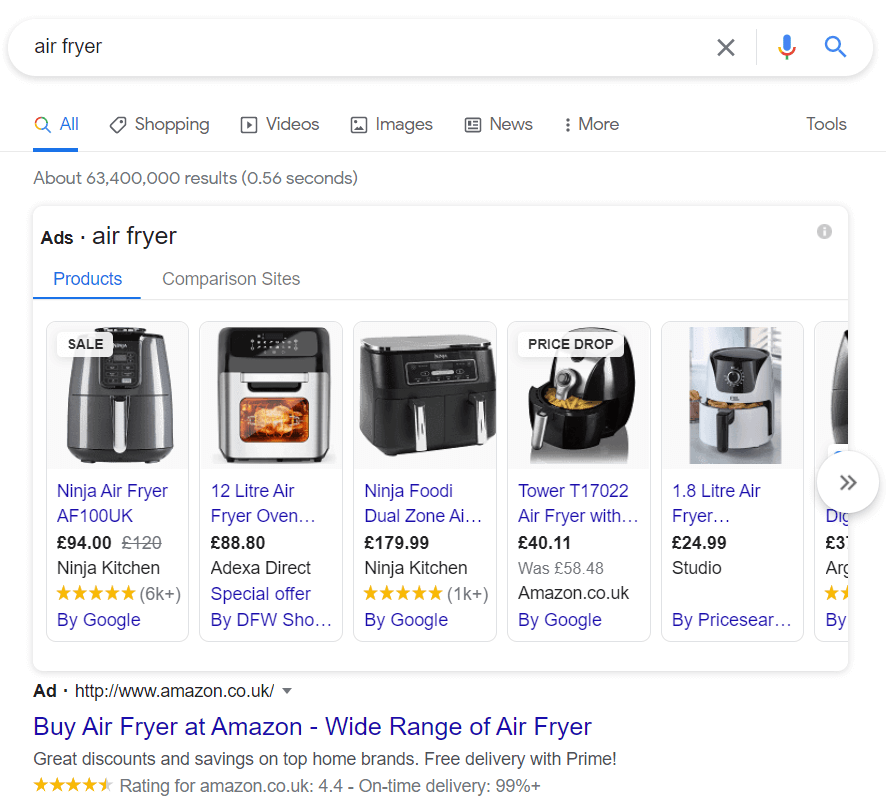 Stars appear everywhere in the SERPS. Okay, maybe not everywhere, but it's clear they can definitely be a game-changer when you're fighting for precious Google real estate and of course, those valuable clicks.
Don't forget to download our free whitepaper below, which goes into more detail about getting your star ratings in Google Ads.
Do star-ratings appear elsewhere on Google?
Of course, there are plenty of other places where star-ratings appear throughout Google. For example, it's possible to display them in the organic results. If you can manage to get that going consistently, that can be a really valuable channel for getting traffic to your site.
Google Maps is another place Google shows off star-ratings. Naturally, this makes the most sense for brick-and-mortar shops.
Google Knowledge Graphs (those windows that pop up on the right side of the screen sometimes) are another place star-ratings appear.
Trusted Shops has created an overview for the star-ratings throughout Google. Download it for free below: