In late-August of 2019, Trusted Shops, together with Statista, surveyed 1,000 UK consumers to get a better understanding of their online shopping habits. The questionnaire focused mainly on the topic of unfamiliar online shops, how they get discovered, and how they can build trust with these first-time shoppers.
As you'll soon find out, about half of the respondents were split by gender (510 females vs 490 males). We also made distinctions by age groups: 18 to 29 years old (232), 30 to 49 years old (474), and 50 to 65 years old (294). All respondents had shopped online at least once in the last two years.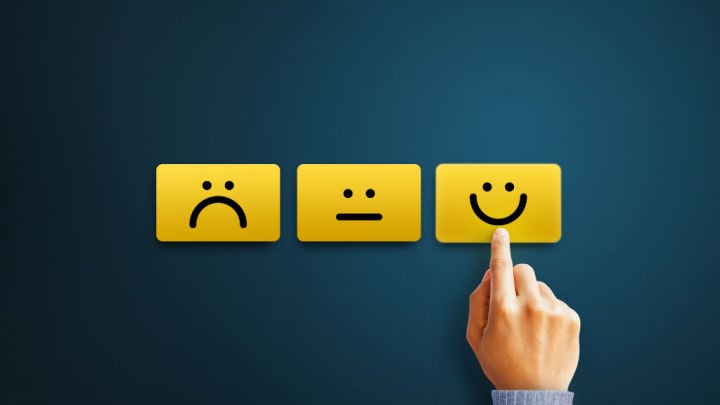 shutterstock.com/Sichon
Without further ado, let's look at the results:
Where do you go when you want to buy a specific product?
With the following questions, we wanted to learn about the shopping habits of consumers when they want to buy a specific product. The choices for the following questions were about frequency: They could choose between always, often, rarely, and never.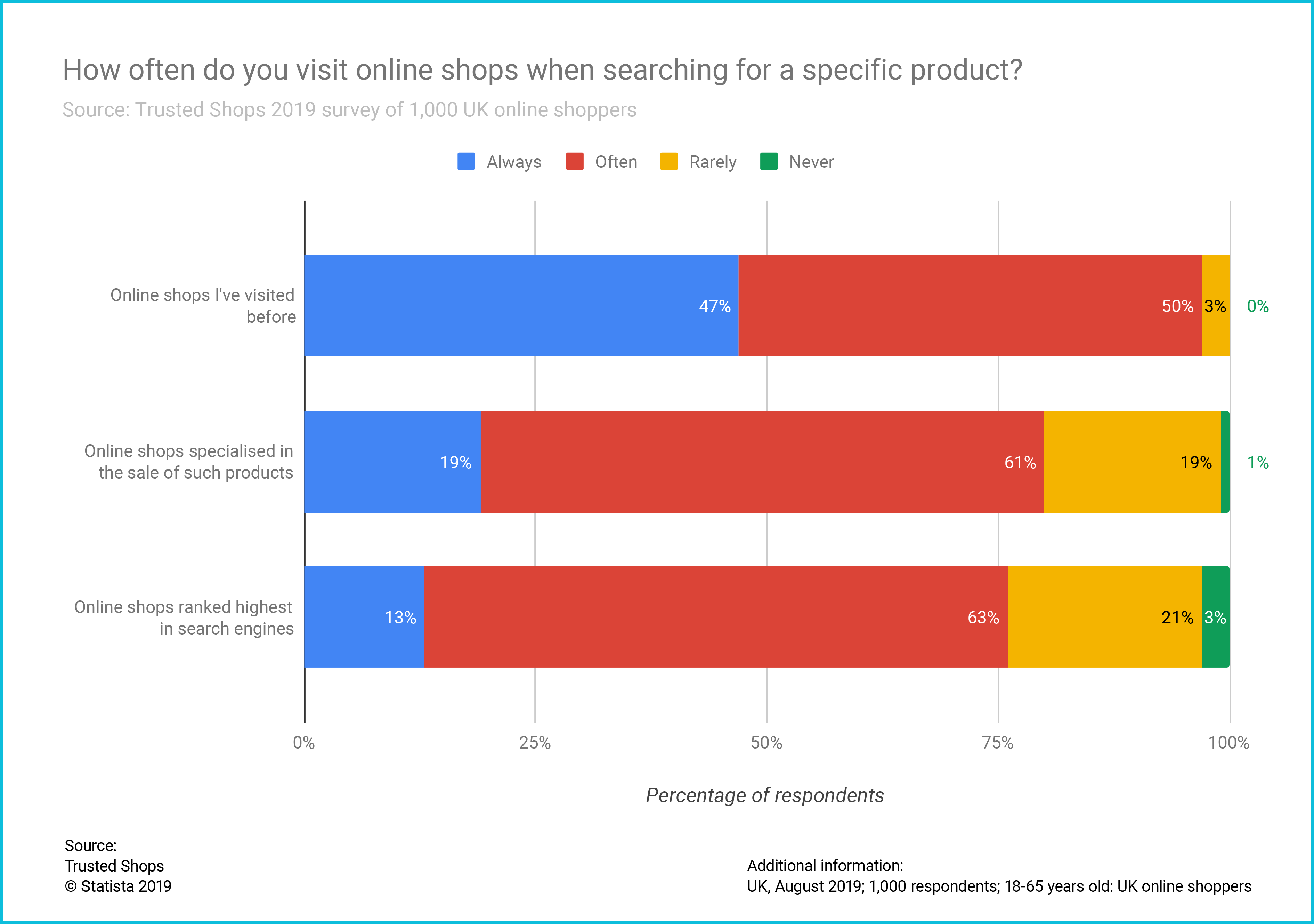 Click on the image to enlarge it.
97% of UK consumers will most likely visit a shop they've bought from before when searching for a specific product
When asked if consumers go to shops where they've had a previous experience, 96% of respondents answered with always (47%) or often (50%). Out of all the questions in this section, this had by far the highest number of "always" answers.
Takeaway: Target your past customers. The expression "it costs more to acquire new customers than it does to keep your old ones" really holds true. By offering high quality products and services, not only will you retain your old customers, but if you can inspire them to write reviews for you, you can win over new customers more easily as well.
80% of UK consumers are likely to visit a specialised shop when searching for a specific product
With 19% of respondents answering "always" and 61% answering "often", heading to specialised shops seems like a logical choice. Popular shops within a certain niche can offer users an experience with experts of a specific industry. Consumers see speciality shops for what they are: knowledgeable insiders of a certain sub-culture.

Takeaway: If you run a niche shop, make sure you're ranking for your most important keywords. By selling quality products and offering top-notch customer support, you can build up your reputation within that specific community.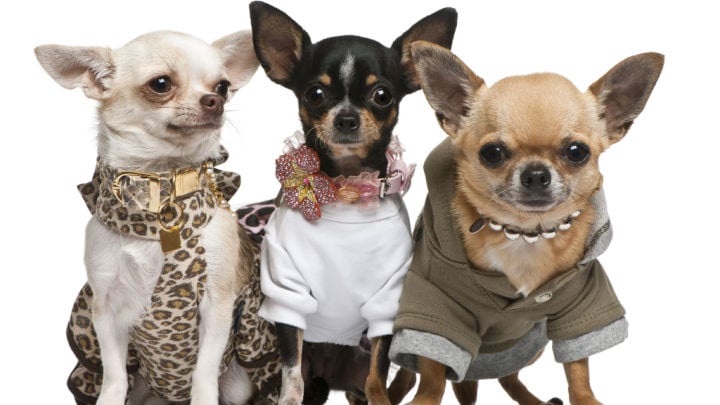 Selling niche products can boost your reputation in that industry.
(shutterstock.com/Eric Isselee)
By the way, if you'd like to read more about reputation management and how Trusted Shops can help, check out our free whitepaper!
76% of customers are likely to visit a shop that ranks highest on search engines
With respondents answering always (13%) and often (63%) for a combined 76%, it's clear that UK consumers place importance on Google's search results. Everyone online shop owner knows how powerful Google can be in terms of website traffic, so it's important to rank high for your keywords.

Takeaway: If you don't have a content plan, it might be time to consider it. Even just a few well-planned blog topics can get your shop a lot of organic traffic.

It's also worth noting that rich results draw attention to search results by displaying extra information. Product pages can show of star-ratings, but even extra information regarding your product categories or opening hours can draw the attention of your audience.
---
---
What features of an online shop are generally most important to you?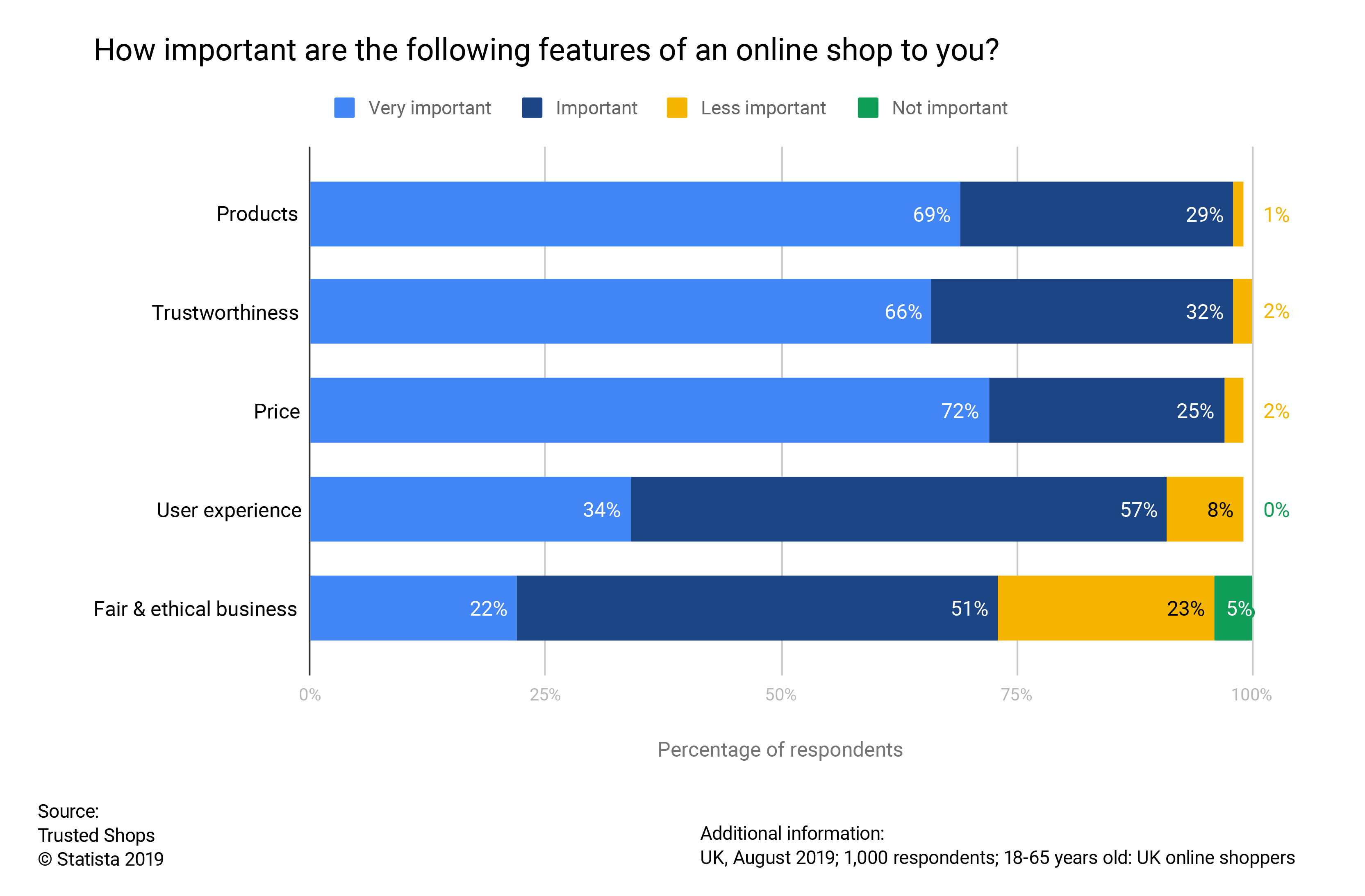 Click on the image to enlarge it.
To no one's surprise, products came in with the strongest answers. Combing for 99%, respondents answered either "very important" (69%) or "important" (29%).
In second place, trustworthiness came in with 98%. "Very important" got 66% while "important" got 32%. What may surprise you is that this combined score outranked the factor of price (97%).
Takeaway: Product quality is clearly the top priority for online shoppers. However, we can also see that trustworthiness outranks price. This suggests that users would even be willing to spend a little more on a product if they know they're getting it from a trustworthy website.
After price, user experience came in fourth place with a combined score of 92% followed by fair and ethical business in last place with 73%. In fact, compared to the other four questions in this category, this was the only question that had any responses above 1% for "Not important" (5%). It will be interesting to see if this changes as climate change issues become more prevalent in the coming years and companies start shifting towards being more green.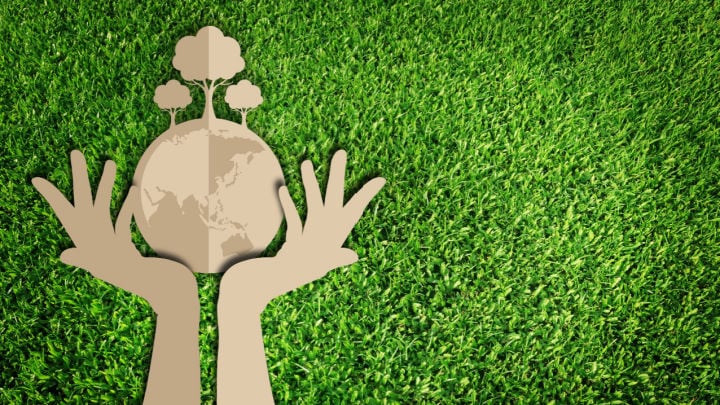 shutterstock.com/Vanatchanan
How important are the following features when deciding on a shop to buy from?
For the following questions, we asked respondents about the features of a website that they consider important. For each feature, they were asked to choose either must exist, has a positive impact, or low relevance.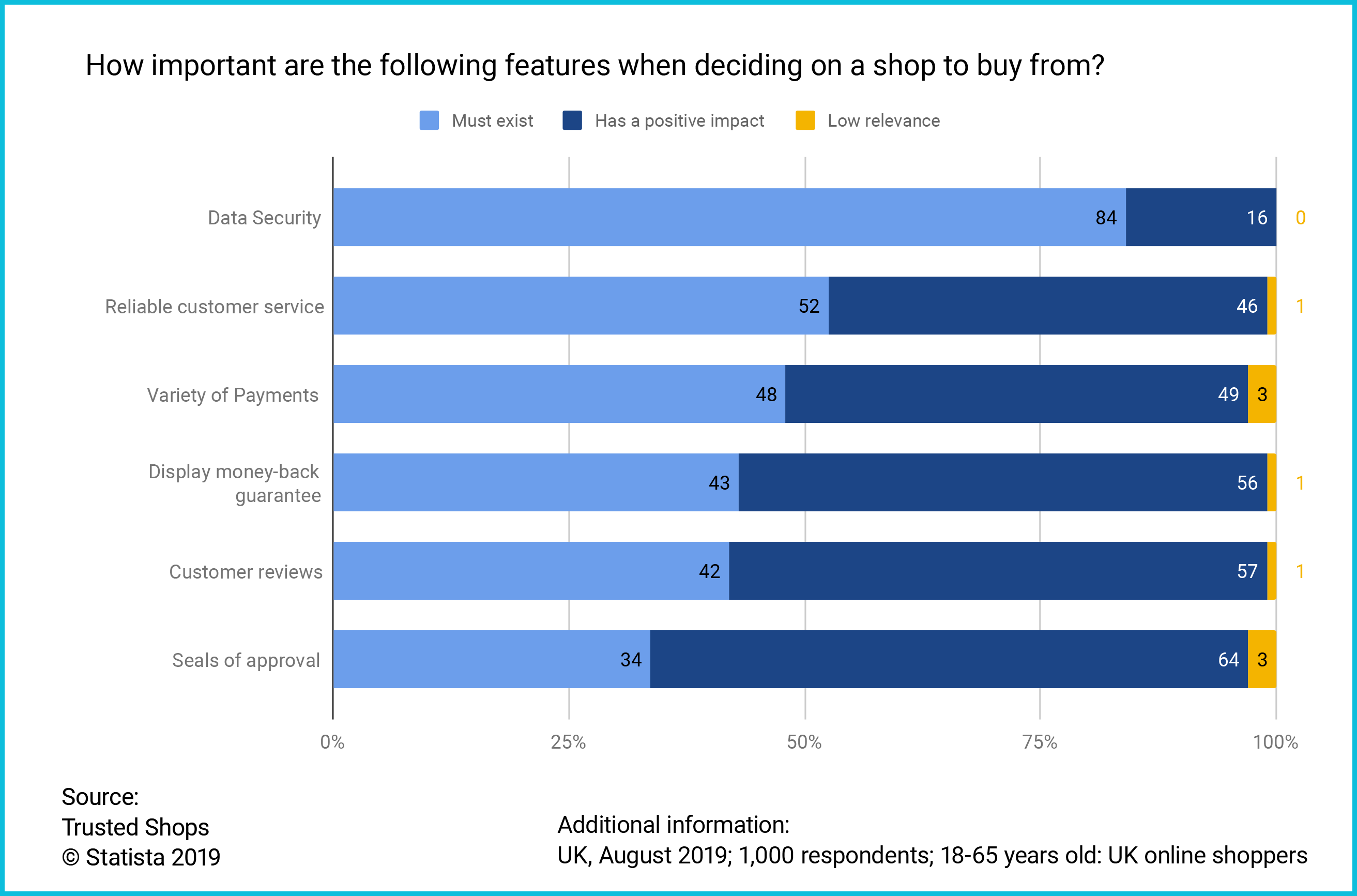 Click on the image to enlarge it.
What was most surprising was that only one feature had a "must have" score above 55%. This feature was "data security" that scored a very strong 84%. Most other features scored between 35% and 45% in terms of being considered a must-have.
Takeaway: Generally, many of these features were seen as having a positive impact on the customer's decision to buy from a shop. Data security is definitely the most important feature at the moment - perhaps recent data scandals have brought this ever-present topic back into the limelight.
---
Recommended reading: Is your business GDPR compliant? Check out our free whitepaper on GDPR FAQs.
---
What makes an online shop trustworthy for you?
When consumers were asked what elements of an online shop inspire trust, there was quite a close race among the top three answers: reliable customer service (72%), data security (71%), and customer reviews (70%).
What is perhaps more interesting here is that that data security was more important for older groups (55 to 65 year-olds (76%) vs. 18 to 29 year-olds (63%)), while customer reviews saw an opposite effect (55 to 65 year-olds (64%) vs. 18 to 29 year-olds (76%)).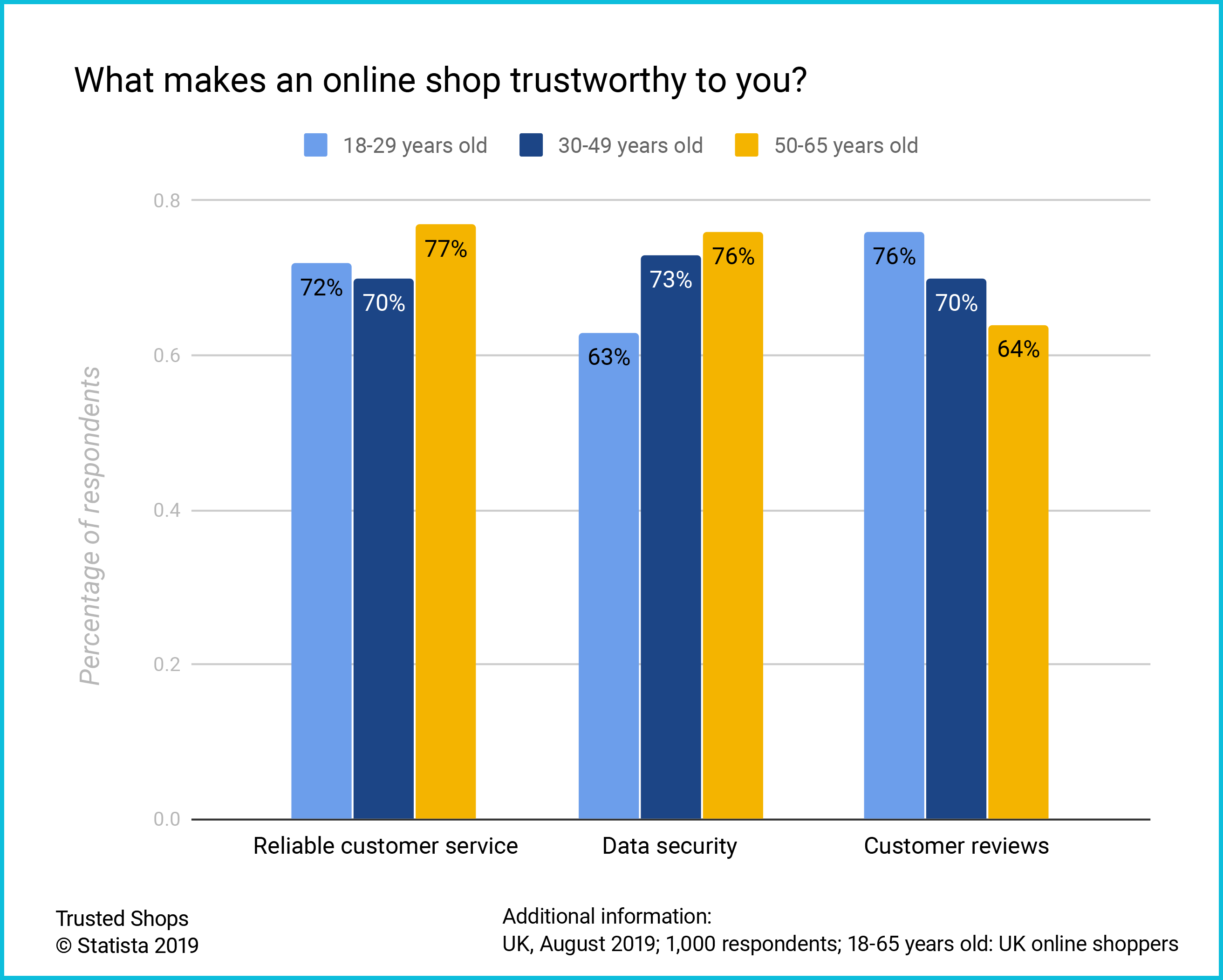 Click on the image to enlarge it.
Additionally, for all three categories, the impact was stronger for women than for men:
Reliable customer service: 76% vs 69%

Data security: 74% vs 69%

Customer reviews: 74% vs 65%
Takeaway: Different age groups focus on different things when it comes to trust online. Young people, who have grown up with social media, are less concerned with data privacy. Younger people tend to put more weight on customer reviews. Perhaps, this is also a side effect of having social media be part of our daily lives - we read and share personal opinions and experiences daily.
Which quality seals are you aware of?
When UK consumers were asked about the seals of approval they are aware of, three brands stood out from the rest.
Feefo, the widget for displaying reviews scores, came in first place with 34% recognition. Next came TRUSTe, the seal for privacy policies and practices, with 30%. In third place, Trusted Shops, the quality seal that offers customers a 30-day money-back guarantee, came in with 19%. No other seal of approval had more than 2% recognition.
The questionnaire continued for those who recognised any of the mentioned quality seals. From those top three, the Trusted Shops trustmark had the biggest impact on a shop's trustworthiness (81%) compared to Feefo (75%) and TRUSTe (75%).
Similarly, the same group was asked which of the recognised seals of approval were indispensable when shopping online. Feefo received a 52%, TRUSTe came in second with 64%, and Trusted Shops had the best score with 71%.
Takeaway: Although the Trusted Shops trustmark was not the most recognised quality seal among UK shoppers, it is hard to ignore the impact it has. The 30-day money-back guarantee inspires trust and consumers definitely find value in its offer.
Customer reviews
When it comes to customer reviews, we asked respondents a few questions regarding the importance of their features.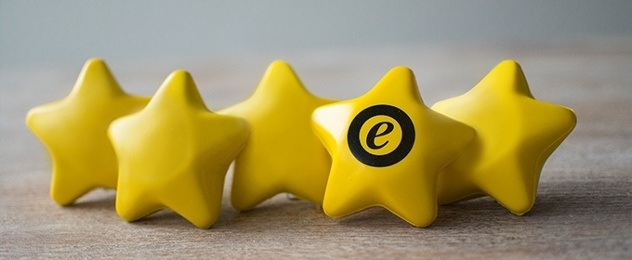 How important are the following features in customer reviews?
In the first set of questions, we asked users to rate the importance of the following features: number of collected reviews, the diversity of customer opinions, wording of the reviews, the shop's replies to reviews, the age of reviews, and the non-anonymity of reviewers. They were asked to rate the above-mentioned features as either very important, important, less important, or not important.
Please note: For the following analyses, I've combined important and very important as one answer, which I'll call the importance score.
Number of collected reviews (83%)

Click on the image to enlarge it.
This feature was seen as the most important feature, receiving an importance score of 83%. This was particularly true for the youngest demographic (18-29), who gave it 91%.
At a closer look, we see that around 51% of respondents want to see between 11 and 50 reviews in order to be considered meaningful. Around 18% would like to see between 51 and 100 reviews. 10% would like to see between 101 and 500 reviews, while only about 3% want to see more than 500 reviews.
Takeaway: Although it might surprise you that this feature was rated as most important overall, it is difficult to ignore the facts. This means users want to see a significant number of reviews in order to see them as trustworthy. Naturally, if you only see five reviews for a shop or a product, there's a higher chance they could all be fake. If a product has 432 reviews, there's a much smaller chance that all the reviews are fake.
Noteworthy: Remember, if you want to show off your star-ratings in Google Ads, you'll need a minimum of 100 reviews in order for them to show up. Using a tool like Trusted Shops' Review Collector can make this job much, much easier.
Diversity of customer opinions (77%)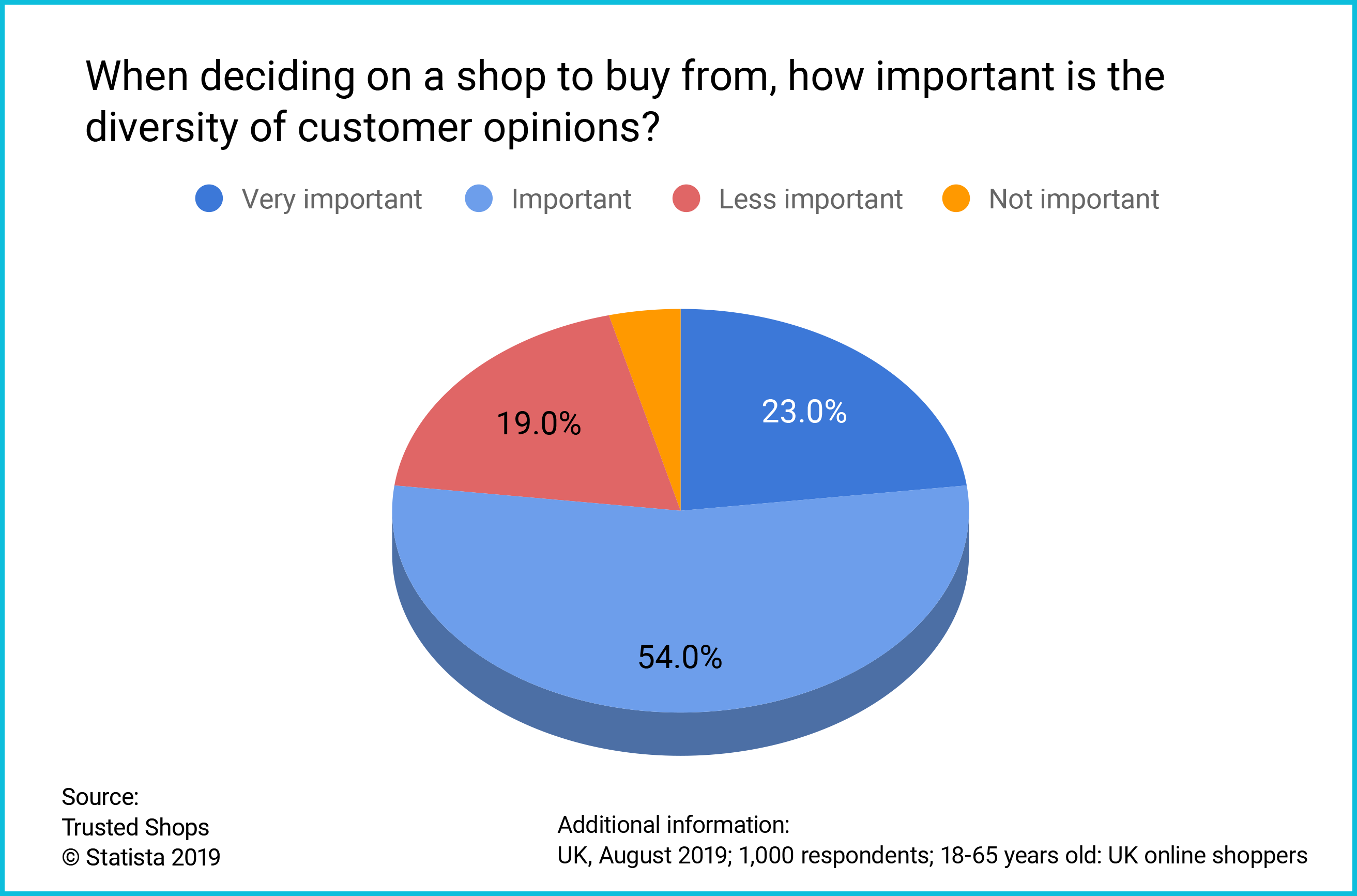 Click on the image to enlarge it.
Seeing multiple reviews with different scores is also important to customers. This feature got an overall importance score of 77%. This score seemed quite consistent across all groups (i.e. age, gender).
Takeaway: Seeing a variety of ratings gives off the impression of authenticity as well. If a user sees that someone rated this store or product with one-star, they feel that there's a better chance the reviews are real. They can read the negative review and decide on their own if the customer has given fair feedback or if they're being unreasonable.
Wording of reviews (76%)

Click on the image to enlarge it.
This feature is in regards to the content of the review. This feature received an importance score of 76%.
Men scored this 79% while women scored it at 72%. Likewise, the oldest group of buyers (50-65 year-olds) gave it the lowest score with 70% while the two younger groups both rated it at 78%.
Takeaway: The old expression "content is king" even holds true for reviews. Sure, the visual effect of a star-rating is powerful. However, for customers who really do their research, you can bet they're really reading the content of the reviews. A recent study from Capterra also confirms that although star-ratings had the second-biggest impact on consumers (16%), the actual texts were by far the most impactful element of the review (70%).
Shop's replies to reviews (76%)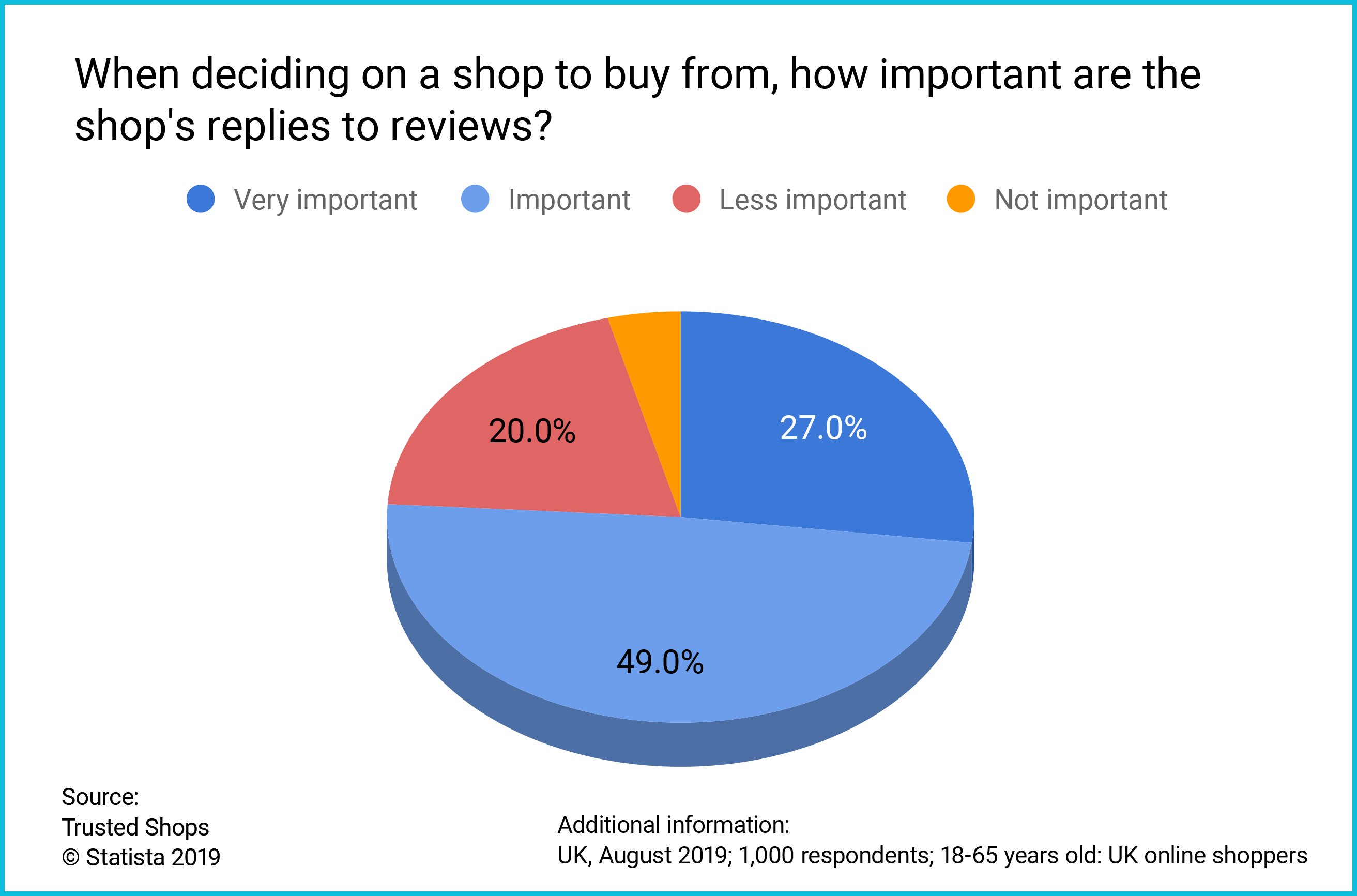 Seeing a shop reply to reviews also scored an overall importance score of 76%.
It's worth noting that the younger demographic (18-29) only scored it at 69%, while 30-49 year-olds scored it a 78% and 50-65 year-olds scored it a 77%.
Takeaway: Seeing how a company replies to (negative) reviews, gives potential customers insights into how a company's customer service is. The responses here seem to match the age demographics' expectations for reliable customer service.
---
---
Age of reviews (75%)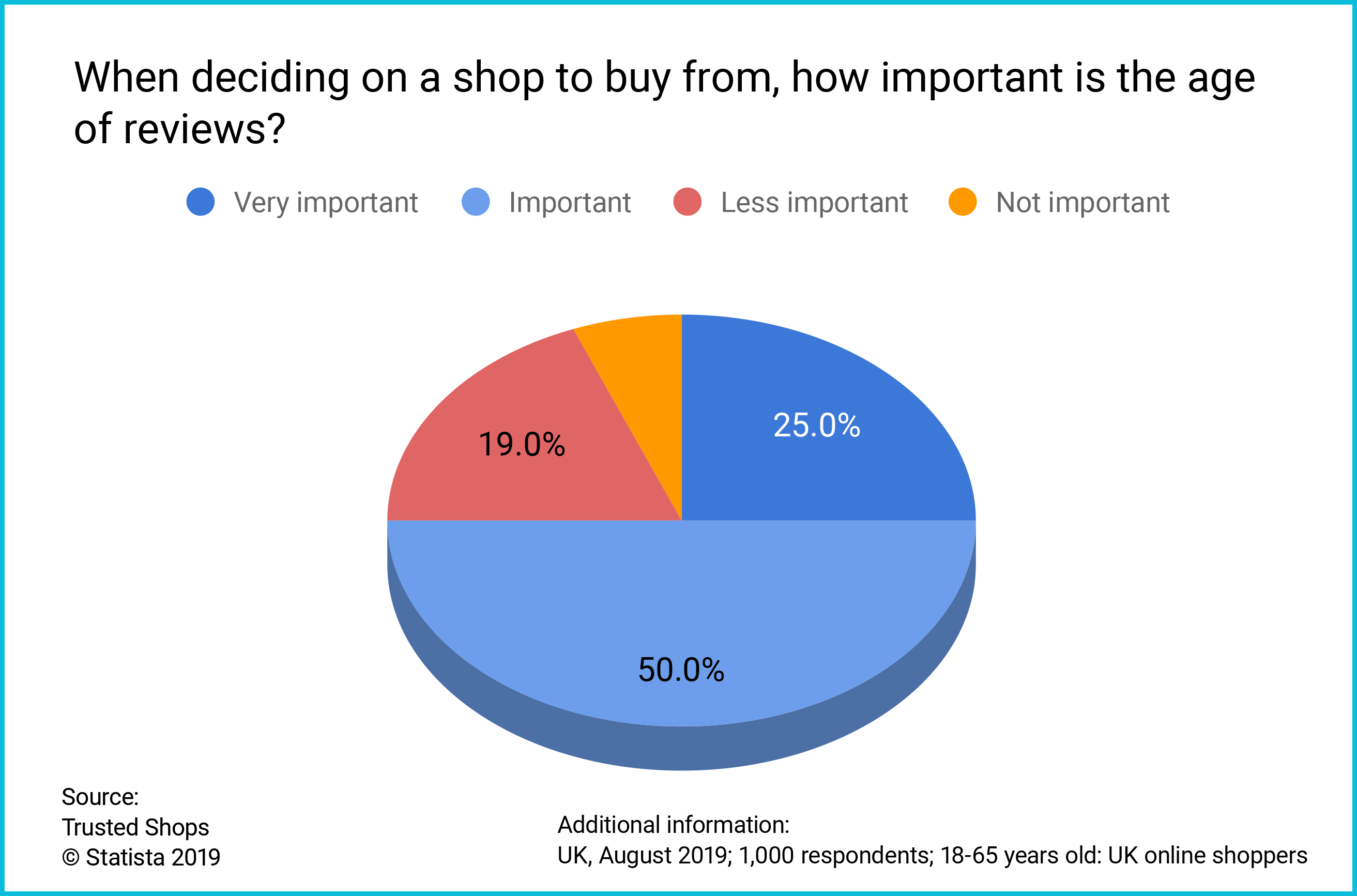 Click on the image to enlarge it.
Nothing stands out in terms of demographic differences here. It seems UK shoppers do look at how old a review in regards to trustworthiness.
Takeaway: Looking at the age of a review can give some insights into what is going on at a company. If most of the reviews are old, this can bring up some suspicions. It is, therefore, important to keep collecting new reviews constantly.
Non-anonymity of the reviewer (51%)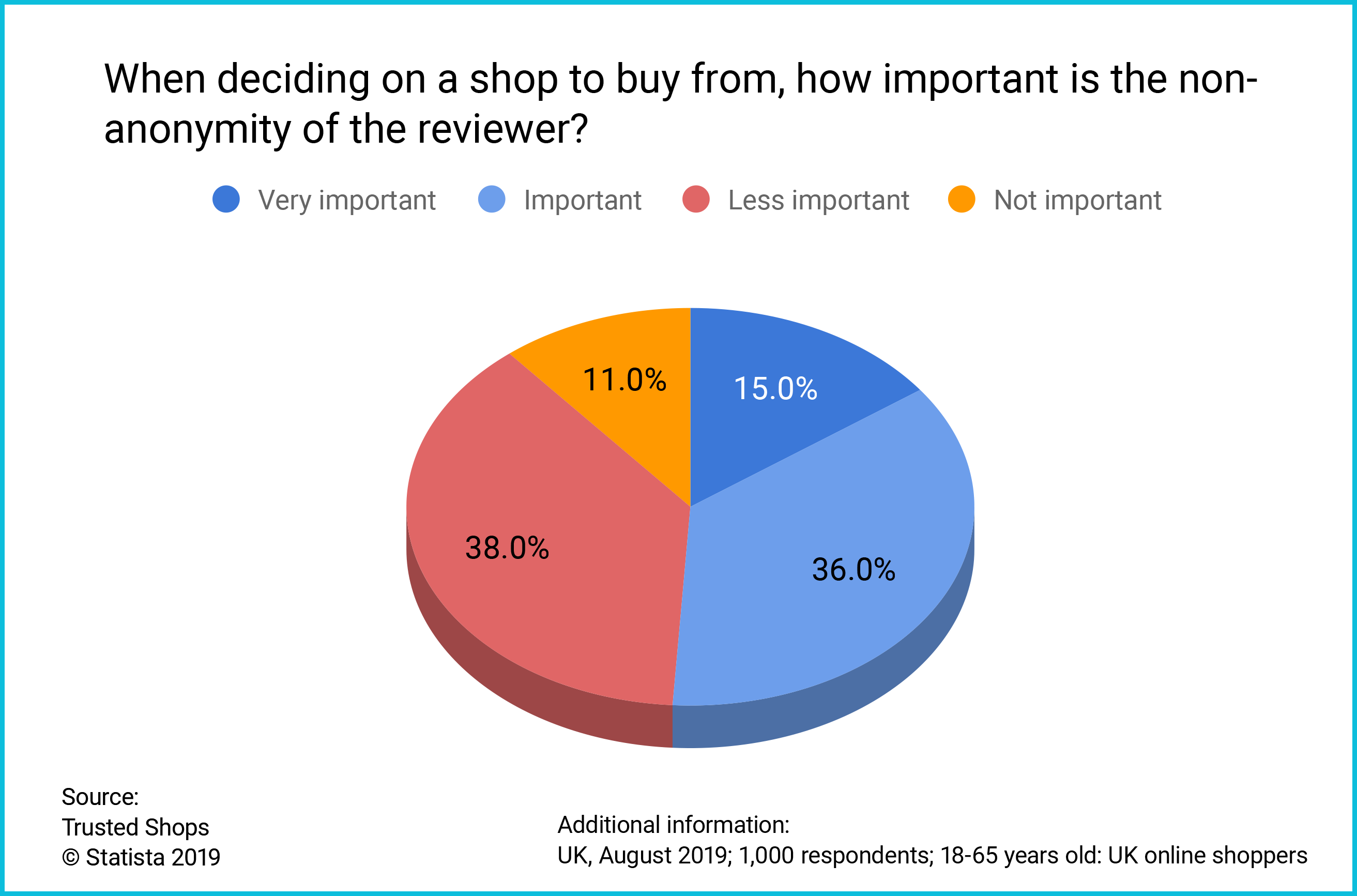 Click on the image to enlarge it.
Although this got the "lowest" importance score compared to the other features, it's worth noting that more than half of respondents still felt that this was indeed important.
Takeaway: Users like knowing that there is a real customer behind these reviews. Anonymous reviews definitely lack an element of transparency. Trusted Shops is a closed reviews platform, meaning only verified customers can leave reviews, unlike some other reviews providers.
How many reviews do you read when making a purchase decision?
Although many people like to see that many reviews exist, they, of course, don't read that many. A third of UK consumers will read 4 to 5 reviews (33%), while another third will read between 6 and 10 reviews (33%). About 23% of UK consumers will read more than 10 reviews when making a purchase decision.
Takeaway: People may expect to see that many reviews exist, but will only read a relatively small percentage of them. This highlights the importance of your star-ratings.
A product's (or a shop's) star-rating along with the number of reviews collected are used as a kind of filtering system for consumers. If a user notices that the star-rating is good, and that the number of reviews is high enough to make the score seem authentic, then they will be more willing to dig a bit deeper to see what people are saying about the product/shop.
At which price point do customer reviews have a strong influence on your decision to buy from a company you have never heard of?
When shopping online at an unfamiliar website, 98% of consumers would consider customer reviews influential in their purchase decision, even for products as low as £5.
Takeaway: Customer reviews can relieve many of the perceived risks that consumers have when shopping in an online shop they've never heard of before.
Money-back guarantee
Would knowing you are entitled to a money-back guarantee influence your decision to buy from a shop you've never heard of before?
The answer was an overwhelming "Yes". 86% of UK consumers agreed that knowing that they are entitled to a money-back guarantee would influence their decision to buy from a shop they've never heard of before.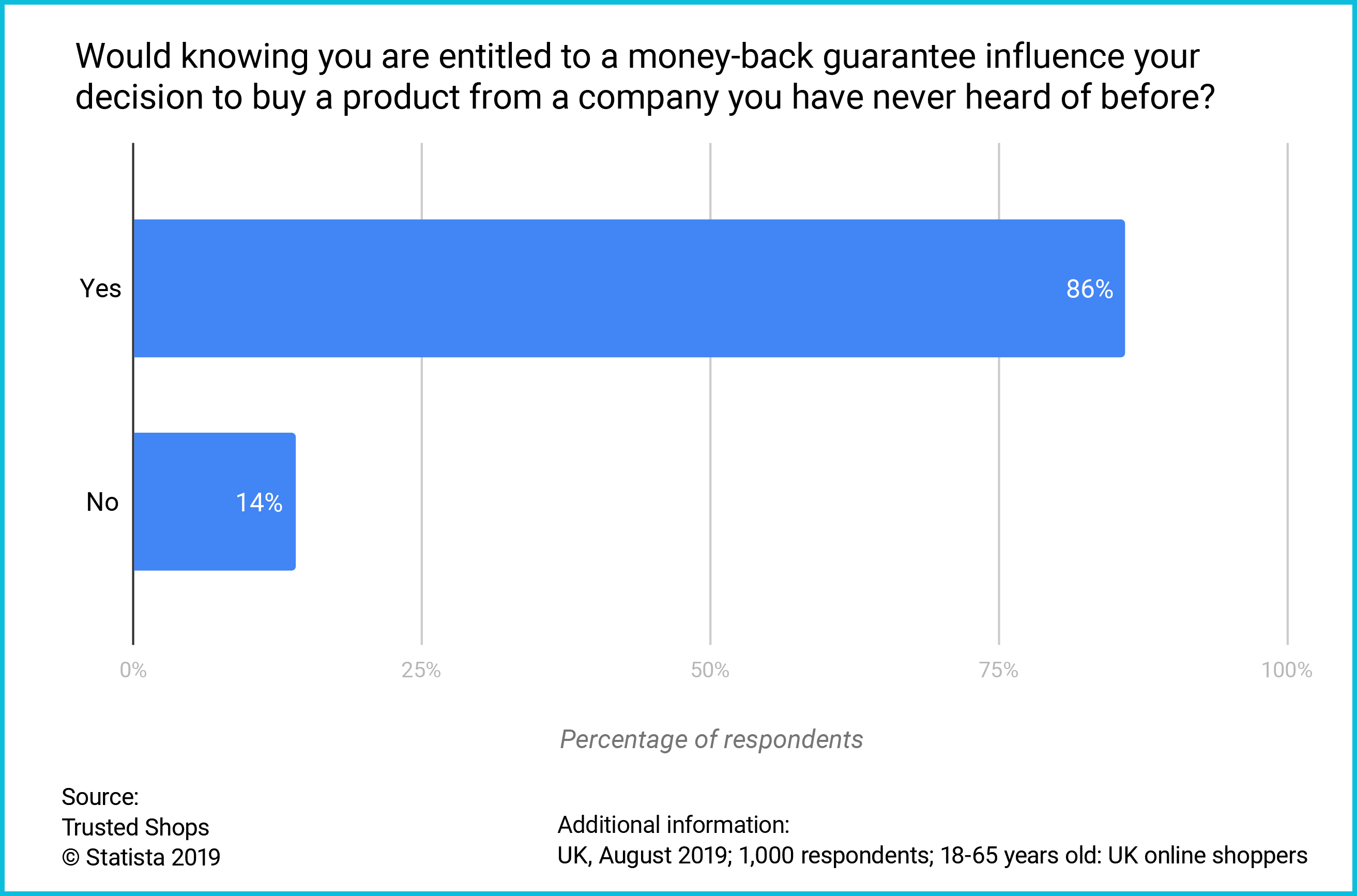 Click on the image to enlarge it.
Takeaway: Seeing a guarantee or knowing that you are entitled to one before completing a purchase seems to give shoppers a certain peace of mind when shopping online, especially from a website they've never heard of before.
Which price point does a money-back guarantee have a strong influence on your decision to buy from a shop you've never heard of?
Similar to the customer reviews, 97% of consumers would consider a money-back guarantee influential in their purchase decision from a shop they've never visited before, even for products as low as £5.
Takeaway: As with reviews, a money-back guarantee puts a shopper's mind at ease and increases the likelihood that they will complete a purchase from an online shop that is new to them.
Conclusion
From the results of this survey, we can see that trustworthiness is important, especially for consumers who are visiting a website they've never heard of before. By using trust elements, such as customer reviews and money-back guarantees, shops can increase the chances that consumers will complete a purchase with them. Once the first purchase is made, it's much easier to get them to come back and buy from you again.
Want insights into the UK market? Download our free whitepaper!