Any successful online shop knows the importance of reputation management. Being aware of what your customers think about your business is important for so many reasons. That's why the concept of social listening should be on your radar.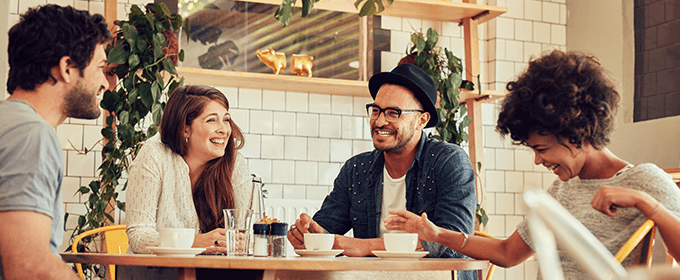 What is social listening?
Social listening is the concept of figuring out what people around social media are saying about your online business. By finding, collecting, and analysing your social mentions, you'll gain insights into many things about your business, as well as your current and potential customers.
With this information, a business can get an overview of their brand health and should be able to improve many aspects of their business, whether it's the customer service, the packaging, logistics, pricing, or even the product itself.
What is social monitoring?
The term social monitoring often gets grouped together with social listening. It depends on whom you ask, but most industry experts agree that the first step to social listening is accomplished with social monitoring. Social monitoring is the process of finding individual posts mentioning your company and addressing them one at a time.
What can you accomplish with social listening?
Social listening can bring many benefits to your business. Where social monitoring addresses customers on a personal level, social listening has much more strategic effects on your business.
Customer engagement
By keeping tabs on how people talk about your company and engaging with them, you'll have a great opportunity to strengthen your relationship with them. Past customers will feel that their opinions matter and their voices are heard, thereby increasing their loyalty to your brand.
BONUS DOWNLOAD: Get the Building loyalty through customer engagement whitepaper for free
Acquiring new customers
If you react to potential customers, they might actually be impressed with the efforts you put in to address their concerns. People generally like it when a brand responds to individual feedback.
Marketing strategies
By understanding what people are saying about your brand, you can get some wonderful insights for your marketing strategies. Some simple aspects like the language used by your customers might influence the voice of your marketing campaigns or inspire useful content.
Product/service improvements
Similarly to customer reviews, knowing what people think about your business can help improve your business. Does your product have a flaw that a lot of users mention? Do people complain about long shipping times often? If people keep giving the same feedback again and again, you'll see that it is a recurring problem that needs addressing.

Reputation management
This touches back on social monitoring. By finding user-posts about your company and addressing them, you can help shape your brand's reputation. This can be done on a case-by-case basis. Naturally, you can also look at these posts cumulatively and use this information to guide your reputation in a certain direction as well.
Remember, social listening involves listening to wherever your users are talking about you, including on your own reviews. If you manage to fix some of the issues that have been holding your brand's reputation down, make sure to collect more reviews in order to offset the negative reviews you may have received before addressing those issues.
Learn about taking an active role in reputation management and also how Trusted Shops can help you collect tons of reviews on multiple review platforms. Download our free whitepaper!
Identify advocates and influencers
Hopefully, social media users are only saying good things about your brand. Whether or not that is the case, finding users that talk about your company and have a lot of followers can be useful for your business.
If they are social media influencers specific to your niche, then perhaps you could reach out to them to collaborate on an influencer marketing campaign or an advocate marketing campaign.
Competitive analysis
Knowing what your customers (and potential ones) are saying about you can definitely provide some great insights. At the same time, it could be immensely interesting and informative to know what your audience is saying about your competitors as well. By knowing what they don't like, you can target those users with the perfect message. Conversely, by seeing what they do like about your competitors might help you improve your products or services.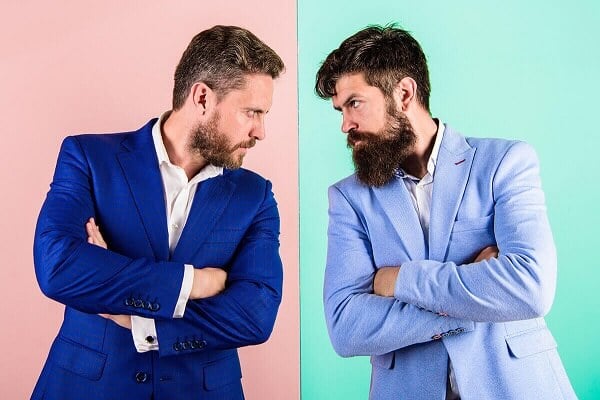 Crisis management
Hopefully, it will never come down to this, but even some of the best companies have some kind of crisis. In today's digital world, every crisis gets infinitely magnified through social media.
By having your ear to the ground, you can contain and control the crisis by hearing about it before it "blows up". You can thus help drive the narrative and nip the problem in the bud as early as possible.
Make a plan for social listening
If you've decided to take social listening seriously and use it to improve your business, it's important to make a plan.
Choose your goals
Many of the benefits for social listening were listed above. Naturally, you'll probably want to keep them all in mind, but you might want to focus on one or two of these points in the beginning. Just like any other big project, planning in the early stages is important for your flow of work and for measuring the success of the project after you've finished.
Find the right tools
There are plenty of services out there to help you keep track of your social media.
1. Hootsuite
Hootsuite is a popular choice for social monitoring and listening. You can track your brand mentions across multiple social channels and manage them in one dashboard. These channels include Twitter, Instagram, Facebook and LinkedIn.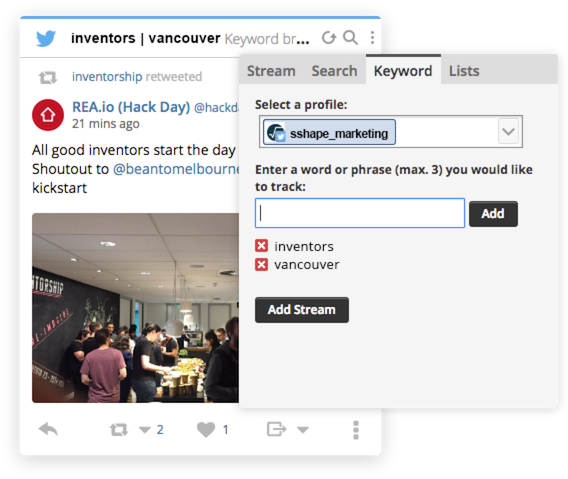 Source:
Hootsuite
With this tool you can also track influencers and leads in lists which can then be shared with your colleagues.
2. HubSpot
Hubspot allows users to build marketing campaigns and share content on social media. It also lets you monitor social interactions with the contacts in your database and create custom keyword monitoring streams.
Source: HubSpot
The tool allows you to create your own social media posts and respond to comments and mentions through the interface. You can use Facebook, Instagram, Twitter, YouTube, and LinkedIn.
3. Brandwatch
Another interesting tool is Brandwatch. It can monitor your channels, track hashtags, phrases, and keywords. The tool offers three different products:
Analytics for online conversation analysis

Vizia for data visualization

Audiences for a better understanding of the target group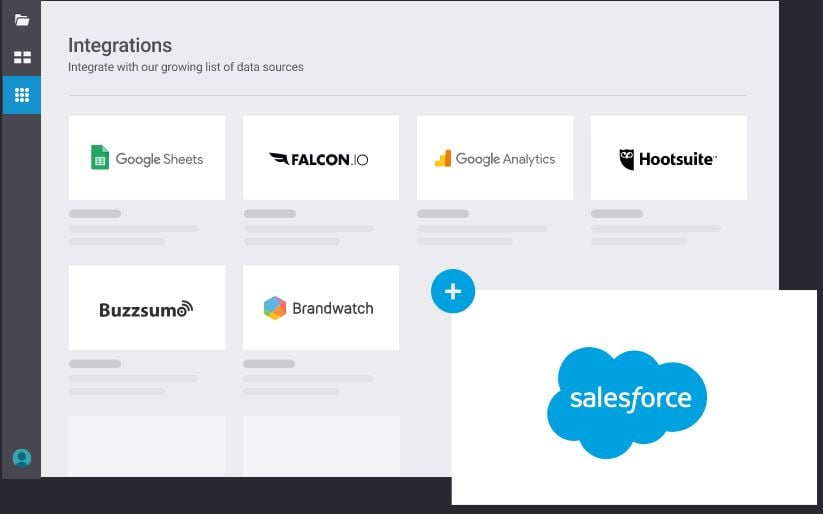 The tool has various integrations such as Salesforce and Google Analytics and can be tested for seven days free of charge.
4. Talkwalker
Talkwalker offers advanced listening and analytics features that cover 150 million sources.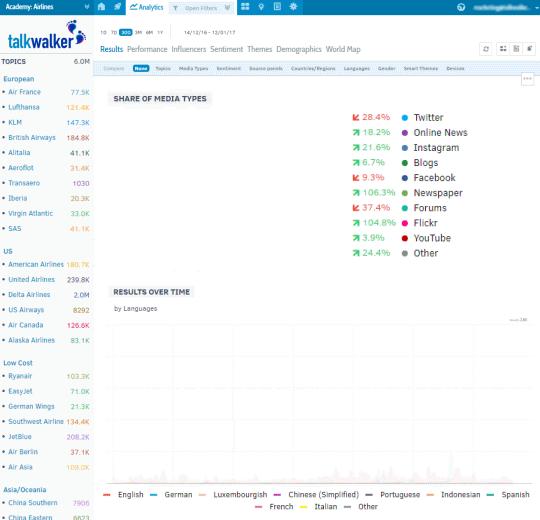 These include blogs, forums, videos, news, review pages, and social networking sites. It
gives you the opportunity to quickly identify newly discussed topics and also images that mention the brand or company.
5. Sprout Social
Sprout Social offers a social media management software that can help you improve your interactions with users. Especially for Twitter, it offers a Listener Dashboard and reports to analyse your Twitter presence.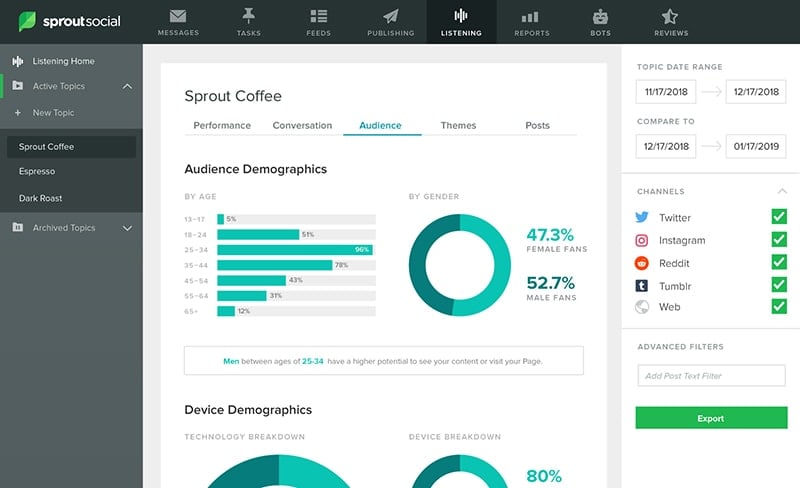 The platform can monitor and track direct messages and brand-specific keywords.
Choose your keywords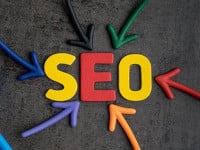 Once you've chosen the right tool(s) to help you with your quest, it's time to choose the right keywords. Similar to an SEO or SEA strategy, you'll not only be monitoring your brand's name, but the most important keywords associated with your brand and industry as well.
For starters, you might want to track your brand name, handles, industry buzzwords, your slogan, and branded hashtags. Do the same for all your competitors as well.
Also, depending on the software you use, you might also choose some negative keywords, which is also a standard practice with Google Ads and Google Shopping.
Conclusion
Once you've set this up, it'll be time to analyse your findings. Remember to look at your goals in order to measure your success. In the end, it's much like any other online project: you'll have to keep an eye on things every few weeks to make sure you stay ahead of the curve. All in all, it's about maintaining and controlling your online reputation, so knowing what people are saying around the internet can give you great insights on the perception of your brand. What you do with that information is up to you.