If you run an online business, you most probably use social media platforms to get in touch with your target audience (at least, you should be!). If that is the case, you've surely already gotten to know the power and impact that hashtags and social media trends can have. But did you know that some of these social media trends can actually help businesses drive their sales?
A shopping trend that has been performing well enough to generate billions of views and drive lots of sales lately is known by the name "TikTok made me buy it". In this article, find out about the power of social media trends and what you can do to benefit from this trend and boost your sales.
Source: shutterstock.com/yury1964
TikTok and the power of social media trends
First of all, do not underestimate the popularity and power of the short video platform. Here is why:
Since the outbreak of the coronavirus, the popularity of the Chinese app has immensely increased. Currently, the app is available in 150 country and 75 different languages. Worldwide, TikTok accounts for more than 1 billion users.
Therefore, it is hardly surprising that content containing the hashtag #TikTokMadeMeBuyIt, according to the app's business blog, has already generated about 3.5 billion views on the video platform.
However, the most impressive aspect about this trend isn't about the amount of views generated, but about how many purchases were made due to this hashtag.
Recommended Reading:
How to Improve your Social Media Marketing with Hashtags
To give you an example highlighting the power of #TikTokmademeBuyit:
A product known as the 'TikTok leggings' was purchased by influencer Lauren Wolf in November 2020. In a TikTok video, she then praised the leggings and shared it on the platform.
In the following months, the video reached almost 3 million views, while the hashtag #tiktokleggings created an impressive amount of engagement; content containing the hashtag has been viewed 841 million times to date.
Even on Instagram, more than 10,000 people posted content with the hashtag.
The result? In January and February 2021, the leggings were the most popular and purchased item on Amazon.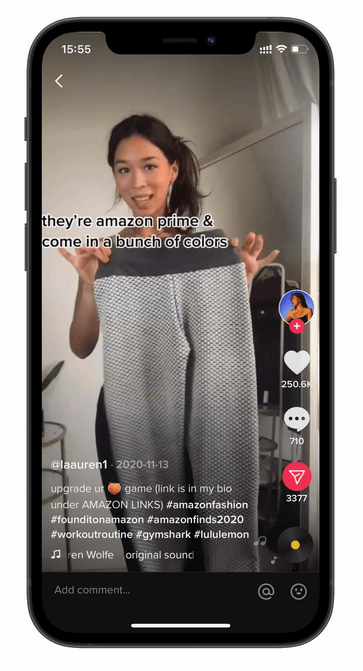 Understanding the TikTok algorithm
Trends and popular hashtags change all the time. Therefore, predicting what kind of content goes viral in the future is basically impossible.
Every time a TikTok user scrolls down on their "For You" feed for more content, personalised content will be displayed to them. Additionally, every time TikTokers open a new "For You" session, different videos will be shown to them.
Thanks to this unique algorithm, and due to the very nature of the platform, the feeling of surprise and curiosity that arises when browsing through the content that the app offers makes 45% of TikTokers more inclined to make impulse purchases.
71% of users say that TikTok inspired them to buy an item spontaneously, even without having had the intention to buy that very item before watching the video.
But how does TikTok content go viral?
Interactions. The more likes and comments a video receives, the more likely it is that it will go viral and influence users to buy items mentioned in the video.
How TikTok turns creators into actual celebrities
Let's talk about one of the most influential TikTok creators. Creating and posting funny short videos made Khaby Lame famous.
In only a short amount of time, he turned shooting amateur TikTok videos in his home kitchen to walking the red carpet at the Venice Film Festival.
He has become a real star and having more than 131 million followers on the app, he is now known all over the world.
In fact, fashion label Hugo Boss made him one of their testimonials for their #beyourownboss campaign.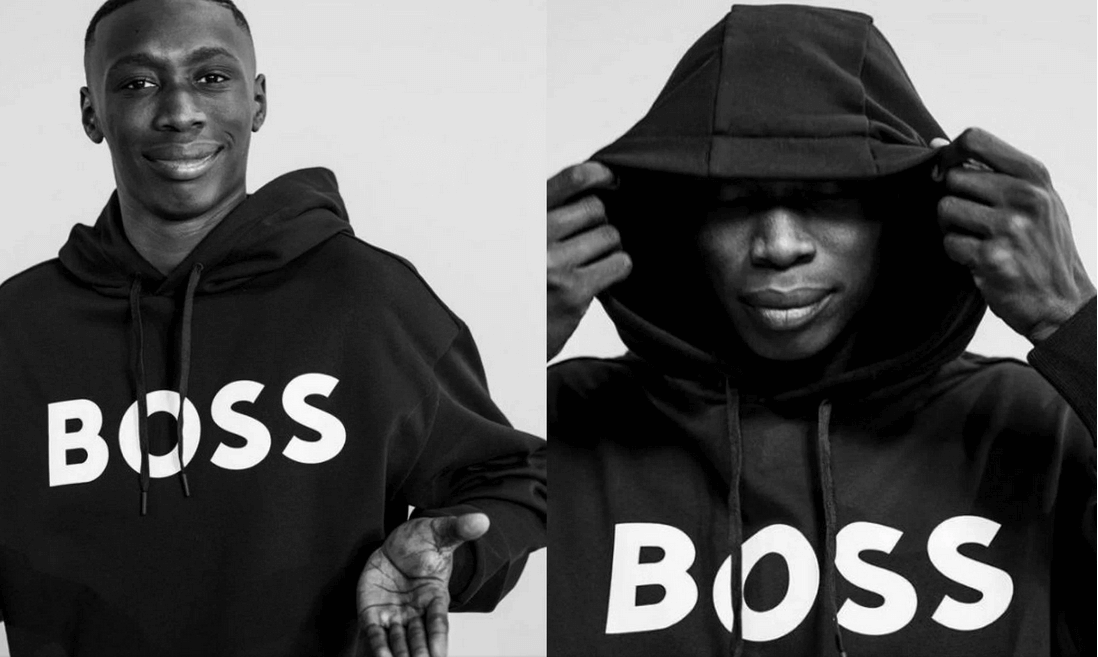 Source: Khaby Lame's Instagram Profile
With the campaign, the fashion brand implemented a microtargeting strategy, thereby dividing not only its target audience, but also the brand's name itself.
In fact, the name "Hugo" addresses Generation Z, while "Boss" appeals more to Millennials.
TikTok doesn't only drive sales on Amazon
Although the items that TikTok "made you buy", are mainly purchased on Amazon (where shoppers can now even find a dedicated "viral trends" product category), eBay and other popular marketplaces, smaller online shops and even local shops can also benefit from shopping trends like this.
Recommended Reading:
Digital Strategies to Boost Foot Traffic to Local Businesses
"As seen on TikTok" is another trend, similar to the former "As seen on TV" trend, that has influenced local shops to adopt their product selection according to what items are currently trending on the app.
Even the way in which the products are arranged on the store's shelves aims at making the products look as appealing and aesthetically as possible on the app.
Some small business owners even became famous overnight. Emma Rogue, for example, woke up to find that her content had gone viral, after creating a video in which she shows how she packs her products for shipping.
In a short period of time, the video accounted for more than a million views.
In the first week that her video had gone viral, Emma received more than 300 orders on Depop, an app for buying and selling second-hand clothes. Later, she decided to start her own business.
By now, the young influencer owns her own brick-and-mortar shop that she successfully drives foot traffic to by constantly posting about and promoting new arrivals and offers on TikTok.
Recommended Reading: How to Start an Online Shop (A Beginner's Guide)
The impact on other social media platforms
Although having originated from the Chinese video app, the #TikTokMadeMeBuyIt trend is, in fact, popular on other social media apps as well.
On YouTube, for example, we can see that the trend generates hundreds of thousands of views per video in which popular TikTok items are promoted.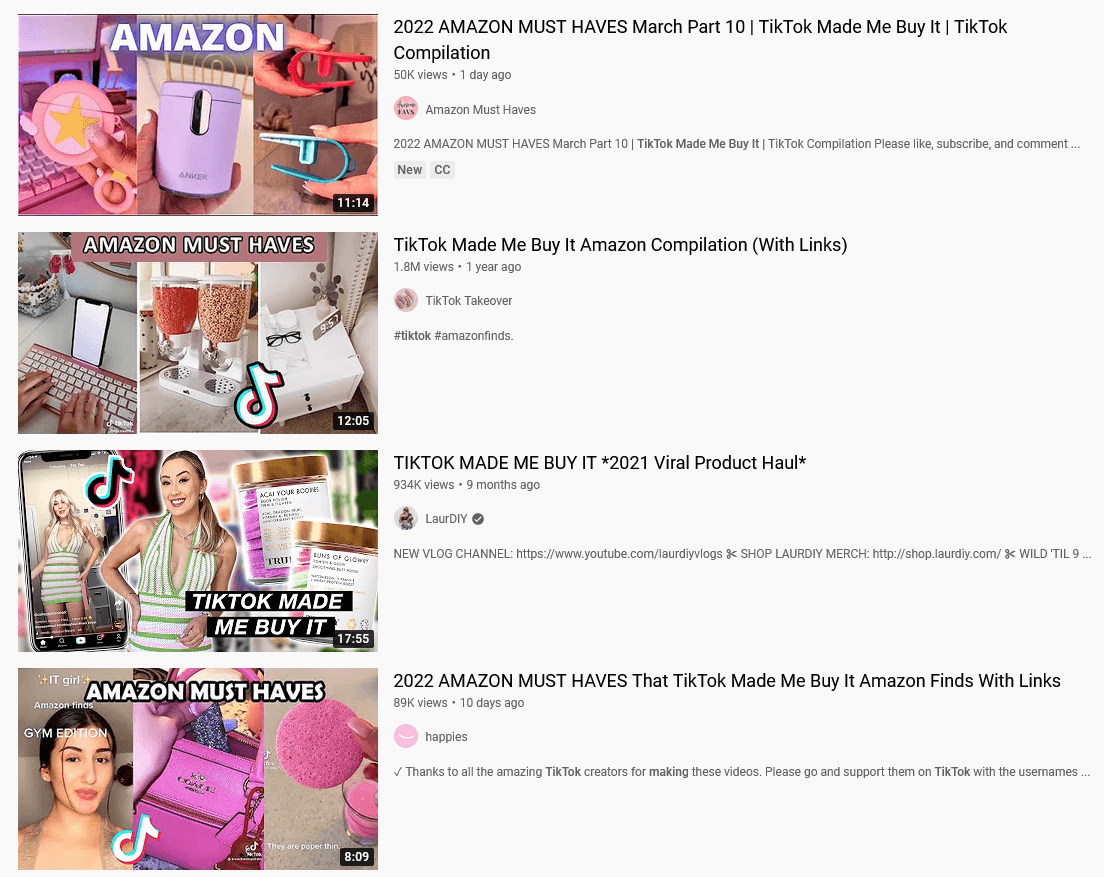 Source: YouTube
Even YouTube's own short video platform "Shorts", one of TikTok's biggest competitors, offers a lot of content referring to the trend.
The image below shows that that the closer the video's title is to the one of the original format on TikTok, the higher the number of views is.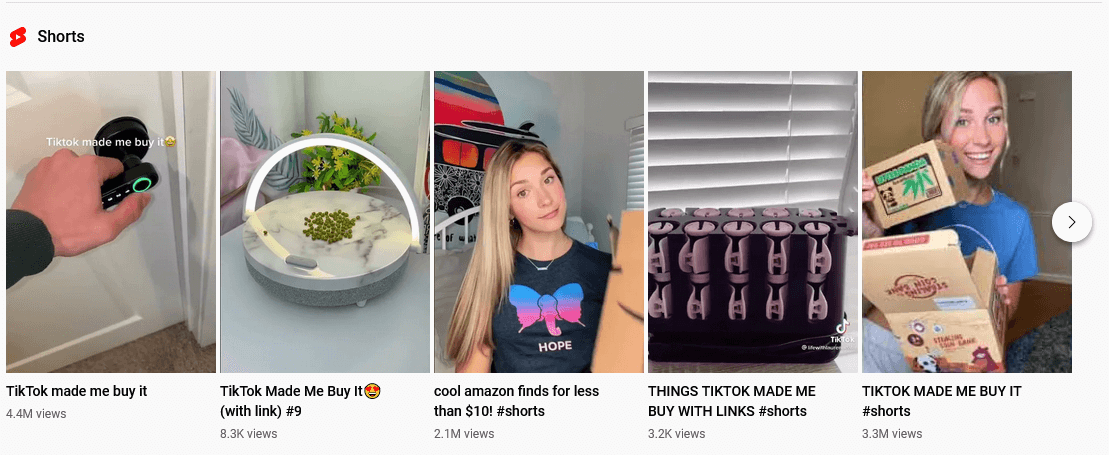 Source: YouTube Shorts
On Instagram, over 100,000 posts containing either the hashtag #TikTokmadeMadeMeBuyIt or #TikTokMadeMeDoIt can be counted.
Speaking of Instagram, in our checklist, we provide you with 21 tips on how to successfully sell on Instagram. Check it our for free:
2. Videos on TikTok: a new type of online review?
In a way, one of the benefits that TikTok offers its users is the opportunity to discover authentic peer reviews rather than social proof.
In contrast to online reviews from anonymous people, TikTokers can share how-to-tutorials, unboxing videos or a simple review to recommend (or warn about) a product.
As we're talking about an audio-visual feature here, viewers of these videos can watch real people share their genuine opinions, making their opinion come across as very authentic.
Thanks to the short and entertaining, or educational, nature of the videos, a word-of-mouth effect is generated that even has the power to end or create new trends in no time.
In fact, this kind of content constantly encourages 23% of European TikTok users to buy something they've seen on the platform (in the United States the share is even 47% of all users).
According to TikTok for Business blog, 42% of users use the platform to discover new things. For Gen Z users, the main group presented on the social network, the discovery process to get to know new items, brands or trends is more important than the content that a brand itself communicates.
"On TikTok, you don't need to have a huge following to showcase your purchases. TikTok has democratized influencer culture and everyone's hauls, tutorials and reviews are prized for their individuality."
Whether it's a cleaning item, make-up tutorials or recipes (the hashtag #FetaPasta has reached and exceeded one billion views), it's the creators' creative approach to products that makes the difference.
👨‍👨‍👦‍👦 Reviews make the difference in the purchase decision process on other social platforms as well. Find out how to use reviews on social media to boost your sales with our free guide👇
3. How to create viral content
In theory, anyone can become an influencer and create viral content. What's more, those who create on TikTok break through the fourth wall and address the public directly.
33% of the ads with the highest view-through rate , as reported on the blog, come from creators who communicate their intentions in the first 3 seconds of the video and look straight into the camera.
Although the app's algorithm is heavily guarded, TikTok has shared nine useful tips for creating successful ads and content on their business blog. Below is an overview. Then we'll dig a bit deeper into each tip.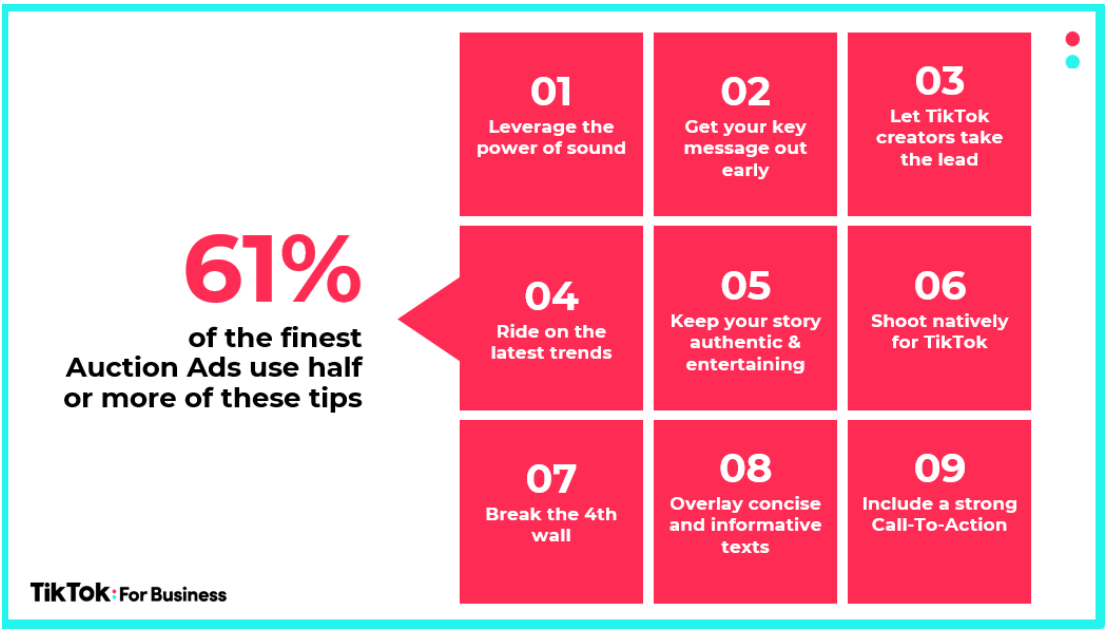 Source: TikTok For Business
1. Harness the power of sound
One very striking thing about TikTok is its library of music. This is so true that some tracks that are featured in viral videos end up going viral on Spotify (the music streaming service). Use this resource effectively; try to go with tracks that go over 120 BPM to enrich your storytelling.
2. Communicate your message at the beginning of the video
Approximately 63% of the content with the highest click-through rates (CTR) belong to those who communicate their intentions in the first 3 seconds of shooting. Be transparent, but don't forget to tell an interesting story.
3. Let creators take the lead
If you want to run social media marketing campaigns on TikTok, you should consider working together with real TikTok users. The app also offers access to the TikTok Creator Marketplace, where you can choose a TikToker that is familar with both the platform and your audience.
4. Surf the latest TikTok trend waves
Keep an eye on the latest trends. Test things out and adjust based on what works and what doesn't.
5. Tell your story in an engaging way
Keep things real. Talk about you or your company in a way that creates an authentic reaction from your audience. That is how you build a brand.
6. Shoot your short videos specifically for TikTok
When creating content for TikTok, be sure to record in the vertical format and use all available screen space in 9:16 mode.
7. Break the fourth wall
This is very common in social media. Speak to your viewers directly by looking right at the camera. Ask them questions and make sure they want to interact with you and your content.
8. Share short, informative texts
Stories are told quickly on TikTok. Make sure to include overlay text when editing your videos. Use stickers and effects. 40% of the ads with the highest view-through rate use this creative technique.
9. Include a call-to-action (CTA)
Whether you want to redirect users to your online shop, your marketplace or sign up for your newsletter, TikTok offers you a range of call-to-action (CTA) buttons. Either way, you want to tell users exactly what you want them to do next. Keep your CTAs short and concise and use direct and personal language.
Conclusion
The #TikTokMadeMeBuyIt hashtag is a powerful conversion engine, especially among Gen Z members. Whether you sell your products on a marketplace like Amazon, have a #smallbusiness, or want to drive foot traffic to your brick and mortar store, we recommend that you try your luck on the extremely popular Chinese platform.
Want to learn more about YouTube for businesses? Check out our free whitepaper below:
This article was originally published on our Italian Trusted Shops Blog: Me l'ha fatto comprare TikTok: un trend di vendita