Direct-to-Consumer (D2C) brands have really grown in the last few years. If you're thinking about starting your own brand, the time is right for such brands to succeed. What can you learn from the leaders and modern pioneers of this business model? Today's blog will look at what those brands have done to disrupt their respective industries and what you should keep in mind if you want your D2C business to succeed.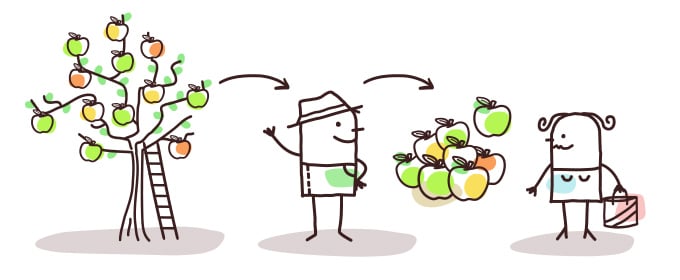 What is a direct-to-consumer (D2C) brand?
Direct-to-consumer (D2C) brands are companies that sell their products directly to customers. The main idea is that by removing middlemen (i.e. the retailers), these brands can offer customers better prices on their products and enjoy more of the profits as well.
There are plenty of other benefits from a brand perspective, which we'll talk about below.
A story of disruption
Besides the simple fact that the internet makes online shopping possible, the new digital age of shopping has created a lot of new opportunities for new brands to disrupt the "old-world" (offline) way of doing things.
Of course, some of these changes are obvious (e.g. being able to open a business without needing a physical store). However, with the development of the internet, other business elements were now ready to be changed forever.
These changes included remodeling supply chains, using new marketing methods to reach new audiences, and rethinking the customer experience.
There are a few pioneers for this new business model in regards to the e-commerce world. Warby Parker was one of them.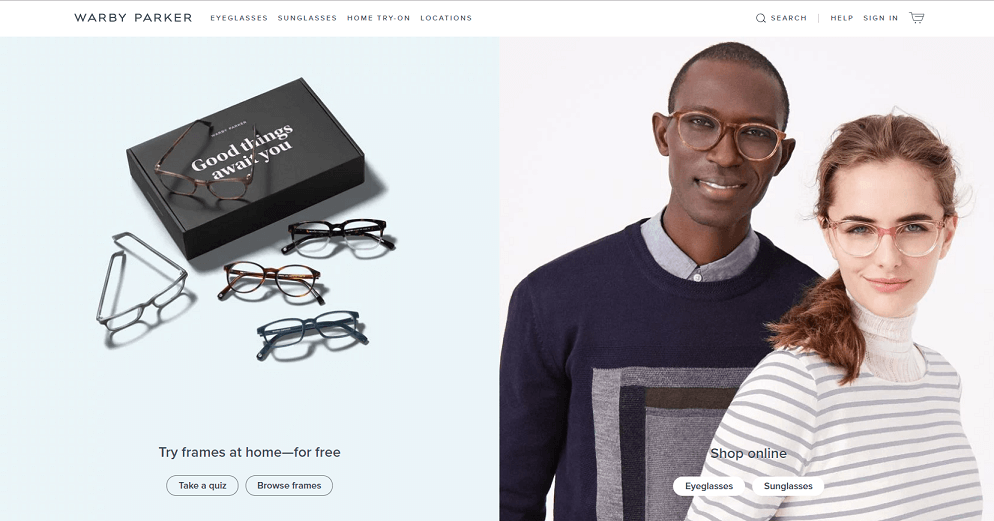 Warby Parker disrupted the eye-glasses industry with concepts including "try frames at home" options.
Finding a problem and seizing an opportunity
If you haven't heard of Warby Parker, they are an eye-glasses company. The company's origins are a classic startup story: after losing a pair of glasses as a student and not being able to afford a new pair, the founders realised that there was a huge opportunity to disrupt a market.
As the eye-glasses industry was completely dominated by one company that was keeping prices artificially high, they decided that it was time for this to change - and thus, Warby Parker was born.
Surely, there were some mistakes made in the process, but overall, the founders made a lot of great decisions. Warby Parker saved money by designing glasses in-house and selling them directly to consumers.
Based on some "sceptical" feedback from friends and family, they came up with the idea of sending shoppers up to five pairs of glasses to try on without a commitment to buy them. Since then, many copy-cat companies have followed this strategy, especially in the eye-glasses industry.
Recommended blog:
Starting an Online Shop: A Beginner's Guide
Being socially conscious
Another selling-point that appealed to younger demographics (i.e. Generation Z and millennials) was Warby Parker's desire to be a socially conscious company. The company made it known that for every pair of glasses purchased from them, they would donate a pair of glasses to a person in need.
Companies embracing environmentally-friendly (like Reformation) or socially conscious business practices (like Warby Parker) are benefiting immensely from the brand image they've created for themselves.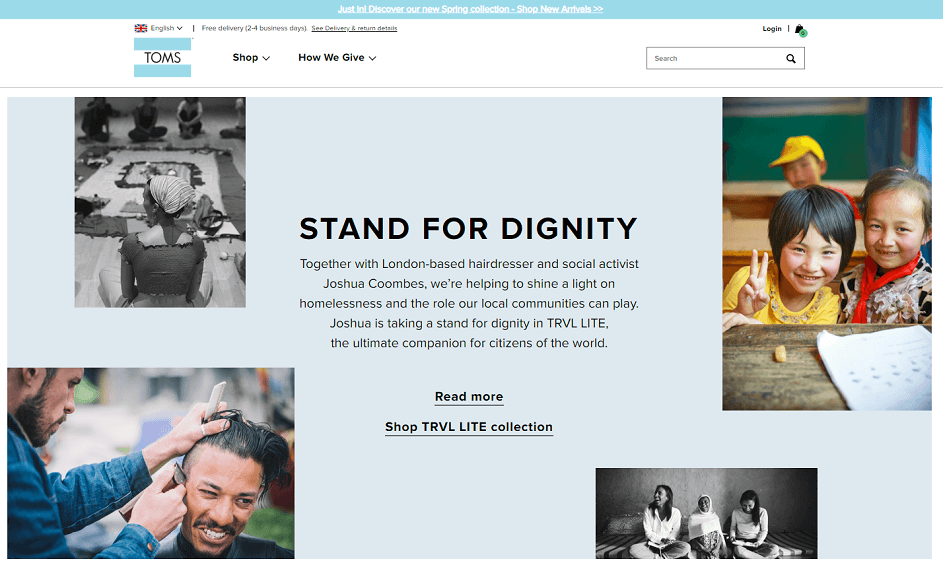 TOMS is famous for their one-for-one programs of giving to the needy (click on the image to enlarge).
Marketing in the digital age
So, what about D2C marketing?
Another major factor allowing D2C companies to thrive is the success of digital marketing. Brand's selling simple products can now make a huge impression on their audiences with creative (and relatively inexpensive) marketing efforts.
Recommended Reading:
How to Start Selling Online with a Single Product
Social media now allows companies to target their ideal customers while also allowing them to control their marketing budgets with a fine-tooth comb.
Look at the Dollar Shave Club as an example. They are a subscription-based company that sends new, high-quality razors directly to their customers every month per mail (for a dollar). Thanks to an "edgy" (and funny) viral video, they were able to get a lot of visibility and disrupt the razor blade industry.
This video from Dollar Shave Club is informative and humorous. It has been watched
over 26 million times!
Recommended reading:
How to create YouTube videos on a budget
Should you consider the D2C model for your business?
So, examples from the recent past show us how other businesses were able to become successful using the D2C business model. It's clear how staying with the times can benefit a new business (i.e. solving an old problem with new technologies, being socially conscious, and acing your digital marketing strategies).
Should you really consider the D2C model for your business? Are there other benefits? What else do you need to keep in mind for your D2C business?
Control the customer experience
One major benefit when it comes to D2C sales is that the brand can control the customer experience much more.
The entire customer journey can now be calculated, observed, and managed by the brand itself. Whether that means the presentation of the product, the pricing, the checkout process, returns, or customer service, quality control is now in the brand's hands.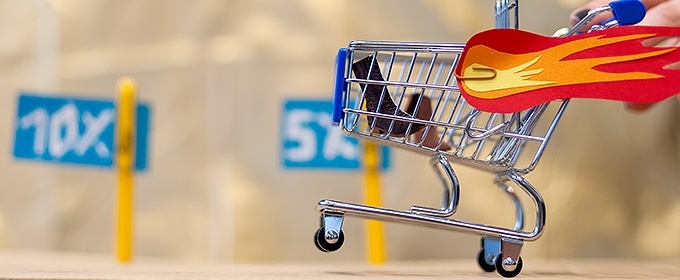 Not only does a company control those elements, but they will have a much better understanding of customer frustrations and general feedback when it comes to all those factors.
Strengthen customer relationships
We touched a bit on digital marketing in terms of targeting the right shoppers. However, social media also allows brands to build relationships with their audience. Whether it is sharing content on Facebook or showing off cool images on Instagram, social media helps customers interact with your brand.
Not only does this strengthen emotional connections with a brand, but it also allows brands to get direct feedback from their customers.
Branding
Branding is another element that will now be completely in the company's control. How do you want to position yourself in the market? If you've read some of the stories above, reaching a younger audience means showing that you're not too traditionalist.
Sending glasses to someone's house without the pressure to buy instils trust in the company as well as a "nothing-to-lose" attitude for shoppers when they're contemplating whether or not to give a new business a shot.
How else can you show that your business is "with the times"? Does your business use sustainable materials? Do you work together with charities? If you have answers to those questions, make sure to highlight that on your site or in your marketing campaigns!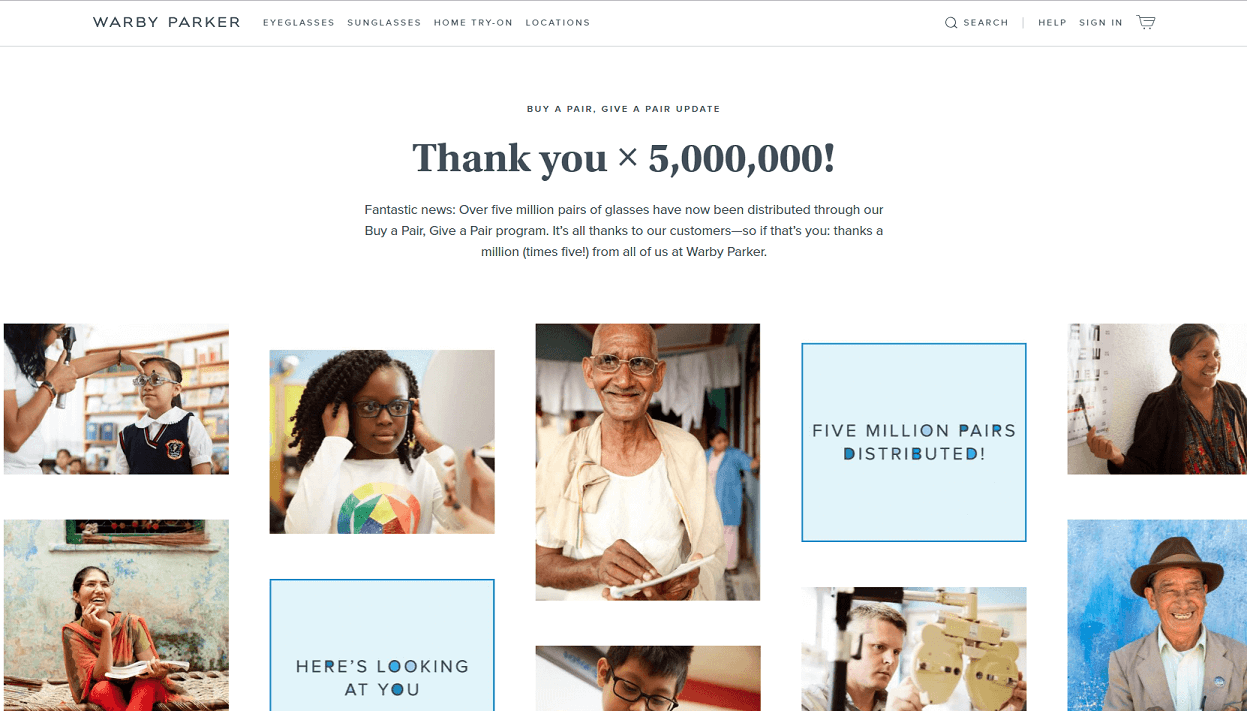 Warby Parker proudly donates glasses to those in need (click on the image to enlarge)
Storytelling is an important element these days. If your company's history is unique, see if there is a way to incorporate this story into the brand's website.
If you start your business with a single product, this might not be a negative thing. You can highlight the fact that you are focussed on making this item perfect before expanding your product line.
Casper beds has one type of mattress. Through clever story-telling, they've completely disrupted the mattress industry.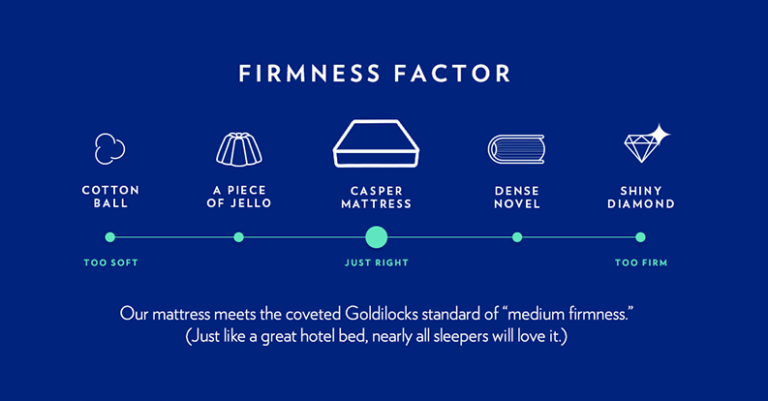 Social media can help you target customers, build relationships, improve your brand image, and also give customers product insights.
You may even want to consider creating an unboxing video, for example, to give potential customers a peek at what your brand experience is like. A well-planned influencer marketing campaign can also bring your D2C brand some positive exposure.
Recommended reading:
The Big Branding Guide: Logos, Social Media and Much More!
Distribution
Although the idea of a D2C business generally involves selling products directly to your customers without a middleman, it may be helpful to sell on popular marketplaces like Amazon or eBay. This can be a great way to gain exposure in your early stages.
However, as you might already know, selling on places like Amazon will eat into your profits and it may not be the best long-term strategy, but if you are your own brand with your own packaging, it's a bit easier to increase brand awareness in those marketplaces compared to if you were selling someone else's products there.
Reputation management
A challenge for any new business is gaining shoppers' trust. Not every brand can get GQ magazine to write a feature on them like Warby Parker did.
As we mentioned, the internet has provided consumers with different ways to research and discover products like never before. Collecting and posting product reviews (or customer reviews in general) can be the social proof you need to to win over new customers. Keep in mind that you may need to manage your online reputation proactively, especially when it comes to customer reviews!
Addressing negative reviews in the right way can also make a huge difference in terms of the perception of your customer support.
Additionally, third-party quality seals and certifications (like the Trusted Shops Trustmark, which offers a 30-day money-back guarantee) can give your shop instant credibility.
Conclusion
In the digital age, small businesses can grow into big brands with the right products, strategies, and, of course, people. By utilizing the strengths of digital marketing and social media and combining them with positive customer experiences, strong branding, reputation management, and some creativity, your shop can also achieve great success.
Want to learn even more about managing your online reputation? Check out our free whitepaper and see how Trusted Shops can help!